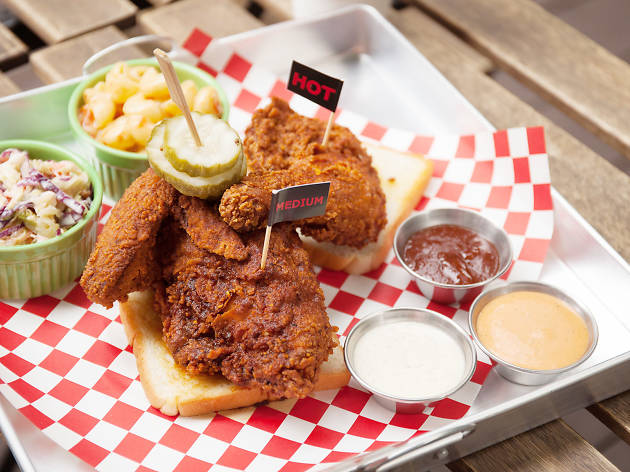 Fowlmouth joins America's biggest festival dedicated to Nashville hot chicken, covid aware-style
Posted: Saturday July 4 2020, 3:29pm
Apart from country music, Nashville is known all over the world for its spicy, tongue-numbing fried chicken. There's even an event dedicated to it. Music City Hot Chicken Festival is held every 4 July bringing together to some of the most legit players in Nashville-style hot chicken in a food truck-style festival. And this year, Fowlmouth, the hot chicken parlor that has been introducing spice-loving Bangkokians to the aggressively fiery flavors of America's deep south, are asked to join the event, covid aware-style.
Due to COVID-19 that halts international travel, Fowlmouth has to celebrate the Music City Hot Chicken Festival by practicing "social distancing" from other hot chicken outlets in America. On 4-6 July, Fowlmouth gives 10% discount on all food and drink order to celebrate the event dedicating to the Nashville specialty.
The participation of this Thai chicken eatery in the prestigious fried chicken festival serves as a testament that Fowlmouth really takes the Nashville staple very seriously. The establishment has been asked to join Music City Hot Chicken Festival in 2021 with the owner Chirayu Na Ranong in the judging panel for the Nashville Hot Chicken competition.
Share the story