'Tis the season to be jolly, and all across Bangkok, venues have decked their halls with glittery decorations and bright lights to celebrate the coming of a new year and to pass on the good spirit of new beginnings. And in the city, no one is doing it quite like centralwOrld.
Happiness is All-Around
This year, the world-class mega shopping and lifestyle center is hosting Forwarding Happiness 2022, a series of joy-filled events and activities featuring eye-popping ornamentation, pop-up stores, and various daily entertainment acts.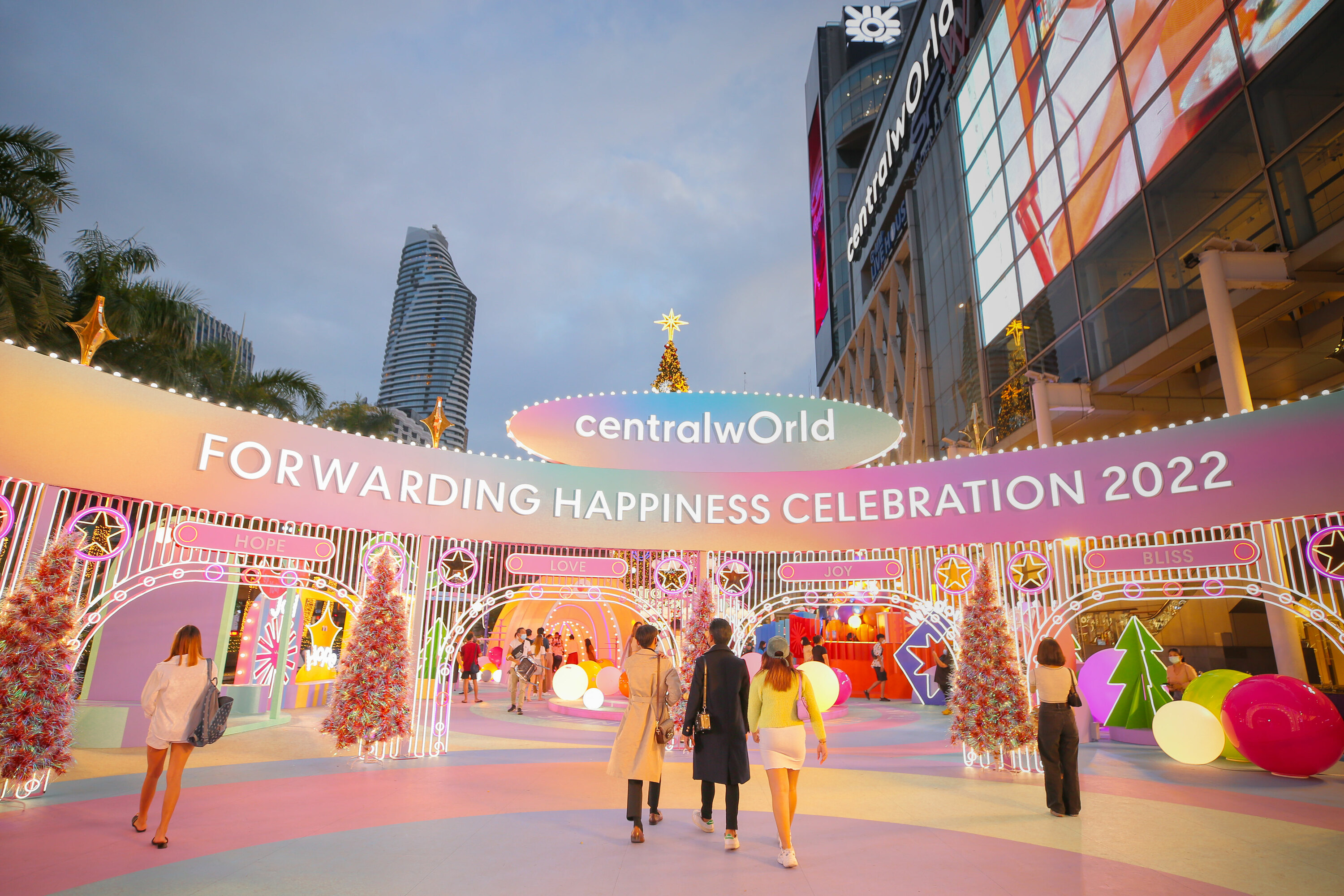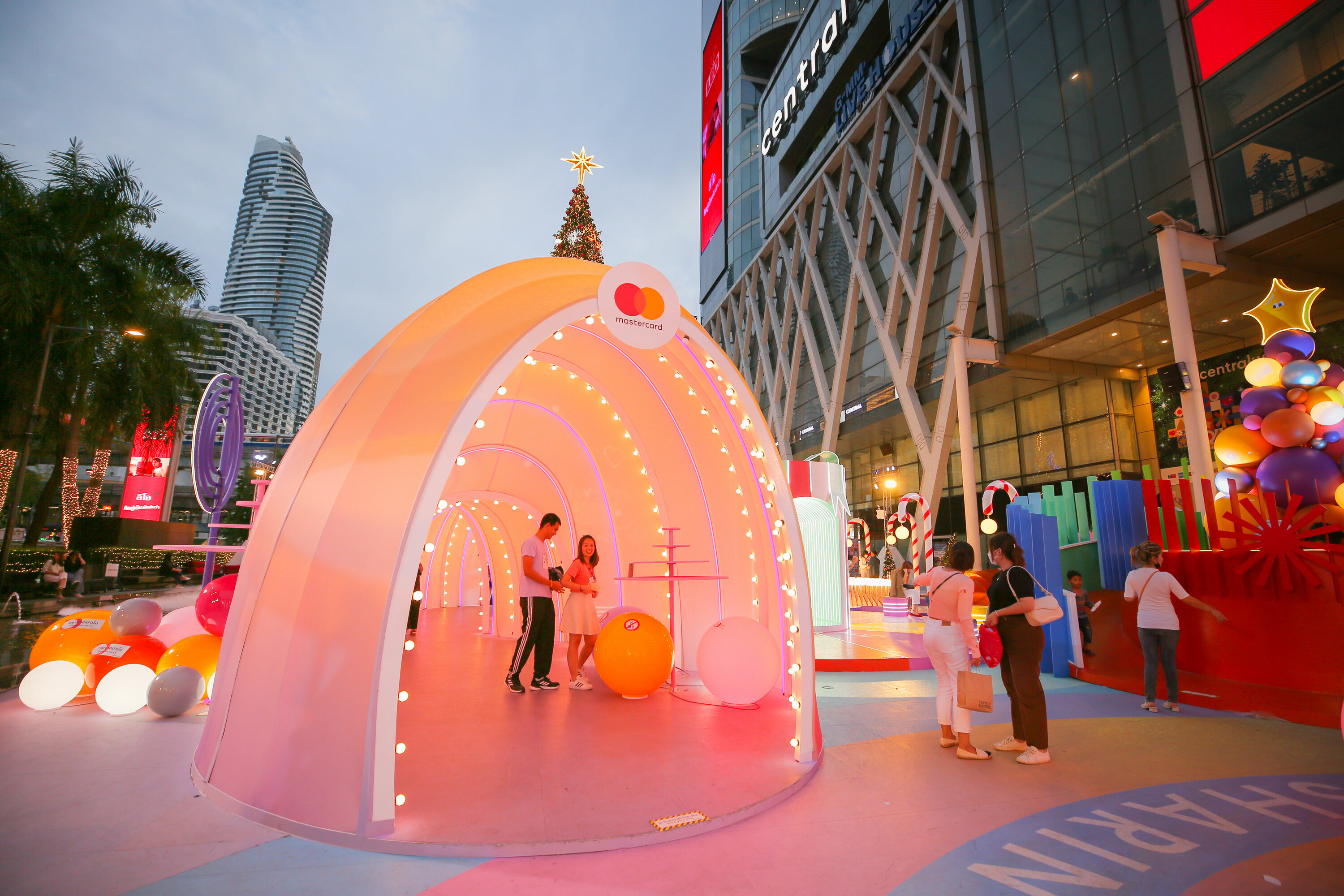 To get everyone in the mood, centralwOrld has dressed up 10 spots in and outside the mall with striking installations. You have the Gateway of Light and the Tree of Hope at centralwOrld Square, as well as indoor stunners like The Walk of Wonder and The Universe of Happiness. Get your camera ready, and bring your fam and the gang for cool photos in a joyful setting and with adorable characters brimming with positive energy.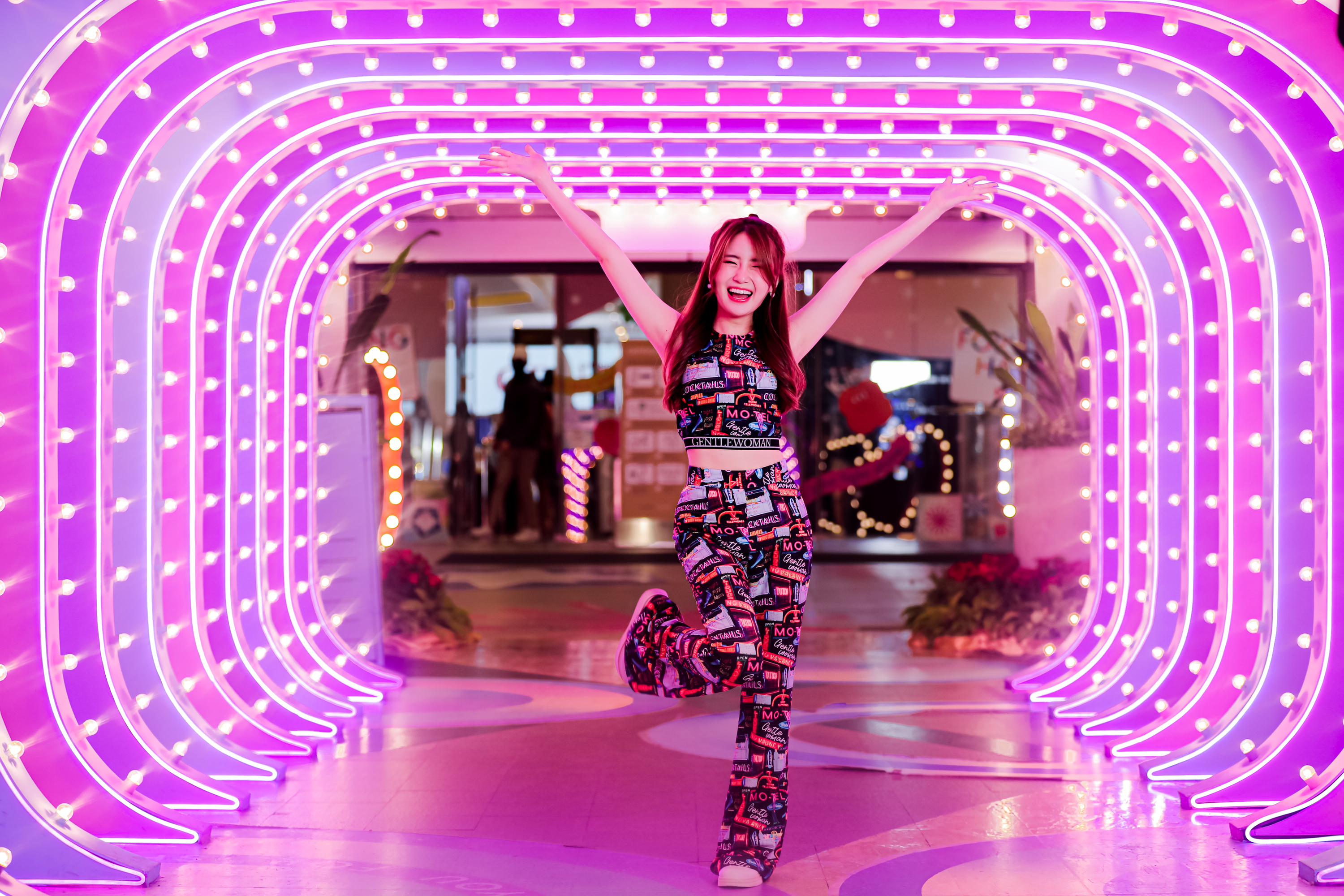 Shop Till Drop
After exhausting all photo ops, take the pace down a notch at the Christmas Carnival Outdoor Market, where you can get your fill of cool refreshments and yummy treats from food sellers from across the country. Highlights include Brown Cafe, a popular milk tea purveyor from Chiang Mai, and sweet goodies by online dessert shop The Rolling Pinn.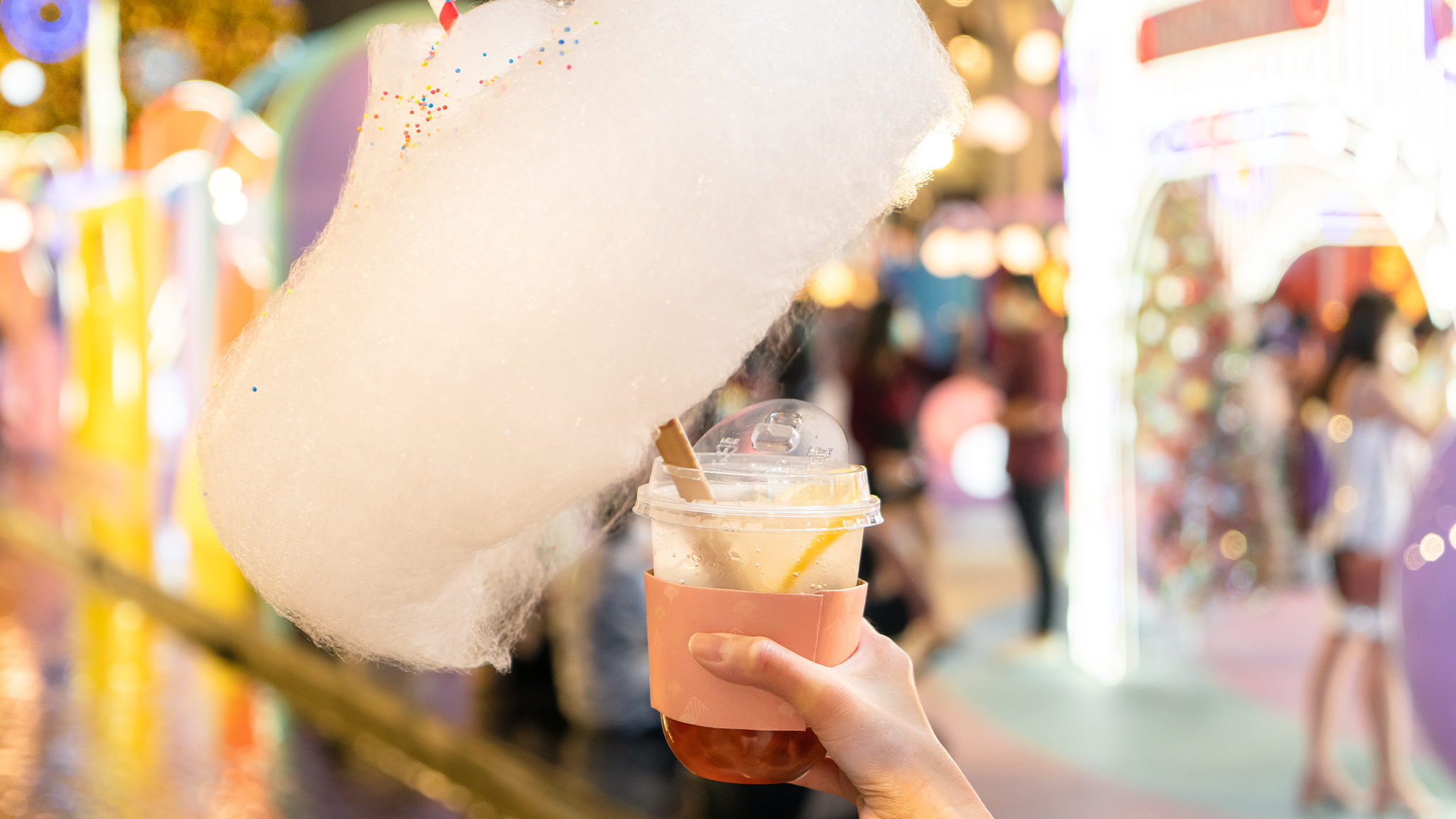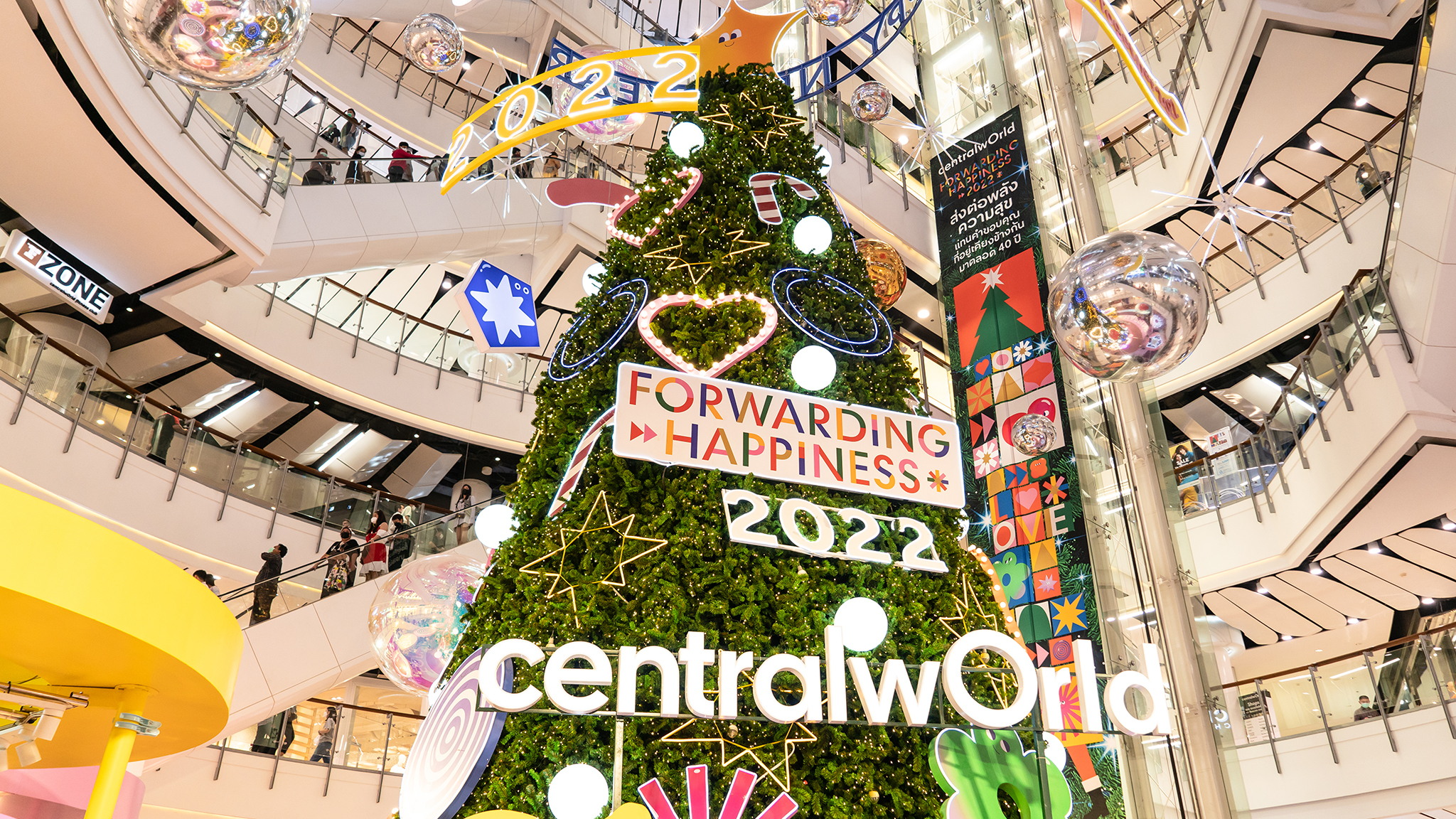 Gifts to Give
If you're in search of presents for your loved ones, pop into the wOrld Festival & Gift Market at the Central Court and Eden zones on the first floor. Be spoiled for choice as you browse through over 30,000 items, ranging from home decor to Christmas treats.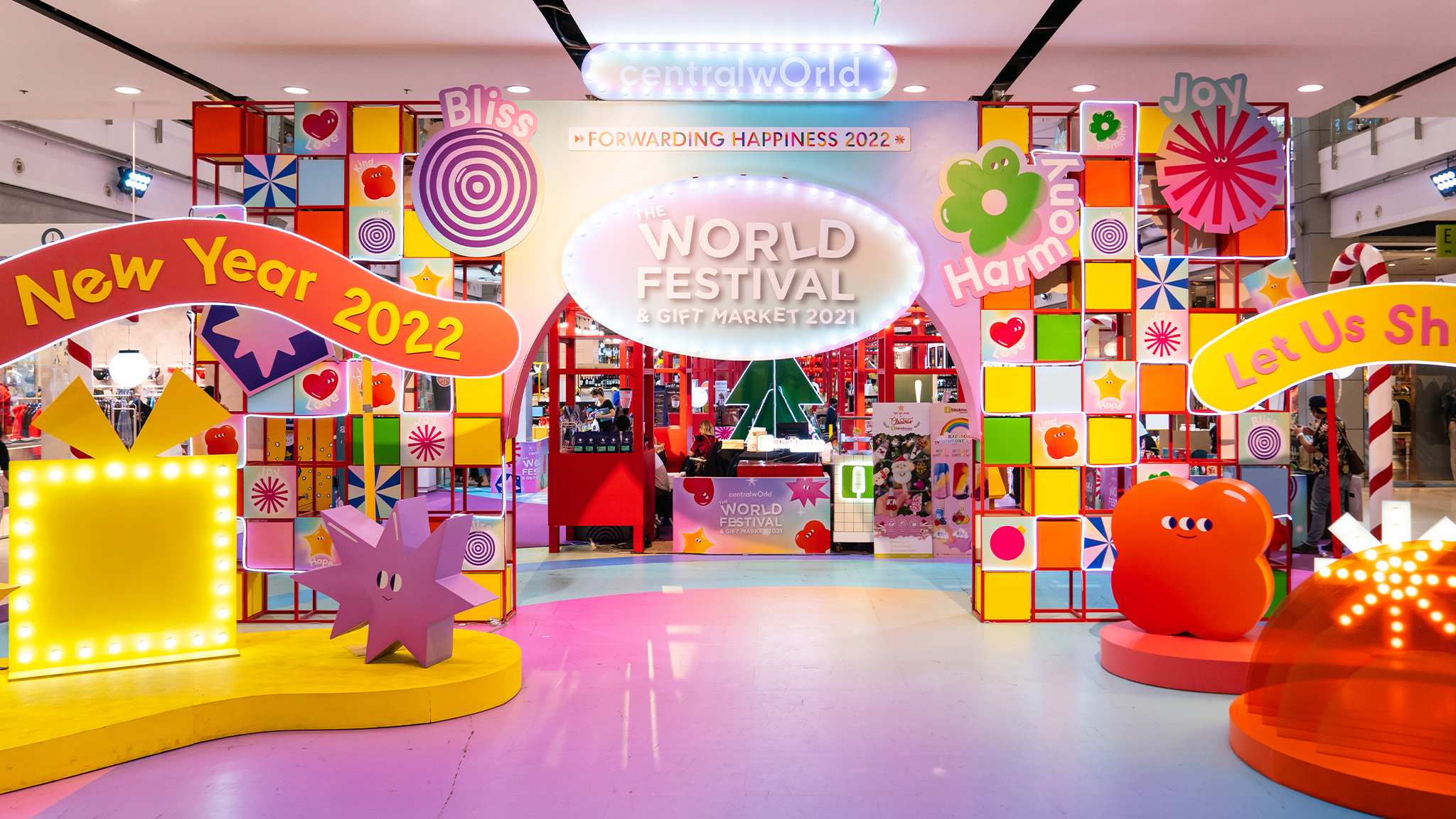 Celebrate Thainess
What's more, centralwOrld has just unveiled Hug Thai, a new spot on the first floor (near Marks & Spencer) that's dedicated to Thailand's rich and diverse culture. The space is made up of four different sub-zones: Pai La Ma Wai is a space devoted to Thai-style activities, workshops, and performances; Liang Du Pu Suea gathers together the best street food restaurants and vendors across the city into one big hub; Ton Rub Kub Soo is home to Jing Jai Farmers' Market that sells produce and organic products sourced from all 77 provinces across Thailand; and Rod Nam Dam Hua retails self-care packages from leading Thai brands.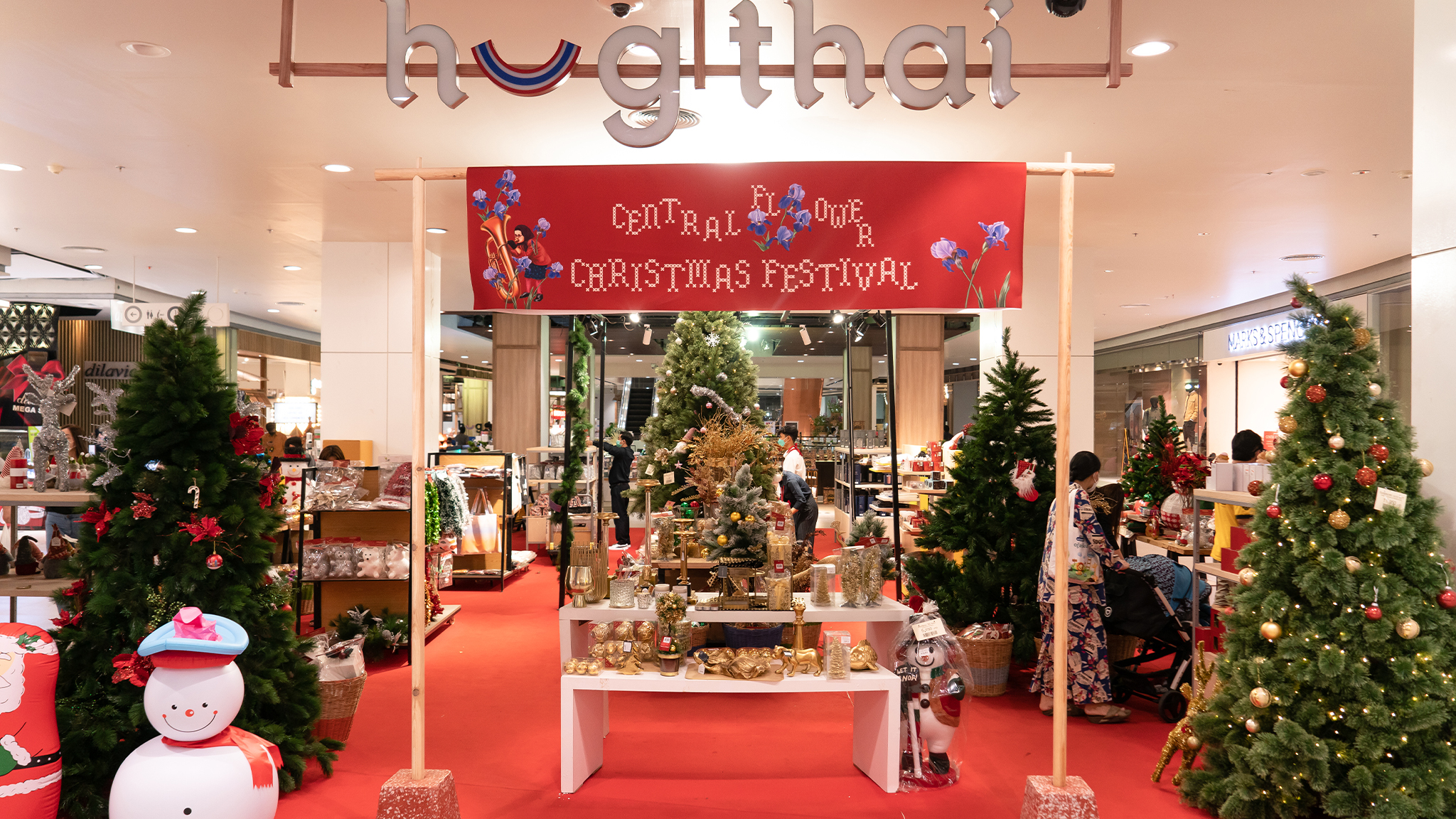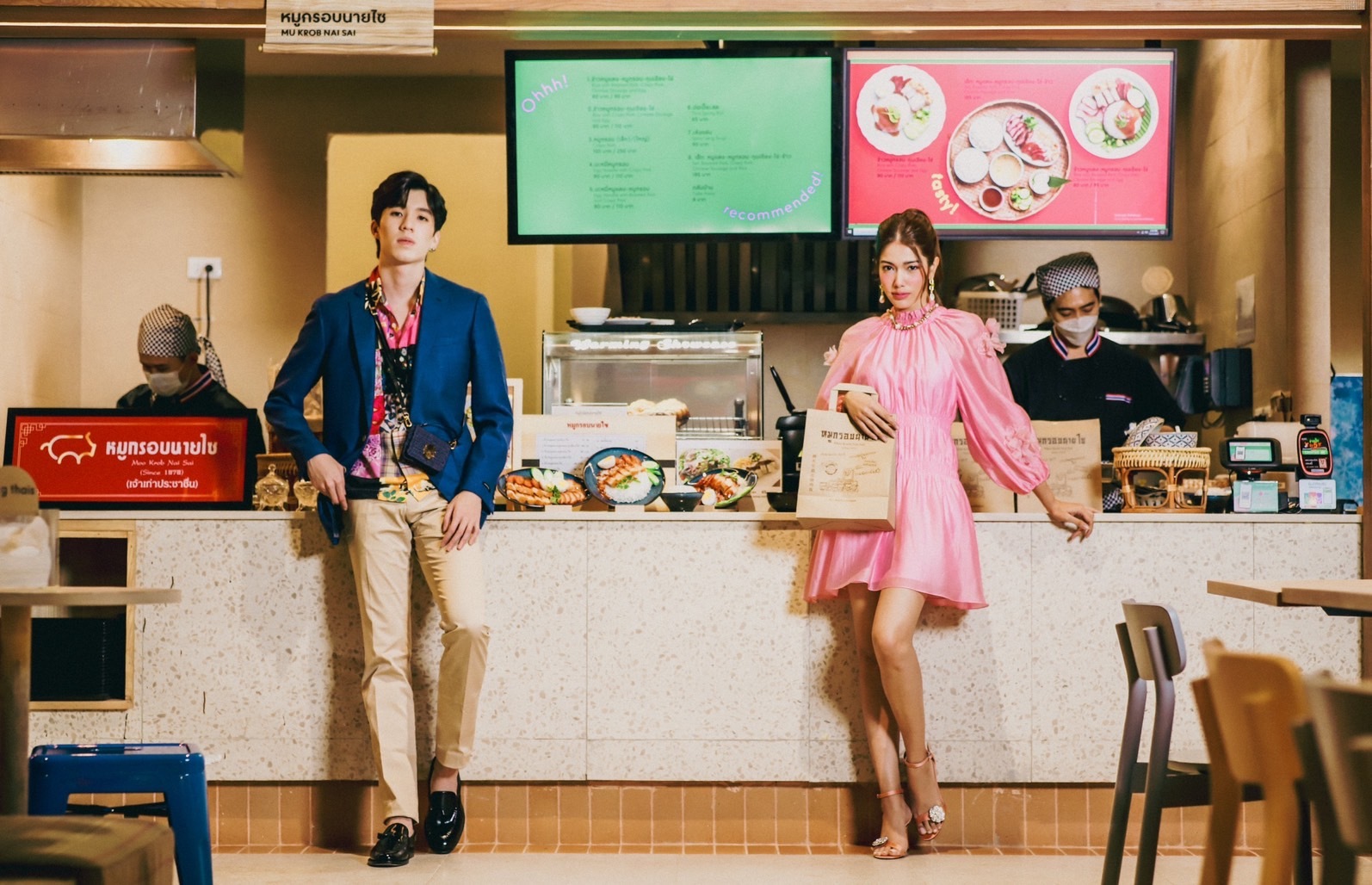 New and Noted
Zone I, a new lifestyle, focuses on combining art and lifestyle together to create a unique space. Some of the new openings in Zone I include pop-up stores from fashion brands like with.it, Hasguard, House of Shoes, and mama cafe. Get ready to savor authentic Japanese fare from popular restaurants coming to join Zone I, namely Tonkatsu Wako, Santouka Ramen Tajimaya Shabu, Unagi Toku, and Hannari Cafe de Kyoto.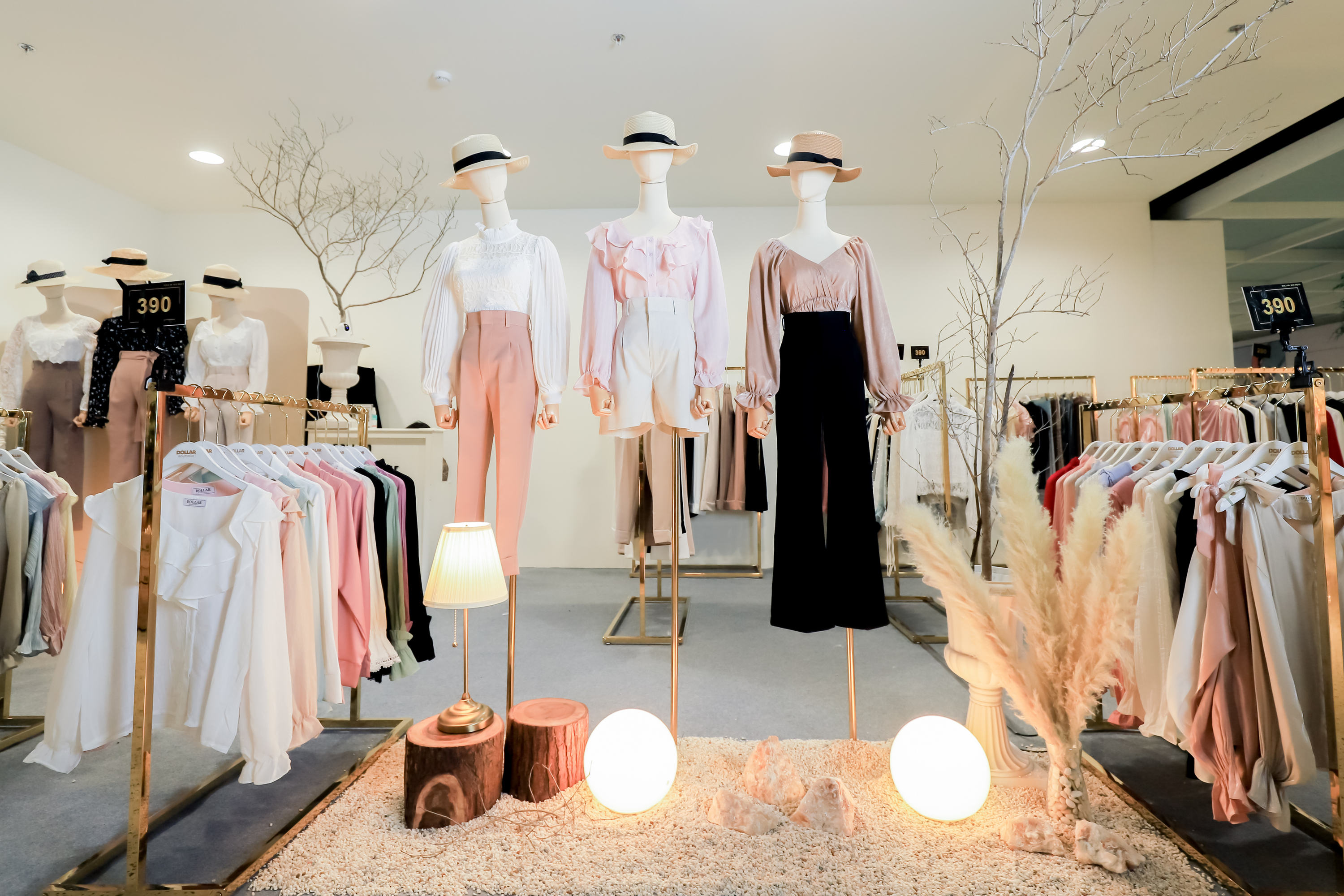 However, the most exciting highlight in this freshly revealed segment is a vertical art exhibition featuring head-turning artworks from the first to fifth floors, with a highlight spot on Floor 3 that provides a 360-degree view. Piloting the new art-forward section is Love Letter to Bangkok Part 2 by Sundae Kids that aims to capture a hopeful love story between two lives in Bangkok. Part 1 of the exhibition can be seen at Groove Gallery Walk (Floor 3).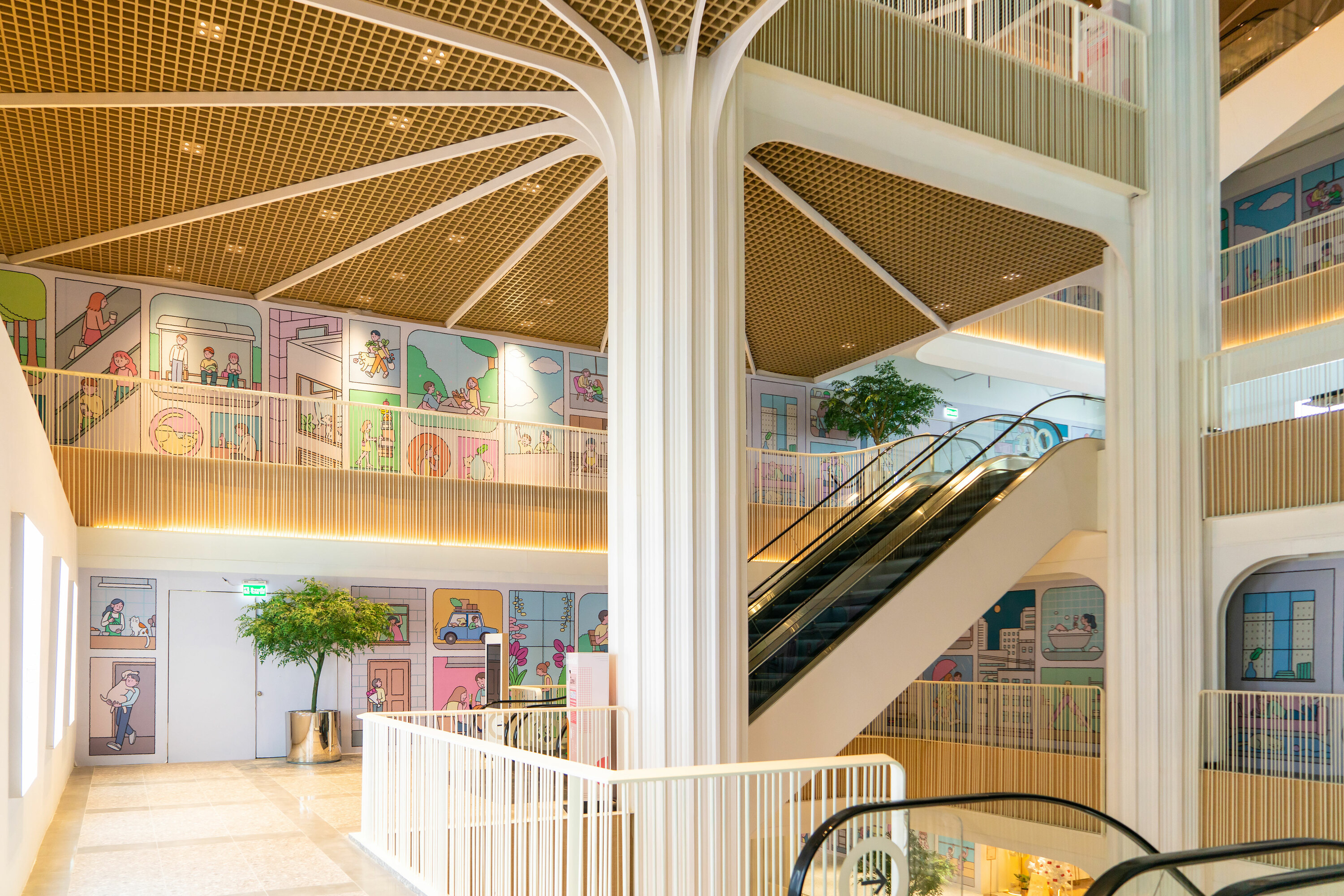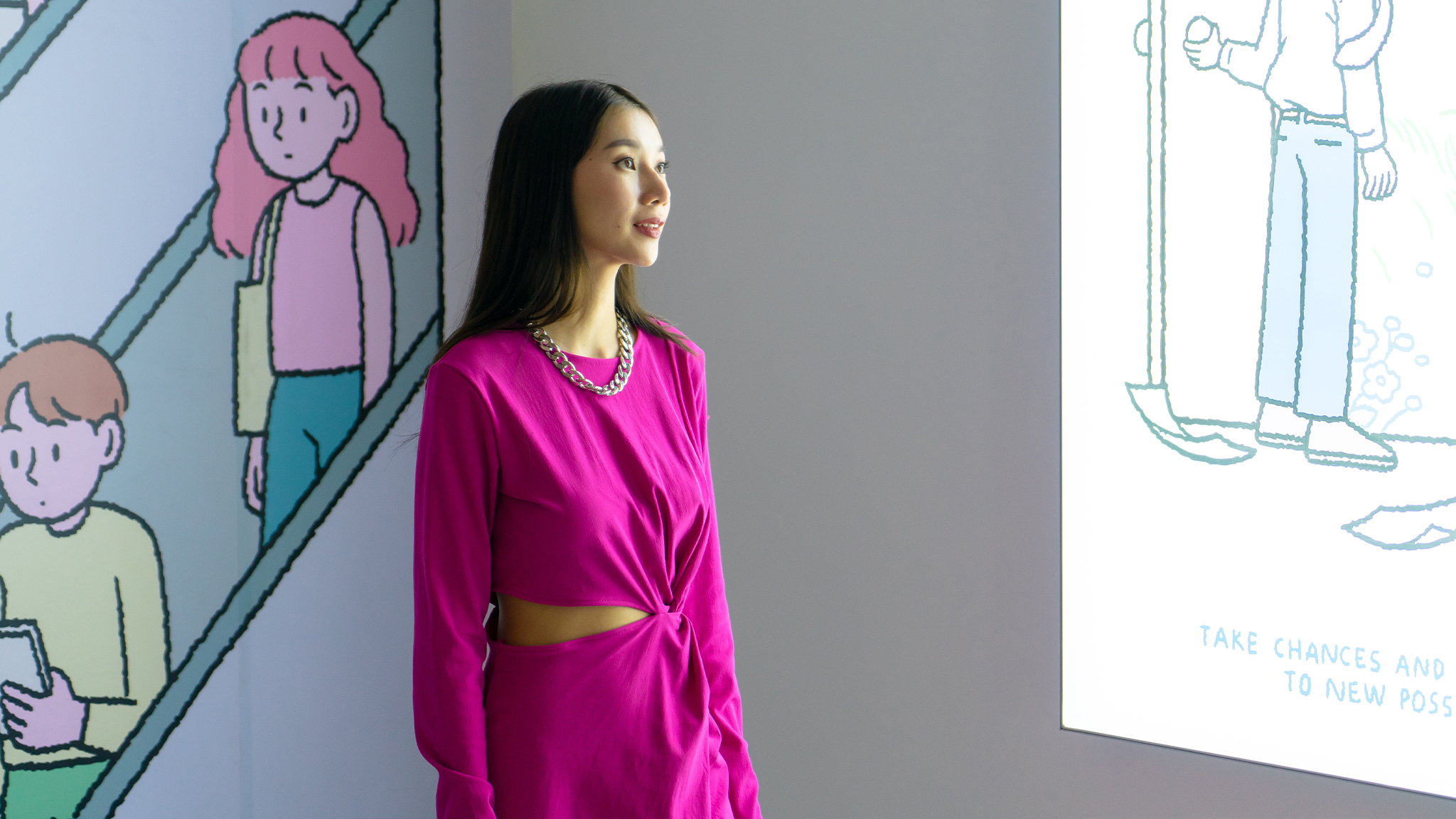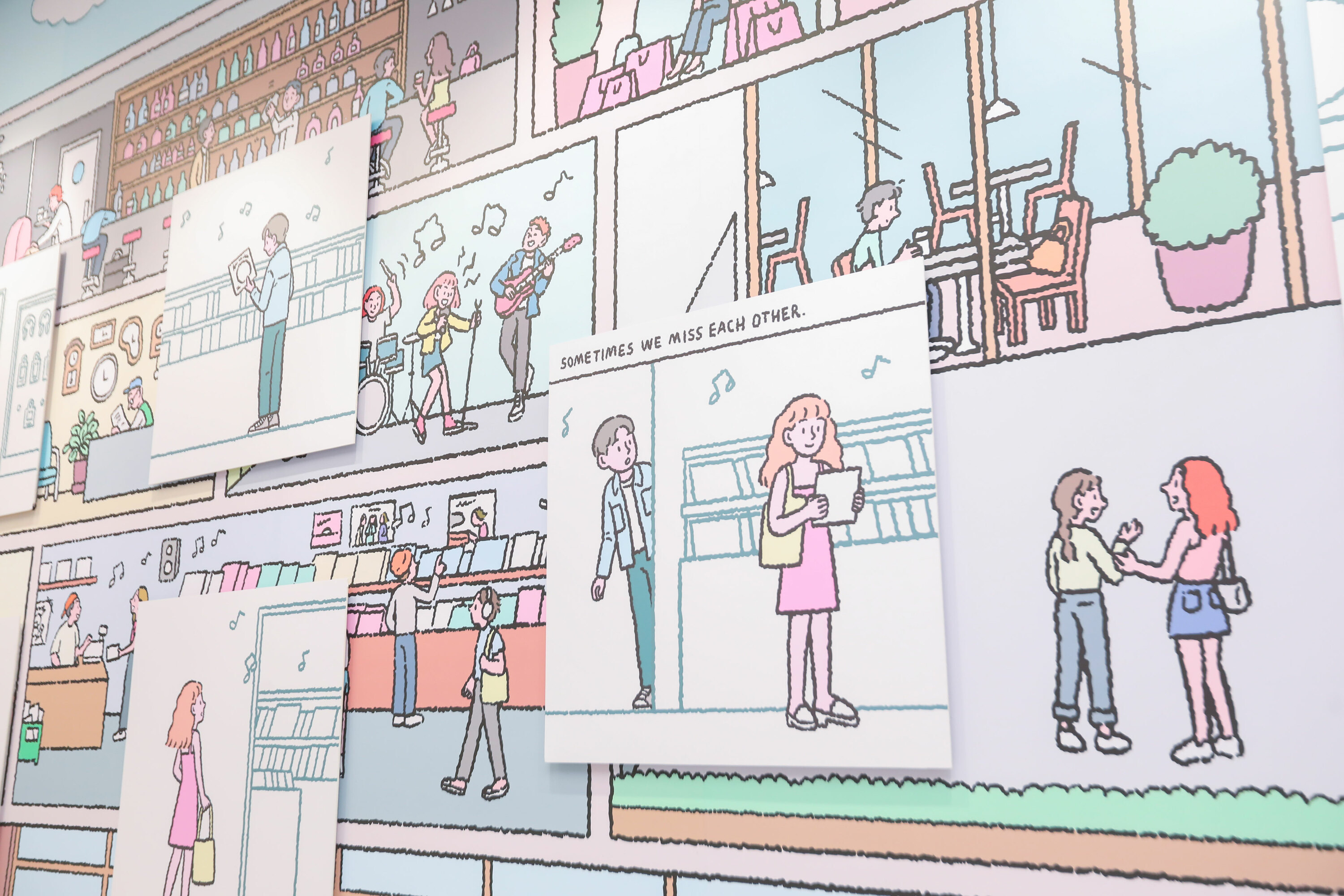 7 Days of Joy
And to ring in the coming of 2022 in the best practical way, centralwOrld is slated to host the 7 Days, 7 Splendid Entertainment series of events and performances. Over the course of 7 days prior to New Year's Eve, some of the kingdom's best music artists will take turns to perform at the center's Floor 1 at Beacon zone. The featuring artists are:
Dec 25: Kob Sowanit x Pomelo Town

Dec 26: The Parkinson

Dec 27: No One Else

Dec 28: Atom Chanakan

Dec 29: Mirrr

Dec 30: Luss

Dec 31: The Julian Cary Quartet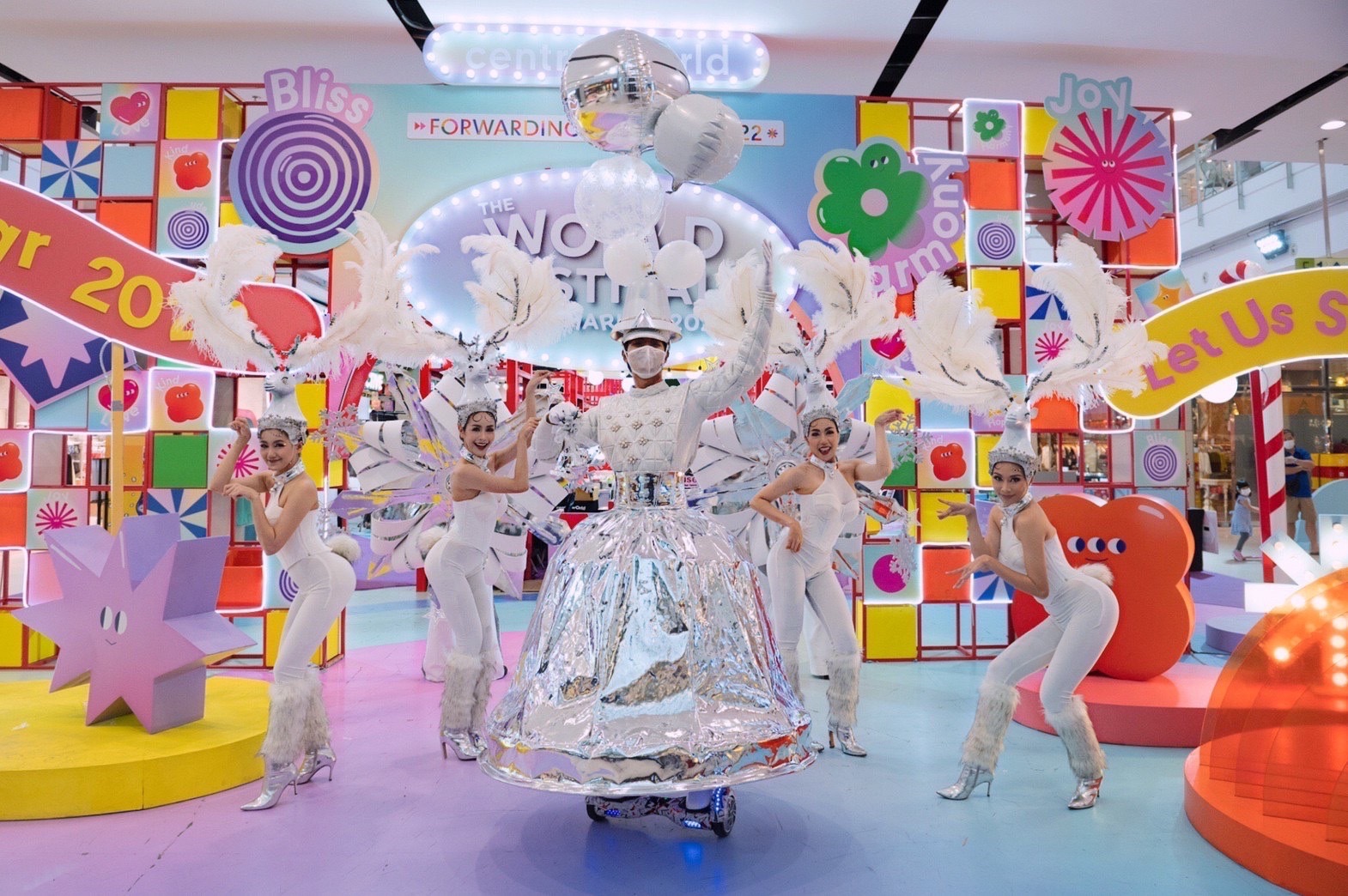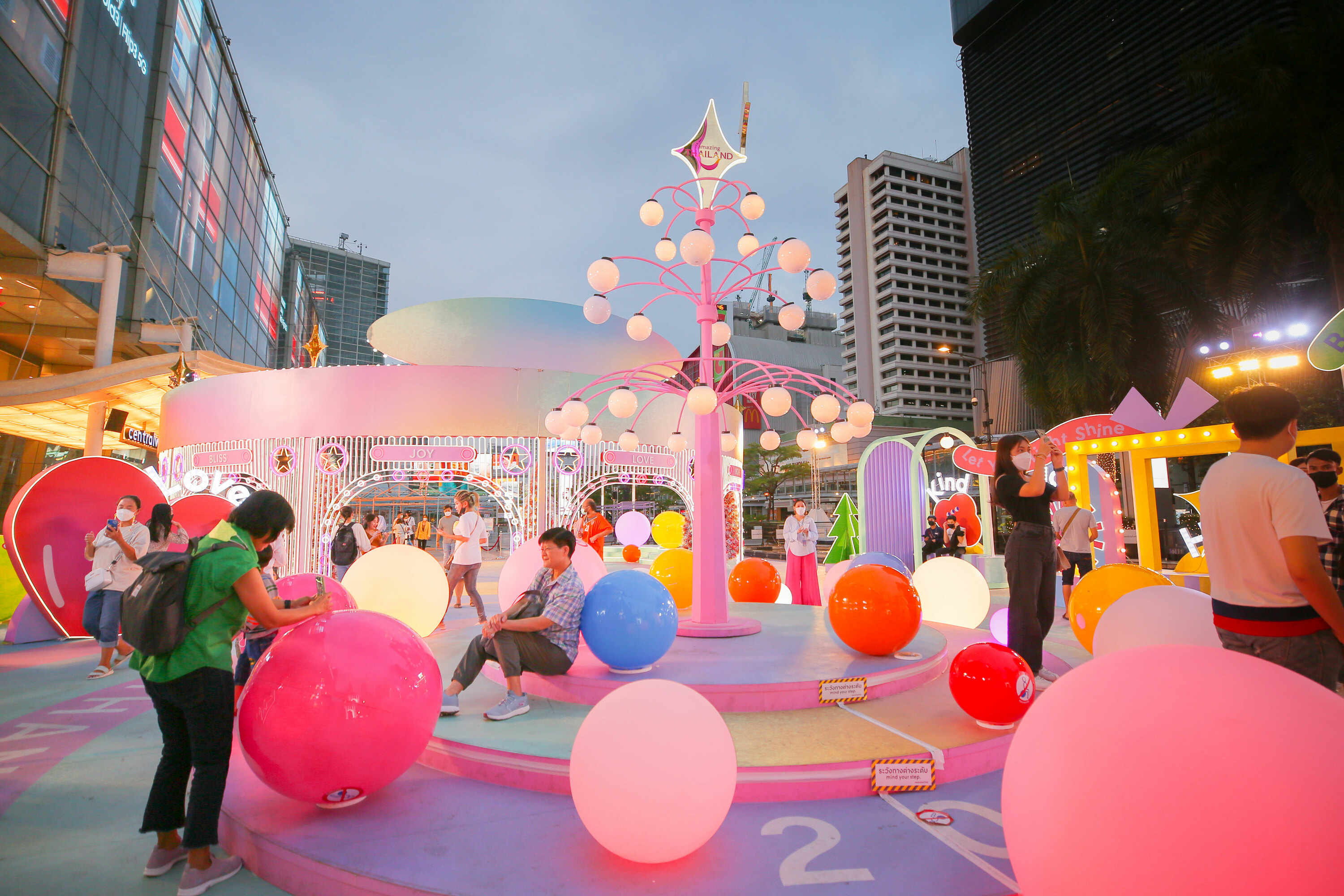 In response to concerns over the Omicron variant, centralwOrld Bangkok Countdown 2022 fOrwarding happiness event on New Year's Eve will continue virtually. The visual countdown party will go all-in with local A-listers taking turns rocking the stage to welcome the new year, namely Ice Paris, Billkin, PP Krit, Nont Thanont, Ink Warunthorn, and Three Man Down. Of course, there will be spectacular firework displays! Tune into One 31 channel to watch live from 22:15.
On NYE, the shopping center will close at 23:00 while festive lights and the outdoor market will be up until midnight. To abide by the government's latest guidelines, centralwOrld will raise its COVID-prevention measures to the highest level, which requires everyone who wishes to enter the Christmas lighting grounds on Dec 31 to present their vaccine certificate and a negative test result taken within 48 hours. You can also have an ATK test on the premises for B100 at the test corner on Rama 1.