Whiskey bars are not really a niche in Bangkok. The city has its fair share of nocturnal haunts that serve a whiskey neat (usually in a dark room with jazz music tinkling in the background). But none of them has a backstory as engaging as Maison Mizuki at Sofitel Bangkok Sukhumvit.
The bar's name is inspired by a Japanese fictional character named Mizuki who, along with her uncle, is an expert on malted liquor. Both embark on a globetrotting journey to find the world's best whiskey.
And then they came to Paris, where Mizuki's uncle falls in love with a local lady and settles for good. Mizuki also makes her home in the City of Love and learns every aspect of French culture. But she yearns for the familiarities of home, so she opens a bar called Maison Mizuki.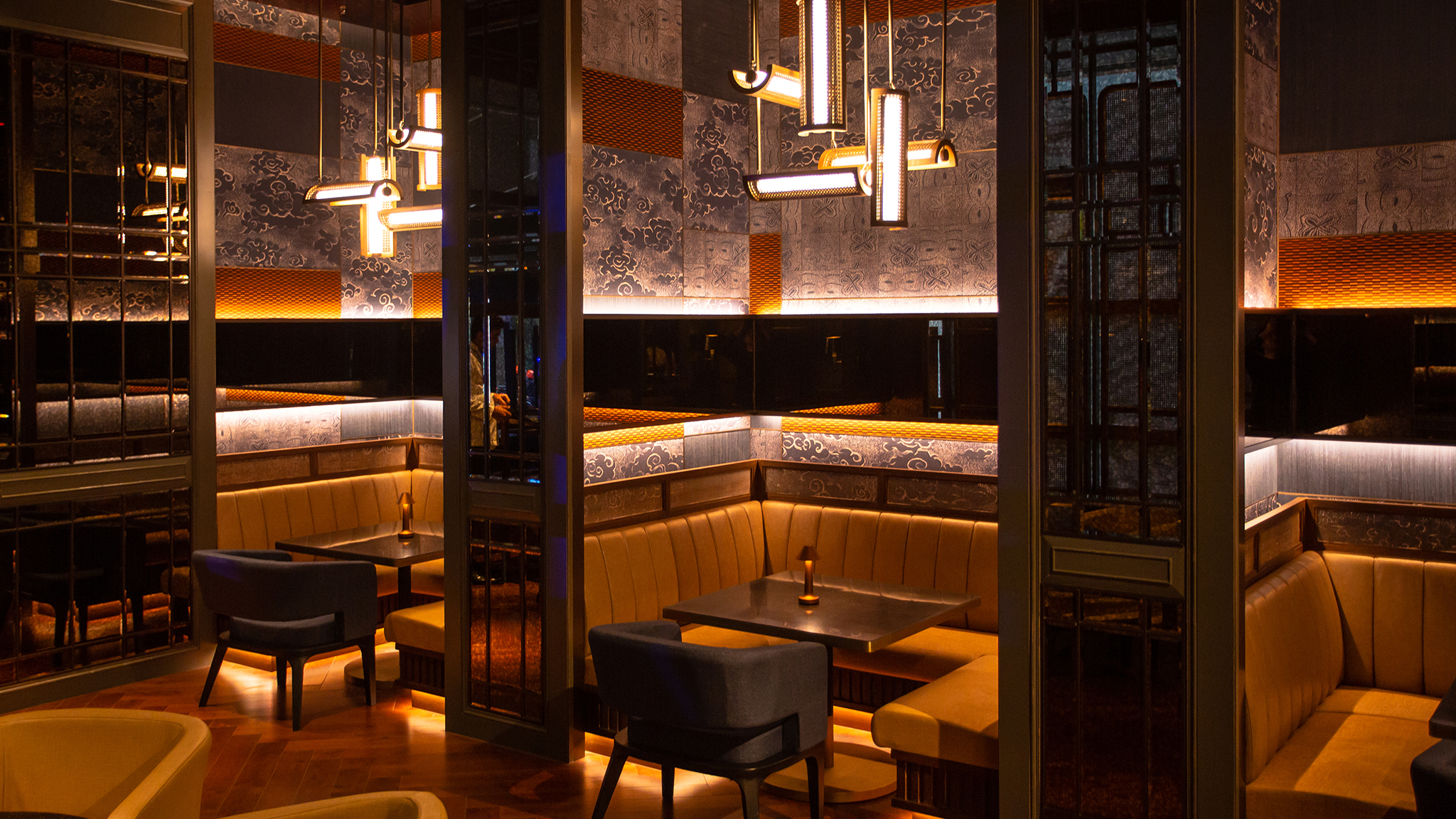 Based on this story, the hotel wants you to feel like you're in the world of Mizuki. You actually meet the lady herself when you come over. Just ring the bell and the stunning Mizuki, clad in a gorgeous kimono, will appear on a screen to welcome you into her home.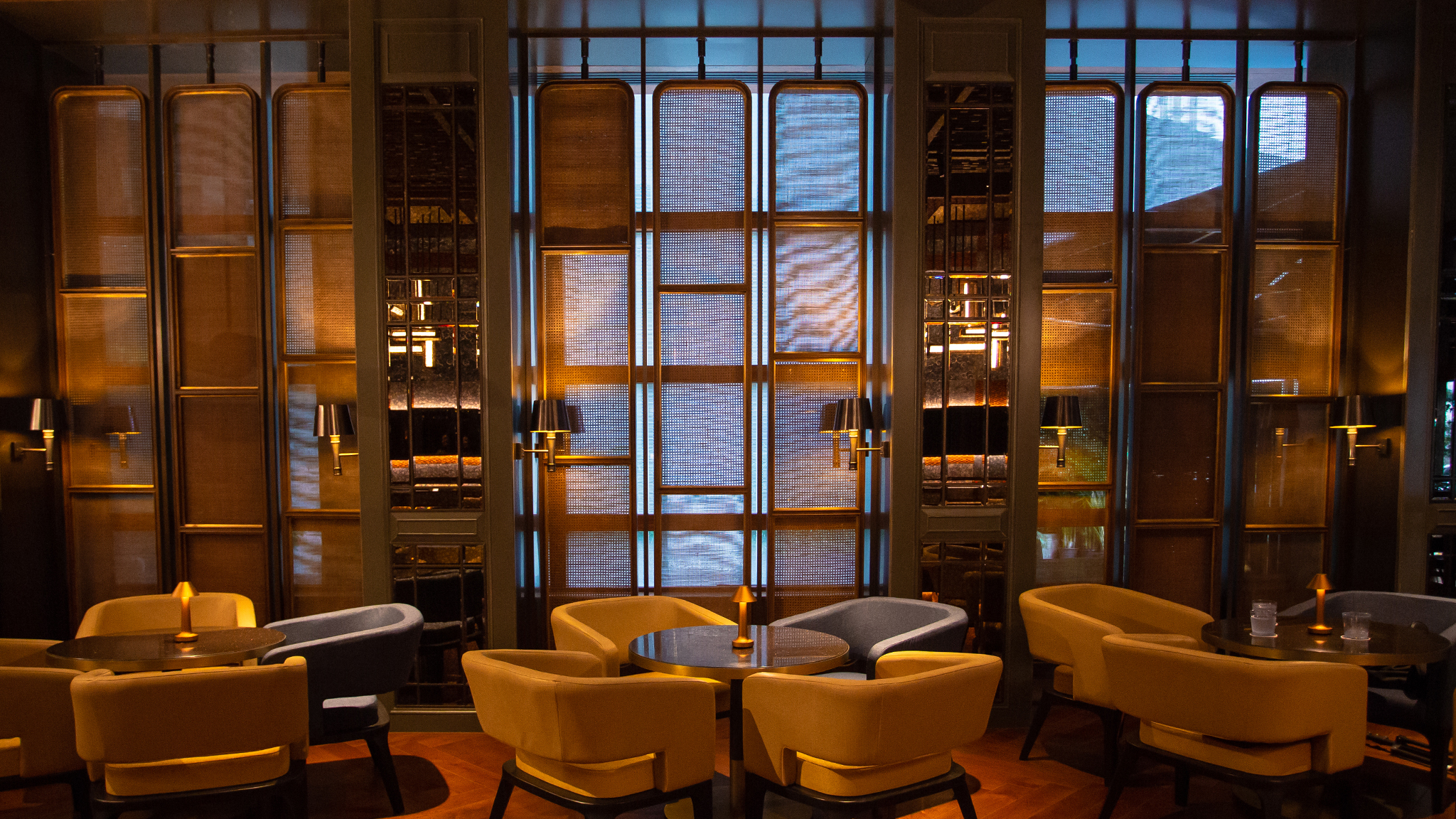 As you walk in, you are greeted with sophisticated yet soothing decor that combines traditional Japanese patterns with modern French elements. Warm lighting gives a homey feel to slatted wooden panels and leather couches. Round tables are placed in the middle of the room, while several booths in darker corners offer a bit more privacy.
What Maison Mizuki proudly presents is threefold: whiskey, cocktails, and sushi. The bar has over 100 types of whiskey on offer, ranging from Japanese malts to Scottish spirits, that can you can take either neat or on the rocks.If you're a bit overwhelmed, you can ask for the Whiskey Bible, which gives a primer on each brand and the whiskey-making heritage in each whiskey-making country.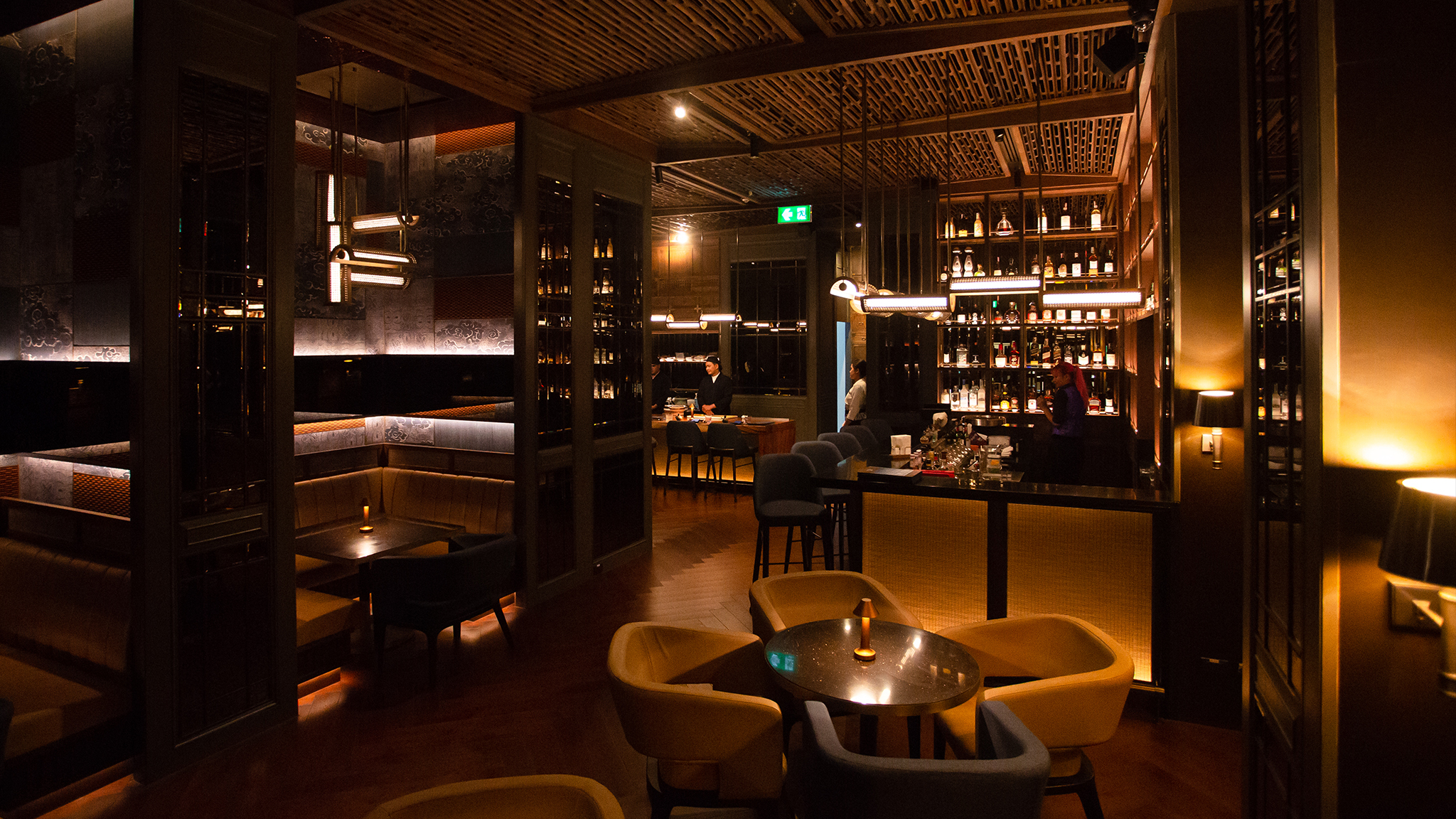 If the bold (and usually fiery) flavor profiles of whiskey are not your thing, you may want to consider the bar's six signature cocktail concoctions. Espresso Sake-tini (B550) strikes a really good first impression. The cocktail combines the drinking cultures of Japan and France, blending coffee liqueur and sake for a hard-hitting drink for a hardcore connoisseur.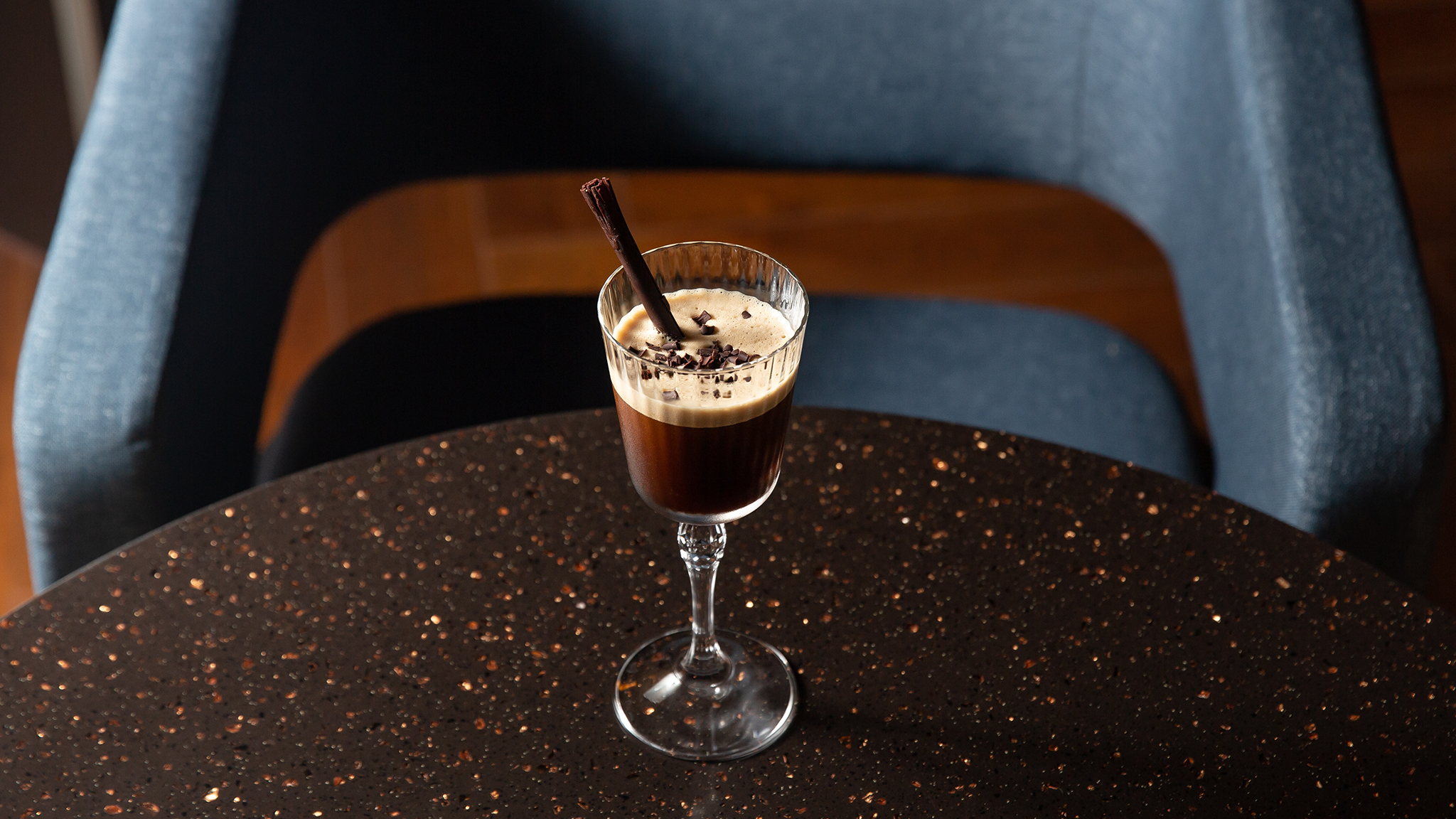 Mizuki Sour (B520) is a playful take on a whiskey-based drink, with citrusy blasts of yuzu and lime, and the smooth, milky taste of egg white on top.
Rogue et Salé (B500) is Mizuki's tribute to her beloved uncle and his liking for bacon! In this drink, red wine is mixed with Ki No Bi gin, mashed raspberries, and lime. A crispy bacon is added as a fun, savory garnish.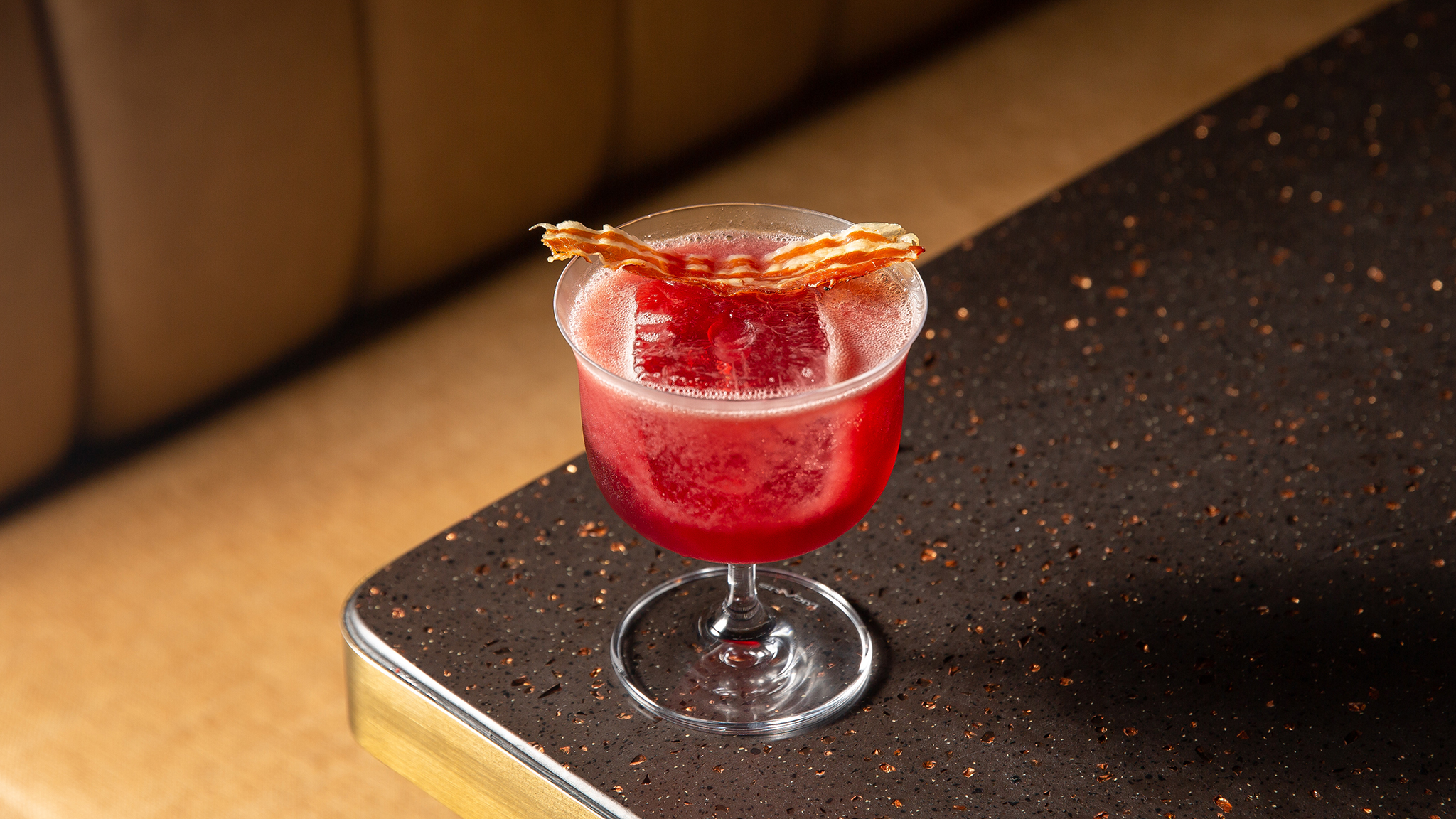 Murazaki Bliss (B500) is an easy-to-drink cocktail that mixes an umeshu base with honey, tonic water, and lemon bitters. It's a tall drink with a refreshing sensation and is supposedly reminiscent of Mizuki's happy-go-lucky spirit.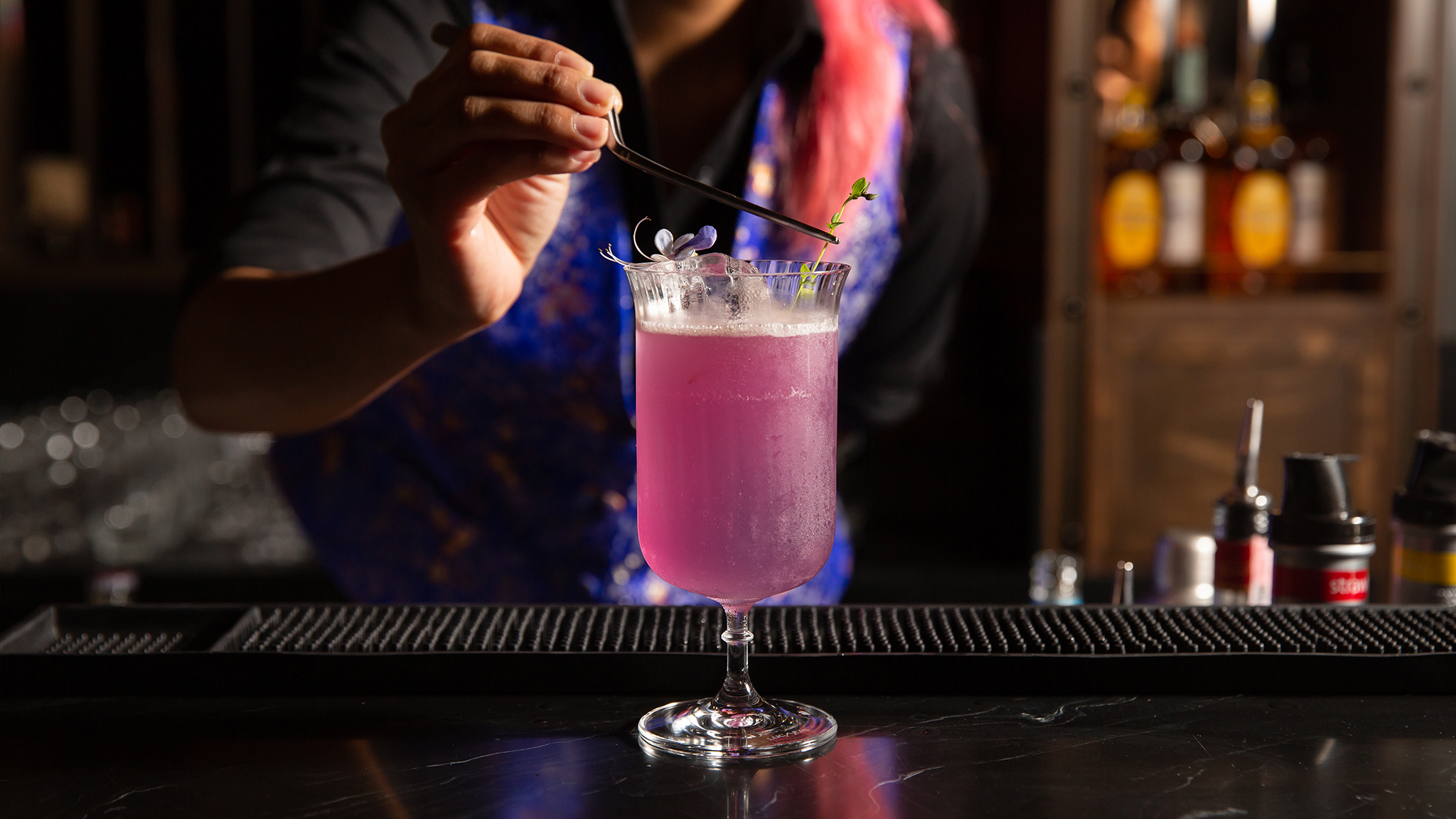 Local Thai sensibilities are infused in Sayuri (B480), a sake-heavy short drink with generous additions of coconut syrup and lemon.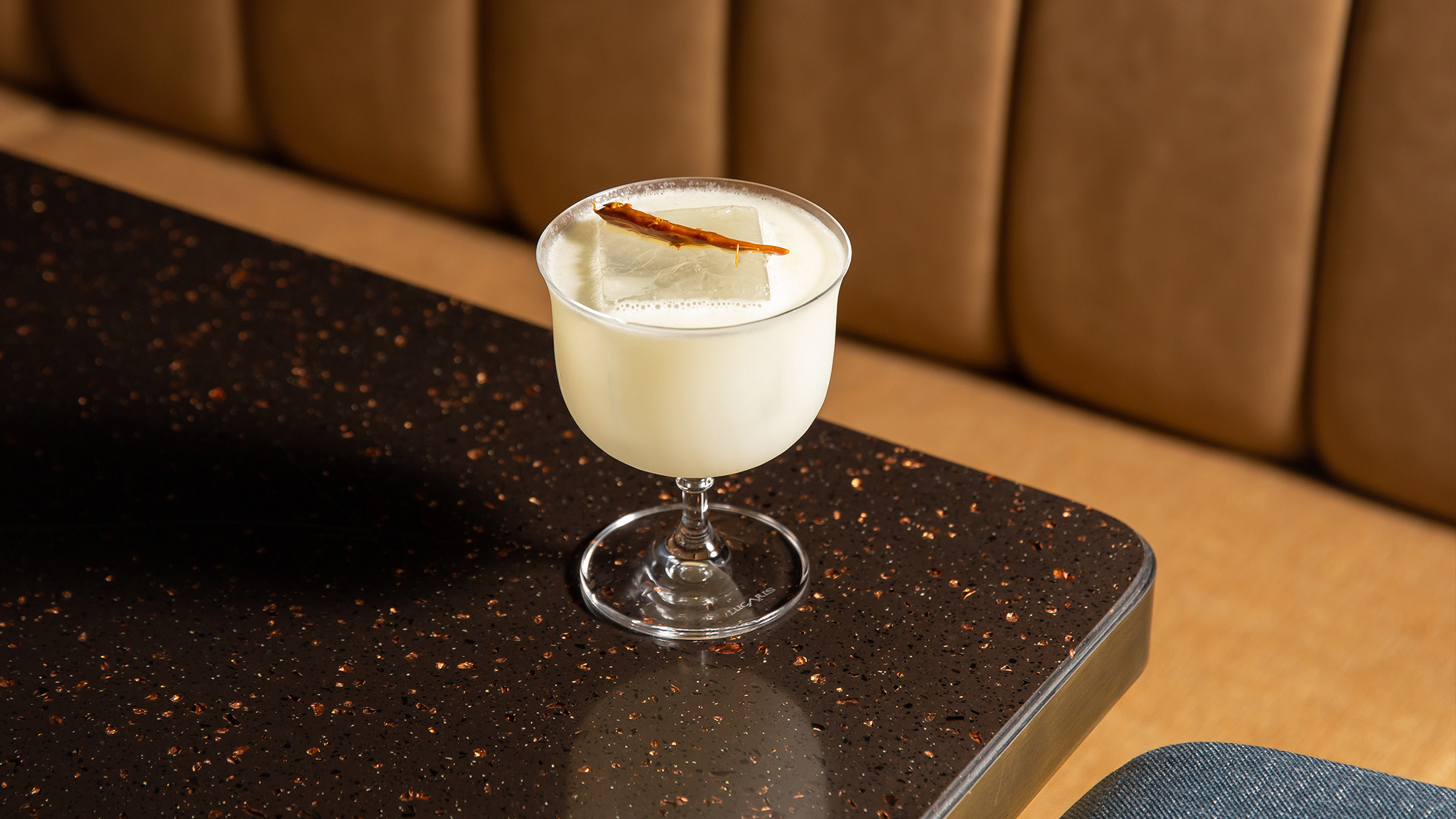 The ultimate Japanese showcase is Miso Nori (B480), which has umeshu, miso, and shiso nori powder—ingredients that are very much present in traditional Japanese cuisine.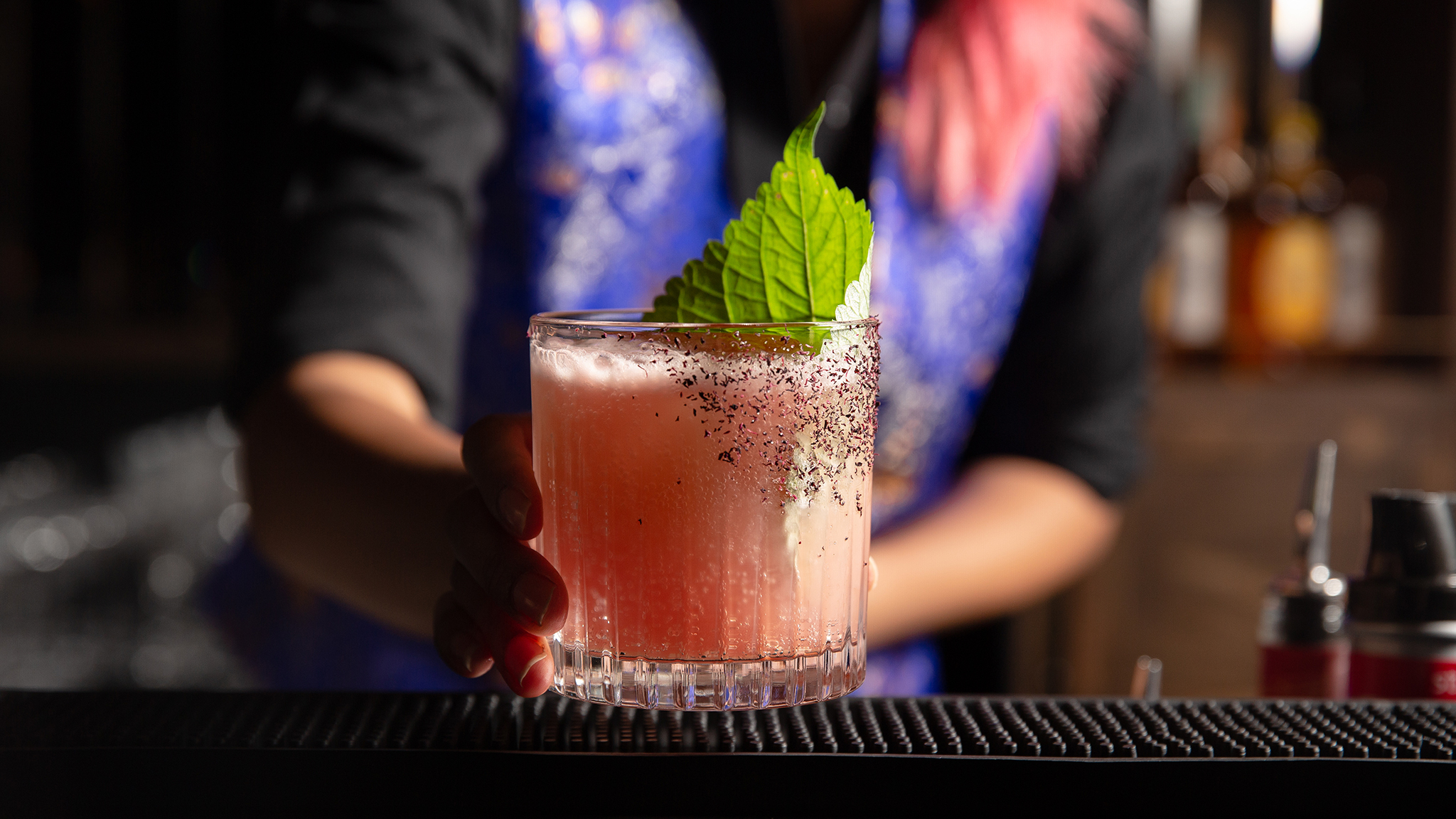 Mizuki would not be the perfect hostess if she didn't offer food along with these lip-smacking cocktails and whiskey shots. Maison Mizuki also serves an array of sushi made with fresh premium ingredients. Come as a big group and order the Premium Sashimi Moriawase set—sample five different types of fish for B1,290 and seven different types for B2,450.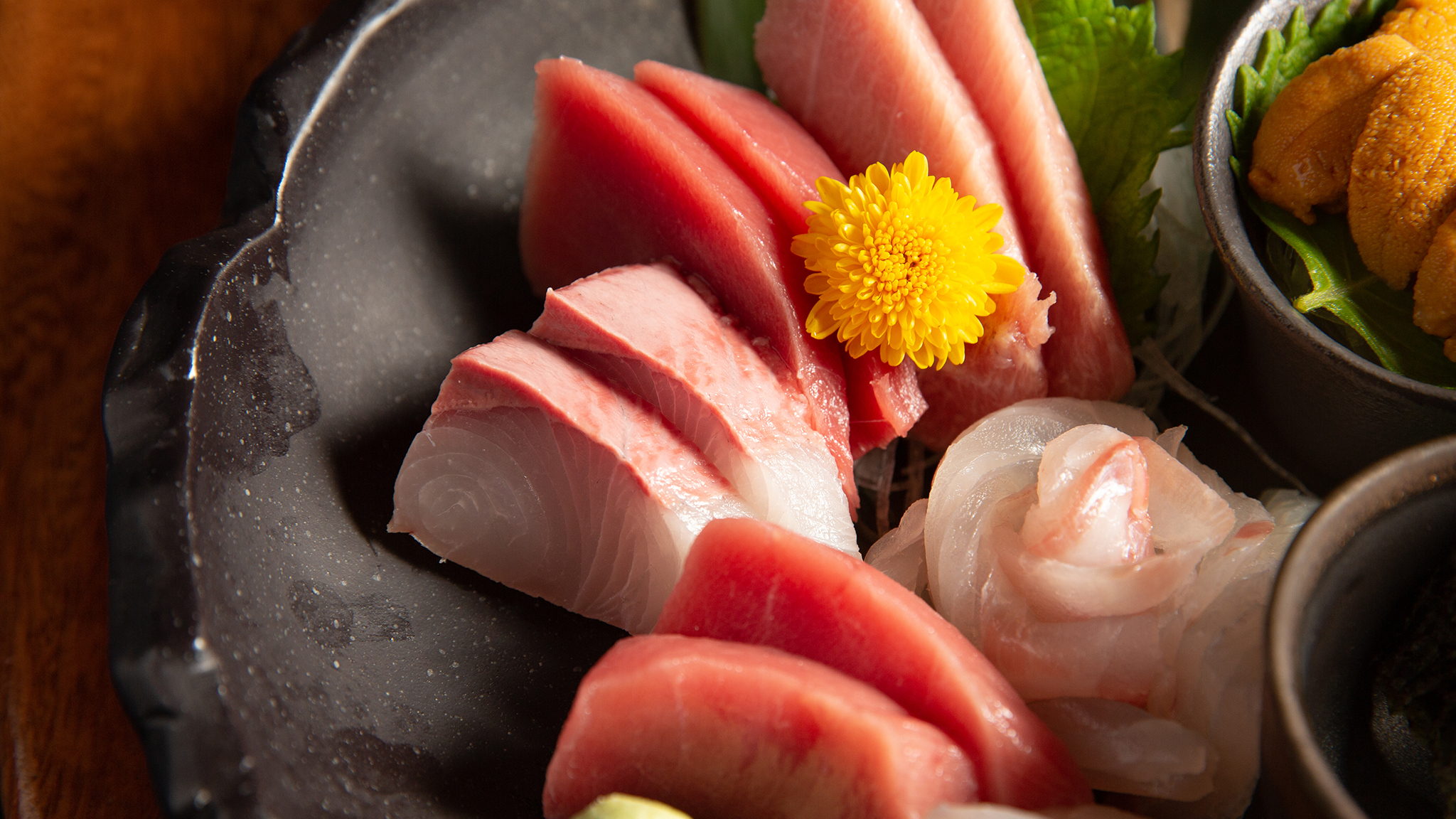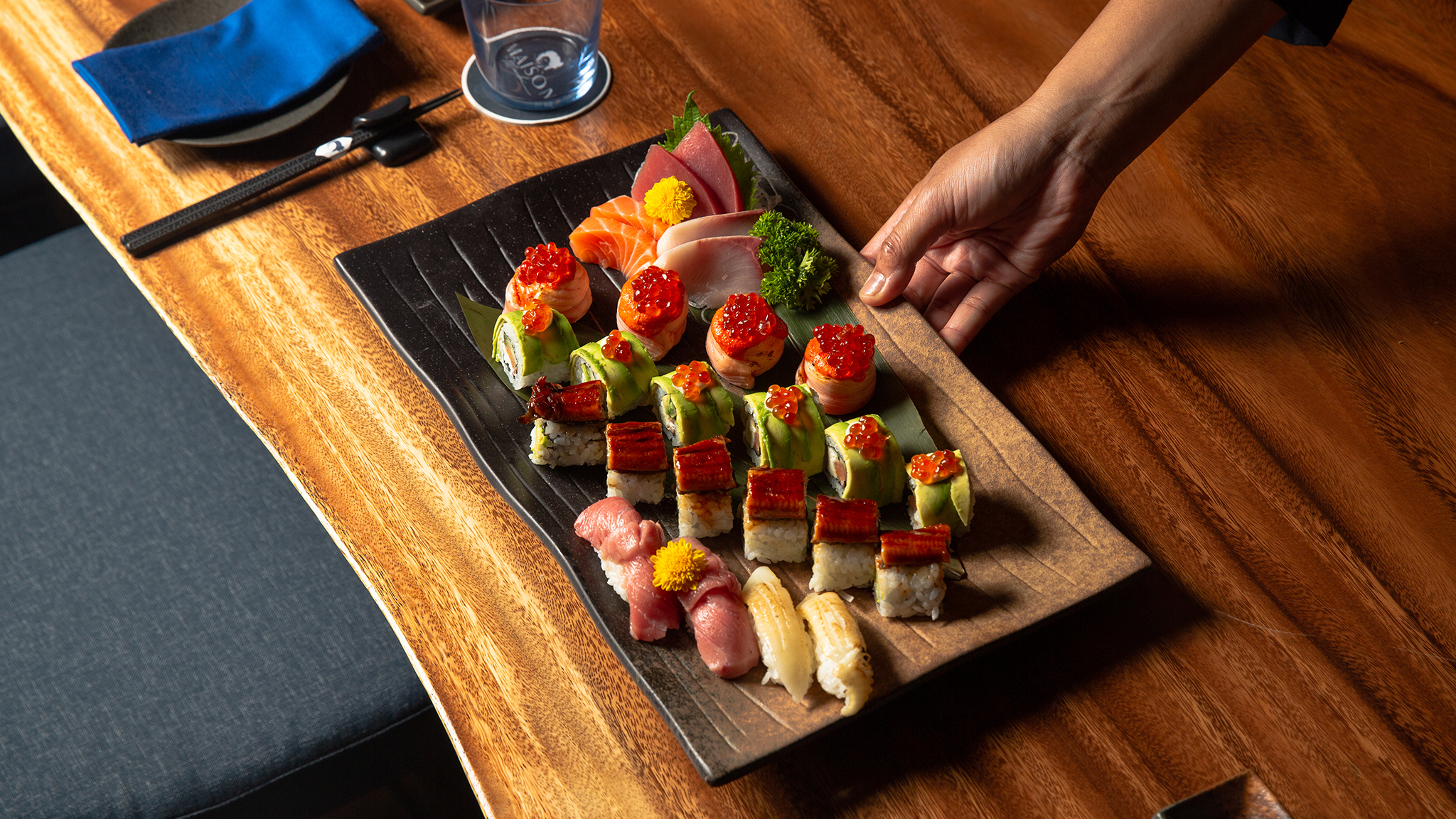 You also have Maison Mizuki (B1,890), an assorted nigiri set that includes 20 bites of salmon lava rolls, unagi rolls, avocado and cream cheese rolls, engawa nigiri, chutoro nigiri, and sashimi.
Usuzukuri (B650) is perfect when you feel a bit peckish. Fresh madai fish (aka red snapper) is thinly sliced and served with ponzu sauce. But you can get Tuna Tataki (B430) if you prefer fish with red meat.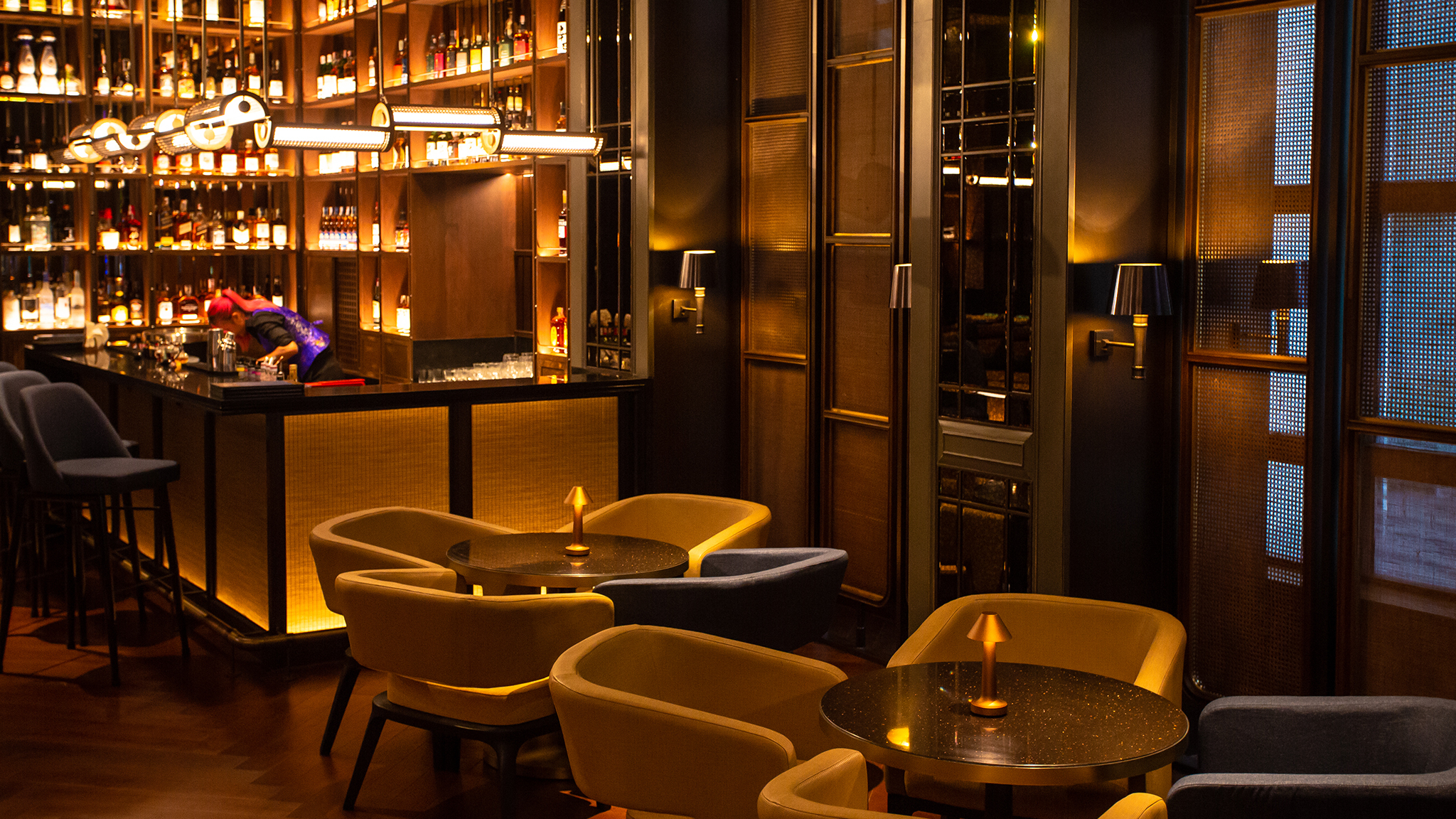 Maison Mizuki welcomes guests from 17:00 to 01:00 on the lobby floor of Sofitel Bangkok Sukhumvit. For more information and reservations, call 0 2126 9999 or email H5213-FB11@SOFITEL.COM