This elegant Thai restaurant is a must-go destination for every foodie
A fine-dining restaurant to savor exotic Thai cuisine in lavish presentation
There is definitely no shortage of Thai restaurants in Bangkok. But there is a perceptible lack of Thai restaurants that mosey down the path of modern gastronomy while still retaining a true sense of Thainess. Osha is one of the few exceptions. A majestic sanctuary situated along Wireless Road, the fine-dining Thai establishment pays tribute to the grandeur of centuries-old recipes while injecting each dish with contemporary, awe-inspiring aesthetics, resulting in the impressive list of exotic Thai cuisine that could hardly be found anywhere else.
Osha may have been in Bangkok for only a few years, but, for two decades, the restaurant has been enjoying a solid reputation halfway across the world in San Francisco, where it started off as a chain of casual eateries serving food that's dedicated to humble Thai flavors. The Bangkok outpost of Osha, however, takes on a more elevated fine-dining status with an emphasis on show-stopping, theatrical presentation, seen in everything from the restaurant's interiors to the plates that are served on opulently upholstered booth tables. A soaring entrance looms over busy Wireless Road, acting like a gateway to a sacred shrine. The high-ceilinged dining room is a sublime blending of black and gold affair, featuring rounded booths, leather-clad elements and a golden winding staircase leading to a mezzanine area. An eye-striking floating Chada-style chandelier hovers over the reception lobby, while traditional-style murals depicting scenes from the Ramakien transport diners to a bygone paradisiacal time. Interiors-wise, it's probably the most stunning restaurant in Bangkok.
The food, which is equally awe-inspiring, combines traditional recipes with jaw-dropping modern gimmickry. Frill and foam are employed for dramatic purposes, but these don't take away from the impressive interplay of flavors Thai cuisine is best known for. Offering authentic flavors, theatrical plating and amazing décor, Osha is, hands down, one of the top destinations for Thai cuisine in Bangkok.
The five dishes we love at Osha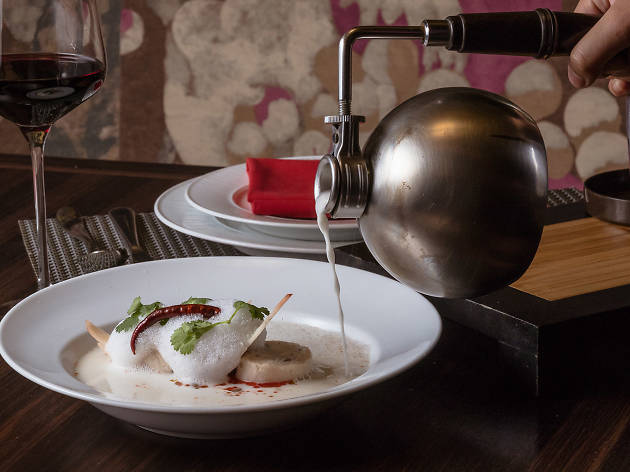 Sereechai Puttes
Served in a hot infusion siphon, the broth of the tom kha khai (creamy chicken and galangal soup) is boiled with aromatic herbs and spices, and poured over chicken breast filled with chicken mousse, galangal and shallots. The result is the mellow and creamy broth that's enhanced by the heavenly tender chicken roulade.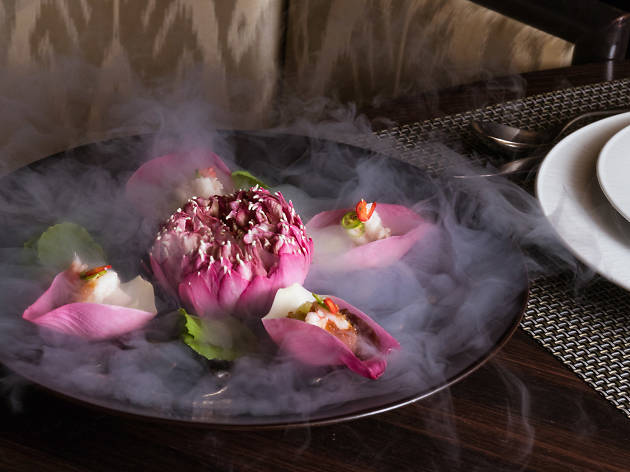 Sereechai Puttes
The miang khum (traditional Thai snack) at Osha includes nibbles of toasted coconut, sweet miang paste, shallots and prawns wrapped in pink lotus petals and smoked with liquid nitrogen for dramatic purpose.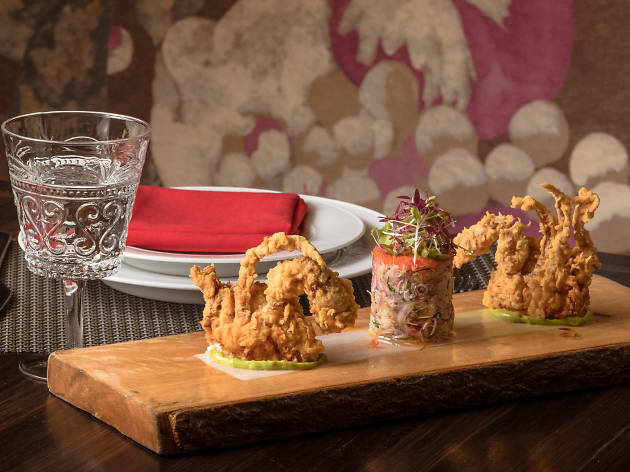 Sereechai Puttes
Spicy pla salad of blue swimmer crab and fish roe is deliciously served with fried soft shell crab with avocado mousse.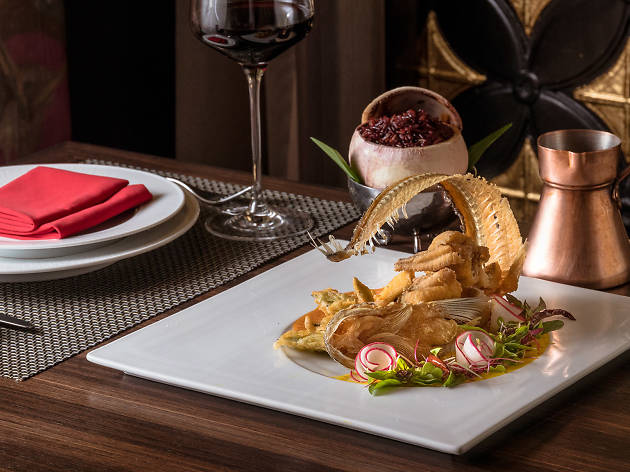 Sereechai Puttes
Fried sheatfish in sweet and spicy choo chee curry is served with coconut juice-cooked rice.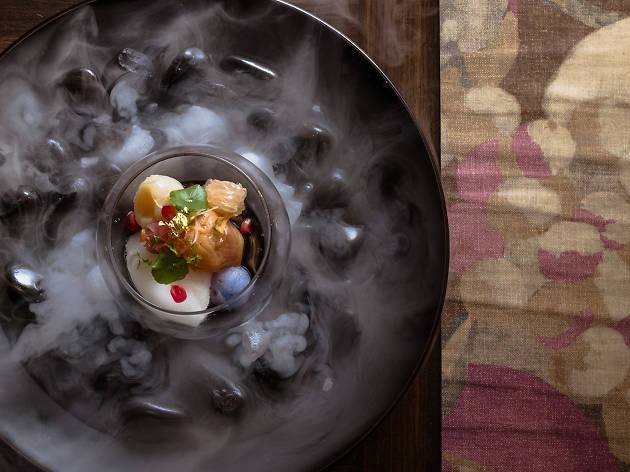 Sereechai Puttes
Don't leave without having dessert. Try the som chun, which features fruits like lychee, pomelo, salacca and pomegranate doused in syrup.
More to explore