2 new cafes in Soi Sukhumvit 36
The tranquil residential lane is now Bangkok's latest café-hopping destination
In contrast to bustling Thonglor on the other side of Sukhumvit, Soi Sukhumvit 36, which is lined with low-key residential monoliths and home offices, is not what you'd call a destination for dining and drinking. However, the recent openings of trendy cafes have been drawing the caffeine- and Instagram-addicted crowd to the area, making the quiet lane an emerging hot spot for coffee and brunch.
Here are some of our recommendations.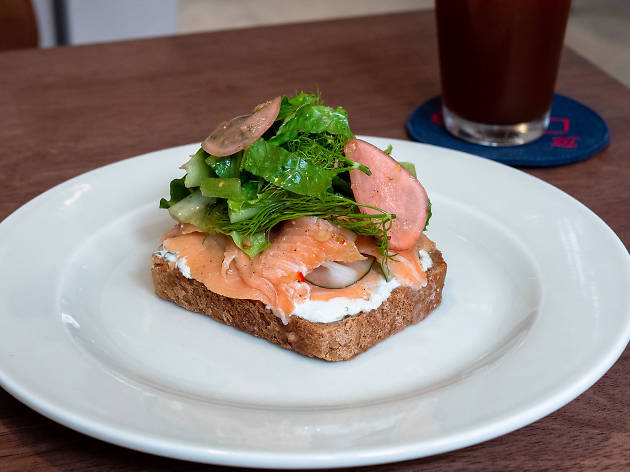 Kanta "Toiting" Siddidharm, who has experiences at Gaa, 80/20 and renowned Copenhagen restaurant Noma under her belt, delivers brunch-perfect bites that combine local flavors with Nordic influences, and emphasize homemade ingredients—all the breads are baked fresh daily (the sourdough with whipped butter is marvelous) and the pickles are made in-house. The food is simple but boasts a few unexpected twists. For example, smoked salmon is served on rye bread with sour cream and seafood sauce, and comes with a salad drizzled with candied kaffir lime dressing, while the pork sandwich gets a spicy kick from house-made kimchi. For dessert, don't miss the parmigiano cheese ice cream with red wine reduction and honey, and maple syrup-glazed donut topped with bacon strip. The place serves natural wine and is pet-friendly.
Set adjacent to sister Italian restaurant L'Olivia, Caffè Olives is shadowed by two olive trees growing on its outdoor terrace. The café focuses mainly on caffeinated brews, creamy cakes and comfort bites that highlight Italian flavors, particularly those of Abruzzo, a city in Southern Italy known for exceptional olives. Highlights include pizza topped with zucchini cream and mortadella. If you're after lighter fare, try the kale anchovy salad with refreshing lemon dressing. Also not to miss is the olive oil cake, which pairs perfectly with their Italian coffee.