1/11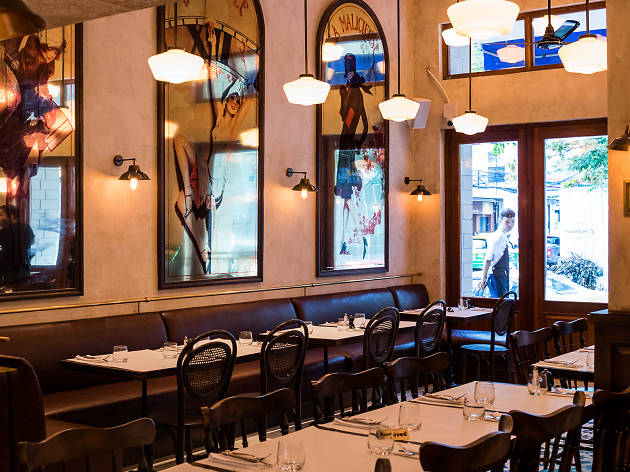 2/11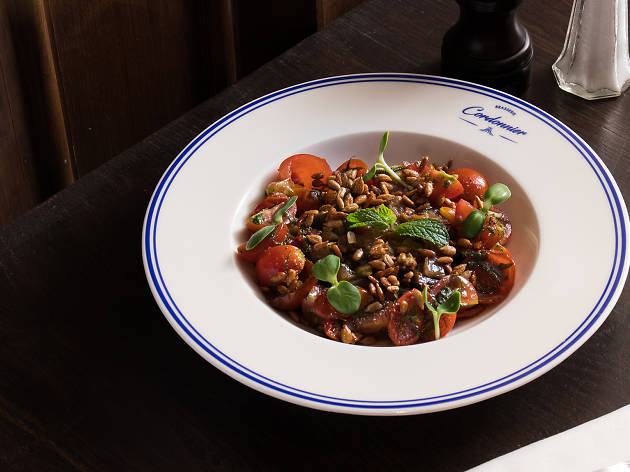 3/11
ratatouille
4/11
Foie Gras tartine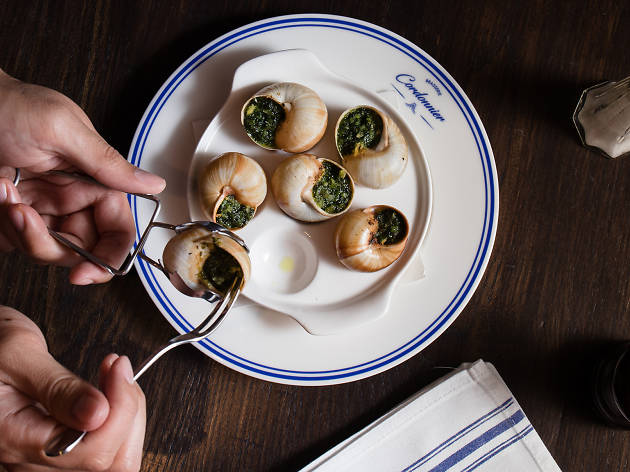 5/11
escargot
6/11
Onion soup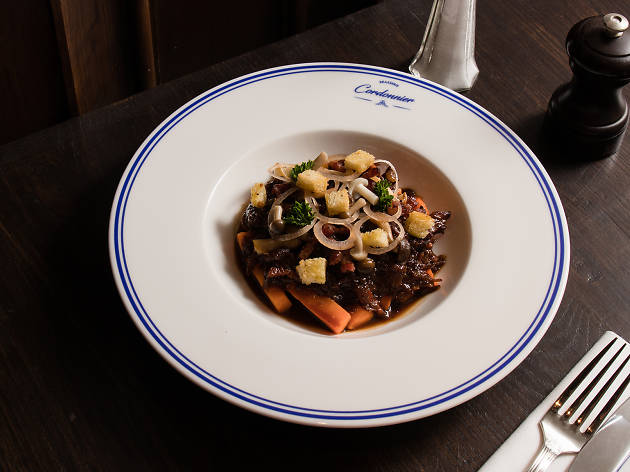 7/11
beef bourguinon
8/11
Tarte tatin
9/11
Davide Sambo
10/11
Moulin Sour
11/11
Sole Rouge
Time Out says
French dining in Bangkok is often worshipped on the altar of haute cuisine—the experience normally comes with lavishly suited butlers and a pricey, multi-course menu that features dishes with names you probably can't pronounce.
Brasserie Cordonnier, the latest restaurant by Soho Hospitality (the crew behind Charcoal and Above Eleven), aims to knock down Gallic fare from its lofty position by serving dishes that reflect the cuisine's more humble origins.
The restaurant is akin to one of those bistros dotting Montmartre, the bohemian quarters in Paris. An eye-catching patio with blue awning opens up to a space with unfussy, dark wooden paneling and small tables. Vintage posters and snapshots focusing on footwear adorn the restaurant's walls, manifesting a not-so-subtle fascination with footwear (cordonnier actually means "cobbler" in French).
But it's the affordable French staples on menu that are the biggest draws. Chef Clement Hernandez, formerly the sous chef at J'AIME, puts his own twist on authentic French recipes, including a hearty ratatouille paired with tomato salad featuring different textures of tomatoes with mint and sunflower seeds (B280). Succulent escargots are seasoned with garlic and parsley (B390), while the beef bourguignon— a nice pairing to one of the reds in the French-centric wine list (from B240 per glass)—features beef chunks, glazed carrots and bacon bits simmering in an intense red wine sauce (B520).
The apple tarte tatin (B220) is not to be missed. The treat is served up side down as a cheesecake with caramelized apples and is nicely paired with cinnamon ice cream.
Mixologist Davide Sambo has come up with French-inspired tipples that are on par with the food. Moulin Sour (B390), a twist on New York Sour, is a mellow, port wine-spiked, whiskey-based cocktail that manifests umami flavors with truffle and ginger. Lumière (B390), a tribute to French filmmakers Auguste Marie and Louis Nicolas Lumière, is a house-blended gin drink served in a light bulb. (You're also given a complimentary Polaroid snap as some kind of ode to the brothers). Classic favorite, Sex on the Beach, is dealt a high-fashion upgrade and becomes Sole Rouge (vodka, D.O.M Benedectine, Yellow Chartreuse, orange juice and framboise, B380). The sexy cocktail is served on a charcoal plate in a stiletto-shaped glass.
Details