1/10
Sereechai Puttes/Time Out Bangkok
2/10
Sereechai Puttes/Time Out Bangkok
3/10
Sereechai Puttes/Time Out Bangkok
4/10
Sereechai Puttes/Time Out Bangkok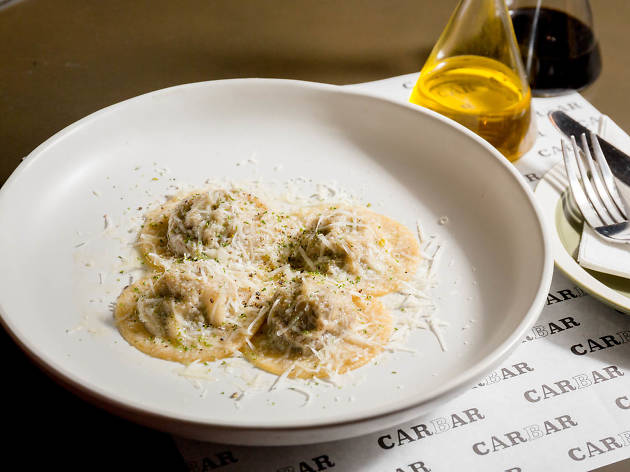 5/10
Sereechai Puttes/Time Out Bangkok
6/10
Sereechai Puttes/Time Out Bangkok
7/10
Sereechai Puttes/Time Out Bangkok
8/10
Sereechai Puttes/Time Out Bangkok
9/10
Sereechai Puttes/Time Out Bangkok
10/10
Sereechai Puttes/Time Out Bangkok
Time Out says
A cozy Italian restobar that plays up the temptations of carbo-loading
Arcade-themed eatery Hopeland obviously didn't bring hope to 72 Courtyard. The place has closed down after barely a year of operations, and has been replaced with a new hope—this time in the form of an Italian wine bar.
Taking over Hopeland's vacated space at the back of the complex, Carbar flaunts the urban industrial décor. Sleek wooden furniture, raw cement walls, metal elements, hanging light bulbs—yeah, you get it. Sliding glass partitions separate the main indoor dining room from an outdoor space area, and are usually left open to create an open and casual vibe that's complemented by hip hop tunes filtering through overhead speakers.
Take it from its name—Carbar's menu is an open invitation for carbo-loading. Start with the arancini (B150) or deep-fried risotto balls, here stuffed with sundried tomatoes, camembert and parmigiana, and served with apricot jam. The house also makes classic dishes like burrata and cherry tomatoes (B490), black pepper and parmigiano reggiano-mixed cacio e pepe spaghetti (B220), and homemade ravioli (B290) filled with cheese and short rib that's been cooked for four hours.
No Italian carbs feast is complete without pizza. At Carbar, it's cooked in a woodfire oven and served Neapolitan-style (B220 to B340). Four choices of toppings are available, including the carnivore-friendly prosciutto di Parma (B290) and Italian sausage (B290). For more meaty indulgences, order a platter of cold cuts (B550).
An amazing and affordable wine selection amps up Carbar's appeal. A glass of wine comes at B260 to B320. We tried the medium-bodied 2015 Carpineto Dogajolo red from Tuscany (B320/glass) and it went perfectly well with the restaurant's signature carb-heavy dishes. Cocktails are also served.
Details
Users say