Five vegetarian dishes even carnivores would also love
Discover the tastiest animal-free dishes in Bangkok!
The best vegetarian dishes in Bangkok
1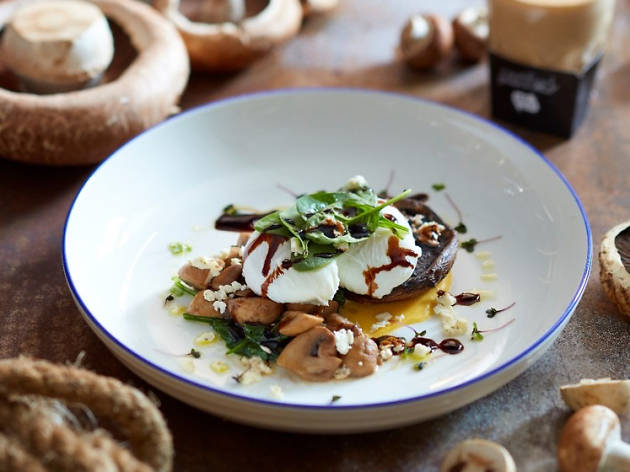 Mushroom & Spinach Eggs Benedict at The Coffee Club
The Australian-hailing coffee chain The Coffee Club has long been brewing Aussie-styled caffeinated cups using UTZ –certified beans and whipping up awesome gourmet brunch of which the star attractions feature Egg Benedict dishes that incorporate premium ingredients with the bold kick of local twist. This year, James Bradbury, the mastermind behind the Coffee Club's successful menu, steps up the game and churns out the alternative version to please Bangkok's herbivores. Not only is the dish gluten-free, this meatless version of the notable egg dish comes with imported giant Portobello mushroom which takes over bread. The treat also sees the sprinkling of spinach and mushroom slices and laden with The Coffee Club's signature Hollandaise sauce. An ideal healthy brekkie treat!
2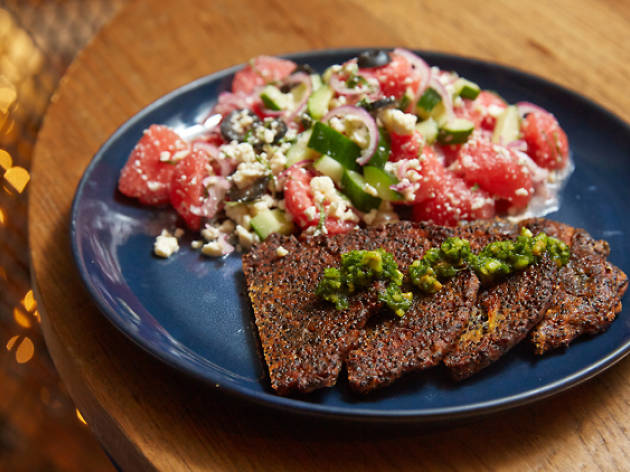 Watermelon Salad at Café Luka
Created by some of Bangkok's best food and drink masters, trendy Café Luka offers a cool selection of gourmet foods, coffee, and tea. Though the establishment offers many heartfelt meaty grubs, Luka gives equal prominence to meatless offerings of which the highlight is the watermelon salad that comes with juicy sweet watermelon balls salad which is given a refreshing touch by the combination of cucumber, black olives, mint freckled and feta cheese served alongside crunchy bread made of quinoa and kale pesto oil.
3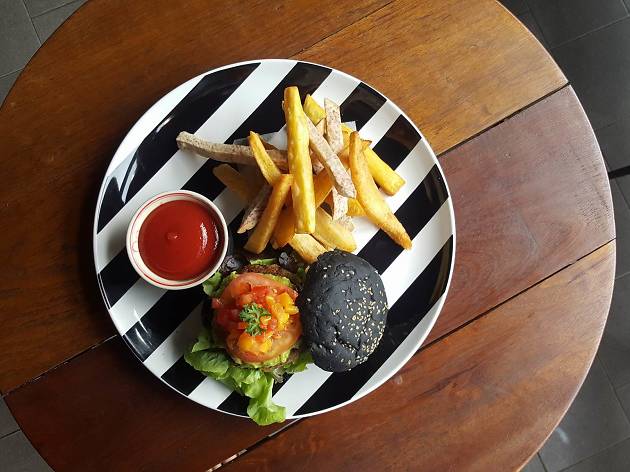 Charcoal burger at Broccoli Revolution
Broccoli Revolution is leading the surge against the earthy-crunchy reputation usually associated with all-veg places. The plant-based, vegan menu consists of selections of hearty salad, sandwiches, burger and even cheese. This popular eatery is famous for its signature charcoal burger of which the patty is made of quinoa and broccoli, sweetened up by mango salsa and dill.
4
Vegetables with assorted eggs at Man Fu Yuan Kitchen
The spin-off eatery of its mother branch at Rajpreuk Golf Club, Man Fu Yuan Kitchen simplifies the Chinese fare without toning down in the quality of the ingredients. One of our favorite meatless delights is the vegetable soup served with three kinds of eggs: salted egg, century egg and egg yolk which are beaten and sieved into golden strands.
5
The new Oriental-themed bar Ba Hao in Chinatown's Soi Nana dishes out noteworthy bar chow designed to match their craft beers and herbal cocktails. Though may have not looked appetizing at first glance, one of the standout goes to the dish of cold tofu that has the essentially delicious sweet and savory note served in a tangy soup made with three kinds of sauce (gingery soy sauce, hoisin and sesame oil) with slices of century old eggs. The whole combination is ideal to be enjoyed together all in one bite.
More to explore