Hall of Dames — Nine women who have changed Bangkok's dining scene
The notable women who are reinventing Bangkok's food and drinks scene.
Bangkok's food and drink scene is getting vibrant than ever. Nine of the city's restaurants and five cocktail bars have become some of the continent's best according to Asia's 50 Best Restaurants and Asia's 50 Best Bars list. And by the end of this year, we will be witnessing our first Michelin's Guide. We owe the success to the wonderful people in the industry who demonstrate the dedication. For the Mother's Day issue, we would like to pay tribute to all the women who make the minority in the industry and — together with the male counterpart — help shape the city's F&B scene as groundbreaking and exciting as it is today.
Nine women who have changed Bangkok's food and drink scene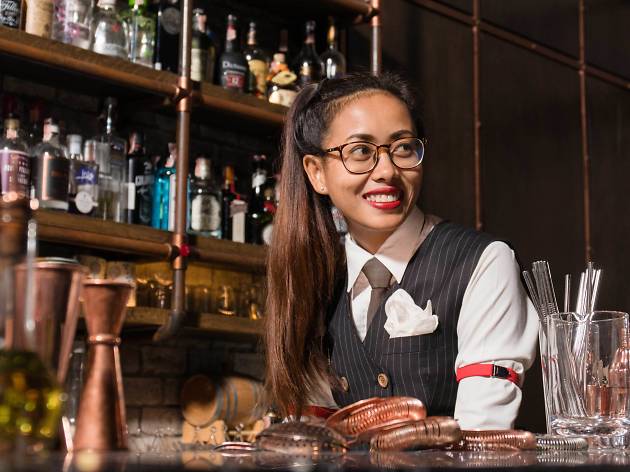 Sereechai Puttes/Time Out Bangkok
SUWINCHA "CHACHA" SINGSUWAN - HEAD BARTENDER OF RABBIT HOLE
Its sleek setting and groovy vibe brings in newcomers looking for a fun night-out to Rabbit Hole, but the regulars would all agree that it's head bartender Suwincha "Chacha" Singsuwan who's luring them back to this always-packed cocktail burrow. Chacha, who was born and raised in a family of bartenders, shone in the global cocktail scene as Thailand's representative at the 2013 Bacardi Legacy Cocktail Competition. Known for her deceptively complex, silky-smooth blends, she recently launched a new menu for Rabbit Hole which includes creations with a fragrant and savory twist. But it's not only her top-notch concoctions that have made Chacha one of Bangkok's most endearing bartenders; her charming personality and hospitable nature always ensures a memorable visit to the Thonglor speakeasy. "I don't call myself a mixologist," she says. "I prefer the term bartender, which conveys a sense of attending [the bar] and hospitality, which are crucial to this career."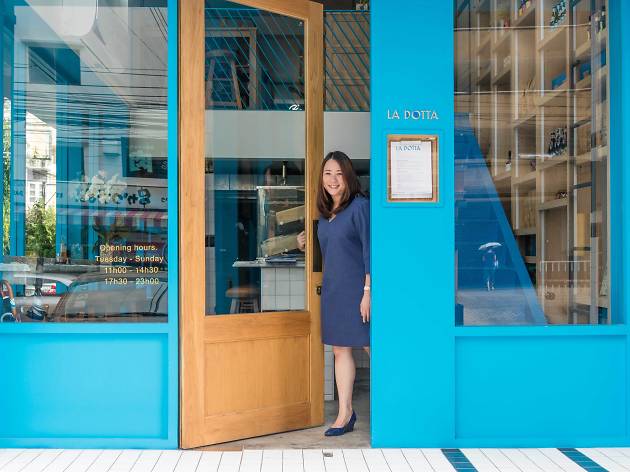 Sereechai Puttes/Time Out Bangkok
DEBBY TANG — CO-FOUNDER OF FOODIE COLLECTION
"I've always enjoyed eating since I can remember," laughs Debby. Her passion for refined Western cuisine developed when she and her husband, Choti Leenutaphong, went to study in Europe and explored the continent's fine-dining and local offerings. Together, they recorded their gastronomic experiences in a blog called Foodie Collection. When they returned home, the simple food blog evolved into an entrepreneurial venture which commenced with the opening of Vesper, an Italian restaurant-slash-cocktail bar that pays tribute to the "shaken" martini of the same name. The pair, through Vesper, set the trend for the enjoyment of new-wave cocktails in Bangkok. They later expanded their empire with Il Fumo and, more recently, pasta haven La Dotta. When asked the secret behind their success, Debby reveals, "It has to do with our passion for food. Without such passion, we wouldn't survive in the F&B business."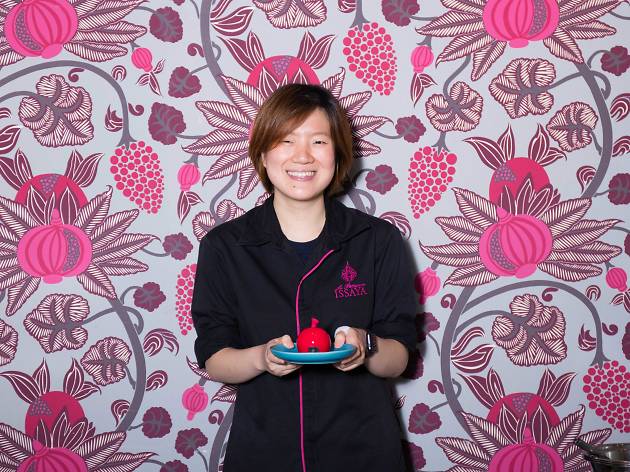 Sereechai Puttes/Time Out Bangkok
ARISARA "PAPER" CHONGPHANITKUL — EXECUTIVE PASTRY CHEF OF THE ISSAYA GROUP
Arisara "Paper" Chongphanitkul of the Issaya Group is one of the very few pastry chefs in Bangkok with enough audacity to turn century-old desserts into modern masterpieces. With her creative mind and attention to detail, Paper combines the techniques she learned from her education at French cooking institution Gastronomicom with premium Thai ingredients. The results are the awe-inspiring creations that are displayed at each Issaya outlet. Her desserts range from the simple, such as tub tim krob with coconut granita served at Baan Padthai or macarons with unconventional flavors like salted egg yolk and sweet basil at Issaya Patisserie, to the avant-garde as in an updated mango sticky rice (served at Issaya Siamese Club) that's encased in a white chocolate shell. Outside the Issaya kitchen, she is preparing herself for the upcoming Pastry Queen competition where she will showcase her skill among the world's best female chefs.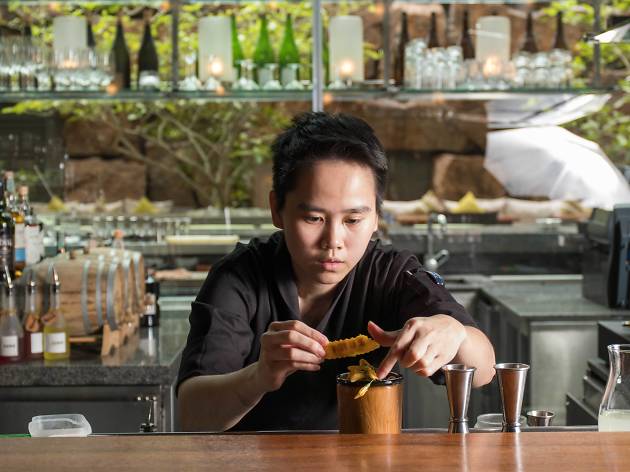 PAILIN "MILK" SAJJANIT — BAR MANAGER OF ZUMA BANGKOK
She may have only started her bartending career around four years ago, but Pailin "Milk" Sajjanit has become a notable fixture in Bangkok's emerging cocktail scene. The petite mixologist won the title of Best Bartender at Diageo World Class Southeast Asia and represented Thailand in the global finals in Miami last year, achievements that made her a familiar figure in the global bartending community. However, it was her role as bar manager at upscale haunts Vesper and Il Fumo which put her in the local limelight—Milk was the driving force behind Il Fumo's well-balanced collection of vintage classics and the creative, modern art-inspired cocktails at Vesper. You can now find her behind the bar at swanky restaurant Zuma Bangkok, where she unconventionally injects Japanese and Thai twists to Tiki-style concoctions.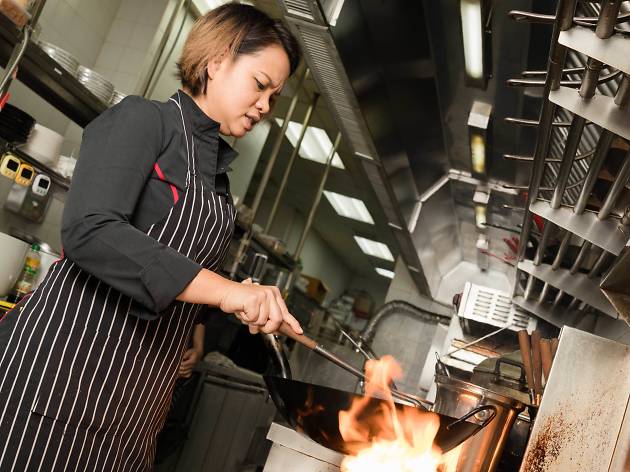 BONGKOCH "BEE" SATONGUN — CHEF AND CO-OWNER OF PASTE
As a child, Bongkoch "Bee" Satongun never thought she'd become a professional chef. Growing up in a family where cooking was the only source to make ends meet, Bee, like most of her female peers, dreamed of working in a hotel. It was only much later that she discovered her place in the F&B business and began cooking professionally. Eventually, she met chef Jason Bailey, who was to become both her professional and life partner. They moved to Australia and opened an award-winning classical Thai restaurant but eventually came back to Bangkok to develop Paste, the critically-acclaimed dining room that merges authentic Thai flavors with innovative techniques. Apart from researching ancient recipes, Bee and Jason often travel throughout the country in search of the best local ingredients. A recent trip to a remote village in Northern Thailand revealed cooking secrets from the Shan minority, and led to the pair reinventing traditional dishes such as the original version of khao soi and stir-fried fiddlehead fern with cured pork.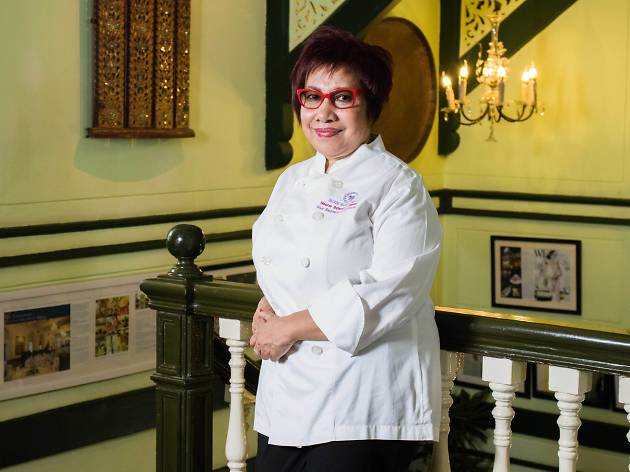 Sereechai Puttes/Time Out Bangkok
NOOROR SOMANY STEPPE — RESTAURATEUR, CHEF AND FOUNDER OF BLUE ELEPHANT
Nooror Somany Steppe was ahead of the game. Before Thai cuisine became so hyped-up that locals happily fork out more than B300 for a bowl of kaeng keaw wan, the visionary restaurateur was already uplifting humble pushcart fare at Blue Elephant, the famed fine-dining establishment that meticulously combines top-quality produce with authentic Thai flavors. Born and raised in Chachoengsao, Nooror learned cooking basics from her mother and aunt, but it was her passion for Thai cuisine that prompted her to launch the first Blue Elephant in Brussels, Belgium with her husband in 1980. Her culinary empire has since expanded worldwide, with restaurants in cities like London and Paris. The Bangkok branch, beautifully established in the charming Thai-Chine building, has long been a prestigious venue for hosting members of Thai royal families and foreign official guests. As an unofficial ambassador for Thailand, Nooror is able to demonstrate the art of Thai cooking to a global audience on home grounds.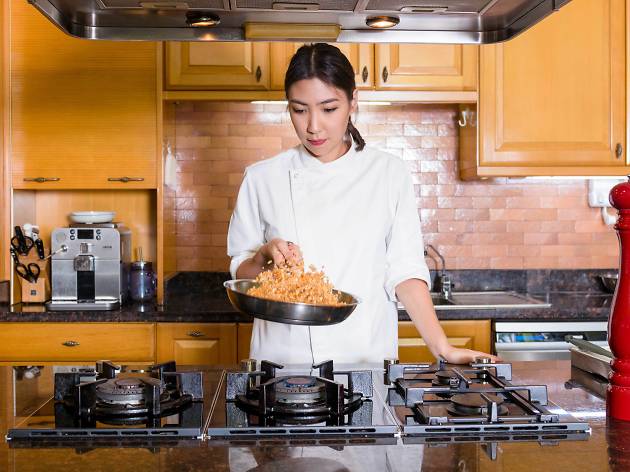 Sereechai Puttes/Time Out Bangkok
PICHAYA "PAM" UTHARNTHARM — PRIVATE CHEF AND TV PERSONALITY
The general public may know Pichaya "Pam" Utharntharm as one of the judges in television cooking show Top Chef Thailand, but food lovers and industry insiders acknowledge her as a talented chef that runs a successful chef's table set-up at her home in Soi Sukhumvit 33. After finishing her bachelor's degree in university, Pam pursued her dream of becoming a chef by taking courses at Le Cordon Bleu and later representing Thailand in the Great Escoffier International Competition in 2011, where she was declared Asia's winner and was the region's representative in the world finals in Avignon, France. She later studied at the Culinary Institute of America, which brought her to the world-renowned Jean-Georges Restaurant in New York. After logging in her fare share of hours in one of NYC's most hectic kitchens, Pam moved back to Bangkok and offered a French-inspired chef's table experience. Her stint in Top Chef Thailand, where she was admired for doling out constructive criticism and for her compassion as a judge, has led to her own show called Pam's Kitchen on New TV (channel 18). Despite her celebrity status, Pam insists that she will never let fame stop her from indulging in her passion for cooking.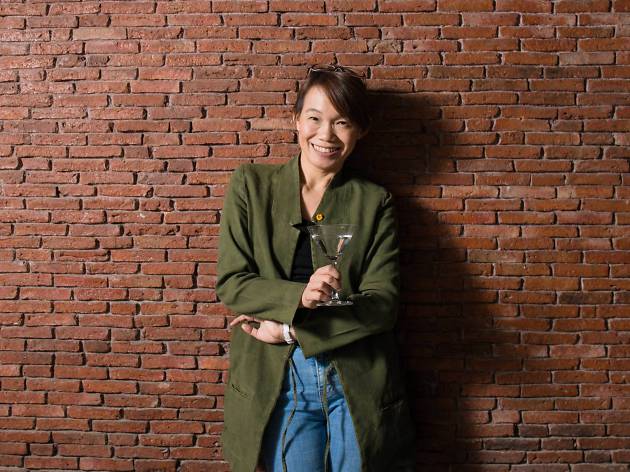 Sereechai Puttes/Time Out Bangkok
ANO "GOY" CHUMINCHAJ — FOUNDER OF KIN PLUS BAR MANAGEMENT AND OPERATION
Bangkok has been hosting a fair share of bar events and tournaments that—apart from trying to find the best bartenders—brushes up the mixologists' skills and fortifies the bar community in the city. The lady behind them all is the familiar face among the people in the industry—Ano "Goy" Chuminchaj, the founder of Kin Plus. Comparing the science of mixology to art, she falls in love with the world of cocktail and has been organizing bar competitions since 2003, from the dated bartending flair to the mixology competition like Bacardi Legacy. Prior to each contest, she likes to visit the bars and encourage bartenders, especially the less-experienced, to help them get ready for the coming competition. Known by the nickname "Mae Goy," that's the reason why she's beloved from the bartenders Bangkokwide. In August, she will be organizing the city's very first Bangkok Rum Cocktail Week where master bartenders from around the world are invited to Bangkok bars to curate stellar rum-based cocktails.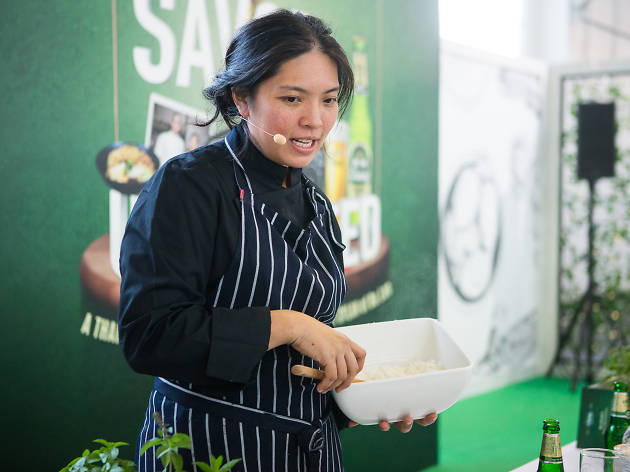 Chang
DUANGPORN "BO" SONGVISAVA — CHEF AND CO-OWNER OF BO.LAN AND ERR
At one of the industry sessions held prior to this year's Asia's 50 Best Restaurants award ceremony, one chef took a stand and protested the use of styrofoam boxes that were used during the demonstration conducted by world-renowned chef David Thompson. The dissenter was Duangporn "Bo" Songvisava, the co-driving force behind Thai eatery Bo.lan—named the 19th best restaurant at the awards—and Err, an outlet serving casual street food-style fare. Bo's outspoken objection reaffirmed the young chef's environment-conscious stance to cooking and the importance of applying eco-friendly practices in the kitchen. Her restaurants are not only praised for reviving long-lost ancient recipes, but for keeping to a kitchen philosophy that uses as much organic and fare-traded produce as possible. Bo, along with her husband Dylan Jones, is determined to turn Bo.lan into Thailand's first zero-carbon footprint restaurant. Their efforts have inspired a number of chefs who have worked in Bo.lan's kitchen to continue this eco-friendly legacy in their own establishments.
More to explore