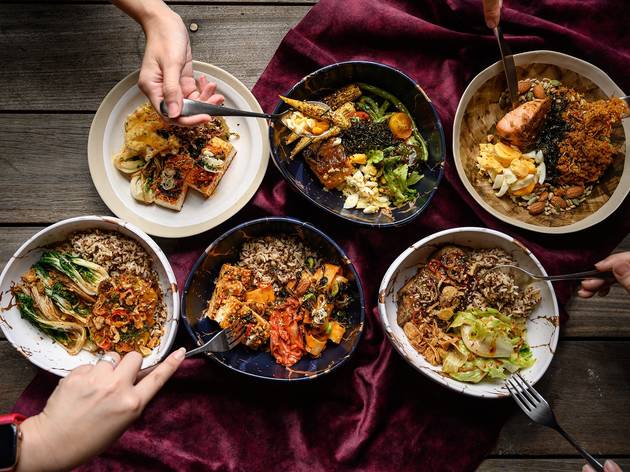 Healthy and hearty bowls and where to find them in Bangkok
Nourishing and scrumptious eats to keep fit and stay healthy
It may be difficult to maintain a fit and healthy lifestyle while on lockdown. Self-isolation could result in inactiveness that gains you extra weight, and depression that calls out to endless junk food snacking. Perhaps it's high time to turn to healthy bowls. Packed with muchneeded nutrients, and a good balance of and proteins, these all-in-one meals are an ideal choice for keeping healthy and hale during these difficult times. Here are a few restaurants that are offering these nutritious and healthy eats for delivery
Heathy and hearty bowls and where to find them in Bangkok
This Sathorn eatery has converted many a meat-eater into a salad lover. Brought to you by the people behind Charoenkrung café Sarnies, Pimp My Salad offers a variety of proteinrich bowls such as Cool Gai Chicken, which comes with coconut-cooked chicken, larb-kissed chickpeas, sautéed mushrooms and brown rice; Gangnam Pork, packed with mashed sweet potato, broccoli and kimchi; and Mezze Bowl with smoked salmon, citrus-marinated olives and baba ghanoush. Include their vegan raw brownie and house-baked focaccia bread with cashew nut butter in your order for an all-around meal.
This food stall in The Commons Saladaeng gives a twist to clean eating by proffering healthy bowls spiked with flavorful Thai condiments. For example, chicken is dressed with coconut-based go-lae dressing (Southern Thai sweet and sour curry), quinoa is tossed with tom yum ingredients, and the omelette is cooked with cha-om leaves. Opt to create your own bowl with mix-ins of your choice. You can order via Grabfood or Lineman.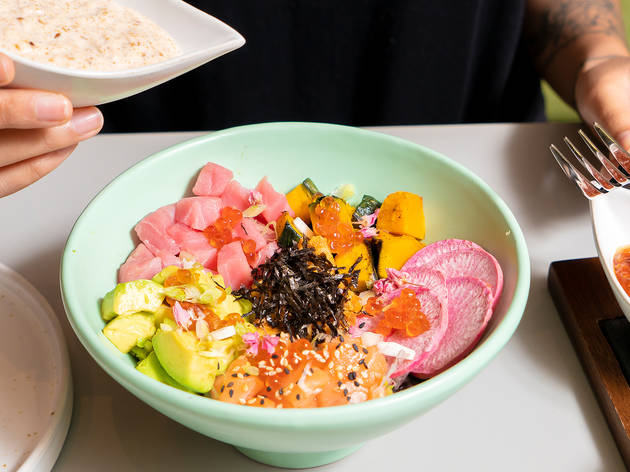 Get Fresh Bowl
Former healthy eatery Dressed has been transformed and rebranded as Getfresh. Though the latter has a few more dishes on its menu, the mission remains the same: to serve wholesome, health-centric meals. Order the Spicy Pork Bulgogi Bowl to fill up on your daily requirement of nutrients and protein. The bowl packs in jasberry rice mixed with pork tenderloin, kimchi, pickled daikon, carrots, baby radish, spring onions and onsen egg.
Of the three vegan rice bowls served at this popular vegan restaurant, it's the Quinoa Tom Yum Bowl that stands out. The hearty meal gives a Thai twist to grains like quinoa and brown rice by mixing them with chickpeas, red beans, tomatoes, chili, lime, red onions, and kaffir lime leaves.

Vistro has filled in a gap that seemed to be missing in the city's herbivore scene, offering the most creative takes on typical vegan fare. The vegan dishes here are so flavorful that a carnivore may even consider going full vegan after a meal. The two-story establishment is airy, plant-filled and sizeable. The first floor is perfect for grabbing small healthy bites and drinks to go, while the second floor is where all the creative dishes are served. Don't miss the Vistro Dumplings, a moreish snack served with Taiwanese-style chili oil and gyoza sauce, and the Habibi Wrap, which stuffs marinated "chicken," iceberg lettuce, red cabbage, and bell pepper in a soft wheat tortilla. End your meal with a gooey brownie topped with a scoop of vegan ice cream. Their house-made kombucha and wellness lattes are also a must. Check out their Facebook page as they often host vegan weekend brunch with pancakes, smoothie bowls and savory waffles.