Q&A with Phil Karsting
The administrator of the U.S. Foreign Agriculture Service on his gourmet lifestyle and favorite food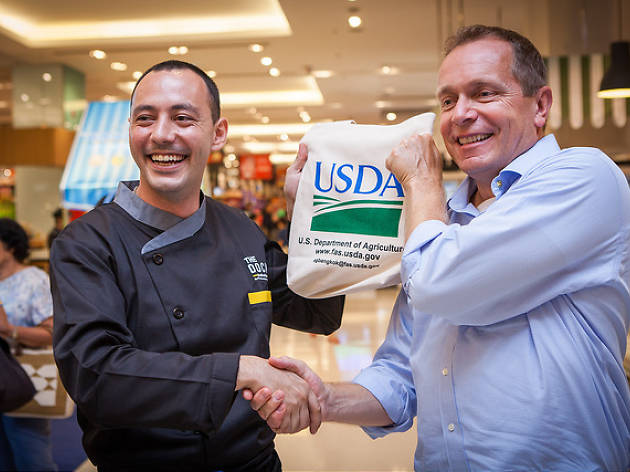 Time Out Bangkok sits down for an exclusive chat with Phil Karsting, the administrator of the U.S. Foreign Agriculture Service, while he was in Bangkok, and finds out how U.S. food products have proliferated the world markets. On a more personal note, we learn about his gourmet lifestyle and favorite food.
What US agricultural produce do you like most?
You're going to make me choose? No way, my friend. That would take all day. There's so much to choose from!
US agricultural products are being exported to different parts of the world. Can you give me some examples of how these products blend/ incorporate into local food cultures?
Chef Benjamin and I made fantastic tom yam au gratin with U.S. East Coast scallops at The Dock restaurant at Gourmet Market. Tasted great, plus he let me use the kitchen torch to finish it off with a little fire.
You've been traveling around the world for years, visiting different countries. What is your favorite local food? Or what's the one dish that has excited you the most?
It's hard to choose. Next week, at home, I'm going to experiment with Thai papaya salad, then fuse it with some traditional American ingredients— maybe seafood or dried cranberries.
What's the most exotic food you've tried?
I'm an omnivore. I'll try just about anything as long as it's safe and prepared well. I've had great camels' milk with dates in the Algerian desert, springbok carpaccio in Johannesburg, Korean tacos from a truck in Madison, Wisconsin…
How do you unwind?
I exercise so I don't have to buy bigger clothes.
What's the secret to the success of U.S. food products around the world?
Safety, quality, reliability and taste.
If you had to recommend a U.S. food product to Thai consumers, what would it be and why?
California table grapes, Washington apples and tree nuts from across the U.S. make great additions to traditional dishes. Plus they're easy to take to the office and share.