The best restaurants to celebrate Chinese New Year in Bangkok
Go xin nian kuai le at these restaurants in Bangkok
Best Chinese New Year dining deals in Bangkok
Sheraton Grande Sukhumvit
Sheraton Grande Sukhumvit
The international buffet line of Orchid Cafe amps up the Chinese spirits with the addition of national delicacies like drunken chicken salad, marinated stuffed pork legs and yang zhou fried rice with prawn from 1-4 Feb (dinner) and 5 Feb (lunch)
Sheraton Grande Sukhumvit, 0 2649 8355
Anantara Siam
Anantara Siam Bangkok Hotel
Chinese-inspired, all-you-can-eat bites like scallop with XO sauce and Peking duck await to be indulged at the Madison and Aqua on 5 February (B1,888), while Sunday Brunch on 10 Feb will be dedicated to scrumptious Chinese flavors. Lion Dance is performed on 5 February to official welcome The Year of Pig.
Anantara Siam, 0 2126 8866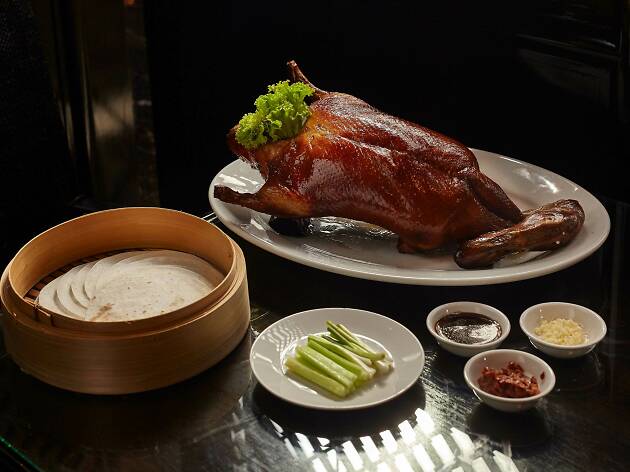 Renaissance Bangkok
Renaissance Bangkok Ratchaprasong
Famed for exceptional Peking duck, Fei Ya throws a feast to welcome the Year of the Pig with special dining promotion, ranging from pocket-friendly unlimited dim sum offering (B1,588) to sharing set menu whipped up with highly-priced, auspicious ingredients (from B9,888 for six people).
Renaissance Bangkok Ratchaprasong, 0 2125 5020
Fender Nattanicha
Chinese cuisine joins the Kitchen Table's buffet line from 4-8 February (B1,999 per person), while unlimited seafood offerings are proffered for dinner (B3,900 per person) at The Courtyard, The House on Sathorn on 4 February.
W Bangkok, 0 2344 4000
SO Sofitel Bangkok
Savor Chinese delicacies at Red Oven where all-you-can-eat variations of Oriental fare are provided for lunch on 5 February.
SO Sofitel Bangkok, 0 2624 0000
The Peninsula Bangkok
Six-course lunch (B2,800) and eight-course dinner (B3,888) whipped up critically-acclaimed chef Ball Yau are served at Mei Jiang at The Peninsula Bangkok from 2-10 February.
The Peninsula Bangkok, 0 2020 2888
Shangri-La
Shang Palace will be serving The Prosperity (B25,888) and The Longevity (B2,9888) Cantonese set menu, each of which can cater up to 10 persons. Lo Hei, auspicious raw fish dish, can also be ordered alongside the main set menu.
Shang Palace, 02 236 9952
St Regis
Savor a galore of Chinese goodies for lunch (B1,288) and dinner (B2,288) to welcome the Year of the Pig at Viu on 5 February. There will also be a special lion dance performance.
St Regis Bangkok, 0 2207 7777
Erawan Tea Room
Grand Chinese feast will be proffered at The Dining Room from 4-13 February for lunch (from B1,590) and dinner (from B1,950) with special appearance of dishes like Peking duck with pancake and hoisin sauce, wok-fried beef, garlic and black pepper and marinated chicken with Chinese wine. The famed Erawan Tea Room will be showcasing their take on Oriental fare in Chinese-inspired afternoon tea from 1-10 Feb (B800 per person).
Grand Hyatt Erawan, 0 2254 6250
Okura Prestige
On 5 February, Up & Above restaurant throws Chinese-inspired brunch (B1,988) featuring all-you-can-eat Oriental goodies, as well as Trang-style barbeque pork – the Southern Thai province appropriation of Chinese grilled delight.
The Okura Prestige, 0 2687 9000
Show more