The best restaurants and cafes in Bangkok Old Town
Locate the best places for awesome eats in this historic area in old-town Bangkok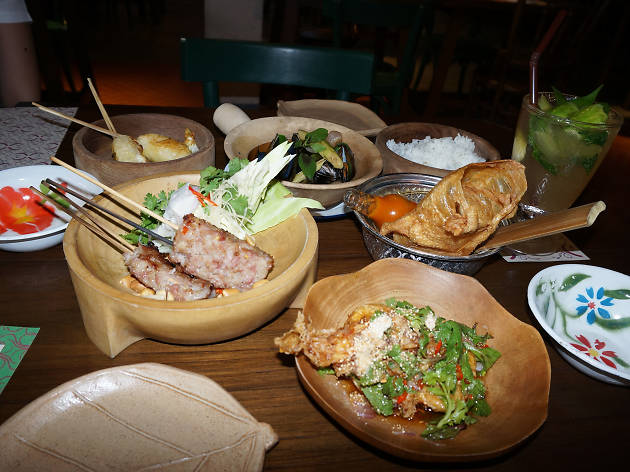 Surrounded by the Chao Phraya River and small canals, Rattanakosin Island is home to the Royal Palace, magnificent temples, fine museums and many historical places. It also has an abundance of restaurants, cafes and bars offering beautiful river views, nostalgic settings and some of the most authentic Thai food in the city.
The collaboration has produced one of the most exciting restaurant openings this year, combining Supanniga's greatest hits with Root's signature brews and an unparalleled riverside dining experience.
Wrap up your day with a perfect dinner at Krua Khun Kung, located not far from the Royal Thai Navy Club. Delicate, mild tastes, which are quite hard to find in Bangkok, are found here, and are complemented by a relaxed vibe. We suggest you go a bit earlier than usual in order to get a table by the river – the view is magnificent and worth going early for.  Make sure to try the spicy fried Acacia Pennata salad, served with their signature chili sauce, and the minced pork and spicy Zalacca salad with shrimps. Both dishes will blow your mind away.
The name speaks for itself. This restaurant offers organic vegetables and ice cream from their farm, to your table. They always bring out new ice cream flavours that's perfect for a hot afternoon
It is truly a place you can stop by at anytime, whether for a main meal or dessert. This small homely restaurant serves every dish to perfection. Quality ingredients are cooked to a good portion, and served as you are a part of the family.    
Sweet, salty, and a bit spicy. Expand your palate with the modernized version of rare Thai classics such as Kanom Jeen Sao Nam (rice noodle with coconut milk and toppings) and Kanom Beung (crispy pancake filled with pork). Their highlights are the traditional rare desserts that you might never heard of; Intanil (pandan rice dough in coconut milk), Kanom Khaofang (boiled millet in coconut milk) and much more. 
Located around the old pier of Ta tien, Eat Sight Story serves appetizing Thai fusion food to an array of cocktails. Additionally, the view of Wat Arun, across Chao Phraya river, is so beautiful it's worth a visit.
Healthy eating doesn't have to be expensive. Serving an organic take on Thai local favourites, stir-fried dishes, brown rice, and curries are available in a homely atmosphere at reasonable price. There are also countless books that you can pick up and read while waiting for the food.  
Show more