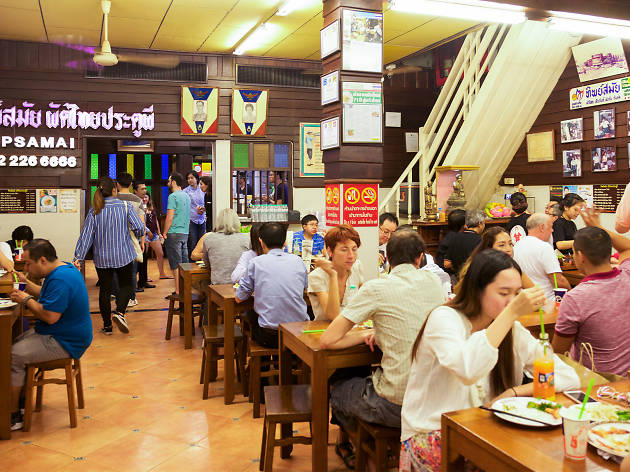 1/4
Sereechai Puttes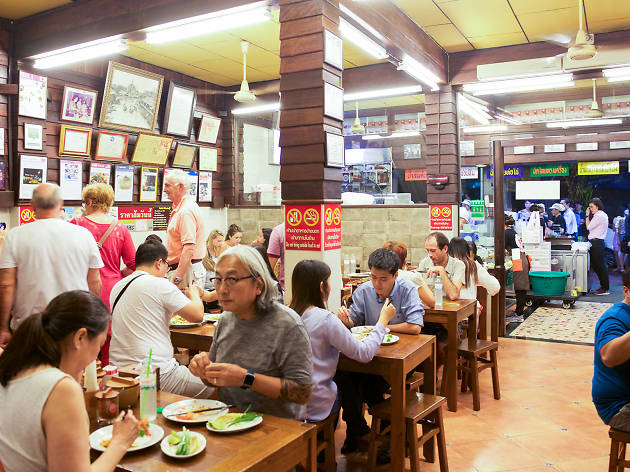 2/4
Sereechai Puttes/Time Out Bangkok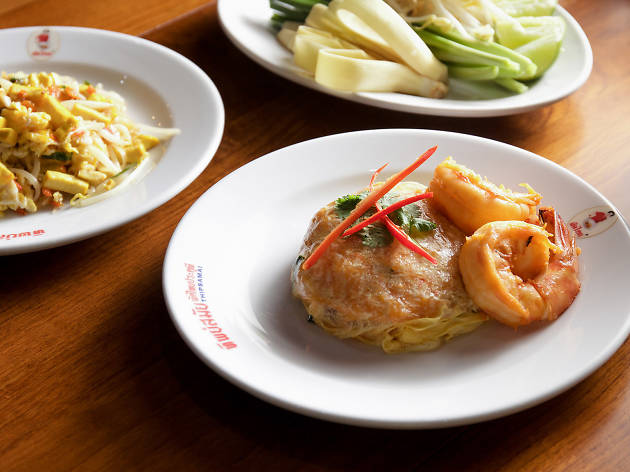 3/4
Sereechai Puttes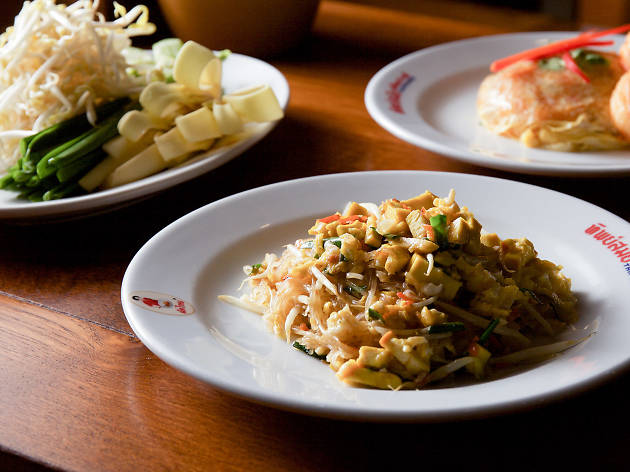 4/4
Sereechai Puttes
Time Out says
Bangkok's most famous (and most controversial) Pad Thai shop
Despite being known as one of the most popular pad Thai institutions in Bangkok, Thipsamai has its share of bad reviews, with adjectives like "overrated" and "overpriced" inundating Tripadvisor and Facebook. The negative comments don't seem to have that much of an impact—long queues form outside of the restaurant, snaking around the block hours before the restaurant even opens.
Whether the pad Thai at Thipsamai is the country's best is highly debatable, but the comfort food establishment is definitely one of the country's oldest, its history traceable to the World War 2 era when this popular dish came to life. Thipsamai's original recipe was created by the current owner's great grandmother, who made ends meet crisscrossing the city's canals (Bangkok was, back then, called the Venice of the East) selling her version of pad Thai. But it was her daughter, Samai Baisamutr, who laid the foundations for Thipsamai, naming the eatery after herself and selling her own version of pad Thai in a shophouse near Pra Too Pee intersection. The trailblazing woman supposedly elevated the casual dish by adding prawn fat into the mix, a simple tweak that brought Thipsamai success and the praise of then Prime Minister Plaek Phibunsongkhram.
Thipsamai is currently under the steering of Samai's son, medical doctor Srikorachet Baisamutr, who runs the restaurant with a modern-day marketing strategy. The street food joint has recently been given a revamp, transformed into a dining room (airconditioned annex available) that's large enough to cater to the influx of devotees. However, a TV screen revealing the pad Thai joint's history on loop and a kiosk selling all kinds of souvenirs—from fridge magnets to DIY pad Thai packages—give the space an uncanny theme park feel.
When it comes to the eatery's star dish, an assembly line-like system is introduced to the cooking process in order to maintain standardization and to ensure that the pad Thai is served quickly. Customers waiting in line can see cooks working in different stations, stir-frying, egg-wrapping, and weighing each dish for a controlled outcome. The pad Thai selection ranges from the classic version (B60) invented by Samai's mother and whipped up with Chantaburi noodles, to Samai's own recipe, an omelette-wrapped version mixed with shrimp fat and small prawns (B90) or giant prawns (B200), and to the song kreung version which combines a hodgepodge of crab meat, sun-dried squid, green mangoes and river prawns. Most of the pad Thai selections boast a sweetness that's easily subdued with a sprinkling of lime, and a smoky flavor from the shrimp fat being cooked over kong kang wood. Despite criticisms of overpricing, we feel the price is justified for the river prawns pad Thai, which comes with two palm-sized crustaceans. Take your pad Thai with their fresh orange juice, another menu favorite.
Does Thipsamai serve the best pad Thai in Bangkok? You have to try it yourself to decide. But it does deserve more love from skeptics.
Details
Users say