Modern Moms
Time Out Bangkok celebrates the month of Thai Mother's Day by sitting down with three moms who exemplify alternative ideas of parenthood and prove that being a great mom starts from finding pride in one's self.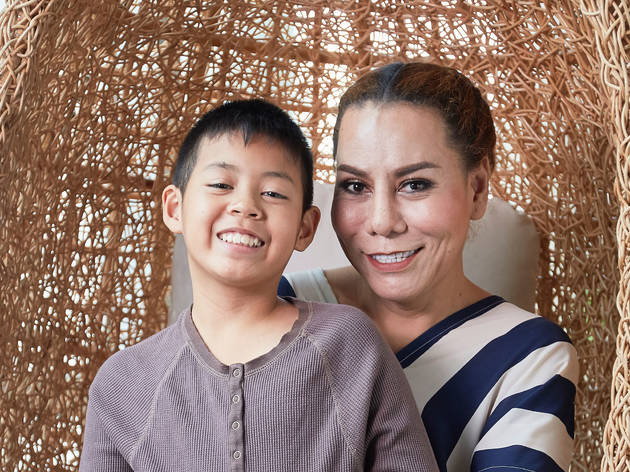 1/3
Transvestite Mom
Transvestite Mom: Arayaissaree Akeuchugorn, 53
Audiences burst into round applause. Curtains are lowered. Day Young Show, the first stage performance in seven years of one of the kingdom's most famous drag showgirls Arayaissaree Akeuchugorn, better known as Day Freeman, has come to an end. The drag queen walks slowly to the dressing room where her 11-year-old son Achanchayuth "Aum" Akeuchugorn sits waiting for his mother. Day is not Aum's maternal mother. Aum was in fact born to Day's sister who couldn't afford to take care of her newborn son. The entertainer, who had already adopted two other children (now grown up with their own families), made a decision to adopt the six-month-old baby. And there came the turning point in her life.
"Once I adopted him, I quit all the late-night shows even though those were the biggest sources of my income," Day relates. "Working late wasn't good for my health. He was so little, so young. I couldn't risk being ill. I needed to offer him the best care. I wasn't earning as much as I did before, but I had more time to take care of him, and that was vital. For newborn babies, it matters not what kind of mother you are—a baby just needs warmth, love, and understanding."
From the beginning, Day has never lied to her son about her sexual orientation. "The truth is always the truth and so is the vaccine. He's learned since day one that I am what I am, that he's adopted, and there's another woman—his biological mother—who loves him but for certain reasons couldn't take care of him," Days discloses. "I told him that he has a lot of mothers that all love him, and that he's more privileged in this way. I take him to places, to where I work to show him that I'm welcomed everywhere because I am what I am. So he's learned that mama is great. I've been showing him the positive side so he feels proud of me enough that my sexual orientation is not a big deal. So when people try to make fun of me, asking if his mom is a ladyboy, he would just reply "yes" and that's it—just like telling your friend your mom is an actor. If you didn't show your kid you respect yourself, how could he do so? I didn't want him feeling guilty for having a ladyboy for a mother."
It's been more than a decade since Aum came into Day's life and, she reveals, there was never a single moment that she felt exhausted or wanted to give up. The ladyboy who will never bear her own child candidly shares that she doesn't know what makes a good mother; she only knows that motherhood comes from inside. "The sense of motherhood comes from within. It lives in your heart and soul, and it has nothing to do with gender." Day admits, however that, as a transvestite, she must do things twice as much to prove herself as a mother. "I have to do everything 200 percent. I'm a katoey. I need to prove I can be a mother of a boy. A quality mother." Looking at Aum now, who has grown up to become a well-behaved adorable boy, you can say that Day doesn't have much to prove anymore.
She leaves a message to people who are considering adoption. "Don't ever think that you'll only care for a kid so that he or she can take care of you when you're old. You adopt them so
they can live a good life. It's for them, not you," Day says. "And don't draw the future for them. Let them draw their own path, build their own
world. If my son can grow up to be a good citizen
of the world, then I'm happy."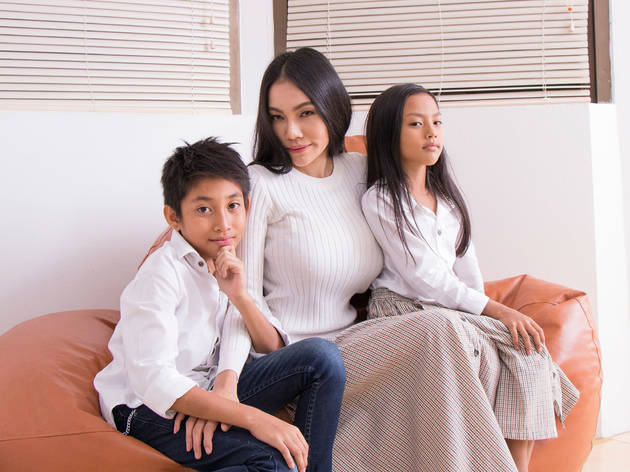 2/3
Sexy Mom
Sexy Mom: Amalawan Sirikotirat, 31
With her appealing curves and revealing outfits, it may be hard to believe that Amalawan Sirikittirat, better known as Mmy Maxim, is a lovely mother of two children: 11-year-old Dabassawin (Iiji) and seven-year-old Dalanapan (Zhiling).
"My children are my everything," says the sexy star. The single mother admits that she tries hard to give her children the best upbringing, being both mother and father. Her two kids were born to two different fathers. And despite there being many challenges, Mmy insisted on keeping the babies and taking care of them as best as she could. "My children were the turning points in my life," she says. "Without them I probably wouldn't be where I am today or possess what I have. Having kids is the best thing ever. I used to make millions and they've all gone to pointless things. I spent a lot on nonsense. But when I got pregnant, everything changed. I have become a better person because of my children."
Mmy, as a child, grew up in a restricted, old-fashioned, conservative family with many rules. Her mom constantly warned her not to get pregnant without first getting married. "Despite those rules, I ended up like this [pregnant before marriage]. So I don't frame my children with any rules. I let them design their own paths." Her son and daughter live with her and are now studying in Bangkok. Their fathers visit once in a while.
"I'm not worried about Zhiling. She's so much like me so I know how to take care of her," she says, referring to her pretty daughter who has the makings of a model. "But I'm really worried about Iiji," she reveals, tears in her eyes. "I feel no matter how hard I try, I'm sure he sometimes feels incomplete. As a boy, he would want to spend time and play with a father." Mmy reveals that her son used to be bullied at school for having a mother who's a sexy star. "They would say 'your mom is a whore' and, of course, my son would punch them in the face. But I told Ichi to not do that again because I'm not what they say I am. My children tag along to wherever I work so they know exactly what I do, and I'm nothing close to what they try to defame me with."
As a sexy model, people criticize Mmy for not being a proper role model to her kids. But she disagrees. "There's nothing wrong with being sexy. You can be sexy and be a good human at the same time. Plenty of sexy stars make merit, go to temples, do meditation, volunteer and get involved with charitable work even more than you think. Who knows, our family might just give a Thai society a new perspective."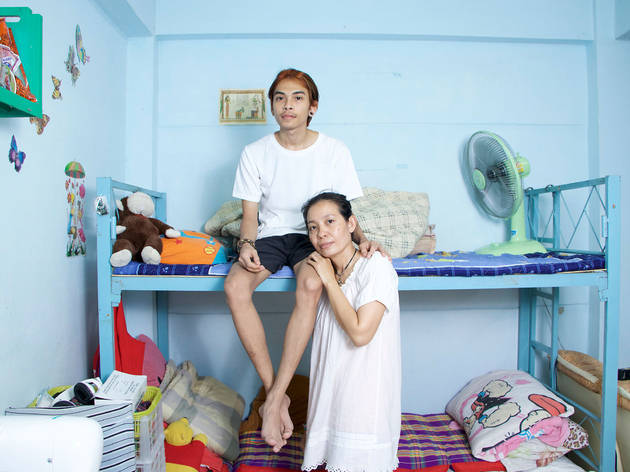 3/3
Lesbian Mom
Lesbian Mom: Kusuma Janmoon, 40
Kusuma "Mui" Janmoon is a proud mother to a tattooed teenage son. But it took a lot of challenges and heartbreak before she became the strong, rule-breaking, modern mom she is today.
Mui was forced by her mother to marry a man she didn't love and was left to raise her baby, Tao, alone when he was just two months old. "The guy was an asshole," she says. "He was a desperate gambler who stole my boy's food money for gambling." She ran away from home and raised her son on her own. To make matters worse, Mui was sexually assaulted while working as a bus conductor for the Bangkok Mass Transport Authority (BMTA). Bogged down with shame and desperation, the young mother contemplated suicide. However, the idea of leaving her child motherless stopped her. She again picked up the pieces of her life and landed herself a seat as a board member in BMTA's labor union. Since then, her life started to shine brighter.
Mui and Tao are now living in a small condominium with her girlfriend, Orapin "Jee" Tantong. While lesbian couples here become more acceptable in the capital, it's a different story in small villages. Mui tells of the time she took her girlfriend back to her hometown in Sukhothai. "Everyone looked at us as if we were freaks," she divulges. "They were not used to seeing two women living together. Some even pretended to visit our house just to take a look at the lesbian couple."
Looking at the bright side, not having a father figure in the family doesn't seem to be a problem for Tao, an avowed Twenty-One Pilots fan. Mui and Jee have proven to others that two lesbians are able to raise a child with love—and probably doing a better job than many straight couples. "I dated men before I met Jee, and none of them actually cared about Tao. Some even suggested I moved in with them and abandon my son." While sex is considered an awkward topic for many families, Mui speaks to her son frankly about the issue. "We talk about everything, while most fathers can't do that," she proudly says.
Though a strong supporter of LGBT rights and the Civil Partnership Act for same-sex couples, Mui reveals that she is not necessarily pushing for an act for the purpose of marriage. All she wants is for same-sex couples to have the same rights and obligations as straight couples. "A friend of mine died at the hospital just because her partner couldn't sign the consent form for her surgery," she says. "That wouldn't have happened if they were a man and a woman."
Mui wants to see a better Thailand, a more open-minded Thailand in which two lesbian mothers are treated fairly just like other parents. How would she feel if Tao turned out to be gay? "So what? Being gay or lesbian is not abnormal. We are humans just like everybody else. As long as he becomes a good person, that's what really matters. That's what a mother wants"