Carbon
'We try to distort regular proportions'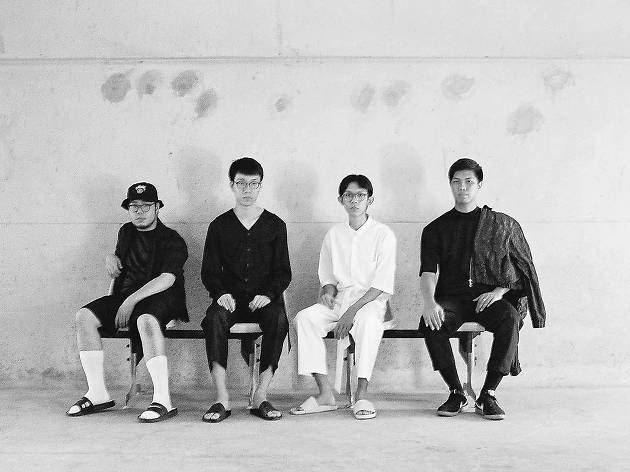 Rabrabhi Lekponlakan, Puri Tiyapongpitak, Nattawut Puriwath and Trin Chanchaiprasong
It was art that connected Rabrabhi Lekponlakan, Puri Tiyapongpitak, Nattawut Puriwath and Trin Chanchaiprason. That and an unwavering interest for unconventional fashion. "Carbon is a substance that is so versatile. It can become a diamond, or it could become charcoal," says Trin, a stylist and the brand's main designer. "Its this versatility that represents the core concept of our brand."
The four friends started the brand two years ago, taking charge of everything from designing the first collection to shooting the lookbook. It was this cutting edge lookbook that gained attention for the brand. Carbon's first collection was well-received by the press and fashion cognoscenti and was featured in many Thai and foreign fashion portals. Sales were promising as well, boosting the possibilities for the small online shop. Carbon's seminal collection also attracted merchandiser attention; the brand has been retailing at Gin and Milk at Siam Center since its second collection.
At first glance, Carbon looks no different from any other minimalist fashion brand. But a closer look would reveal intricate details and sophisticated silhouettes. "Carbon is a minimalist brand with a twist of deconstruction," Trin says. "It may look simple, but I would say it's difficult to carry our total look. We emphasize functionality. However, we try to distort regular proportions— and I think that's what excites people." And to stay faithful to the brand name, there's a hint of black in every collection. The designer goes on to explain that the process for coming up with each collection starts out the creation of one fictional male character. Ideas will then be generated from this imaginary icon.The upcoming fall/winter 2016 collection, for instance, was designed around a fictional British boarding school student in the 19th century. "He's not your typical schoolboy, of course," Trin laughs.
Two years and four collections down the road and Carbon is growing, not rapidly but with a steady strength. These rookie designers are dreaming of taking the brand abroad, eyeing Asian markets such as South Korea and Indonesia, which they believe will appreciate what Carbon is trying to deliver.