Hands-on: Samsung Galaxy Note 8
We've been using Samsung's newest flagship smartphone for a week, and this is what we think.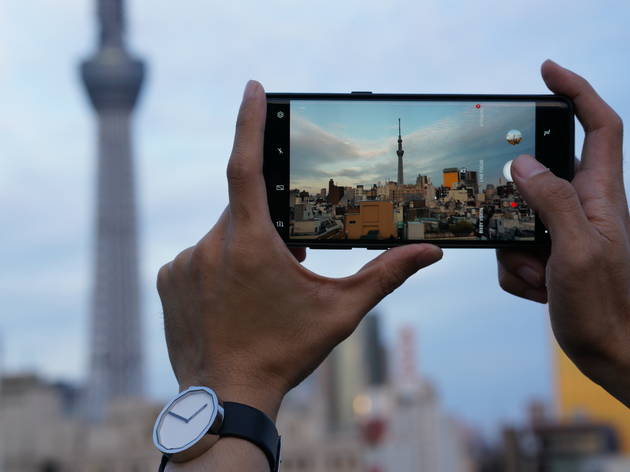 One thing we love about Samsung: they learn from their failures in the past only to make a greater comeback. The tech giant came under fire when their Galaxy Note 7, their flagship pen-inclusive smartphone released last year, turned out to be a ticking time bomb with countless users reporting exploding units. This year, Samsung has returned with the Galaxy Note 8, a new smartphone that hopes to put iPhones to shame—and possibly erase all the undesirable memories associated with its volatile predecessor. We've been using the phone for a week and this is what we think.
The Samsung Galaxy Note 8 is a sleek gadget with a 6.3-inch screen that's curved on both sides. The Note 8 is slightly larger and taller than the Note 7, thus it may be a little more difficult for Asians with smaller hands to handle. We also had difficulty trying to reach the fingerprint scan located next to the camera at the back, and risked smudging the dual camera with our fingerprints. The curved screen looks nice, shows great photos and videos, and enables some fancy features like slide-in apps but, to be honest, we don't really see its necessity. We also personally think that the phone is fragile and will easily break when dropped. (Which we did, sadly.) We were given a thick rubber case to protect the phone, which completely covered up its sleek exteriors. However, after a couple of days, we got used to holding a covered phone—the case actually made the phone more hold-friendly and ergonomic.
If you had tried the Samsung S Pen stylus from the brand's older phones, the Note 8's is much improved and easier to use. Pro—or even amateur—painters, sketchers or calligraphers will find it easy to work on this phone. The S Pen also makes it easy to create GIF files, write a message and do all these cool things to your pictures. But while we like the S Pen, we still prefer typing long conversations on the screen rather than writing with the stylus.
The main highlight of the Note 8 is its 12-megapixel dual camera with various shooting modes, from auto and panorama to hyperlaspe video and a food mode. You can also adjust a photo's colors using a pre-loaded function co-engineered with Camera 360 app. We are not sold, however, on the auto-blurry-background function. While the Note 8's camera will not be as good as a proper DSLR, it's a great choice for taking photos for fun or sharing on social media and blogs. Hands down, this is the phone with one of the best cameras now.
There's a lot to rave about this phone and a few to complain about. But all in all, if you don't mind paying B30,000 for a phone, this is possibly the best option for its level on the market now. We're holding our breaths for the Pixel 2. Oh, the iPhone 8—what's that?
Body: 162.5mm x 74.8mm x 8.6mm, 195g, water-resistant
Display: 6.3-inch Super AMOLED with a resolution of 1440 x 2960 pixels
Camera: Dual 12-megapixel camera
Other features: Biometric scanner to unlock screen, S Pen
Galaxy Note 8 alternatives
Said to be the most boring iPhone ever, Apple's new smartphone looks exactly like its predecessor. The LCD comes in two sizes (4.7 and 5.5 inches) but both versions feature louder speakers, wireless charging and some other features that are so unremarkable that we can't even remember. If your old iPhone is unrepairable or broken, and if you can't move away from iOS, buy it—or wait for the more expensive iPhone X that's scheduled to launch soon.
>Available from 3 Nov. www.apple.com/th
The flagship smartphone from Samsung remains one of the most desirable options in the market, especially if you don't really require a dual camera and prefer typing to using a stylus to communicate. Give it a try, it's addictive.
>B27,900, 30,900. www.samsung.com/th
Recently launched in the States and available only for pre-order, this is by far the smartphone with the biggest wow factor. The Google-branded phone comes with a 6-inch OLED display, sleek and water-resistant body, giant battery and a camera that claims to be the best in the market.
>We hope it will be officially available in Thailand soon. pixel.google.com
More to explore