Sretsis has come a long way since Pimdao, a Parsons fashion graduate, and her sister, Klyduan, started the brand in 2004. "We had zero experience, only a handful of ideas and energy," says Pimdao, the second sister. "We worked hard to find our way to create our own brand." Jewelry designer, Matina, came on board later on to help complete the product line. Years down the line and the business has grown exponentially. Sretsis is now a fashion powerhouse with more than 140 employees, including a stable of seamstress to craft the delicate details that are at the heart of every Sretsis piece.
Fresh from the launch of their recent fall/winter collection, the three sisters get together at their Central Embassy flagship to look back on their journey.
How has Sretsis changed over the years?
Pimdao: Sretsis has always been very feminine, fantasy-inspired and fused with a vintage twist. We still hold on to a classic yet rebellious attitude. But we've also become more sophisticated as we've grown.
The journey of Sretsis is probably reflective of the evolution of the Thai fashion scene. When we started Sretsis, people didn't understand our statement. They looked at us and asked in which occasion they could wear our clothes. But now, people understand more the concept of individuality, the new concept of luxury—and that's what Sretsis has always offered.
Twelve year later, how do you leverage your brand so it doesn't get dated?
Pimdao: We prefer to define our brand as ageless. You can still wear now what we designed 10 years ago. Every single Sretsis item is exclusive, either in material or design, so we really think that if you can maintain your size, you can wear the piece as long as you want to.
Klyduan: What changed was how we communicate with our customers; we wanted to also reach the younger audience in particular.
Sretsis was one of the first Thai brands to have its garments printed with their own design. How much do prints matter to you?
Pimdao: Fabric printing has always been our priority since the beginning. When I was an intern in New York City, at Marc Jacob and Anna Sui, for instance, I learned that there are printers that cater to small orders. So I knew it was more possible than ordering a huge amount from printers in China. Print matters to us. We use prints to convey the core inspiration of each collection— through colors, artistic styles, illustrations or even different types of fabric. I'm not comfortable using prints designed by other people. It feels like baking cookies from a ready-to-bake pack. There's zero originality. I can't do it that way.
How many prints do you normally design in a collection?
Pimdao: There is one signature print in each collection, fused with trimmings and small little details. We make those details in-house, from trimming and buttons to patchworks and appliqués.
Any artist or designer you'd like to collaborate with in the future?
Pimdao: Maybe House of Hackney—a company that started out with doing wallpaper. And now, they have their own pyjama line. But it seems impossible…
Matina, how did you end up joining the company?
Matina: I was still studying in 2003. It all started because I'm very attached and very close to my sisters. So when we returned from abroad and they started working, I had no choice but to help out that was the only way I could hang around them. I was studying product design then, which focused more on furniture. But when I saw the Sretsis clothes, I started thinking which accessories would match—it was like how we would play dress-up when we were young. Once I started designing jewelry, I felt it was what I really want to do so I transferred to Central Saint Martin. Now, I design jewelry that complements Sretsis' designs. But when I design for my own brand [Matina Amanita], my pieces tell my stories, my fantasies.
How important is jewelry?
Matina: To me, jewelry is not for showing off; you wear them because they mean something to you. You can buy jewelry for yourself or for your beloved. I love precious stones because they are from unearth. They don't change over the course of time. And they become even more rare over time. I love it when a couple comes to me asking for custom-made jewelry. They tell their stories, and I turn them into precious pieces.
Your other main market is Japan. What are the challenges of building a fashion brand in Japan?
Klyduan: We thought it wouldn't be difficult, but it is. We did more research and found out Japanese girls dress up fashionably between the ages of 15 and 20 years old. Once they become older, their style becomes more subtle, if not even more conservative, than Thai women.
Pimdao: What you see in magazines and what is real life are quite different.
Klyduan: We are still strengthening our position in the Japanese market. We need to communicate through the fashion media there, which works similar to the European media.
Two years ago you opened a flagship store in Aoyama. Why Aoyama?
Klyduan: We position ourselves as a contemporary, international brand and Aoyama fits our affordable-luxury concept. We don't mind having pop-up shops or being in a select store in Shibuya or Harajuku—it's fun. But when it comes to a flagship, location matters.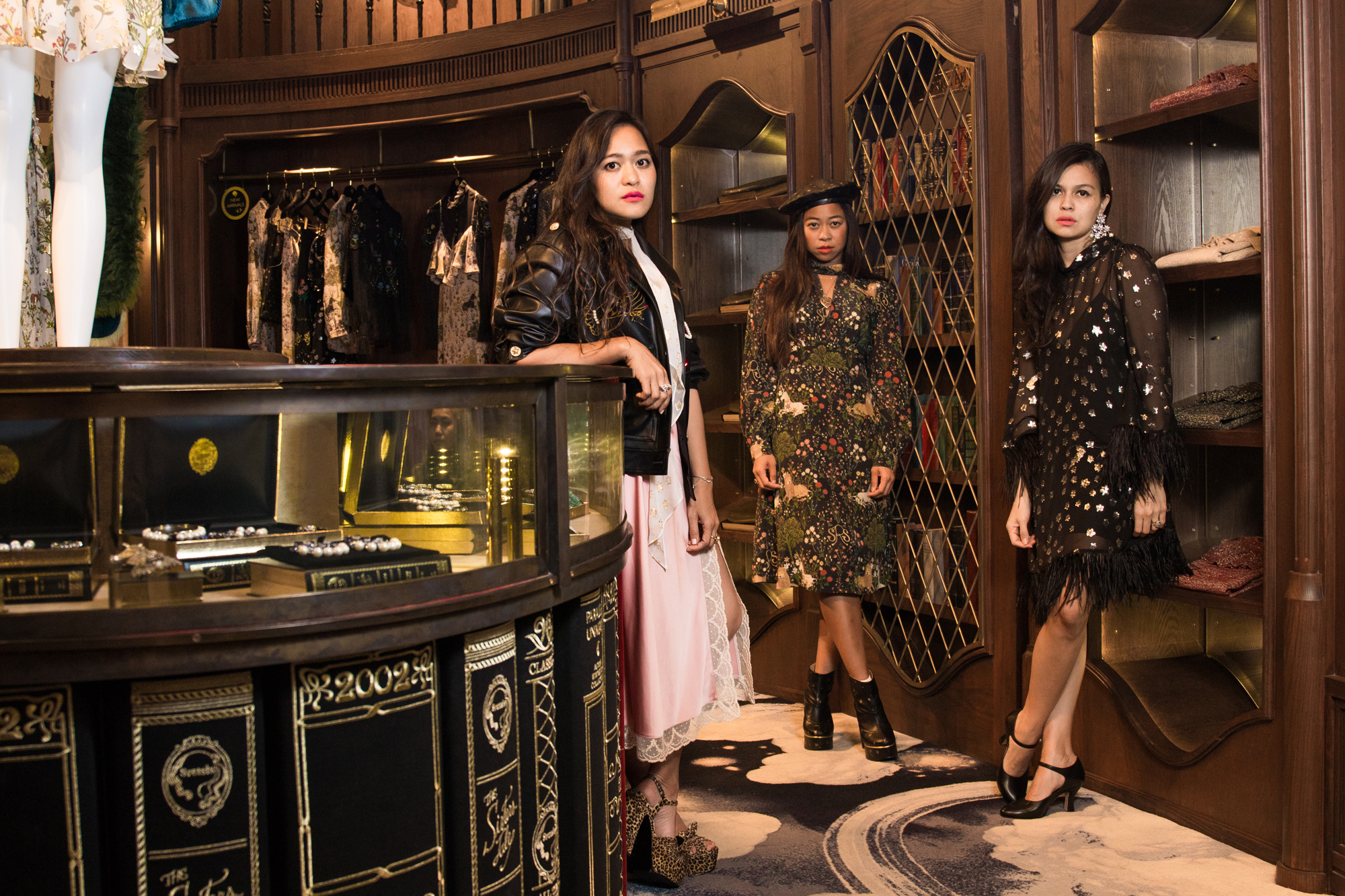 Fourteen years and counting. What has Sretsis contributed to Thai fashion?
Pimdao: We've created a new perspective of women's fashion. Playful, feminine outfits aren't just for kids. We can dress in feminine clothing but still be smart and powerful. We can take things seriously. We're sophisticated. We're multi-dimensional. Women no longer need to wait for a special occasion to dress up. We feel like we've spread this "Unicorn virus."
How do you deal with copycats?
Pimdao: We take that as a compliment. When our collection sells extremely well, our outfits are copied a lot.
Klyduan: At first we were worried about how our clients would feel. We tried to find a way to protect our brand with lawsuits. But, in the end, we knew we couldn't do anything about it. So we keep developing and look at it as a compliment.
Pimdao: Those who wear the knock-offs probably like Sretsis, but they may not be able to afford our pieces right now. So in the future, they may become our customers.
Are you planning to launching a new brand?
Pimdao: We launched Little Sister, our childrenswear brand last year. We've also rolled out Sincerely Yours, which offers luxurious unisex loungewear that can be worn outdoors. Or you can wear them when you feel like being stylish at home. These outfits are designed for mom, dad, grannies and we have some accessories for children.
Can you imagine yourself at 70 years old?
Pimdao: I still want to stay the same size. We still want to dress like this. When you turn 70, you don't need to wear a silky dress, diamonds or big hair. You can be 70 but still feel connected to the present.
Klyduan, you have two babies now. Are you gonna be a chic granny when you are 70?
Klyduan: Yes, I still want to be able to wear these. I want to grow old and still be myself and put on things that match my personality.
Matina would be wearing more accessories?
Pimdao: She watched a documentary on Iris Apfel and felt she could wear more.
Matina: I feel like she [Apfel] became her most beautiful when she reached a certain age. When she was young, her style had not yet developed. I'm so excited to get older so I don't need to care about things as much. Now that I'm in my early 30s, I'm still worried about how I look. But at 70, I will probably just put on anything I want.
What do you think about Thai silk?
Sretsis: Very beautiful
Do you think the Thai government is trying too hard to push us into wearing silk everyday?
Pimdao: I like silk, but it's just suitable for special occasions. I personally think that when people try to fashion Thai silk into a modern outfit, it just doesn't work. Modern designs are not for Thai silk. Lady-like, clean-cut designs will do. Making people feel that it's better to wear Thai silk to special occasions may be more necessary. When I attend a Thai wedding, I usually wear traditional Thai outfits. Not many people wear it apart from those who are in their 50s.
To me, Thai silk is more suitable for the Sixties silhouette. The fashions of Twiggy, Jackie O or Audrey Hepburn. If I were to wear Thai silk, like a Thai silk shirt, on a regular day, I would probably pair it with oversized jeans and a pearl necklace. This is the attitude of Sretsis women—mix and match everything to suit your character and the occasion. But, please, don't turn Thai silk into streetwear. It doesn't work well that way.