Sinjai Plengpanich on her new musical and grandmotherhood
Sinjai Plengpanich goes back to the stage taking on unchartered territorywith a role she's never played before.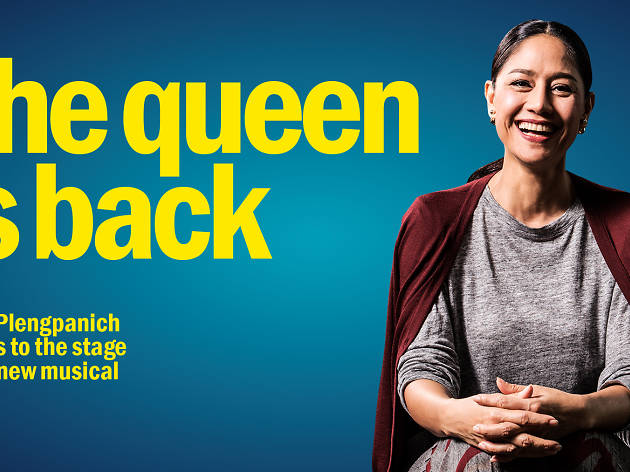 There aren't too many in the Thai entertainment who are recognized only by their first name (like Madonna or Adele). Sinjai Plengpanich is one of them. Since stepping into her first movie role in 1982, Sinjai's never faded out from the spotlight, starring in numerous movies, TV dramas and stage plays over a span of more than thirty years. She's taken on so many onscreen and onstage personas that we wouldn't be surprised if she's done them all. Apparently, she hasn't.
Thai drama queen, Sinjai, is returning onstage at the Ratchadalai Theater in the role of Mei Ling, the outspoken first wife of a fictional Chinese tycoon in a musical adaptation of Lord Line Mangkorn. This is the talented Thai star's fifth musical, following Wiman Muang, Banlang Mek, Nua Khu Sib Ed Chak and Four Reigns. The production also marks the comeback of respected director, Takonkiat Viravan, who adapts techniques he's learned from Broadway. "He has changed the way characters are portrayed onstage," says Sinjai. "Before he would pay a lot of attention on marking spots for where to stand, how to turn and how to portray the character as written in the screenplay. Now he lets you interpret your own character. He lets us imagine ourselves as these people, speaking their lines, expressing their emotions. He urges us to do that first, and then sits down with us to further discuss and develop our approach."
The role of Mei Ling, the first wife of the leading character, Liang, doesn't really have a big role in the novel. But this changes in the musical adaptation, especially with Sinjai in her shoes – she is definitely not a wallflower. "Mei Ling was the first wife who was left behind in China — alone with two sons — while her husband, Liang, took a one-way journey to Thailand hoping for a better life," Sinjai explains. "So she has to be tough, straightforward, independent and demanding. And that's the reason why she acts in a very loud and aggressive manner. She comes to Thailand from China only to find out that Liang had become wealthy, married a Thai wife and now lives in a fancy house while she was left behind. So it's understandable that she would become possessive. People will think she's mean, but her background and experiences gives her reason. Study her dialogue elaborately and you'll know she's actually quite devoted to Liang and her family."
Mei Ling was actually her first choice when she was approached to take on a role in the musical. "I find this character really challenging. I've never played someone like her before. My Mei Ling is really outspoken, both in words and actions. It's quite fun," she enthuses.
Having played a lot of mother roles, she admits she learns a number of life lessons from each character. "Each role I've played has been interesting. Mae Ploy [her role in Four Reigns], for example, is the epitome of the good, traditional Thai mother. Mei Ling is another type of mother who needs to be strong to get through a tough life. Each mother character came from different backgrounds and life journeys. I do respect all of them."
On stage, she plays mothers. At home, Sinjai is a grandmother—probably one of the most gorgeous we've ever seen. She dotes on her two-year-old grandson, Ray Plengpanich, the offspring of her youngest son, Peeradon and his wife, Linda. "It's exactly the same as when I raised my children. The only difference is there wasn't social media during that time so people didn't see. Bom [her daughter] asked me, did you take care of me like this when I was young? Of course, how could I not," she laughs. "But it's good having a grandson now that we [and her husband, the actor Chatchai Plengpanich] are all grown-up with lesser things to worry about. He's so adorable I do really want to raise him well."
At 51, the actress, who's also a producer, still works seven days a week: rehearsing for the play, meeting the crew, acting in a sitcom and another TV drama. "I plan to work less in front of the camera or onstage and more behind the scenes. But it's hard to say. Living and working in this industry, you can't really plan your life far ahead. Of course, there are tiring moments, but I focus my mind on the good things, the positive feelings, and what keeps me walking forward."