3 new exhibitions in Singapore that promise to transport you back—and forward—in time
Singapore shines the spotlight on these three exhibitions for you to explore.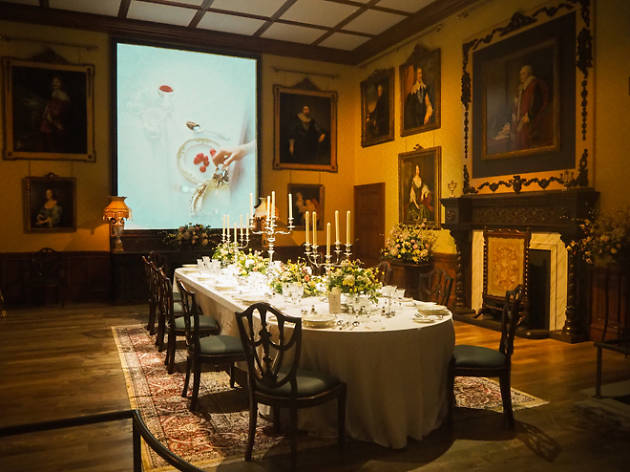 HUMAN+: The Future of Our Species
Almost ten years after it first opened in Dublin in 2008, HUMAN+: The Future of Our Species has come to Singapore, giving an insight on what's possibly down the road for humankind through multi-media works and installations from more than 40 international artists, designers, scientists and technologists. Visitors are led through an exhibition composed of four different zones—augmented abilities of human body and mind, interactive social relationships, authoring environments, and the limits of human life and Expresslongevity—that each give a peek of the possible innovations and technologies humans need in order to survive and live a better life in the future. Highlights include Nadine, a near-human female robot that's programmed to interact with guests in different ways (she can actually answer plenty of your questions), a wall with interactive robotic eyes that are sensitive to your every move by Singapore-based artist Louis-Philippe Demers, and samples of mechanical body parts which you can touch, scratch and even tickle.
ArtScience Museum, 6 Bayfront Ave, Singapore 018974. +65 6688 8888. Tickets S$17/adult, S$12/child, student and senior. Open daily 10:00-19:00. Until 15 Oct.
Downton Abbey: The Exhibition
The world's first exhibition entirely dedicated to Downton Abbey, the popular TV series about the fictional lives of post-Edwardian English aristocrats, is currently on display at the Lion City. Walk through eight spacious rooms styled to resemble the chambers in the handsome Yorkshire mansion house where familiar scenes from the show took place, including the Great Hall, kitchen, servants' dining room, butler's pantry, library and Lady Mary's bedroom. More than 40 original costumes from the show, are on set gathered here to bring a more authentic feel to the atmosphere. The exhibit also gives you a chance to learn more about the show's juicy side stories, backstage tales, and insights and inspirations behind the script.
Sands Expo and Convention Centre, Basement 2, Hall F. Ticket $30/adult (Mon-Thu), S$35/adult (Fri-Sun), S$15/child (Mon-Thu), S$17/child (Fri-Sun). Open daily 11:00-20:00. Until 31 July.
Chinatown Heritage Centre
The Chinatown Heritage Centre has recently reopened after a grand revamp. The newly unveiled venue features an exhibition that lets you discover the lives of the first Chinese immigrants who set foot in Singapore back in the 19th to mid-20th century, and later became the driving forces behind the nation's great economic success. The center recreates the interiors of Singapore shophouses in the 1950s, when a housing shortage situation forced many of these pioneering immigrants to live under one roof—it is said that some shophouses were home to more than 100 people! Make sure to check out the third floor, where they replicate a den where members of Chinatown's secret societies would smoke opium. A guided tour is recommended.
Chinatown Heritage Center, 48 Pagoda Street, Singapore 059207. +65 6224 3928. Open daily 09:00-20:00.
___________
Where to stay
Holiday Inn Express Singapore Clarke Quay
What makes Holiday Inn Express Singapore Clarke Quay an ideal lodge for your Singapore weekend? First, the location. The 442-room hotel is conveniently located in the heart of Singapore's most vibrant eat and drink district, Clarke Quay, close to the island's famous attractions like Singapore River, Chinatown, and Fort Canning Park. Second, its facility package. Besides a 40-meter infinity-edged swimming pool and a 24-hour gym, every guestroom is equipped with a smartphone providing unlimited 4G Internet connection, local calls, and international calls to selected destinations.
The hotel is offering the Weekend Package, featuring room rates starting from S$169
with an early check-in at 12:00, late check out until 15:00, and a 10% discount at the hotel's Great Room Bar.
2 Magazine Road, Singapore 059573. +65 6589 8000