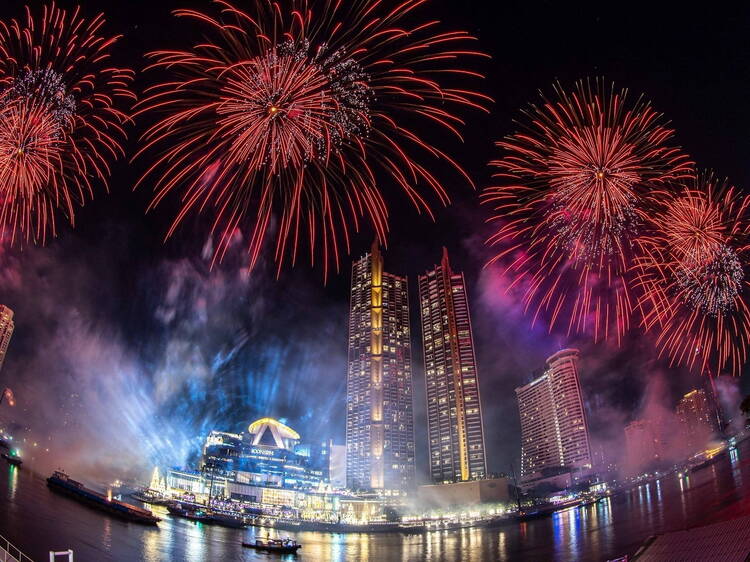 ICONSIAM
Bangkok
At midnight on December 31, the best place to be with friends and family is on the banks of the Chao Phraya River, also known as the River of Kings. Thailand's official New Year's Eve celebration, ICONSIAM, will ring in the New Year with 30,000 fireworks on both sides of the Chao Phraya River. A parade of top local artists will culminate in an environmentally friendly pyrotechnic extravaganza featuring the first Multimedia Firework under the theme "Win the World for Thailand." ICONSIAM, the global countdown destination, will woo the crowd with global collaboration between Japanese pyrogenic expert Oguchi Yoshimasa and well-renowned Thai saxophonist Koh Mr.Saxman. If you want to do it in style, go to the Tasana Nakorn Terrace (ICONSIAM's 6th floor), where the Fallabella River Front ICONSIAM and Hobs restaurants offer unparalleled views of the Chao Phraya River fireworks.
Those who wish to be part of the New Years' Eve celebration on the site are required to pre-register with their vaccine certificate via ONESIAM SuperApp. Seats are limited.
On New Year's Eve, eventgoers are required to present their ID, an entry pass on your ONESIAM SuperApp, and your vaccine certificate. You'll also need to pass an Antigen Test Kit (ATK) on the premises prior to the event time (free of charge), as well as follow strict COVID guidelines as issued by the government.
For more information, you may call 1338 or send a DM to ICONSIAM on Facebook.