Things to do in Bangkok today
Check out today and tonight's hottest events here
Find the best things to do from the daytime to the nighttime in Bangkok with our events calendar of 2017's coolest events, including parties, concerts, films and art exhibits.
Events in Bangkok today
Department of Dramatic Arts, Chulalongkorn University proundly presents eight plays from senior projects. It's free, but you have to book a seat here.  See the full program below.
Buy tickets
Read more
Department of International Trade Promotion (DITP) gathers up three of its biggest, and most stylish, annual trade fairs—Bangkok International Fashion Fair and Bangkok International Leather Fair: BIFF&BIL, Bangkok International Gift Fair, and Bangkok International Houseware Fair: BIG+BIH), and Thailand International Furniture Fair: TIFF—and relaunches as STYLE, which is set to be held this month. The event, taking place from 19-23 April at BITEC Bangna, will feature booths from some of the country's top exporters of design products as well as business matching sessions and an exhibition of winning design masterpieces by Thai craftsmen.
Read more
The original "The Napalm Girl" photo, along with some 24 other photographs by awardwinning Vietnamese-American photojournalist Nick Ut, is now in Bangkok for the launch of the Leica-branded gallery. Ut was an AP photographer when he captured a group of adults and children—one of whom was a naked nine-yearold girl—running from a napalm bomb attack during the Vietnam War in 1972. The photo won Ut both the Pulitzer Prize and World Press Photo of the Year the following year.
Read more
Thai artist Jaruwat Normrubporn portrays people and their surroundings through a series of oil paintings.
Read more
Looking for an open-air beer terrace in Thonglor? Come to 72 Courtyard and enjoy the Beer Belly x Little Creatures Pop-Up Beer Terrace on the second floor of the 72 Courtyard (in front of Beam). This six-month pop up, starting from this November to April 2018, offers 6 selections from the award-winning Australian brewery, Little Creatures Brewing.  The launcing party featuring a live acoutic from the one and only Hugo and buy-2-get-1-free deal is on November 3. Don't miss!  
Read more
Bangkok is turning 236 years old on 21 April, and a handful of organizations, led by The Ministry of Culture, is hosting a five-day festival to celebrate the occasion. Named The 236th Year of Rattanakosin City Under Royal Benevolence, the event will feature cultural shows, exhibitions, talks and movie screenings taking place at multiple venues including The National Theatre, Santi Chai Prakan Park, Scala Theater and The Bangkok National Museum which will be open late until 21:00 during this celebration.
Read more
The Embassy of the United States of America in Bangkok is hosting an exhibition of historic gifts exchanged between Kingdom of Thailand and the United States of America to commemorate 200 years of friendship. The exhibit features 79 priceless objects and letters that have never been previously shown anywhere in Thailand which were borrowed from the U.S. National Archives and Records Administration and its presidential libraries, the Library of Congress, the Smithsonian Institution, King Prajadhipok's Institute, Bangkok National Museum Bangkok, Thai Department of Fine Arts, and the Thai Film Archive. Check out more pictures here.
Read more
The Great Outdoor Market is back with new, exciting location, Nang Loeng Race Course. You can walk around to browse for lifestyle products and creative goodies from participating vendors and try delicious food and refreshing drinks while listening to live music.  
Read more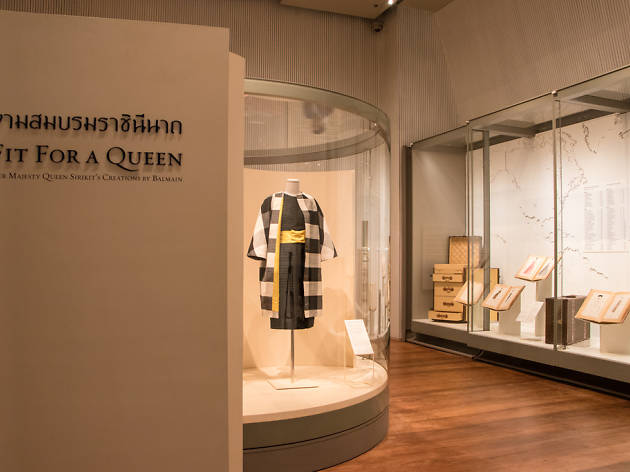 The Queen Sirikit Museum of Textiles celebrates Her Majesty's seventh cycle birthday by showcasing her exquisite taste in fashion. The exhibition Fit for a Queen: HM Queen Sirikit's Creations by Balmain focuses on her relationships with Pierre Balmain and François Lesage, two legendary French couturiers who created dresses for the monarch during her trips to Europe and America. Lovers of fashion history will be privy to how Her Majesty's impeccable style evolved and developed over the years through a series of luxurious gowns, suits, cocktail dresses, and traditional and modern Thai costumes. These pieces are displayed alongside pictures of the Queen wearing them at different occasions during her trips to Europe and America in the 1960s, as well as the rarely-seen Louis Vuitton trunks that were used to transport the dresses. Balmain's original sketchbook and a video interview with François Lesage, shot only a few months before he passed, are also on exhibit. See how Balmain cast his legendary magic on Thai silk, and take a closer look on Lesage's delicate embroidery.                Some nationalists may question why the Queen chose a foreign designer? According to museum consultant, Melissa Leventon, who co-curated the exhibition, no Thai fashion designer at that time was familiar with the complicated etiquette associated with royal dressing in the Western hemisphere. Her Majesty needed to attend several state events with the King, and no risk could be taken with her wardrob
Read more
Show more