Prang Lerttaweewit: "31T is a platform that enables the data from bottom up to be available."
The designer and founder of design firm, Another New Design Studio, introduces an innovative and interactive eating experience to Bangkok.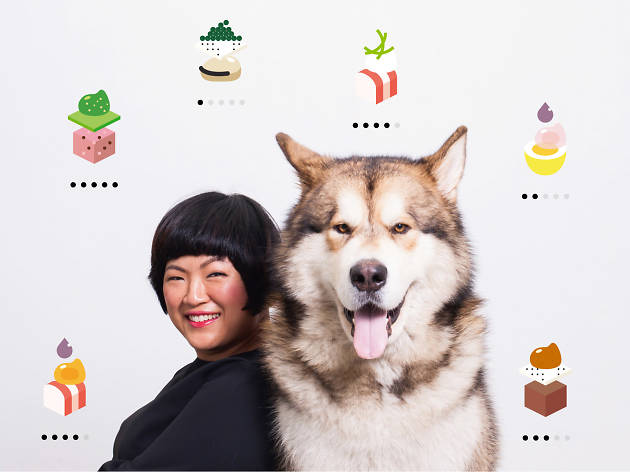 One of the most talked about events during the recently concluded Bangkok Design Week was a gastronomic event called 31T & BKK at Warehouse 30 in Charoenkrung.
31T (read "bit," referring to the the smallest unit of data) is an interactive eating-experience project where people are asked to combine three different food items in one bite and later share their experience on a web app. Taking the lead is Prang Lerttaweewit, who, for Bangkok Design Week, teamed up with design firm Thinkk Studio and progressive restaurant 80/20 to push our boundaries when it comes to eating.
"The development of gastronomy only allows a handful of people, like the chef, to decide what works and then this goes out to people who just passively take it in. At the same time, you have so many people trying new things all the time but [their experiences] have never been archived," explains Prang. "So, 31T is a platform that enables the data from bottom up to be available." This means the chef only presents food on the table. It's then up to the diners to come up with combinations based on their preference. "In the end, you get the data [of which combinations work well] and this can inspire the chef in return. It's a win-win situation."
An Industrial Design graduate who has come to realize how today's pattern of consumerism packs so much waste into landfills, Prang shifted to creating "new experiences," which, in a way, is more environment-friendly. "Instead of having people consume products that will later be turned into waste, they get to consume a set of experiences that can help shape their identity." Prang continued her studies on Experience Design at Konstfack, University College of Arts, Crafts & Design in Sweden.
The idea of 3IT was generated when she and two friends decided to throw a party for all the students in her department. "I created this idea where we had food in tiny pieces. We just got stuff from the supermarket because we didn't have time to prepare. We cut them up and put them on a table." According to the rules, everyone had to go around the table, creatively pair different types of food and eat what they came up with. "It enables people to mingle, to be creative, to think and taste, and to wow themselves without me having to design their 'wow.'"
The school party later developed into a project that was showcased at fairs and exhibitions, including Stockholm Design Week and Copenhagen Food Fair. "It was at Copenhagen Food Fair where I first brought the internet into this project." This resulted in 31T, which she co-created with technologist Paulo Barcelos, whom she met in a hackaton, an event where you have developers, programmers and designers come and showcase prototypes and new ideas. Soon, 3IT, along with the web app that collects food-pairing data, was launched and hosted multiple times in Stockholm as well as in Norway.
According to Prang, 31T can be beneficial to chefs because it makes them, in a way, less accountable. When you eat something disagreeable in a 31T event, there's no one to blame but yourself since you put the food together. This kind of self-incrimination won't happen in a restaurant. "[Restaurants] need to serve something that's very generalized, like the tastes that they think most people would be okay with," Prang explains. "That is playing safe, and if you want to progress, you can't play safe. That's for 31T. We marry the internet of things to eating because we believe that powerful data reworks food. It changes the idea of how you understand food, and then diners, together with a chef, work together to make fine dining accessible to a larger group of people."
Following the 31T interactive dining event, 80/20's chef is planning to pick 10 combinations from the event during Bangkok Design Week 2018 to develop for their actual menu and make a fine dining sit-down dinner from it. The new menu is tentatively set for March.