Cool new ways to de-stress in Bangkok
A roundup of best new ways to recharge yourself and find the peace of mind in Bangkok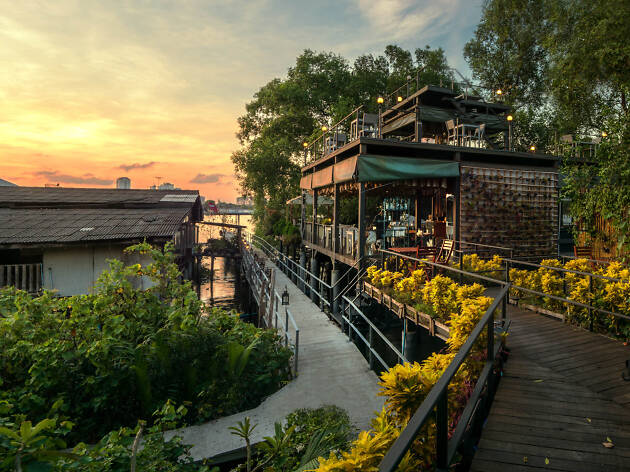 We love our lives in this big messy city of Bangkok. The dining and drinking scene is fantastic, and there are always awesome things to do. But the crowds and chaos can also be intolerable, (especially in these days leading up to the elections when political tension is again reaching boiling point).
When you've had enough, and are starting to get migraines or panic attacks, a change of scenery or pursuing activities that let your mind escape for a short while can be a great idea. Time Out has sorted out some of the coolest things to do in Bangkok to help you find your inner peace, and to get your mental and physical state back on track.
Health and beauty, Saunas and baths
Things we see, hear, smell and taste on a daily basis can be stressful and even detrimental to our well-being. Therefore, being in a sensorydeprived state seems to be the perfect antidote for coping with stress. Bangkok Float Center has floating pods containing highly-concentrated Epsom salt solution that's said to be 40 times denser than sea water. Submerging yourself into this water allows your body to be in a state of buoyancy and weightlessness similar to an astronaut floating in outer space. The floating tank is designed to be sound- and light-proof so you're protected from distraction, and both your body and mind can shift to a level of ultra-deep relaxation. The Epsom salt solution also contains 600 kilograms of magnesium sulfate, which has been proven to have a role in reducing stress. According to a research conducted by Larner College of Medicine at the University of Vermont, the substance, when absorbed through the skin, can reduce the level of cortisol—the hormone that causes stress and depression—in the brain. In effect, floating relaxes your brain and gets you ready for what is yet to come.
4/F, Show DC, 99/6-9 Rim Klong Bang Kapi Road, Huaykwang, 09 8628 9599. Open daily 10:00-22:00. Starts from B2,100 per float
Meditation sounds like the easiest way to find inner peace—simply close your eyes and free your mind. But perhaps it's easier said than done. There are too many distractions around us that regularly obstruct the peace-seeking process. Probably the best way to get yourself in the proper state of mind for meditation is to join other like-minded students at a meditation center, one of which is situated right in the heart of the city. Bangkok Shambhala Meditation Center offers meditation classes led by English-speaking certified instructors who are trained in the teachings of Shambhala Buddhism. The center also hosts a book club-style group where participants discuss Buddhism-related topics and exchange stories on their meditation experiences. Classes are provided free of charge, but a donation is recommended. If you'd rather meditate in a temple, head to Wat Mahathat near the Grand Palace where Vipassana meditation sessions are conducted by English-speaking monks three times a day, ending with a Dhamma talk at 8 pm.
Bangkok Shambhala Meditation Center, 3/F, Young place, 118/79 Soi Sukhumvit 23, Asoke, 086 788 7408. Wat Mahathat, 3 Maharat Road, 02 222 6011, 02 222 4981
Bangkok Tree House
Lose yourself in an urban oasis
Getting to Bang Krachao, also called Bangkok's Green Lung, takes a bit of a trek. The small island is located on the Chao Phraya River in the territory of Samut Prakan, and requires a BTS ride to the Bangna station, a brief taxi ride to the pier, and a boat ride to cross the river. (Or you can just take a car and drive.) But all the worries and stresses melt away once you get there. You can rent a bicycle and explore trails lined with lush greenery, or check out attractions like Sri Nakhon Khuen Khan Park, which is the perfect spot for birdwatchers and dendrophiles. If you'd like to spend a night in Bang Krachao, head to Bangkok Tree House, a modern, eco-friendly, 11-room lodge surrounded by nature. Don't forget to check out Hiddenwoods, a new café that offers a charming view of the river.
Bangkok Tree House, 600 Moo 1, Soi Bua Phueng Pattana, Bang Namphueng, Samut Prakan. 08 2995 1150
Hiddenwoods, 777 Moo 4, Phetchachug Road, Samut Prakan, 09 0974 8234. Open Sat - Sun 10:30 - 21:00
Attractions, Arcades and amusements
There's nothing more euphoric for a bibliophile than getting engrossed in a book surrounded by the sound of silence at a library. Bangkok is luckily blessed with a number of new libraries with an impressive collection of both Thai and foreign-language tomes. For art and designfocused books, head to TCDC Resource Center in Charoenkrung (don't forget to check out the cutting-edge exhibitions). For reading tables with magnificent views, head to the Bank of Thailand Learning Center Library, which has more than 30,000 books and access to more than 7,000 digital archives from libraries around the world.
TCDC Resource Center, Central Post Office, 1160 Charoenkrung Road, 02 105 7400. Open Tue - Sun 10:30 - 21:00
Bank of Thailand learning Center, 273 Samsen Road, 02 356 7766. Open Tue - Sun 9:30 - 20:00
Checkmate Horse Club
Liberate yourself on horseback
It has been proven that horse-riding and spending time with horses can contribute to reducing stress and anxiety. According to a research published in The American Psychological Association's Human-Animal Interaction Bulletin, people who frequently spend time with horses are shown to have low levels of cortisol or stress hormones. Moreover, horse-riding is a good way to practice concentration. You don't even have to travel out-of-town for horse-riding lessons. A number of institutions in Bangkok actually provides equestrian lessons, such as Checkmate Horse Club, which offers a basic horse-riding program, and Golden Horse-Riding Club, which focuses on dressage riding, a discipline that emphasizes harmonious communication between riders and horses. For riding arenas in the city center, try the Royal Guard Horse Riding Club, which is neatly situated next to BTS Sanam Pao Station.
Checkmate Horse Club, 2/2 Moo 13, Reab Wong Waen Tawan Ork Road, 081 410 8523. Open Mon - Fri 09:00 - 18:00, Sat - Sun 08:00 - 18:00
Golden Horse Riding Club, 100/265, Soi Nakkila Laemthong 4 Yaek 1, 02 735 7990. Open Wed - Fri 9:00 - 18:00, Sat - Sun 08:00 - 18:00, Tue 08:00 - 18:00
Royal Horse Guard Riding Club, 226 Phaholyothin Road, 02 297 5127. Open Wed and Fri 17:30 - 19:30, Sat - Sun 06:30 - 19:30
Brew Yoga Thailand
Sip wine while doing asana
Drinking wine and doing yoga may seem like two incompatible things, but they actually share one thing in common—they're both proven to relieve stress. Yoga is a mind-body practice that helps fight stress and build focus through controlled breathing and a series of postures. Likewise, wine, especially the red variety, contains a compound called resveratrol, which triggers the stress-response gene. Brew Yoga Thailand has combined these two stress fighters by occasionally hosting wine yoga, an activity that combines wine-tasting with sommeliers with yoga practice. At its latest session at Vanilla Sky at Compass SkyView Hotel (in partnership with Time Out, ahem), participants found out how bringing wines and downward dogs together can benefit the mind, body and soul. Keep checking Brew Yoga and Time Out Bangkok Facebook page for the next boozy yoga events.
Facebook page: Brew Yoga Thailand
IV Lyfe
Inject boosters into your bloodstream
Famous among Hollywood A-listers, IV infusion therapy, which entails transporting a highly-concentrated serum into the bloodstream, is proven to be best way for the body to take in vitamins and nutrients due to higher and faster absorption. IV Lyfe clinic provides four kinds of treatments to cater to different needs, including Recovery IV. Designed for patients suffering from fatigue brought about by stress, too many late nights and too much alcohol consumption, the therapy involves the injection of watersoluble vitamin B complex and vitamin C into the bloodstream to boost both the body and mind.
IV Lyfe, Brio Clinic, M/F, Intercontinental Hotel, Ploenchit Road, 09 2364 5480. Open daily 09:00-18:00
Take it from the Japanese. Dipping yourself in a hot spring bath (aka onsen) comes with great health benefits, such as better blood circulation and less sleepless nights. Leading spa and wellness giant Panpuri has launched a one-stop spa experience in Gaysorn Village, and it includes the ultimate onsen experience. The spa sanctuary boasts public and private chambers equipped with a series of hot spring pools designed by Shanghai-based onsen expert A-Asterix. What sets this place apart from other bath houses in town are the magnificent views of Bangkok's skyline afforded by floor-to-ceiling glass windows. Panpuri also offers yoga classes, as well as special sessions led by guest yogis.
Nong Bon Water Sports Center
Go sailing and kayaking at Nong Bon Water Sports Center
You don't have to travel to a seaside resort town to go sailing. Located next to Rama IX Park, Nong Bon Water Sports Center is an aquatic playground for those interested in kayaking, windsurfing and sailing. Newbies can learn the basics of sailing in introductory classes conducted in Thai twice daily, while more advanced visitors can rent out boards and gear and head out to the lake at their own liberty. Membership is required to use the equipment, but it costs only B40 per year. (Make sure you bring your photo ID or passport to sign up.) Jogging or biking around the lake are also great choices for a relaxing evening.
Chaloem Phrakiet Ratchakanthi 9 Road, Soi 43, Nong Bon, 0 2328 0236. Open Mon-Sat 8:30-19:30, Sun 10:30-19:30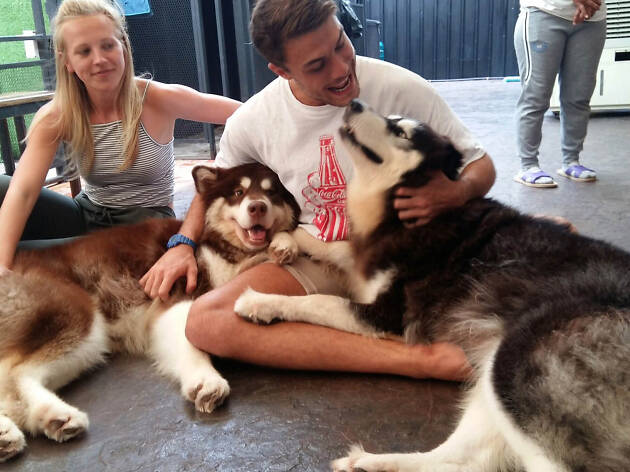 Big Dog Cafe
Play with furry friends at a dog café
They're not only cute, but canines have been proven to bring therapeutic magic, and a sense of affection and comfort to those who pet them. If you don't own a dog, you can visit one of the many dog cafés in the city. Big Dog Café in Huay Kwang has more than 1 large-sized canines, some of which have been trained to treat depression and anxiety—they can sense if people are stressed or sad and respond more sensitively to them. The dogs are let out to play with customers five times a day. You can also buy food and feed them.
Big Dog Cafe 82 Ratchadapisek Road, Huay Kwang Road, 09 5259 2392