Things to do near Mahakan Fort
Where to eat, what to see and things to do around Mahakan Fort community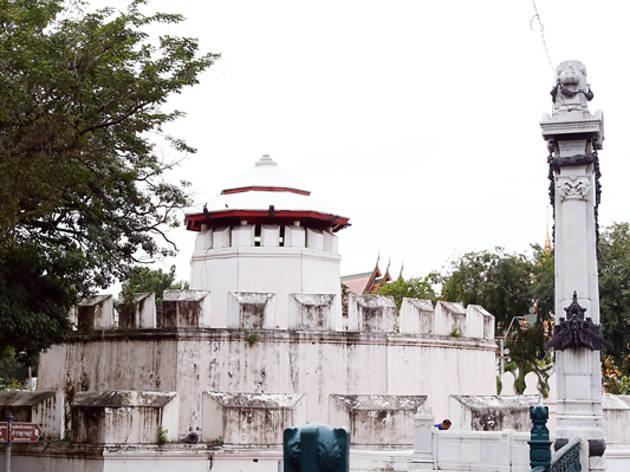 Back in the reign of King Rama I, 14 forts were built around Rattanakosin Island in order to protect the city. Now, Mahakan Fort is one of the only two that have survived the test of time and has become one of the main tourist attractions in Bangkok's Old Town.
Behind the fort's white wall lies one of the city's oldest communities, where generations have lived for more than a hundred years.
This community, however, is being expropriated by the Bangkok Metropolitan Administration in order to build a public park. (The idea, as expected doesn't sit well with the residents who have lived here for decades.) So you may want to visit the area while it's still there.
Where to eat near Mahakan Fort
In the mood for drip drinks? Visit Holiday by Café Velodome where they serve Thai drip tea and lemon tea, as well as drip coffee.
Read more
Kope Hya Tai Ke is an old-school coffee shop located in a peaceful neighborhood nearby. Traditional Thai coffee from home-roasted coffee beans is a must-try. You can also refresh with creative drinks like sugar cane-infused coffee and Ceylon-infused coffee.
Read more
At the end of Maha Chai Road is Ban Bat Community, the only place in Thailand that makes and supplies monks' alms bowls. The tiny bowls make for an interesting souvenir.
Read more
Nang Loy Traditional Thai Fragrance is another place to visit if you want some real Thai gifts that are out of the ordinary.
Read more
A market selling amulets and Buddha statues in Wat Ratchanadda offers much more than just religious knick-knacks and images. Souvenir ideas include khon (classical masked dance) masks delicately made by hand.
Read more
Come at twilight to witness the beauty of Loha Prasat, the world's only metal-spiked mansion.
Read more
Wat Thepthidaram is another Bangkok gem. Here, you'll see Chinese-influenced architectureand old Chinese ballast dolls. It was also, at one point, the residence of Sunthorn Phu, the greatest poet in Thai history. His personal belongings are displayed at a museum in the temple.
Read more