Q&A with Kumamon
A quick chat with Kumamoto's city mascot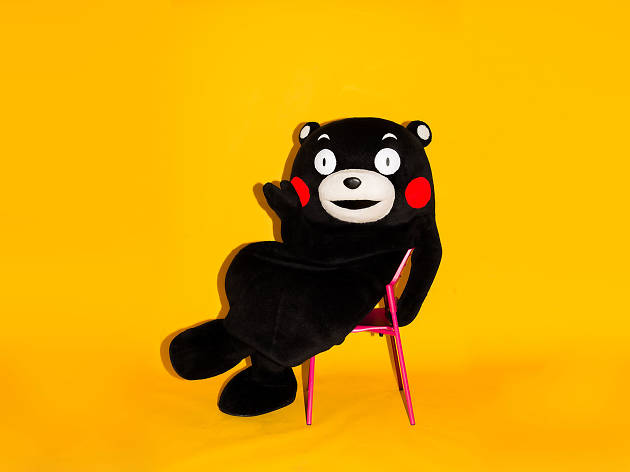 Kumamon is not the first city mascot we've met, but the black cuddly bear happens to be the funniest. The character was created in 2010 to represent a campaign that was aimed at drawing tourists to the Kyushu region following the opening of a high-speed train line. This black bear with cherry-red cheeks later became one of Japan's most famous characters, subsequently attracting more tourists, particularly from overseas, to travel in Kumamoto prefecture.
Following the devastating earthquake in Kumamoto a few months ago, Kumamon, actually a civil servantreporting directly to the governor, is now working hard to re-assure tourists that it's now safe to return to Kumamoto and its neighboring cities. Time Out Bangkok had a chance to sit down for a quick chat with the playful bear.
What do you eat to keep you so energized?
Kumamoto is famous for fresh agricultural products: melon, strawberries, and so many other fruits. These are what I enjoy eating.
What is Kumamoto cuisine famous for?
Horse meat! Kumamoto horse meat is the best.
What awesome things can we do in Kumamoto?
Rent a car and drive around the prefecture to get different perspectives of Kumamoto. Fruit picking, for example, a fun activity. You shouldn't miss the Yamaga Toro Matsuri dance and firework festival in August. It's when thousands of dancers in yukata costumes perform traditional dances underneath amazing fireworks!
There are so many onsen sites in Kumamoto. Which ones would you recommend visiting if we visit the prefecture later in this year, say in October?
Try an outdoor onsen so you can get a wonderfu view of autumn leaves. Places like Kurokawa in Aso and Hirayama in Yamaka are recommended.
More information about Kumamoto tourism at www.kumanago.jp