The best art and culture things to do in Hua Hin
Warning: A single weekend won't be enough!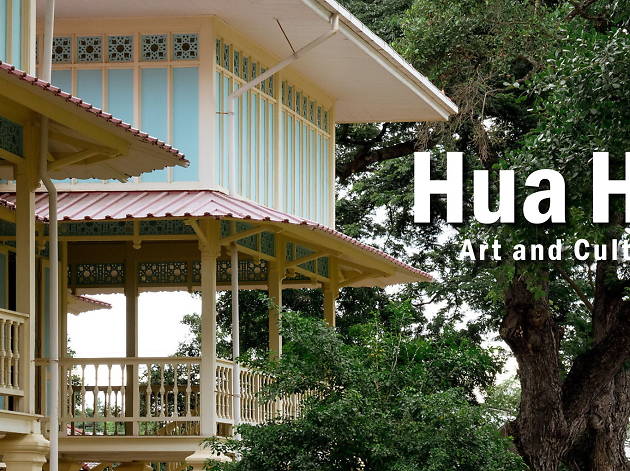 Hua Hin is usually praised for its pristine beach and amazing local food. Culture buffs would know, however, that the seaside destination also has a thriving arts scene. The streets of Hua Hin are dotted with galleries that display awe-inspiring pieces and offer art-focused workshops, and theaters that play host to contemporary shows.
Check out Time Out's guide to Hua Hin's most notable cultural attractions.
Go back in time and get a glimpse of Thai vintage cool at Plearnwan
Discover pieces of old Hua Hin at Plearnwan, a retro-themed market that takes you back to the beach town's "good ol' days."
Unlike other vintage markets, Plearnwan acts as a community—a living museum of sorts—that houses a bevy of food stalls serving food and snacks favored by Thais in the '60s and '70s, as well as shops selling nostalgic toys, vintage-style fashion items and cute little souvenirs. A few hours here are not enough!
Take a groupfie at one of the country's most beautiful train stations
Trains have always been a part of Hua Hin's infrastructure since 1911 when the first train from Bangkok arrived at the quiet fisherman's village, allowing Hua Hin to evolve into what it is today. Apart from being one of the oldest train stations in the kingdom, Hua Hin Train Station is also one of the most beautiful. The wooden station we see today was built in 1926, and flaunts Victorian aesthetics, and bold red and yellow colors. Don't forget to take a selfie (or groupfie) with the original signage, considered one of Hua Hin's most recognizable landmarks.
Get up close with local artists in their working environment at Hua Hin Artist Village
Founded in 2000 by art collector Chumpol Donsakul and artist Tawee Kesa-ngam, Baan Sillapin, or Hua Hin Artists' Village, is a massive community (we're talking 14,000 square meters) where 19 local artists reside and exhibit their works. Visitors are invited to stroll around, shop for artworks, join workshops (watercolor painting, pottery and calligraphy, for instance), and sample food and drinks.
Join the Weekend School at Vic Hua Hin for classes given by one of Thailand's most well-known stage performers
Patravadi Mejudhon is a legend in Thailand's performing arts scene. The respected actress, director and playwright has been using her artistic skills to promote Thai performance arts and theater for longer than three decades. When she moved to Hua Hin, she recreated the arts facility she had earlier established in Bangkok as Vic Hua Hin. The space is home to a gallery, a school, a restaurant, a versatile arts space and a theater where Patravadi and her troupe perform contemporary shows. You can wait to see the shows scheduled for next year, or you can do better and try to be a part of the show yourself by enrolling in one of Vic Hua Hin's weekend classes. Lessons are offered in ballet, Thai music, traditional Northern-style drums, sculpture and a wide range of fine arts classes. Great deal for long-stay holidaymakers!
Admire the distinctive architecture of the Mrigadayavan summer palace
Less than half an hour's drive from Hua Hin town center is the royal residence of King Rama VI. The story goes that the king himself made a preliminary sketch before commissioning Italian architect Ercole Pietro Manfredi to oversee the construction of the palace, which was completed in 1925.
Combining Thai and Western aesthetics, and known for its unique architectural style, Mrigadayavan features 16 houses made from golden teakwood that are connected to each other by long, stretching corridors. The entire structure is "elevated" by a series of concrete pillars—similar to the traditional Thai architectural style—that were designed for better ventilation, to avoid insects and a better chance to breathe in the sea breeze. Check out the beautifully crafted fretwork panels, as well as the English garden located nearby.
Make sure you check out the beautifully crafted fretwork panels, as well as the English garden located nearby.
Extend your vacation with amazing long-stay accommodations in Hua Hin
A single weekend is not enough to enjoy Hua Hin's best cultural attractions. Why not stay longer and book a place with Rental for the Holidays? Launched in 2013, this award-winning real estate management agency provides holiday accommodations for every preference at affordable prices. Whether you come as a couple, friends or family with kids, Rental for the Holidays offers longer stays at a friendlier price and environment than hotel rooms. Since Hua Hin is only a few hours away from Bangkok, you can even book a place for months just shuttle back and forth every weekend.
Rental for the Holidays also provides holiday accommodations at Phuket and Pattaya with a minimum rental period of 30 days