Mamma mia! Italian cuisine
Much more than just pizza and pasta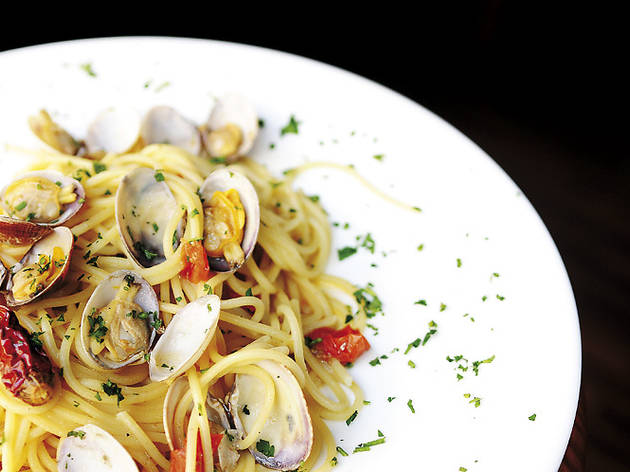 It's incredible how easy it is to make guests happy with little details and, above all, with an authentic cuisine that is made with love. That is the philosophy at this delightful Italian restaurant. There's only one thing they want: and that is to please you. Located near the majestic Palau de la Música, this restaurant with its Neapolitan flavours and colours is a delight, especially for those who have had the good fortune to visit Naples and try its many tasty dishes. You might be surprised when a friendly Neapolitan waiter comes to show you the packet of pasta he suggests that you try. The care they put into their dishes makes this place better than most other Italian eateries. It's no coincidence that it's a favourite among young Italians living in Barcelona.
Massimo, who is from Milan (but international in his outlook on food), opened this restaurant in 2008 with the aim of providing true Italian cuisine – and he has succeeded. The restaurant is an elegant, two-floor venue that can seat up to 60 people, but remember to book at weekends if you want to enjoy the real tastes of Italy. Delicious home-made pasta and hearty appetisers made from mozzarella stracciatella, as well as some excellent main dishes, such as: Mediterranean red tuna coated in pistachios and served with crisp, crunchy vegetables.
Non Solo Pizza makes some of the best pasta in the city, not to mention their pesto, which is every bit as good as the sauce they make in Liguria, where chef and owner Alberto hails from. In this lively eatery you can choose from excellent focaccia, typical starters like affetatto misto, or burrata with tomato and arugula, a delicious variety of stuffed pasta that they make here in the restaurant. Good Italian wines, affordable prices and excellent grappas – what more could you want? They do a very tasty range of pasta according to the day of the week.
With an outdoor terrace that is lovely in summer, this restaurant has two floors with comfortable chairs arranged around tables that are placed strategically and not too close to each other, with good lighting and excellent service. The chef, Roberto, serves dishes from all over Italy, though he tends to let his imagination run riot to create unexpected variations. Here's an example: linguini with garlic, chilli, mullet roe and goat cheese. And how about this sublime starter – raw artichoke salad with arugula and cheese marinated in Barolo wine. Among the desserts is a semifredo di Amaretto with caramelised almonds, an excellent selection of cheeses, and finally, coffee shakerato (cold and shaken) and good grappa. A very good Italian and Spanish wine cellar. They also have a lunch menu.
All the staff at this restaurant are from Puglia, but the place has a number of features that don't derive from that region. These include many dishes, but let's start with their typical orecchiette, which they make with clams, arugula and tomato. For starters there's a wonderful burrata pugliesa (a mild cheese, creamier than mozzarella) served with arugula, cherry tomatoes, basil, olive oil and balsamic vinegar. They also serve a lightly-fried tuna with cumin, mushrooms and onion confit which is just sensational. A very good wine list, headed by the magnificent Nero di Troia, a wine from Puglia.
'Mandi mandi' is the traditional greeting in Friuli, the home region of Miki, the chef, and Noemi, the manager of this restaurant where you can explore the delicious cuisine of this wonderful part of​​northern Italy. The Friulians know a great deal about good food, as well as being very discerning about their drinks. A practical way to confirm this is to visit this tiny venue and try the polenta or any of the pasta dishes prepared by Miki. And on the subject of polenta, the star dish is frico, which was originally a peasant meal and is made with potatoes, Montasio cheese and butter.
A connoisseur of Italian cuisine, Daviano (who is from the Italian region of Friuli-Venice on the border with Slovenia and Austria) not only focuses on his own region, he also makes authentic dishes from the many cuisines of his country. When truffle season arrives, his imagination runs wild, and he offers dishes that feature the finest examples. He has named his dishes after his friends who have enjoyed them. Another of the restaurant's delights is the polenta, as well as excellent meat cuts. An extensive wine cellar and great grappa - Friulian, naturally.
The Colombo twins ('xemei' means 'twins' in Venetian) have bewitched the most demanding fans of Italian cuisine, especially that of their Venice, their hometown. Theirs is a lovely trattoria with a very warm and friendly bohemian atmosphere. Dive in to the best of Venetian cuisine, starting with fegato alla veneta (Venetian-style liver), followed by black spaghetti (it's because of the squid ink, of course).
Besides enjoying their great range of exquisite Italian pasta dishes, you can enjoy watching some of Italy's best-known films, at this highly original 'cinematic' restaurant designed by Toni Greco. Apart from the pleasant atmosphere and spectacular decor, the excellent service and good food will make your meal at Da Greco an unforgettable experience. As for ordering, the best thing is to take the chef and owner's advice.