Heads up! We're working hard to be accurate – but these are unusual times, so please always check before heading out.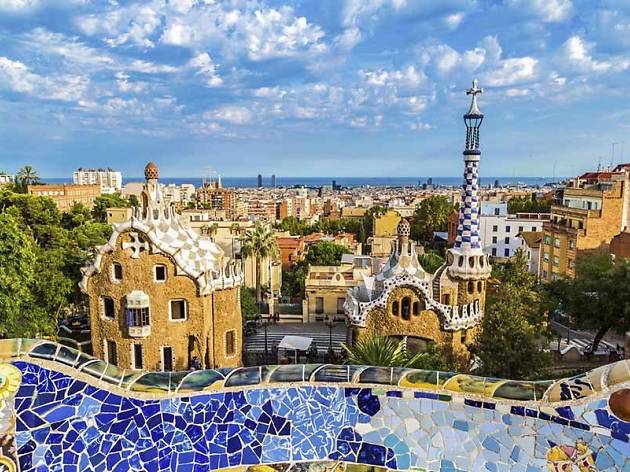 The 12 best parks and gardens in Barcelona
Discover the city's prettiest (and most tranquil) green spaces with our guide to the best parks and gardens in Barcelona
Parks in Barcelona, you ask? Where? Right here is a good place to start to find your new favourite inner-city retreat. Barcelona is a buzzing place, and you're going to spend most of your time exploring its very many sights and attractions, eating at incredible restaurants, drinking in its bars, and maybe even squeezing in some much-needed downtime at one of its many beaches. But when you're pining for the sight of some greenery, a bit of a picnic, some rowing or even a whizz round a maze, you might fancy a trip around one of the best parks and gardens in Barcelona. There's a surprising wealth of opportunity to embrace the great outdoors here – read on to find out how.

RECOMMENDED: Full guide to the best things to do in Barcelona
Best parks and gardens in Barcelona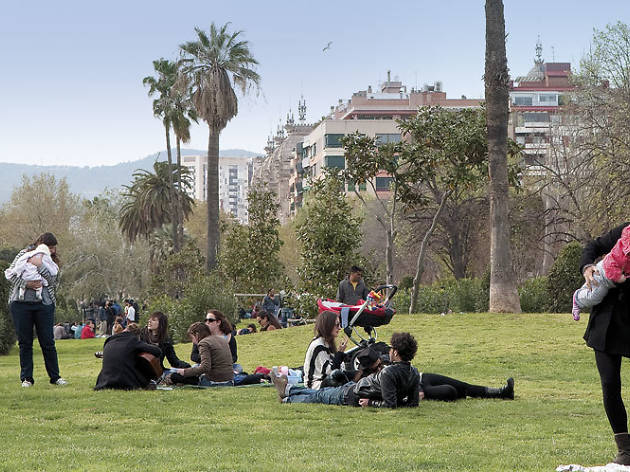 What is it? At over 17 hectares, Ciutadella (which means 'citadel' in Catalan, by the way, giving you a hint as to its history) is the biggest park in Barcelona. Think of it as the city's central park.
Why go? It's where the Barcelona Zoo is, but if that's not your thing, you can rent a boat to row on the lake, take a walk or jog around the plentiful paths, spot the woolly mammoth or admire the massive fountain that a young Antoni Gaudí had a hand in creating. Maybe you'll come across a group of swing dancers or circus performers, or even a local fair or festival. Or just spread out a blanket for a picnic or a siesta and feel the city all around you.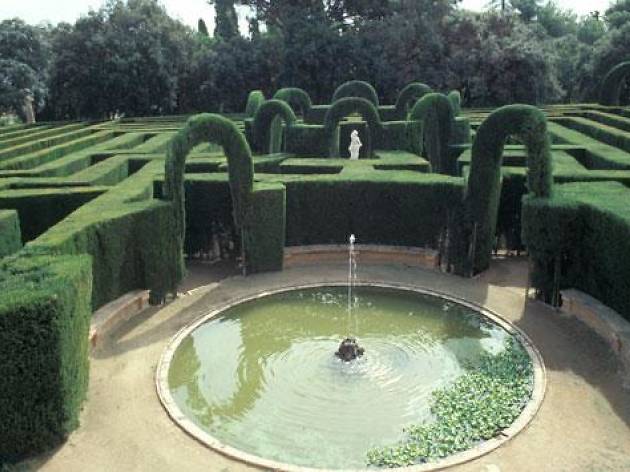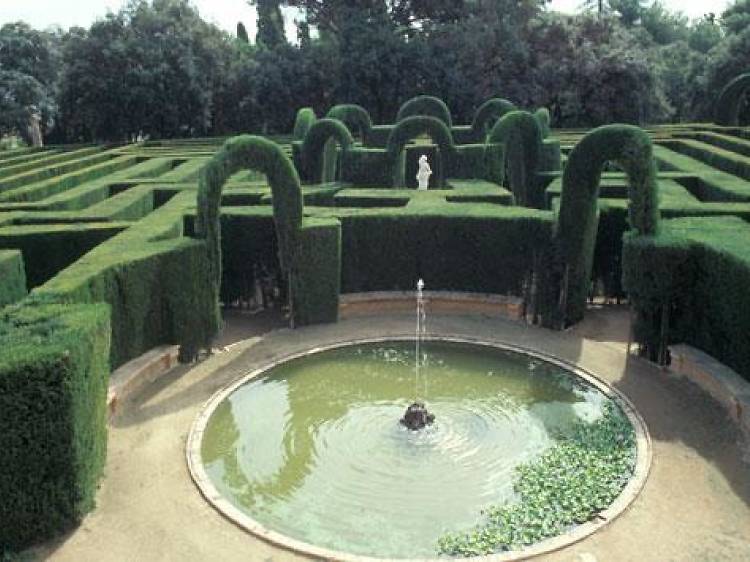 What is it? This uptown park boasts scenic gardens set around a cypress maze designed by Italian architect Domenico Bagutti in 1791.

Why go? Go for the labyrinth that gives the park its name (don't worry, it's not a twin of the one in 'The Shining'). Stay for the lovely ponds, stream and waterfall, footbridges and paths, and plenty of amazing trees that just invite you to take a few calming deep breaths.

Tip: There is a small fee to enter this public park, but if you'd rather not spend the couple of euros, go on Sunday or Wednesday when it's free in.
What is it? One of Antoni Gaudi's most popular masterpieces. Built between 1900 and 1914, Park Güell covers over 17 hectares, making it one of the biggest architectural works in southern Europe. It's been a UNESCO World Heritage Site since 1984.
Why go? The 'monumental zone' is the biggest draw. In an effort to keep ever-growing crowds to a manageable size, a fee has been charged to visitors since 2013 to get into these areas, where you can see the main works by Gaudí. That said, it's free to go in and walk around in the natural areas, where you could still spend a happy couple of hours, and you can also get a glimpse of some of the architect's works, as well as enjoy breathtaking views of Barcelona from the mountains to the Mediterranean. The park also boasts a Gaudí house/museum, which charges yet another entrance fee.

What is it? These gardens that cover some four hectares reopened in December 2019 after being closed for decades. There are spaces for kids to play and joggers to jog, but the main focus is on biodiversity, with plants and pools designed to help living things thrive, be they insects, frogs, turtles, birds or bats.
Why go? You can really take a breather at the Doctor Pla i Armengol Gardens, where dogs aren't allowed, but nearly every other kind of wildlife is. Admire the Mas Ravetllat noucentista building and the museum it now houses, take in views that extend over the city and to the sea, spot the variety of veg growing in the urban garden. And in the warmer months, right next door you've got a public swimming pool where you can cool off.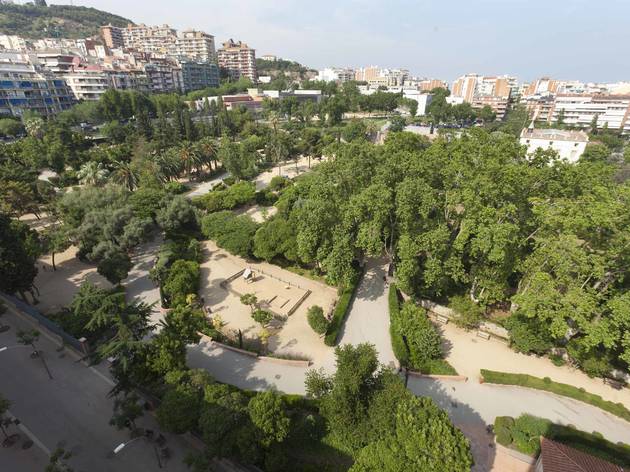 What is it? Not far from the Doctor Pla i Armengol Gardens, in case you're on a tour of city parks, is the Parc de les Aigües. Though its name means 'Park of Waters', there's really not much to be found. There are, however, several terraces separated by paths and stone walls, an outdoor handball court, picnic tables, and three different areas with playgrounds for children to have a blast.
Why go? Get a break from the busy motorway just outside the Alfons X metro stop by ducking in to this pleasant park on your way up or down from the more bustling Park Güell. And definitely stop in during summer, when Aigües is always a participant in the Jazz in the Parks concert series.
What is it? Up in the less-travelled district of Les Corts, conveniently metro-adjacent, stands this magnificent sprawling green space with slopes that add to its beauty. If you're in the mood for some moving around, Cervantes is ideal for walkers and athletes for its wide paths and its sunny and shady spots.
Why go? You will definitely not want to miss the rose garden. That means you're in luck if you're in town from early spring through to the start of autumn, when some 10,000 roses are in bloom. If that's what you're into, make sure you're in town in early May for Barcelona's annual International New Rose Competition.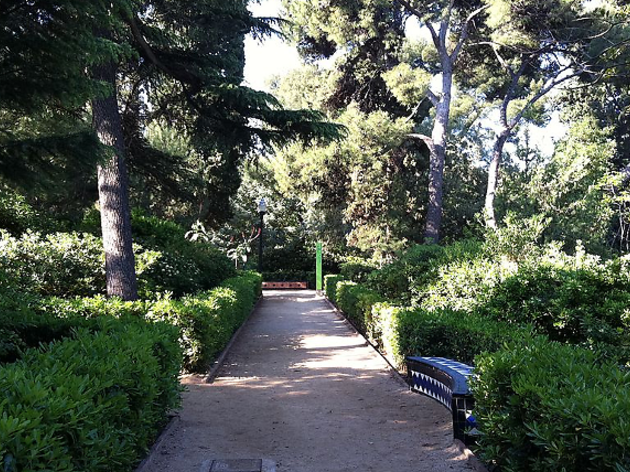 What is it? Montjuïc is full of parks and gardens, and attractions such as the Greek Theatre, the Joan Miró museum, the MNAC, and so much more, and still we say the Laribal Gardens are definitely one of the seaside mountain's gems. These lovely gardens were designed by Jean-Claude Nicolas Forestier and Nicolau Maria Rubió for 1929 Universal Exposition in 1929.
Why go? To feel like you're in the tranquil gardens of a Tuscan home. To appreciate the lush greenery, calming sounds of water features, the sculptures, trees and aromatic plants. Take the time to seek out Barcelona's first-ever public rose garden.

What is it? This park up in the Nou Barris neighbourhood features paths that are laid out to take you up to the 140-metre heights to admire all you see below you. There are picnic areas, open spaces to kick or throw a ball around and children's playgrounds. There are also designated areas for bocce ball, table tennis, basketball, volleyball and football.
Why go? It's strategically placed on a hill from which you'll be able to find a scenic overlook of Barcelona's northwestern neighbourhoods. If you're dying to take a picture of the city skyline while getting a bit away from the centre of town, this is your destination.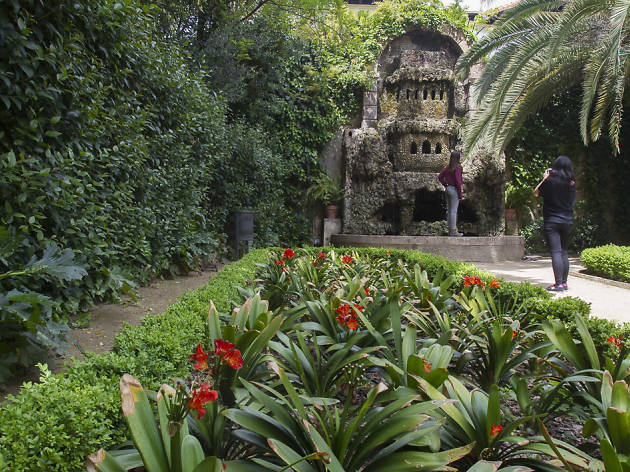 Photograph: Parcs i Jardins
What is it? These beautiful gardens surround an impressive architectural construction from the early 1900s. Full of decorative elements, Jardins de la Tamarita will tempt you to walk around and enjoy the fountains, small ponds and the many ideal spots for reading, writing in your travel journal or simply taking a break for a little while.
Why go? Not only will you be able to relax, you'll also travel back in time to when the Catalan middle classes built homes out of mansions in this part of the city, and surrounded them with gardens created to impress.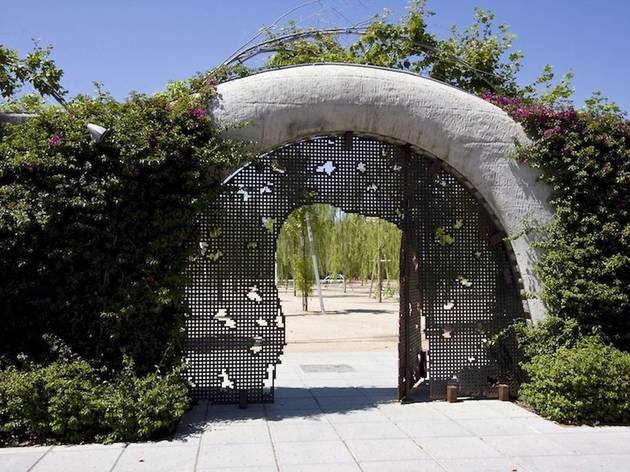 Photograph: Greg Gladman / Time Out
10. Poblenou Central Park
What is it? A green space over five hectares that's packed with native Mediterranean vegetation everywhere you look. Designed by French architect Jean Nouvel, the park boasts a prominent avant-garde style.
Why go? It's a beautifully designed space where all plants and objects have a practical function as well as serving to beautify the park. Be sure to notice the vertical plants and the light features. There are also plenty of playgrounds for kids, as well as ping-pong tables (you have to bring your own bats and balls).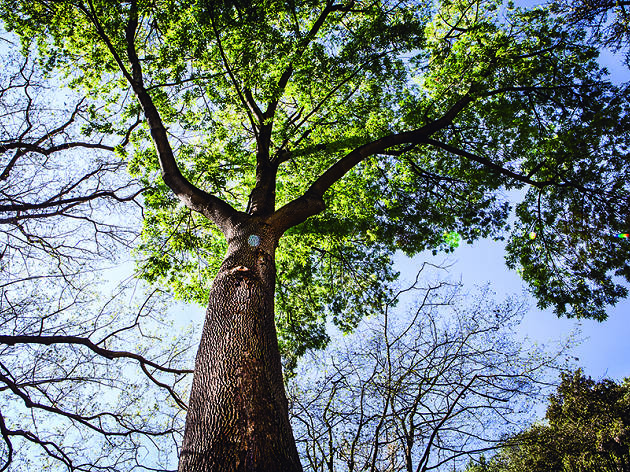 Photograph: Maria Dias
11. Historic Botanical Gardens
What is it? More of our favourite gardens among the many on Montjuic, the Historic Botanical Gardens feature trees so tall they don't let the sun shine through, something you might not know you'd appreciate until the temps start skyrocketing.

Why go? One of the few gardens in Barcelona modelled on a typical English garden, here you won't want to miss gazing at the massive ash tree that's more than 700 years old to contemplate your place in the universe. Also, right next to the garden you can spot a traditional Catalan cottage and vegetable fields with local produce.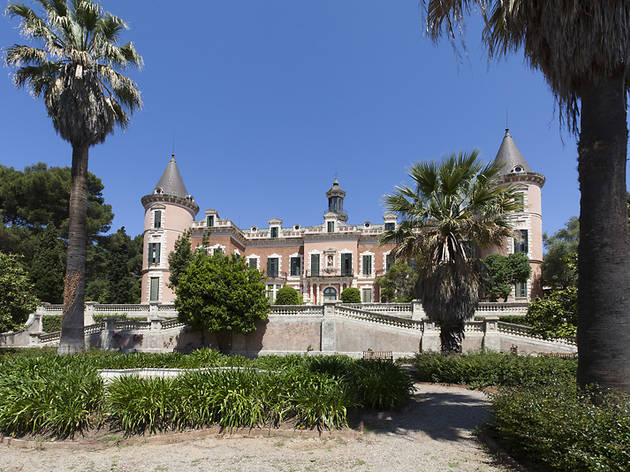 12. Palau de les Heures Gardens
What is it? The gardens surrounding a French-style 'chateau' known as Palau de les Heures (Ivy Palace) thanks to the creeping ivy all around. These gardens, not far from the better-known Labyrinth Park, are divided into three terraces where plants grow in perfect symmetry. The palace itself today forms part of the University of Barcelona network.

Why go? For their amazing palm trees, magnolias, cedars, oaks and orange trees, these expansive gardens a bit further afield from the centre of town are a real spectacle for the senses.
Looking for a different kind of escape?
Beaches, mountains, historic towns... from Sitges to Montserrat to Cadaqués, these day trips from Barcelona show it's well worth leaving town while you're here.