The 50 best attractions in Barcelona
Museums, squares, gardens, modernist buildings... discover Barcelona's top 50 attractions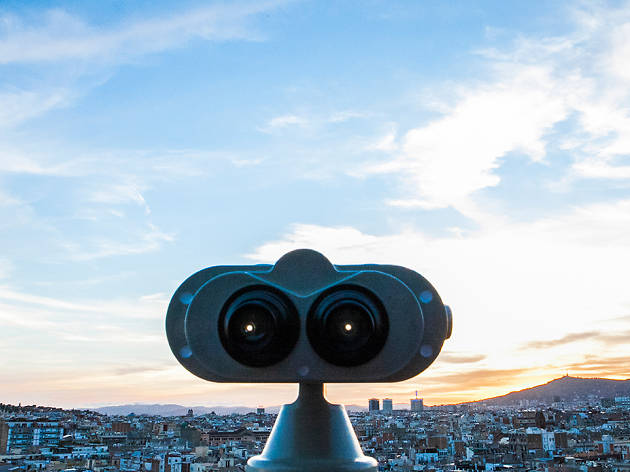 These are the biggies: the sights and attractions everyone tells you are unmissable on any visit to Barcelona. Make sure you stick these spots on your list of things to do in the city. From the Sagrada Família and other Gaudí wonders to the city's famous beaches and parks, plus hidden temples and top museums. Whether you live in Barcelona or are just visiting for a few days, you simply have to see these 50 wonders of the city!
Barcelona attractions
Attractions, Religious buildings and sites
Soaring above Barcelona's cityscape, the Sagrada Família will be the world's tallest church upon completion (estimated for 2026). This 130-year labor of love, dreamt up by Antoni Gaudí, is one of the world's most controversial basilicas, but also one of the most visited. Three million tourists descend upon the place each year to gawk at the architectural achievement that has brought nature, light and religion together into one stunning ensemble piece. The interior is like a giant jigsaw puzzle with each new architect's style blending into the rest of Gaudí's vision.
2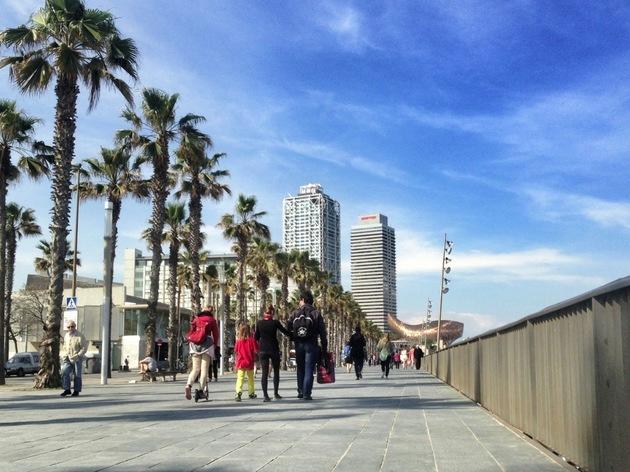 Barcelona has more than 4.5 miles of beaches, from Sant Sebastià to Levante. Many of them can be found in Barceloneta, the historic maritime and workers neighbourhood that grew up on the island of Maians from the 17th century. It is well worth wandering through its streets to see its modest yet charming two-storey houses. Another attraction of the area is the excellent and varied cuisine: from tapas and vermouth, to paellas and seafood.
It's always worth seeing the cathedral of the city you're visiting, and Barcelona is no exception. Its cathedral is an impressive example of Gothic architecture that is now a Cultural Heritage Site and, since 1929, a National Historic Monument. It is dedicated to the Holy Cross and to Saint Eulalia, patron saint of Barcelona, who was martyred by the Romans and whose remains lie in the crypt. Apart from seeing the artistic and architectural riches of the interior, you should also visit the cloister with its 13 white geese (one for each year of Saint Eulalia's life) and worn engravings on the floor that detail which guild paid for each part of the chapel.

If you visit on Saturday or Sunday morning, you might even witness another Catalan tradition, the Sardana dance.
FC Barcelona's home football pitch, or rather Leo Messi's stomping ground, is one of the most visited places in the city. At least the museum is. Die-hard fans will want to check out the Camp Nou Experience, where for €139 euros you can sneak a peek into the players-only areas of the stadium.
Shopping, Markets and fairs
Its stallholders have had to learn languages and indulge in public relations, because as well as being the main food market in Barcelona, La Boqueria is now a major tourist destination. Located on La Rambla, it's the biggest market in Catalonia with more than 300 stalls and a surface area of 2,583 square metres. Think of some obscure delicacy and it's almost guaranteed that you'll find it here. And after strolling around, you can always get a bite to eat at Quim de la Boqueria. Pure authenticity.
6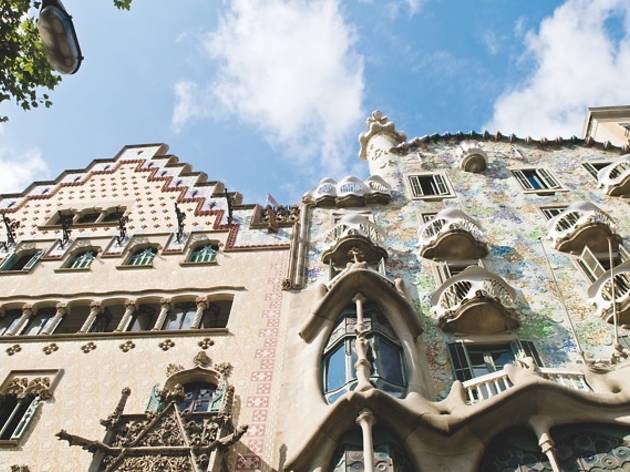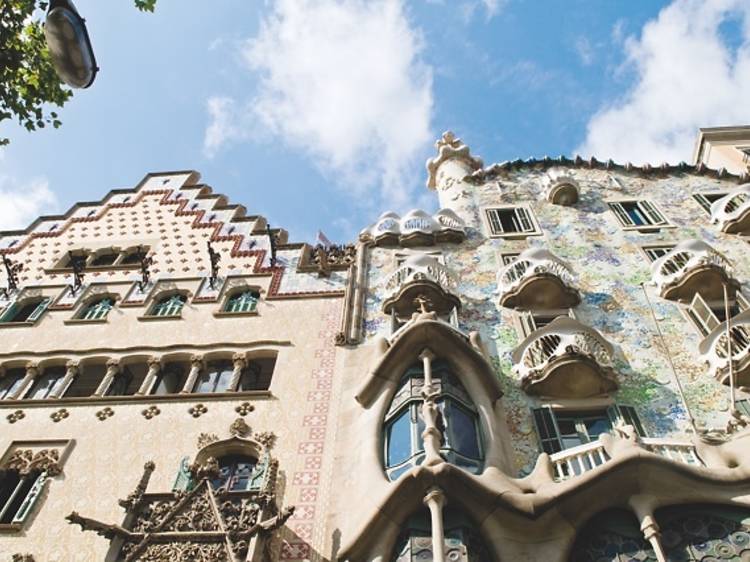 In just one city block in Barcelona, the section of Passeig de Gràcia between C/Aragó and C/Consell de Cent, there are five major buildings from the Catalan modernist era: Casa Lleó Morera by Lluís Domènech i Montaner, Casa Mulleras by Enric Sagnier, Casa Bonet by Marcel·lí Coquillat, Casa Amatller by Josep Puig i Cadafalch, and Casa Batlló by Gaudí. It was named the 'Island of Discord' (also called the 'Block of Discord' in Spanish) because of the rivalries between the five architects.
It's been described as looking like rising dough, molten lava or a stone lung. Casa Milà (popularly known as La Pedrera, 'the stone quarry') is a daring example of Gaudí's use of stone to create natural features. When La Pedrera, his last civil project, was first commissioned in 1906, the building was a laughing stock for its undulating façade, wrought-iron balconies and vast windows. But Gaudí's innovative, self-supporting stone exterior has marked the house among today's most stupendous architectural feats and won it a spot on UNESCO's World Heritage Site list.
Attractions, Historic buildings and sites
Up in Barcelona's Horta-Guinardó neighbourhood, this maze of walls and walkways boasts breathtaking hillside views of the whole city. Highlights when visiting include the Hall of One Hundred Columns (though it actually has 86); the mosaic serpent bench; and the salamander on the main steps. You can enter the park for free, but if you want to get into the 'Monumental zone', you'll pay around €8 to see the iconic mosaic bench and dragon, plus more gems. Tip: Visit their website to book in advance online and save a euro.
If the quality of a museum is measured by the number of people queuing to get in, the Picasso Museum takes first place. The museum was created by the artist himself and his friend and secretary, Jaume Sabartès, who contributed his collection. With more than 3,800 works making up the permanent collection, it shows the artist's formative years along with an extensive programme of temporary exhibitions.
10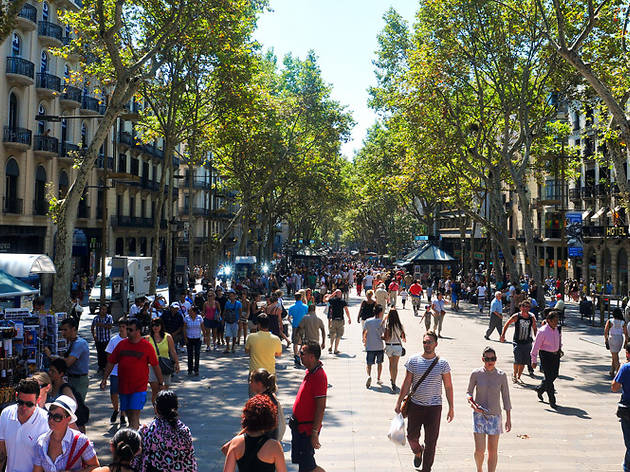 This is undoubtedly the most renowned street in Barcelona. Stretching from Port Vell to Plaça de Catalunya in the centre, La Rambla offers a bevy of shops, flower stands, artwork and attractions. Don't miss the ornate Canaletes Fountain, Boqueria Market, Liceu Opera House and Teatre Principal.
Show more
Withlocals Universal Widget Paris