Things to do in Birmingham this weekend
Check out this weekend's events and find great things to do this weekend in Birmingham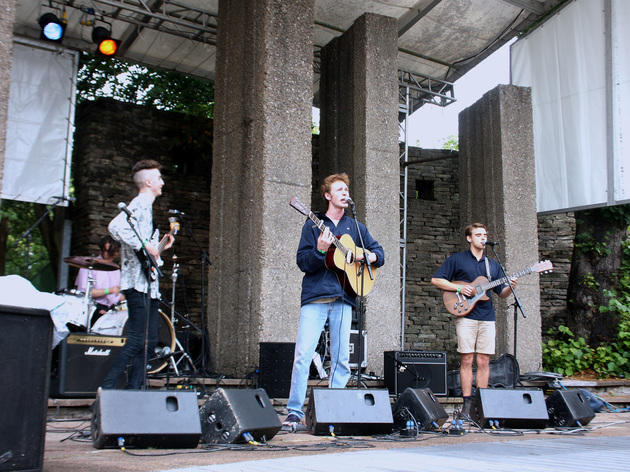 Browse our selection of the best things to do in Birmingham this weekend, so there's no excuse to let your downtime go to waste. Whether you're mad for music, theatre is your bag or you want to catch an art exhibition, you'll find it all right here.

If you're looking for things to do in Birmingham beyond this weekend, plan ahead with our round-up of things to do this month.
Films showing this weekend
Superheroes may save the world, but parenthood requires skills far more advanced than extendable limbs. Brad Bird's 'Incredibles 2' – Pixar's most spirited sequel since 'Toy Story 3' – lovingly expresses this certainty through a bighearted familial portrait wrapped in '60s-inspired design. But the film's disarming appeal lies in its simpler moments of domesticity, in which the members of the all-superhero Parr family lift each other up and fight for relevance in a world of indifference. Still underground with criminalised superpowers and a destroyed home, Mr. Incredible (Craig T. Nelson), Elastigirl (Holly Hunter), and their children, Violet, Dash and the explosive baby Jack-Jack, quietly live in a dingy motel. Their luck turns when a pair of wealthy siblings – the naive Winston and brainy inventor Evelyn (Bob Odenkirk and Catherine Keener) – offer them a chance to restore the Supers' reputation. While the sensible Elastigirl serves as the fearless face of the mission, Mr. Incredible hilariously Mr. Moms his way through the kids' homework, boy troubles and newly emerging superpowers. When the state-of-the-art villain Screenslaver disturbs the picture, the entire crew, including the previous film's charismatic ice maker Frozone (Samuel L. Jackson), joins the good fight. 'Incredibles 2' comes supercharged with timely, sophisticated themes around societal apathy and gender parity. While slightly overplotted in its finale, the sleek sequel still glows with grown-up wit, with cr
At his best, Paul Schrader is untouchable when it comes to capturing men (and it is almost always men) pinned between the ruinous modern world and a higher, quasi-spiritual calling. He did this, iconically, with his original screenplay for Martin Scorsese's 'Taxi Driver' and as a director himself in 2002's 'Auto Focus', an unsettling descent into porn and career dislocation. Schrader is back on familiar ground with 'First Reformed', the meditative story of an upstate New York pastor (a subtle Ethan Hawke) racked by guilt at his own shortcomings and soon to embrace desperate measures. The filmmaker's return to a somber Robert Bresson-like mode will work like catnip on his superfans, especially after Schrader's exploitative 2013 Lindsay Lohan disaster 'The Canyons' (little more than dirty-old-man cinema) and two terrible Nicolas Cage movies. In fact, 'First Reformed' plays so much like old-school Schrader, you might confuse it for the work of a dutiful grad student: Once again, we get a tortured Travis Bickle voiceover (Hawke's Ernst Toller keeps a journal from which, in between hitting the sauce, he reads passages like 'I know there is no hope'); here, too, is a troubled woman who needs saving (Amanda Seyfried, playing a character named Mary), and Toller's own memories of his soldier son, killed in Iraq. The plot takes a timely turn toward homegrown terrorism, and even as cinematographer Alexander Dynan amasses ominous clouds, the film's break from head-bound matters is a t
Starring Will Arnett, Chris "Ludacris" Bridges, Natasha Lyonne, Jordin Sparks, Gabriel Iglesias, Shaquille O'Neal, Alan Cumming, and Stanley Tucci, SHOWDOGS is a family comedy about the unlikely pairing of a human detective (Arnett) and his canine partner (voice of Chris "Ludacris" Bridges), who has to go undercover at the world's most exclusive dog show to solve his biggest case yet.
If you've seen the first 'Mamma Mia!', that most wholesome tale of uncertain paternity, you'll probably have a solid idea of how the sequel, 'Mamma Mia! Here We Go Again', will play. There are postcard-ready landscapes, airy romances, and a whole lot of ABBA songs sung with gusto, if not finesse, by movie stars. It all makes for an intermittently pleasant summer diversion, but a preposterous screenplay filled with wild coincidences and lines like 'I'm gonna make some memories' ensures its status as frustrating kitsch. Like its predecessor, 'Mamma Mia! Here We Go Again' is proudly schmaltzy, wearing its musical theatre influences on its sleeve, but watching all those forced music cues isn't always fun. The most novel part of the film is its use of flashbacks: The story is threaded with scenes of Meryl Streep's character Donna, the fun-loving bohemian matriarch, as a young woman. Lily James's performance as the young Donna is warm, and while the cutting between the present and the past is often cheesy, it keeps the movie bustling along. These flashbacks build up the paternity story that was at the center of the first movie and it's noteworthy that while the conceit is built around Donna having affairs with three different men and becoming pregnant and uncertain as to the identity of the father, there's no slut-shaming here. The film is like a sanitised fairytale: everyone is positive, and the three potential fathers all get along. Even the classic evil maternal figure (as embo