Things to do in Birmingham this weekend
Check out this weekend's events and find great things to do this weekend in Birmingham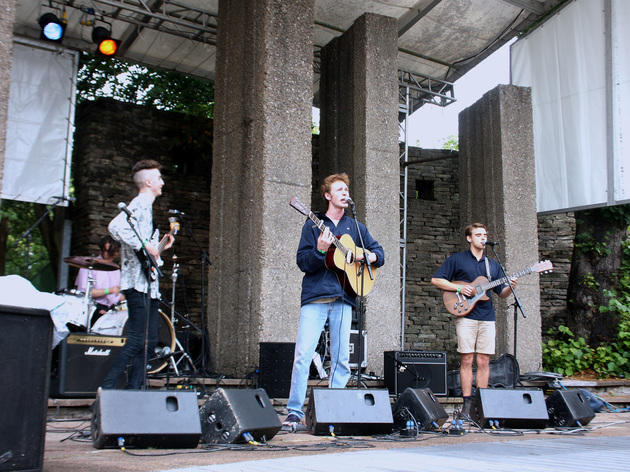 Browse our selection of the best things to do in Birmingham this weekend, so there's no excuse to let your downtime go to waste. Whether you're mad for music, theatre is your bag or you want to catch an art exhibition, you'll find it all right here.

If you're looking for things to do in Birmingham beyond this weekend, plan ahead with our round-up of things to do this month.
Things to do in Birmingham this weekend
Residents and guests spin an audio-visual mix of the best new and classic indie music in the main room. Plus pop, dance and drum'n'bass in room two, and digital disco, electro, house and dubstep in room three.
Read more
Contemporary paintings depicting the landscape of the West Cork coastline.
Read more
Birmingham Musical Theatre Company present a production of Lerner and Loewe's classic musical, which follows Eliza on her journey from a flower girl to the belle of the Embassy Ball in this heart-warming musical.
Read more
Michelin star chefs, MasterChef winners and TV personalities descend to offer tips, advice and demonstrations. There will also be street food, markets, cocktail masterclasses and much more.
Read more
Small-scale paintings on canvas, which have been inspired or influenced by Jain's studies of the Old Masters.
Read more
Established in 1881, J. W. Evans is one of the most complete surviving historic factories in Birmingham's Jewellery Quarter. To walk into the factory today is to enter a lost industrial world
Read more
Carefully restored, atmospheric 19th-century courtyard of working people's houses.
Read more
Contemporary exhibition which imagines an artist's house, with works by Laura Aldridge, Liam Gillick and collaborative duo Heather and Ivan Morison.
Read more
New works by the political artist which depict recurring themes of violence, power, war, sex and money.
Read more
Show more
Films showing this weekend
Before seeing 'Wonder Woman', I got a sinking feeling. It's been more than a decade since a woman headlining a superhero film saved the world. I had visions of middle-aged male studio execs huddled together in a conference room Googling feminism and group-thinking how to make a lady-hero. Would the result feel like a two-and-a-half-hour tampon advert? Actually, no. 'Wonder Woman' feels like the real deal, a rollicking action adventure in the tradition of 'Indiana Jones', with a fully functioning sense of humour and the year's most lip-smackingly evil baddie. It has a wobbly opening on a women-only island where hot chicks in fabulous Ancient Greek sandals appear to have wondered in from a Dolce & Gabbana ad campaign. This is Themyscira where the Amazon tribe have lived in peace for thousands of years. Actress and former Miss Israel Gal Gadot (Gisele in the 'Fast & Furious' franchise) is their princess, Diana (Wonder Woman), who was sculpted from clay and brought to life by Zeus. The island's tranquillity is broken by the arrival of a cocky American soldier played by 'Star Trek' actor Chris Pine, who is adorable. He knows he's here as eye-candy and does smoking-hot sexy sidekick with a good sense of humour. The plot is functional. It's World War One and Pine is an American spy who has discovered that evil German chemist Dr Maru (Elena Anaya) – aka Doctor Poison – is cooking up a dirty bomb to wipe out Allied soldiers on the Front. Wonder Woman volunteers to save humankind, st
Read more
Everyone in 'Baywatch' seems on the verge of cracking up about being in a movie version of 'Baywatch' – how could they not be? The laughs in director Seth Gordon's surprisingly fun and self-mocking comedy don't sneak up on you so much as hail you from a mile off with an air-horn blast and then bonk you over the head. This is a film in which lifeguard Dwayne 'The Rock' Johnson explodes out of the water – in slo-mo – with a rescued paraglider in his arms, while porpoises flip behind him in celebration. The thing about this Hollywood version of the butt-ogling '90s TV phenomenon is that, pretty quickly, it makes you feel in on the gag. Taking lessons from 2012's wonderfully silly '21 Jump Street' (in which Channing Tatum and Jonah Hill scientifically proved that bad television need not result in bad filmmaking), 'Baywatch' owns its preposterousness. The actors are what save it. Johnson builds on his subversive persona of hulking, dimwitted likability, and he's joined by 'Neighbours' star Zac Efron, who plays a cocky, disgraced Olympic swimmer, Matt Brody, nicknamed the Vomit Comet. (Confused by his bodacious lifeguard team's role in solving crime, Brody says it sounds like a 'really entertaining but far-fetched TV show.') Because this is 'Baywatch', it's crude (brace yourself for several movies' worth of penis jokes – flaccid and otherwise), but at least the camera is an equal-opportunity lech. Kelly Rohrbach and Alexandra Daddario bring a winking awareness and unprudish confi
Read more
The female of the species is more deadly than the male. Is she really? The heroine of Daphne du Maurier's 1951 novel is suspected of being a poisoner – a black widow who's bumped off her husband. But the real killer in Du Maurier's tale of obsessive love in the Victorian era is the claustrophobically adoring men who want to control Rachel and maintain patriarchal power over women. This clever, well-acted adaptation, written and directed by Roger Michell ('Notting Hill'), is possibly a little too elegant, all bonnets and breeches and puffy shirts, but it does nail the spirit of the novel. The setting is squally Cornwall, where orphan Philip (Sam Claflin) has grown up as the son and heir of his uncle, Ambrose, a bachelor who marries a distant cousin, Rachel (Rachel Weisz), while abroad. Soon after the wedding, Ambrose's letters take a turn for the crazy, accusing Rachel of poisoning him. When he dies, Philip suspects Rachel. The trouble is, he falls head over heels as soon as he claps eyes on her. Like the book, the film is narrated by Philip, so we see Rachel through the filter of his possessiveness. Claflin is excellent, portraying Philip as an untrained puppy, sweet but impulsive and bad-tempered. He's a child playing at grown-ups. He wants to marry Rachel. Why would she refuse him? He's horrified by rumours of her promiscuity but at the same time desperate to get her alone in a soggy field, the hypocrite. Is Rachel a proto-cougar or a victim of misogyny? Weisz says enoug
Read more
Watch your step or you might slip on this slushy sob story about a hyper-intelligent kid who suspects his next door neighbour of abusing his stepdaughter. It's one of those films where Bad Things Happen, but director Colin Trevorrow (who directed 'Jurassic World' and is in charge of the 2019 'Star Wars' movie) doesn't let emotional pain turn his film's life-affirming message into a bummer. Jaeden Lieberher is Henry, a boy genius with a skyrocketing IQ (and miraculously none of the dysfunctions that might piggyback on his precocious gifts IRL). His fun 'n' relaxed mum Susan (Naomi Watts) plays computer games while sensible Henry sorts the bills out on a spreadsheet. 'Find me a member of the male species more grown-up than Henry,' she tells her boozy best friend (Sarah Silverman, the only recognisable human being here). I'll avoid spoilers, but Henry's mum and quirkily dressed little bro (Jacob Tremblay from 'Room', who'll need therapy if he stars in any more films like these) take over his investigation of the neighbour, who is a powerful local police chief. The whole thing is boring and phony, with just a couple of lines of dialogue that feel true, like the time Henry says to his mum, after she has a sneaky daytime drink with Silverman: 'It's really great how you enable her alcoholism.' 'The Book of Henry' will leave your heart well and truly unwrenched, your tears ducts unbothered.
Read more
This London-set, golden years romcom stars Diane Keaton as Emily, an all-at-sea American widow, and Brendan Gleeson as Donald, a gruff Irish loner – living on different sides of the tracks in the same north London suburb. It's directed by Joel Hopkins who made 2008's 'Last Chance Harvey', and this is a similar against-the-odds, transatlantically cast romance, although 'Hampstead' is never quite as slick as that earlier film. It's based on the real-life case of a homeless man who fought the authorities to be able to remain on a patch of the heath that he'd occupied for years. When Emily and Donald fall for each other, their on-off romance has to face the prejudices of everyone around them. That may sound like 'Hampstead' gets under the skin of London's inequality, but don't come to this film looking for social realism. This is an unapologetically fluffy film that never digs deep into its characters' lives. Its pleasures are patchy. Keaton offers an endearing performance, even if her chemistry with Gleeson (not on top form) is weirdly lacking. And there are enough winning supporting turns to keep the film fizzing along, especially from Jason Watkins as an opportunist accountant and Lesley Manville as a self-serving neighbour. This is light and disposable stuff – amusing, but nothing more.
Read more
June 1944. The Allied armies stand poised to invade Normandy and liberate Europe. And one cranky, cigar-chomping prime minister is doing himself no favours by bending the ear of anyone who'll listen with premonitions of disaster if the D-Day plans go ahead. Despite the title, this isn't a straight biopic of Winston Churchill (Brian Cox). Nor, for the most part, is it a saintly portrait of the man, the legend. In fact, for the first three-quarters it's a surprisingly even-handed depiction of aristocratic stubbornness, as Churchill – no longer leading the war effort after the Americans stepped in – storms around England arguing with General Eisenhower (John Slattery), his long-suffering wife Clementine (Miranda Richardson) and even King George (James Purefoy) as he struggles to prevent what he's become convinced will be a military disaster. Cox is rudely magnificent, capturing not just the wilfulness of the man but the nagging self-doubt at his inner core. But the film is just too bloodless to be fully convincing. Composed almost entirely of repetitive barking matches in elegantly furnished rooms, it never sells us on the global importance of what's about to happen. The final act's descent into sentiment is hardly a surprise but it's still disappointing. 'Churchill' closes, bizarrely, with a title card informing us that Winston is frequently voted the greatest Briton who ever lived, as if to suggest BBC teatime polls are of some historical relevance. Still, it's likely to do
Read more
Bruce Robinson's film about two resting actors thrown together in London at the fag end of the 1960s, didn't make much of an impression at the box office when it was released in 1988. But a few years later it became a hit on video, with copies being passed around teenagers and students, who watched it repeatedly until the tape began to jump and fade. As time went on, many of the film's quotable lines – 'I demand to have some booze!'; 'We've come on holiday by mistake' – slipped into common usage. And 'Withnail' only gets better with time. Yes, it's funny, but it's also tender and sad too, from the arresting sound of Procul Harum's 'Whiter Shade of Pale' in the opening scene to the final, rainy farewell between Withnail (Richard E Grant) and his unnamed friend (revealed as 'Marwood' in the screenplay and played by Paul McGann) in the last scene in Regent's Park. Already a curious mix of acerbic and wistful, the film carries an even sadder air since the death of the late, great Richard Griffiths, who steals the show as the desperate, repressed and out-of-time Uncle Monty.
Read more
The breakout star of 2014's 'The Lego Movie' now gets his own action-packed, completely batshit superhero spinoff. The first Lego film was a real surprise: what could have been a lazy cash-in turned out to be sweet, funny and fiendishly original in the way it acknowledged and celebrated its own artificiality. And one of the film's highlights was its take on Batman: a self-involved millionaire playboy who dresses in black body armour to fight crime and chase chicks. The inept egomaniac is a time-honoured comedy archetype – think Jack Sparrow, Daffy Duck or Donald Trump – but thanks to razor-sharp writing and Will Arnett's snarling, impossible-to-hate vocal performance, this Batman felt fresh and fun. Happily, the same goes for his solo debut, a ferociously paced, wildly silly pastiche of those comic-book blockbusters we're all getting a bit sick of. The plot may draw on another creaky comic cliché – Batman inadvertently adopts adorable orphan Robin (Michael Cera) and has no idea what to do with him – but 'The Lego Batman Movie' is so jam-packed with ideas, asides and barmy cameos (Lego Bane! Lego Marlon Brando! Lego gremlins!) that there's barely time to notice. Some of it might go over kids' heads – there's a running gag about 'Jerry Maguire' that will bemuse anyone under 35 – but they will lap up the frenetic action and slapstick. Like its predecessor, 'The Lego Batman Movie' also manages to find an emotional centre among all this mayhem. Batman may be outwardly invincible
Read more
If just thinking about Michael Fassbender makes you want to strip off all your clothes, 'Alien: Covenant' has a cure for that. David the robot, his creepier-than-a-serial-killer android butler, was the breakout star of Ridley Scott's 2012 'Alien' prequel 'Prometheus'. Scott, realising perhaps that David is scarier than a spaceship full of parasitic flesh-eaters, makes him the star of this sequel to the prequel. Just as well, because nothing else kicks quite enough ass. Ok, so the plot. It's 2104, ten years after the crew of the Prometheus ended up as alien meat on their mission to find the origins of human life. A colony ship, the Covenant, is gliding through space on a voyage to a distant planet. Its cargo is 2,000 people sleeping in hibernation pods and a job lot of human embryos to populate their new home. Scott famously joked that nothing happened in the first 45 minutes of 'Alien'. Not so here. When the Covenant runs into a storm, its computer – Mother – wakes up the crew of 15 from hyper-sleep, seven years too early. The weather front, it turns out, originated from a nearby planet that seems habitable, with a breathable atmosphere. Too good to be true? Yes, says the ship's scientist, Daniels, played by the terrific 'Fantastic Beasts' actress Katherine Waterston, who takes on the butt-kicking Ripley role. The rest of the crew is made up of a bunch of science geeks and low-tech dudes who operate the ship (you know, the ones who'll end up as alien fodder in the second a
Read more
Show more