Things to do in Birmingham this weekend
Check out this weekend's events and find great things to do this weekend in Birmingham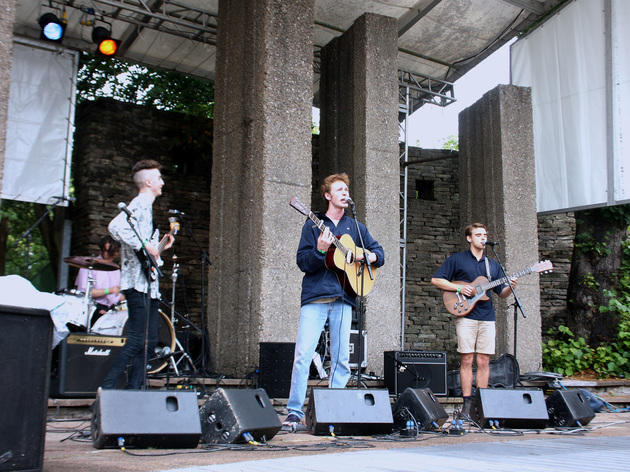 Browse our selection of the best things to do in Birmingham this weekend, so there's no excuse to let your downtime go to waste. Whether you're mad for music, theatre is your bag or you want to catch an art exhibition, you'll find it all right here.

If you're looking for things to do in Birmingham beyond this weekend, plan ahead with our round-up of things to do this month.
Things to do in Birmingham this weekend
Films showing this weekend
At the start of 'Elle', the final credit to appear in the darkness (over the sounds of fucking) tells us that we're about to watch a Paul Verhoeven film. Really? Call it a delicious redundancy. 'Elle' might just be the most Verhoeveny film yet, due to its willingness to push buttons, explore transgressive territory and take constant delight in venturing where the vast majority of filmmakers would fear to tread even lightly. This is, after all, the man who gave us 'Basic Instinct' and 'Showgirls'. Adapted by David Birke from the novel by Philippe Djian, 'Elle' has an ace up its sleeve in the form of Isabelle Huppert, who gives a fierce (and impeccably dressed) performance as Michele, a video-game–company founder living in Paris. Those midcoital moans we heard? Michele is being raped in her living room by a ski-masked assailant. Already, her life's been hard: she's the daughter of a notorious mass murderer. Perhaps growing up despised by the media and the public is part of why she does not respond conventionally to her attacker but begins to seek him out, in a challenging story that will surely upset a lot of people (not that Verhoeven minds). 'Elle' is really at least three films at once: First, there's the comedy of manners involving Michele's adult son, mother, ex-husband and their respective other halves. A dinner party plays out exquisitely, with many tiny moments to cherish, not least Michele forgetting – or bitchily pretending to forget – the name of her Liza Minnelli–
Read more
You can't recreate your past, but you can relive it in your head over and over again, seeing it differently as you become someone new each year, month, week and day. That's the big, trippy idea at the heart of Danny Boyle's 'T2 Trainspotting', a frenetic but also reflective film about the past colliding with the present. It has some soaring highs and a few lows – but it's never lazy, even if it never matches the one-off magic of the 1990s Britpop-era original. Frankly: how could it? 'T2' sees Renton (Ewan McGregor) arrive back in Edinburgh from Amsterdam where he's been working in 'stock management software for the retail sector' (choose life, indeed) and where his personal life has taken a hit. Back home, he seeks out Spud (Ewen Bremner), to whom life hasn't been kind in an altogether more devastating way, and he reconnects with Sick Boy (Jonny Lee Miller), who is now running a blackmail and prostitution racket with business partner Veronika (Anjela Nedyalkova in one of several underwritten female roles; Shirley Henderson and Kelly Macdonald suffer the same fate). The missing piece of the jigsaw is Begbie (Robert Carlyle), who's still seething about being stitched up by Renton all those years ago and who's stuck in jail – but not for long. 'T2' is a sequel, but it's not just about continuing a story. It knows how much is riding on our nostalgia, and it wants to prod and play with it. That 'T2' tag could easily stand for 'take two': a second look at the story of friendship
Read more
The breakout star of 2014's 'The Lego Movie' now gets his own action-packed, completely batshit superhero spinoff. The first Lego film was a real surprise: what could have been a lazy cash-in turned out to be sweet, funny and fiendishly original in the way it acknowledged and celebrated its own artificiality. And one of the film's highlights was its take on Batman: a self-involved millionaire playboy who dresses in black body armour to fight crime and chase chicks. The inept egomaniac is a time-honoured comedy archetype – think Jack Sparrow, Daffy Duck or Donald Trump – but thanks to razor-sharp writing and Will Arnett's snarling, impossible-to-hate vocal performance, this Batman felt fresh and fun. Happily, the same goes for his solo debut, a ferociously paced, wildly silly pastiche of those comic-book blockbusters we're all getting a bit sick of. The plot may draw on another creaky comic cliché – Batman inadvertently adopts adorable orphan Robin (Michael Cera) and has no idea what to do with him – but 'The Lego Batman Movie' is so jam-packed with ideas, asides and barmy cameos (Lego Bane! Lego Marlon Brando! Lego gremlins!) that there's barely time to notice. Some of it might go over kids' heads – there's a running gag about 'Jerry Maguire' that will bemuse anyone under 35 – but they will lap up the frenetic action and slapstick. Like its predecessor, 'The Lego Batman Movie' also manages to find an emotional centre among all this mayhem. Batman may be outwardly invincible
Read more
An orphan girl dreams of becoming a dancer in this charming animated kids' film set in 1879 France. Flame-haired Félicie (voiced by Elle Fanning) runs away from her Brittany orphanage with her friend Victor (Dane DeHaan). In Paris, he becomes an apprentice to Gustave Eiffel, and she joins the Opera as a ballerina – by assuming a rich girl's identity. It's a classic rags-to-riches set-up that captures the thrill of success while delivering a lesson about the need to work jolly hard to get there. Fanning's earnest voiceover helps make Félicie a winning heroine, while DeHaan's Victor is a sweet, smitten teen. Laughs come here and there, but this is more about the magic of dreams and dance: the choreography uses motion capture of Paris Opera Ballet dancers to uplifting effect. The film is also visually opulent – the velvet frocks look sumptuous to the touch. It's a shame that the magnificent 'Swan Lake' is combined with cheesy modern pop ditties. 'Ballerina' is at its best when harking back to the past.
Read more
This delightful animated feature from the studio behind the Minions movies takes a tired-sounding idea – a comedy set around a talent contest – and turns it into something winning and witty. 'Sing' is fast and frenetic, dashing from character to character, song to song. Our hero is a koala, Buster Moon (voiced by Matthew McConaughey), a throwback theatre owner-cum-producer down on his luck. With the help of his ageing female assistant, a lizard (voiced by the film's writer-director Garth Jennings), Buster initiates a singing contest in an attempt to save his crumbling theatre. But a clerical error bumps the prize money up from $1000 to $100,000, and suddenly every singing beast in town is queueing at his door for a chance of winning the cash. There's Johnny (Taron Egerton), a British gorilla uneasy with his father's criminal lifestyle; Rosita (Reese Witherspoon), the harried porcine mother of 25 hungry piglets; Meena (Tori Kelly), an extremely shy elephant; Ash (Scarlett Johansson), a jilted porcupine; and Mike (Seth MacFarlane), a crooning, boastful mouse. Like the most effective TV talent shows, 'Sing' balances snapshots of each creature's home life with their emergence into the spotlight of potential fame. The rush of familiar music – Queen, Elton John, Leonard Cohen – often sung by the voice actors themselves, can feel like listening to a karaoke jukebox in overdrive, but a welcome focus on relationships, emotions and other details of each character's life stops this fee
Read more
The young writer-director Damien Chazelle has followed his Oscar-winning drama 'Whiplash' with another entirely novel film steeped in the world of music. His soaring, romantic, extremely stylish and endlessly inventive 'La La Land' is that rare beast: a grown-up movie musical that's not kitschy, a joke or a Bollywood film. Instead, it's a swooning, beautifully crafted ode to the likes of Jacques Demy's 'The Umbrellas of Cherbourg' and Stanley Donen's 'Singin' in the Rain' that plays out in the semi-dream world of Los Angeles and manages to condense the ups and downs of romantic love into a very Tinseltown toe-tapping fable. 'La La Land' boasts stars to fall in love with: Ryan Gosling is Seb, a brooding pianist and jazz purist who dreams of running his own nightclub, while Emma Stone plays Mia, a more sunny studio-lot barista and aspiring actor who dreams of putting on her own plays. The film follows them from winter to fall and back to winter as they meet, argue, flirt, fall in love and face a growing conflict between their personal passions and romantic hopes. There are tender and imaginative moments to die for: Stone mouthing along to a cover version of 'I Ran' at a pool party; the pair watching their legs discover the power of tap while sitting on a bench; the two of them flying into the stars and waltzing while visiting Griffith Observatory - a moment inspired by a trip to see 'Rebel Without a Cause'. There are songs, there are dances (and Gosling and Stone prove easy n
Read more
This charming animated family movie about a teenage Polynesian girl fighting to save her Pacific island's future feels like business as usual for Disney in many ways. There's a strong young female lead, catchy show tunes, lush landscapes and talking animals – a hermit crab with a fondness for trinkets almost steals the film and a dim chicken offers light relief. But this tale from the directors of 'Aladdin' and 'The Little Mermaid' also feels like progress. Moana (voiced by Auli'i Cravalho) is a young woman of colour set to take over from her father as the leader of an island community way back in the past (their beliefs are based around sea-travel and the island's creation myth). When the plants on Moana's island start to wither, the ocean chooses this 16-year-old to defy her father's orders and set sail in search of a muscled demi-God Maui (Dwayne Johnson, self-mocking and funny), who can help her secure her people's future. There's not a prince or potential husband in sight; Moana's future is entirely defined by her leadership and ability to fend off the mansplaining know-it-all Maui. As messages go, we'll take them. The story is a fairly simple quest tale as Moana takes to the open water in uneasy cahoots with macho Maui. His animated tattoos are among the film's visual highlights, alongside the azure waters lapping the sand. There are some belters on the soundtrack, a few of them courtesy of man-of-the-moment Lin-Manuel Miranda, the creator and star of the Broadway sma
Read more
This breakaway Star Wars movie – set some time just before the first film – is a punchy standalone action tale about a spunky resistance group within the Rebel Alliance. This ragtag band of fighters, led by Jyn Erso (Felicity Jones, a complicated, not always endearing heroine, refreshingly), come together to lead an attack on the Empire – whose most visible military stooge is Orson Krennic, played with quiet menace and oily ambition by Ben Mendelsohn. It's a scrappy, frenetic film, a bit irreverent, and it muddies ideas of good and evil, introducing unexpected shades of grey. It also kicks into touch a lot of the quasi-spiritual stuff you might expect: the Force is not especially strong here, and lo-fi battle skills turn out to be more important. Going back in time also proves a neat way of resurrecting the pleasures of the earlier films – not least the spiffing banter of battling X-Wing pilots, the Lego-like look of the Star Destroyers and the sight of Darth Vader at his most furious. The more you remember of the 1977 movie 'Star Wars', the more the story of 'Rogue One' makes sense. In that film, Princess Leia had in her possession plans for the Empire's Death Star: plans that would help the Rebels to destroy it. Here, Jyn Erso receives a message from her father (Mads Mikkelsen), who she hasn't seen for years: he's been forced to work for the Empire as the chief engineer on the Death Star. But he's built a flaw into this weaponised behemoth and wants his daughter to destro
Read more
Disney animation enters the '90s and embraces the stunning technical advances of computer-generated imagery — the sequence in the Beast's ballroom is breathtaking — and updates the traditional dependent heroine. This Beauty, Belle, besides representing a move away from the usual Barbie Doll looks, is resourceful, bookish and vigorous in resisting the chauvinist advances of the conceited Gaston, the character who turns out to bear the true mark of the beast. Gaston was based on LA's Medallion Man narcissists, and is well and truly lampooned in the bar-room waltz. Beast, based on a menagerie of brooding buffalo, bear, boar and gorilla, learns to master his temper, and his growing relationship with Belle is infinitely touching. His bewitched castle is enlivened by an antic household including a candelabra with the panache of a French maître d', a neurotic clock and a mother-and-son teapot and cup. The six musical numbers from Howard Ashman and Alan Menken either reveal character or push the action, with 'Be Our Guest' an outstanding example of cartoon choreography. Gary Trousdale and Kirk Wise directed. Dazzlingly good and a treat for all the family.
Read more
Show more