Jamaica Plain neighborhood guide
Discover the best local restaurants and bars, arts and entertainment and things to do in Jamaica Plain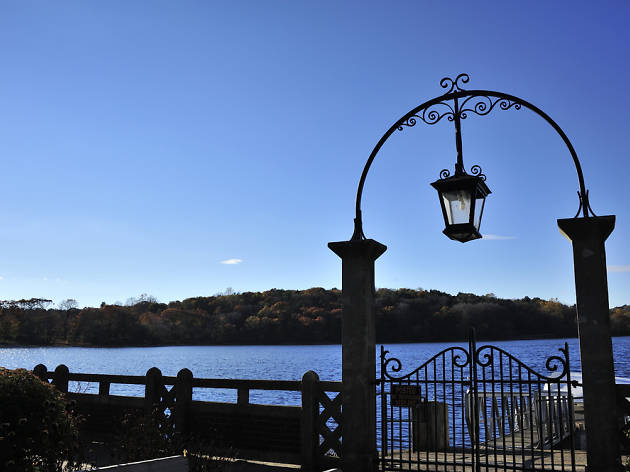 Jamaica Plain has been evolving for decades. Trendy restaurants and bars such as the Centre Street Café and Ten Tables sit alongside Latino bakeries and barber shops. Landmark Irish pub Doyle's, sporting atmospheric murals of colonial times, has been drawing politicos for decades—former mayor Thomas Menino is a regular. Art studios abound; once a year, many open to the public for the Jamaica Plain Open Studios weekend. The main drag, Centre Street, is especially vibrant, with murals decorating the sides of buildings.

Restaurants and bars in Jamaica Plain
This is one of the jewels of Boston's popular Irish pub scene. Named after the Irish playwright, it once hosted standing-room-only seisiúns, attended by the likes of Patrick McCabe and JP Donleavy.Behan's is not a fancy place - it's small and dimly lit, with no food on offer - but that's part of its charm. Locals love it because they are encouraged to bring their own food--usually from the various take-out joints that dot Centre Street-- to nibble on in between pints from their incredible beer selection.
Tres Gatos offers fancy Spanish tapas in the front and houses an indie bookstore/music store in the back. The inviting, candlelit restaurant space is broken into small rooms that spill into one another, all in deep blues, soft grays, and smoky oranges.  Take advantage of the business' split personality with a stop at the sleek bar for a glass of cava followed by a stroll through the small store in the back, where new books meet used and CDs meet vinyl. The menu is a feast of Spanish cuisine with lots of vegetarian options, and mostly well-sized for the price. The chilled tortilla Española with pimentón aioli ($8) is perfection, and the grass-fed beef empanadas ($9), wrapped in a beautifully cooked pastry, have a floral appeal. Grab a seat out on the sunny patio or at the high-tops in front of the big bay window, where you can survey the bar and gaze out onto bustling Centre Street.
By virtue of its size (yes, ten tables), the lucky few who manage to get reservations at this diminutive bistro have front-row seats for the show in the open kitchen. Then they get to enjoy the results, distinguished by owner Krista Kranyak's commitment to locally grown organic produce, artisan products and creativity; witness the charcuterie, pastas and main courses, such as the pan-seared bluefish with juniper. The four-course tasting menu for $48 is a good deal.
Museums and galleries in Jamaica Plain
The name really says it all. This Jamaica Plain art space it not much more than a deep but narrow storefront on South Street that once housed a TV repair shop. Luckily for JP residents and the rest of us, the Hallway we know and love today has been completely renovated into a gallery space that hosts quality shows from local artists. The shape of the place lends itself to casual browsing—the small space is equally accessible to the curious passerby as to the more serious art fan.
Hotels in Jamaica Plain
Situated along Boston's famous Newbury Street, this studio apartment is located within a historic brownstone in the heart of the city. Free Wi-Fi is provided on site.A full kitchen is offered at Boston Newbury, along with stunning views of the city. A flat-screen cable TV and a private bathroom are included in this studio apartment.Featuring keyless entry, this walk-up apartment is air-conditioned and includes a separate dining area.Fenway Park, home of the Boston Red Sox, is less than 1 mile away. Scenic Boston Common can be reached in 15 minutes' walk.
Commonwealth Court Guest House is a turn of the century European style brownstone where the grace and splendor of the yesteryear remains. Originally a private home for a prominent Boston family, Commonwealth Court's elegance and charm will satisfy the needs of today's traveller.Located in Boston's Back Bay, Commonwealth Court is within walking distance to all points of interest to the traveller, and only steps to famed Newbury Street shopping. Visit the Public Garden, Boston Common, and go shopping for antiques on Charles Street. And don't forget Boston's exciting Theater District. No matter where you go, you're probably not more than a few blocks away from the Commonwealth Court Guest House.
Situated in Boston's lively Back Bay within 5 minutes' walk from Copley Place Mall and fashionable Newbury Street, this hotel offers free internet, hot buffet breakfast and a fitness center.Fenway Park and the TD Garden sports arena are within one mile of Courtyard Boston Copley Square. The Charles River and historic Boston Common can be reached with 15 minutes' walk.Guest rooms at Courtyard Boston feature satellite TV and a work desk with a free high-speed, wired internet connection. Each has a marble bathroom.The 24-hour Market Café offers light meals and beverages. Many area restaurants are within 5 minutes' walk of Courtyard Boston Copley Square.
Shopping in Jamaica Plain
The most varied and laid-back of Boston's local thrift stores is 40 South Street (née Gumshoe). Run by local rock legend Hilken Mancini, it walks the line between vintage and thrift so adeptly, you'd be hard pressed to know there was ever a line there to begin with. You can find clothing-era representation from the '50s to the '90s, and all of it is high quality, clean, and moderately priced. If you're looking for a plaid shirt or a pair of jeans, then you have definitely come to the right place—their selection is almost overwhelming, but in the best way possible.