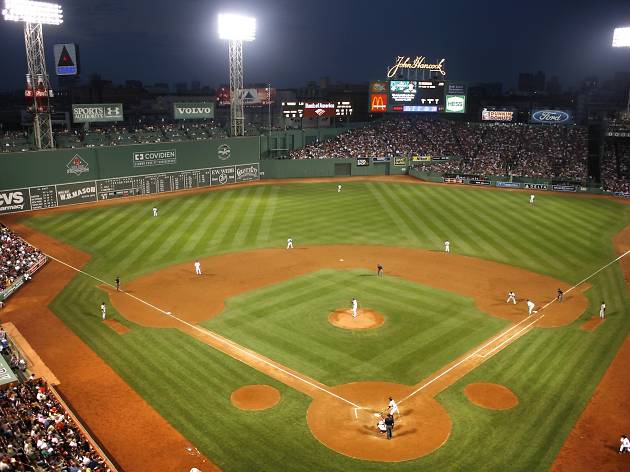 Fenway Park's organist is playing live-streamed sets every day
Josh Kantor tickles the ivories to keep the baseball feels going.
Posted: Wednesday April 8 2020, 2:04pm
Baseball season might be up in the air at the moment, but that hasn't stopped Fenway Park's organist from tickling the ivories to keep the vibes of America's pastime going. According to NPR, Josh Kantor plays a 30-minute set each day from his home in Cambridge. The gigs go down daily at 3pm ET, and you can tun in via Kantor's Facebook page, 7th-Inning Stretch. What's more, he's taking requests—yesterday, he tackled tracks by Smokey Robinson, REM and Bob Marley, among others, all with a distinctly I-feel-like-I'm-at-the-ballpark aesthetic—and politely asks that you donate to food banks during each live-stream. He also tells the non-profit he's "committed to doing it every single day (what's a weekend?) until people get sick of it or until baseball starts up."
So be sure to nab a cold one, a hotdog and some delivered-to-your-door box of Cracker Jack and take in the tunes. Searching for more sweet virtual gigs to duck into? We're regularly updating our rundown of the best live-streamed concerts and DJ nights happening throughout the world. And once the beloved baseball stadium in all its Green Monster glory is open again, be sure to consult our guide to the best restaurants near Fenway Park.
Check out Kantor's at-home set from yesterday:
Most popular on Time Out
- HBO is offering 500 free hours of TV and movies to kill your quarantine boredom
- This nifty NASA tool shows you the photo of space it took on your birthday
- U.S. airlines are now required to refund your cancelled ticket and not just offer a travel voucher
- Delta announces no-fee rebookings through 2022
- Films that were supposed to screen at SXSW will be on Amazon Prime for free
Share the story