It took many years—and one career detour—for Erica Hagler to rediscover her love for the arts. The Boston-based artist known as Blind Fox first started drawing back in high school. Her talent didn't go unnoticed, and before long, she was enrolled in competitive art programs that took over her life. By the time Hagler graduated high school, she was burnt out and ready to take a break from drawing.
"I didn't get to enjoy my high school years," she says. "I wish they had just let me be a kid and let me grow in my own artistic abilities."
It didn't take long for Hagler to move from her native San Diego to New York to pursue a new passion: managing celebrity-fueled night clubs and restaurants. But in her free time, she was still drawing and doodling any chance she got. It wasn't until her now-husband told her that she should get back into art that she gave it much thought.
They say if you find a job you love, you'll never work a day in your life, and I'm just cruising right now.
That's when Hagler realized she needed to make art on her own terms—and she was finally ready to dive back in. When the couple moved to Boston, Hagler quit her job and started carving out a new career for herself, which came with a new moniker, too: Blind Fox.
"People started hiring me and it grew a lot faster than I thought," Hagler says. "I'm so thankful for everything I get to do. They say if you find a job you love, you'll never work a day in your life, and I'm just cruising right now. I'm really, really happy."
Hagler describes her style as a blend of street art and pop art; she's inspired by Roy Lichtenstein, Andy Warhol, comic books and graffiti.
"I actually wish Boston had more street art," she says. "I think it's because Boston has so many historical buildings and getting past the Historical Society is tough. That's why I try to find other ways to present my work."
Her latest masterpiece? A pair of surfboards that flank the Tiki Bar at Time Out Market Boston. The collaboration is part of our ongoing Love Local initiative, which champions small businesses and makers in the Boston community.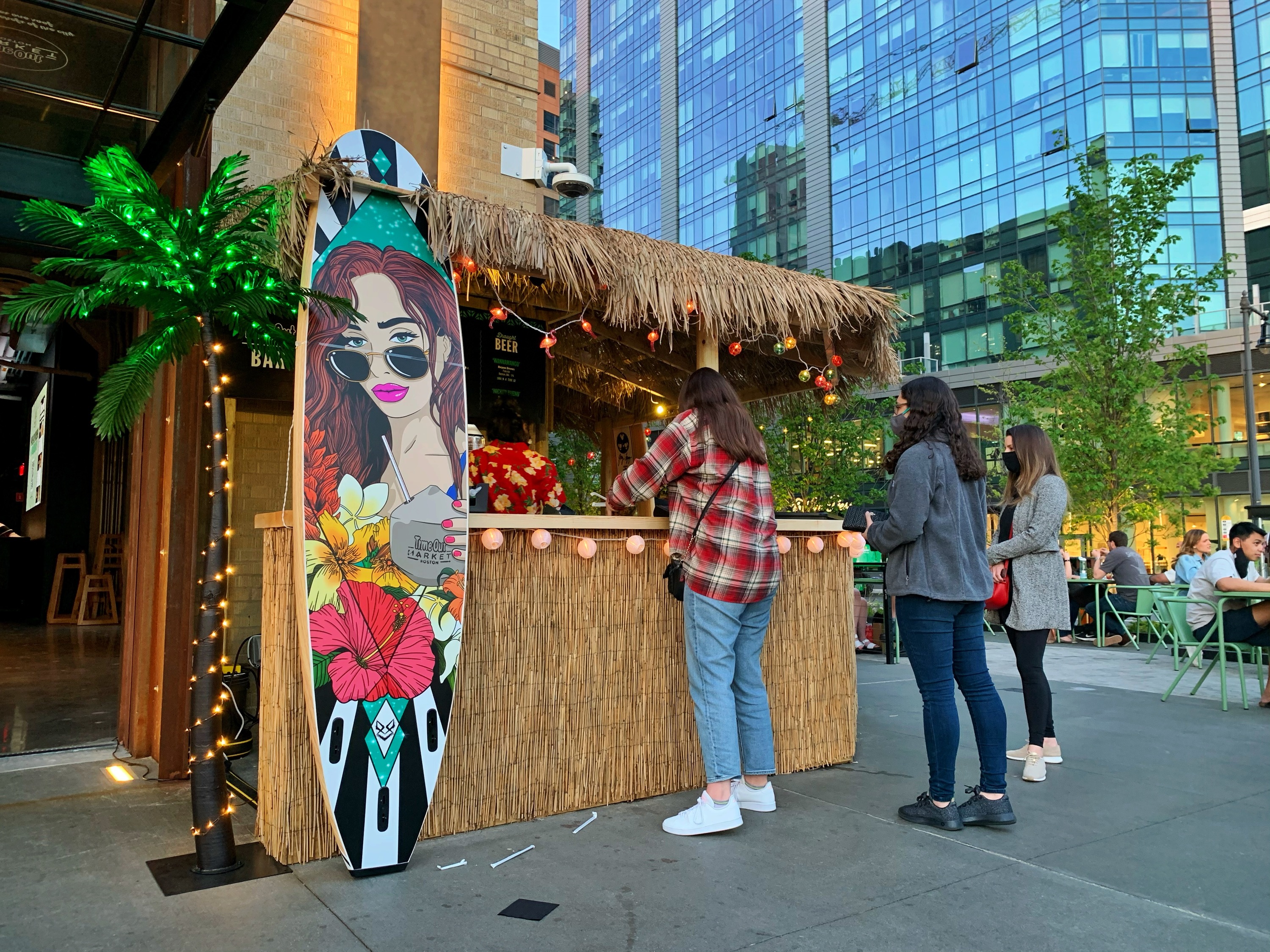 When she found out about the project, Hagler says she reached into her personal memory bank to mine inspiration from her upbringing in San Diego. She wanted the surfboard canvases to evoke inviting summertime vibes—especially as we all emerge from a year of lockdown.
"All of the energy that's just been pent up for the past year is just going to explode this summer," she says. "So when I knew that I was going to be designing these surfboards, I wanted to make sure that the colors were not only big and bold but that the images were big and bold. The whole point of art is to intrigue people and get them to come in and to stay."
Equally intriguing is the brand-new Tiki Bar the surfboards are attached to. While you're deciding which drink to order (we're big fans of the Washed Ashore, a rum sipper that's served in a coconut), take a closer look at Hagler's incredibly detailed work. If you close your eyes and take a sip of your drink, you might just find yourself transported to a beach far, far away.