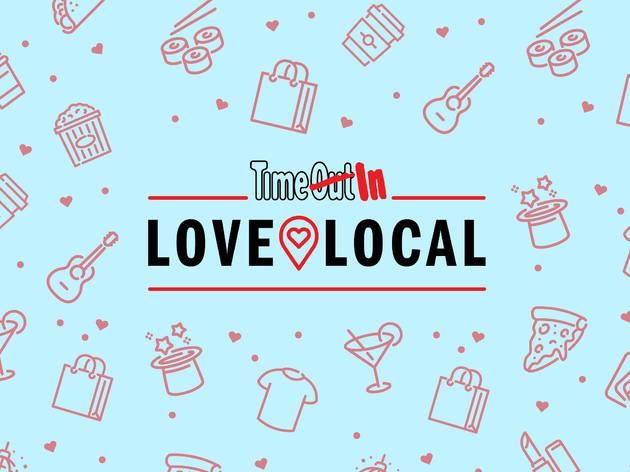 Love Local: Time Out pledges support for local food, drink and culture in Boston
We're helping the city's independent businesses, and our fellow Bostonians, by lending our voice to Lovin' Spoonfuls' fundraising campaign
Hello, Boston.
Back in March, Time Out changed its name to Time In. Since then, a lot more has changed. Bostonians and citizens of the world alike have been under shutdown orders, rarely leaving their homes (for essentials only) and following strict social distancing guidelines when doing so. As hard as it has been for us, used to explore our town in all its majestic glory—from art shows to restaurants and, of course, cheering on the Bs, Cs and Sox—it has been that much more difficult for the many businesses that have had to close up shop for the time being.
Time Out editors have been seeking out the best of our cities since 1968. We know that Boston is nothing without its restaurants, bars, theaters, music venues, nightclubs, cinemas, art galleries—and all the other local independently run places where people come together to eat, drink, laugh, think, dance and suffer through the occasional tragic open mic night.
If we don't take action right now, countless venues will close forever. Many places, already struggling to pay their rents, are now dealing with months of lost revenue. On top of that, thousands of bartenders, waiters, cooks, artists, musicians, actors, filmmakers, designers and other creatives have been left unable to earn a living.
We're determined to help. Today, we're launching our Love Local campaign by officially lending our voice to a crucial initative that is fighting to support local food, drink, culture and entertainment in Boston.
One of Time Out Market Boston's charitable partners, Lovin' Spoonfuls, seeks to distribute excess food to the folks who most need it. Since 2010, the initiative has given out over 16 million pounds of fare to over 30,000 children, families and seniors all over. The organization is also seeking donations for the Relief of Our Friends in Hospitality program, which rallies around the local hospitality community, one of the hardest hit industries in the current climate.
As Boston starts to open its doors once again, we'll be supporting more local independent venues, and the people that bring them to life, with new Time Out Recommended badges and a dedicated day of celebration.
And finally, to the Bostonians and businesses going through a tough time right now: know that we're with you. And when you return, we'll be there on opening day.
Time Out Boston