Heads up! We're working hard to be accurate – but these are unusual times, so please always check before heading out.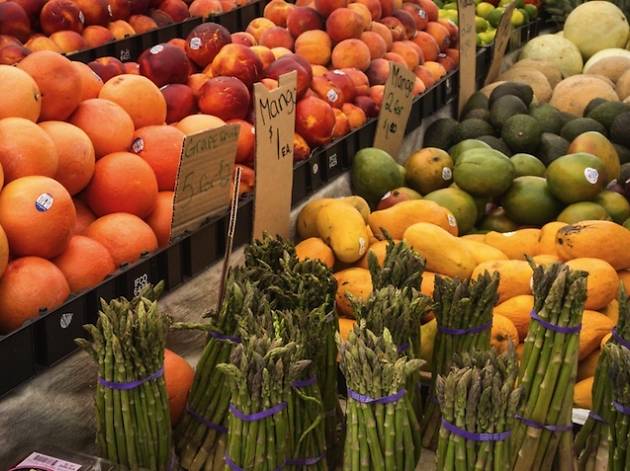 Boston farmers market guide
Find out where to get your produce straight from the source, with our Boston farmers market guide
Best farmers markets around Boston
Its central location in the heart of Back Bay and the breadth of goods—everything from tomatoes to apples, breads to cheeses, and honey to pickles—makes this Back Bay market a go-to. Locals and tourists browse and buy; notable chefs escape their kitchens, looking for fresh ingredients and inspiration. Many offer samples of jams or cakes, making it fun to taste and stock up the pantry with favorites. There are around 30 stands, including fabulous breads from Cambridge bakery Iggy's (which supplies some of the city's best restaurants), and Pioneer Valley-based MycoTerra Farms' fabulous fungi, which includes native New England Lion's Mane mushrooms in its collection.
On Fridays and Saturdays, Haymarket is where Bostonians looking for bargains stock up on fruit and vegetables, often at well below supermarket prices. While no one knows exactly when this iconic street market first began, by 1820 it had grown into a fully formed market. Traditional street markets like this allowed vendors to cut prices, because they didn't have to rent or own a brick and mortar store. That working class, neighborhood tradition continues at the Haymarket, but it isn't all about a bargain: shopping al fresco with vendors cat-calling the low prices or tastiness of their goods creates a lively atmosphere. Vendors hail from all corners, selling fruit, vegetables, cheeses, meats, and more. As with any shopping, be choosy. At the end of the day, prices are cut rather than risk spoiling. Bring cash in small bills and get there early for the best selection — vendors close at differing times.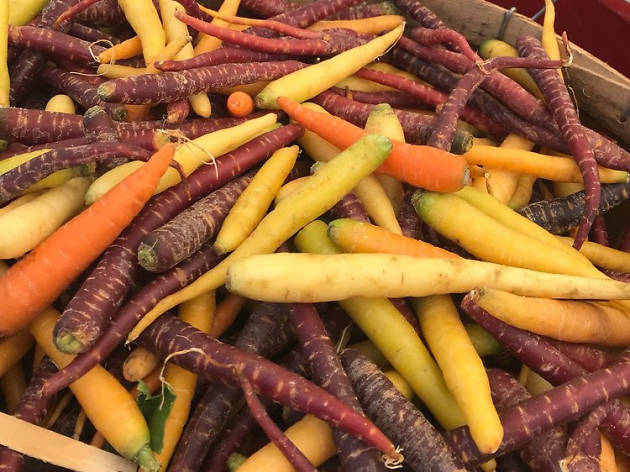 Photograph: Courtesy Yelp/Johonna C.
3. Charles River Farmers Market
Ask a vendor about the produce they sell at this small but colorful market—held Fridays (12-6pm) and Sundays (10am-3pm) on Bennett Street by the Charles Hotel—and more often than not the person who grew or cooked the goods will provide the answer. This select group of local farmers, bakers, and makers set up outdoors May through November, selling the freshest products. There are also items like handmade pasta and farm-produced honey. Coastal Vineyards in South Dartford, MA, offers wines from homegrown grapes; add cheese from mainstay Formaggio Kitchen, which sells a variety of New England cheeses. December through April, the stalls move inside the shed in front of the hotel, near the entrance to JFK Park.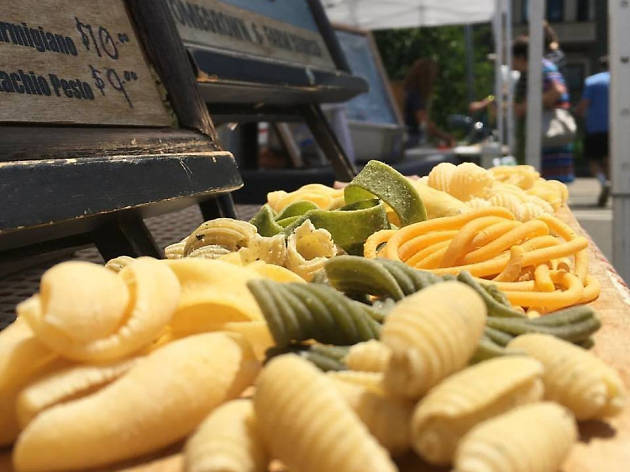 Photograph: Courtesy Yelp/Central Square Farmers Market
4. Central Square Farmers Market
This small, seasonal market (May-Nov: Mon 12-6pm) hosts a dozen or so vendors in a parking lot on Bishop Allen Drive, which runs parallel to Mass Ave. Small it may be, but the selection is well curated: there's Cambridge's Hi-Rise Bread Company, fruits and vegetables from Hollis, MA-based Kimball Farms; and Dick's Market Garden in Lunenburg, MA. There is also a rotating selection of snack vendors, selling grab and go meals, such Indian, Mexican, or Egyptian street food, making it the perfect lunch break stop.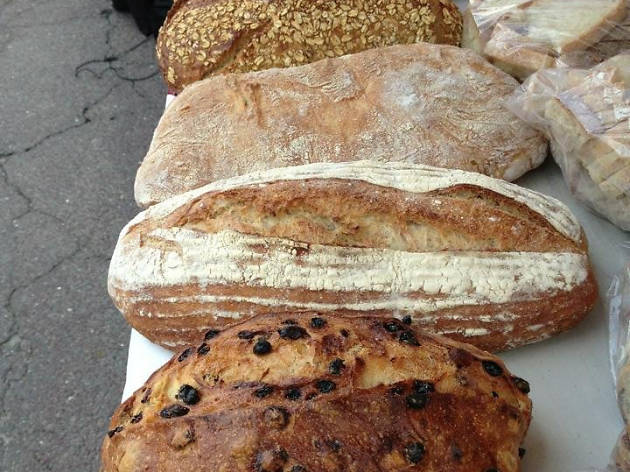 Photograph: Courtesy Yelp/Davis Square Farmers Market
5. Davis Square Farmers Market
Tucked just off Elm Street, at the corner of Day and Herbert Streets in Somerville, this hip market (May-Nov: Wed 12-6pm) gathers bakers, farmers, and even soap makers. Along with fruits and vegetables, there are several specialty stalls, including Luluna organic kombucha, raw milk cheeses from Winchendon, MA's Smith's Country Cheese, and Greek treats imported by Watertown-based Extra Virgin Foods. (The white figs from Evia Island are reputed to be the finest in the world.) Also, there are Red Antler's all-natural, irresistible aromatic soaps, cruelty-free and made by hand in Lowell.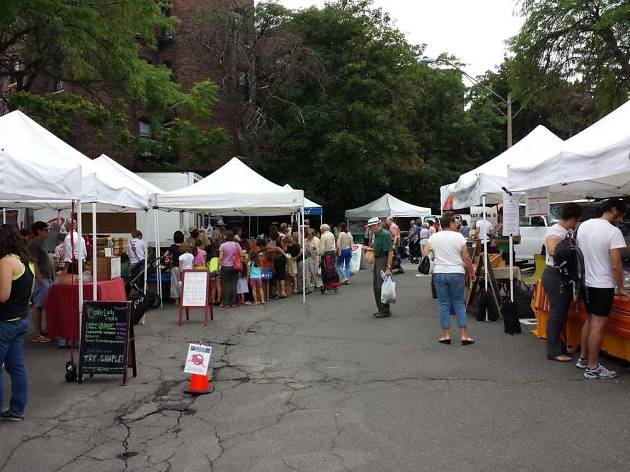 Photograph: Courtesy Yelp/J T.
6. Brookline Farmers Market
At more than 30 years old, this seasonal (June-Nov: Thu 1:30-6:30pm) Coolidge Corner affair—held in the Centre Street West Parking Lot—is one of the city's oldest farmers markets and features an amazing selection, covering all tastes. Pick up some of Berkshires-based Hosta Hill fermented veggies; handmade beet and tarragon tagliatelle from Hollis, NH's Valicenti Pasta Farm; and organically raised plants or maple syrup from Warren Farm in North Brookfield, MA. Two regular farms offer certified organic produce: Assawaga Farm in Putnam, CT, and Langwater Farm in North Easton, MA.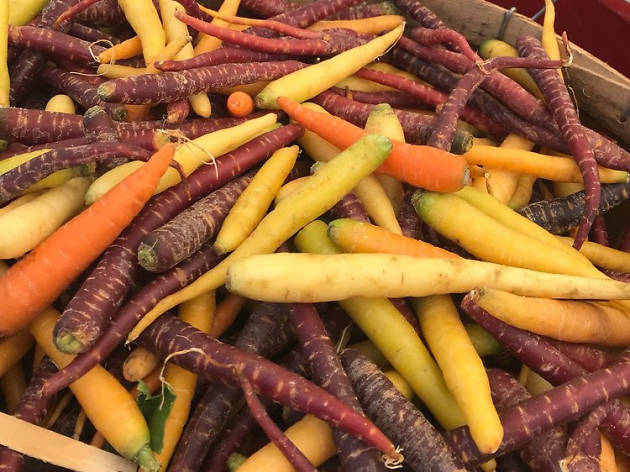 Photograph: Courtesy Yelp/Johonna C.
7. Arlington Farmers Market
The Arlington Farmers Market (June-Oct: Wed 2-6:30pm), located in the Russell Common municipal parking lot just off of Route 60/Route 30, boasts one of the area's largest selections of farm-fresh produce and goods from small-batch producers. There's fruit and veggies from nearby Busa Farm in Lexington, and locally-raised meat from the likes of Chestnut Farms in Hardwick, MA. There are also baked goods from local bakeries and restaurants, and hyper-local items such as Arlington's Doves and Figs' jams, chutneys, and mustards, all created from locally-grown fruit. Along with cheese, eggs, fish, honey, maple syrup, and flowers, pick up some hard cider made in Boxborough, MA, by Pony Shack Cider.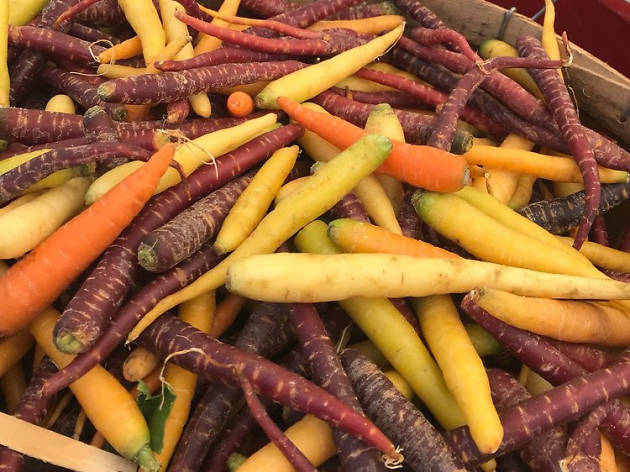 Photograph: Courtesy Yelp/Johonna C.
8. Harvard University Farmers Market
Part of Harvard University's 2005-founded Food Literacy Project, this market operates on the plaza outside Harvard's Science Center, on the corner of Oxford and Kirkland Streets (June-Nov: Tue 12-6pm). It features an eclectic array of mostly Massachusetts-based vendors. Besides fresh veggies, fruits, and dairy, pick up Arlington's Off Our Rocker granola; BagelLand bagels, which are made in Winchester, MA; and El Recreo coffee from Dedham, MA.
Though this year-round indoor market isn't technically a farmers market, it hosts two outdoor markets. One takes place May through November at Dewey Square (585 Atlantic Ave; Tue, Thu 11:30am-6:30pm), and the other is held June through October in the Seaport (60 Seaport Blvd; Wed 11:30am–6:30pm). These markets focus more on farm produce and include baked goods and plants and flowers. The regular indoor market offers a fun shopping experience; who can resist honey and bee products from Holliston, MA-based Boston Honey Company, or infused maple and birch syrups from Botanical Springs in Montgomery, VT?
Though primarily a fabulous arts, crafts, and vintage-oriented affair, the SoWa Market also includes numerous culinary vendors. After snacking from one of the food trucks, pick your fresh fruit and veggies, as well as baked goods, for a home cooked feast. The selection isn't as large as a full-on farmers market, but there's plenty of tempting vittles. And, of course, the SoWa shopping experience isn't complete without some R&R in the Beer Barn beer hall, housed in the old power station.