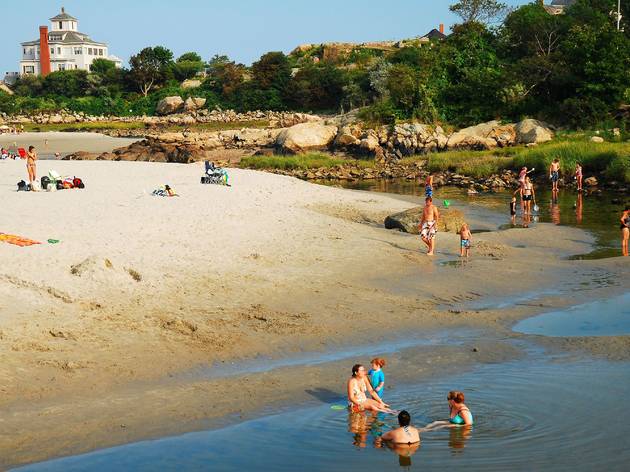 The best 10 beaches near Boston
Our coastal location means that city life comes with a side of beach. Here are the best stretches of sand close to Boston.
When it comes to sand and seaside around here, thoughts often turn to a day trip to Cape Cod. But the Cape isn't the only place to throw your towel down; Boston's North and South Shores also boast picturesque beaches, all less than an hour's drive outside the city (summer traffic withstanding). And for people without easy car access, the Hub itself has a number of urban sandbars perfect for relaxing or taking a refreshing dip in the ocean. We're giving you a slew of local saltwater spots you should get to this summer—just be sure to check out all of the regulations and pricing before you grab your sunblock. And if you're looking for other warm weather activities, take a look at our guides to the best summer activities, the best waterfront restaurants and the best cruises in Boston.
RECOMMENDED: Full guide to the best things to do in Boston
Best Boston beaches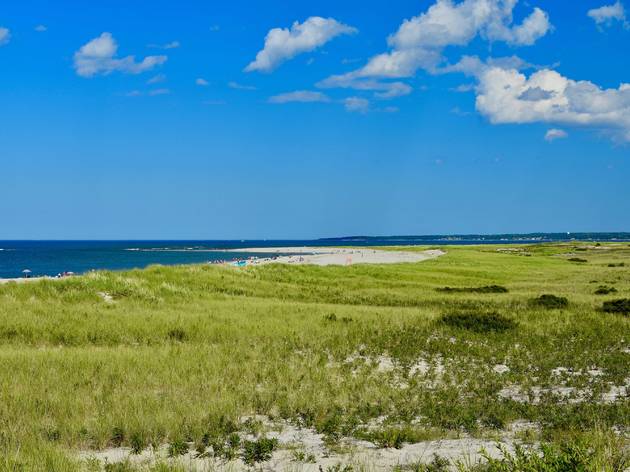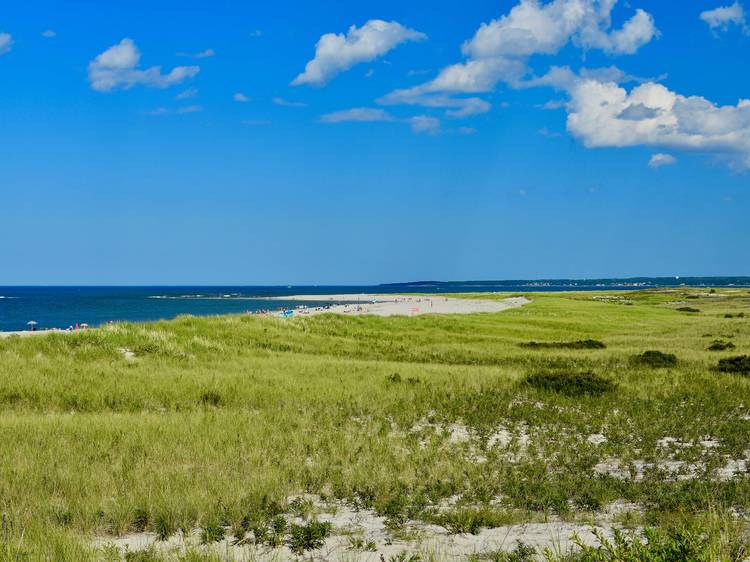 Photograph: Shutterstock
Crane Beach was once part of the private Crane Estate in Ipswich. Today, this stunning public beach is more than a place for fun in the sun—it's a crucial nesting site for the nearly extinct piping plover bird and features a shorebird protection program to keep these feathered friends safe. Visitors can explore more than five miles of trails through coastal dunes. Tour the now-separate estate, Castle Hill, which includes the stunning Crane mansion and gardens.
Getting there: Drive the scenic coastal road, or take the Newburyport/Rockport commuter rail from North Station to Ipswich.
Located about four miles from Salem, the quiet and less witchy town of Marblehead is among the America's oldest settlements. Devereux Beach is about a ten-minute walk from Marblehead's quaint Colonial center. This slim, sandy stretch includes restrooms and a concession stand.

Getting there: Take the Newburyport/Rockport commuter rail from North Station to Lynn, then take bus 441/442/448/449.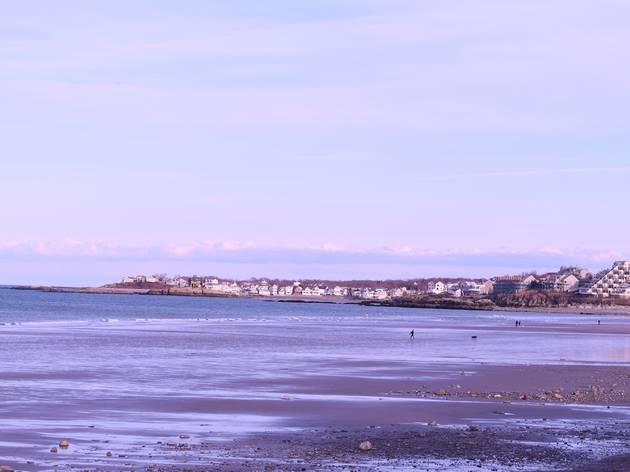 Photograph: Shutterstock
Located on a peninsula that juts out from Hull and into Boston Harbor, Nantasket Beach was once the South Shore's equivalent to the North Shore's Revere Beach. In the 1800s, Victorian Bostonians would take a steamer across the harbor just to soak up some sun on this sandy stretch. In 1909, the Paragon Amusement Park opened adjacent to the beach, where locals could ride a colorful carousel and a breathtaking (for the time) rollercoaster. Paragon Park closed in 1985, and now, only that whimsical carousel remains. Still, beach-goers can hit up the area's arcades, taffy shops and seaside memorabilia shops.
Getting there: Take the Greenbush commuter rail from South Station to West Hingham.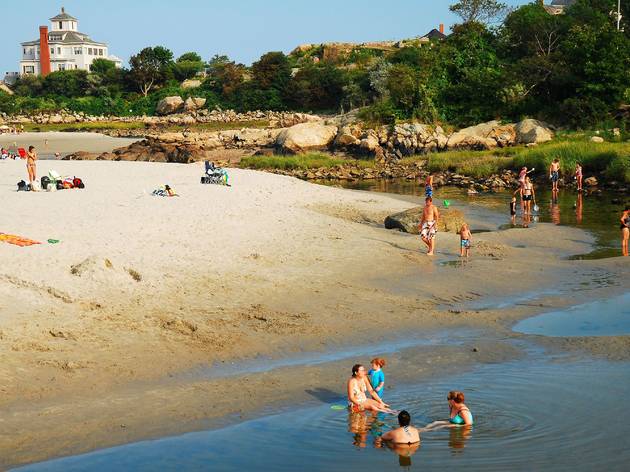 Photograph: Shutterstock
Gloucester is basically beach city, with seven oceanside areas that attract locals and almost too many tourists each summer. All are within a few minutes from the city center, which lets you have the best of both worlds: a day at the beach, followed by a night out on the town. Stage Fort Park and Good Harbor beaches flank the city to the north and south, and offer a day-long adventure with picnic and grilling areas.

Getting there: Take the Newburyport/Rockport commuter rail from North Station to Gloucester.
Carson Beach as well as the M and L Street Beaches form a three-mile stretch lining Dorchester Bay, just south of Pleasure Bay and Castle Island. At its southernmost part, the beach widens and backs into Joe Moakley Park, where you can take a break from the sand to play some pick-up basketball, bring the kids to the playground or simply stretch out on the grass. On the off-season, the L Street Beach serves as the launch site for the annual New Year's Day L Street Brownies polar plunge.
Getting there: Take the Red Line to the JFK/UMass station, approximately a half-mile away.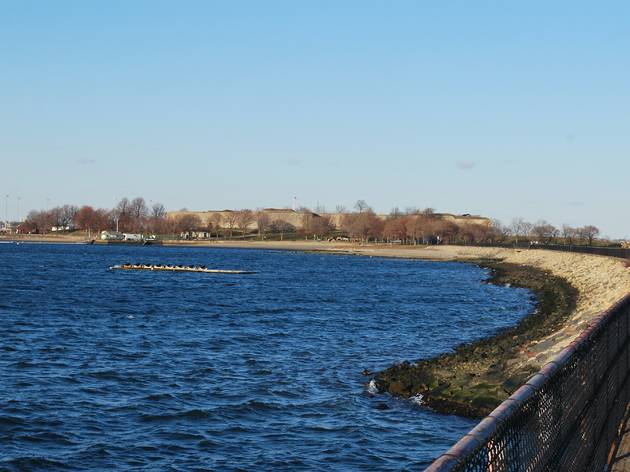 Photograph: Shutterstock
It's hard to imagine that South Boston's Pleasure Bay was once literally just that: an entertainment center with ballrooms, restaurants and a beach. Pleasure Bay, a slender sliver of white sand that caresses the curving bay, features a waterside walking trail that leads to nearby Castle Island and its 1851 Fort Independence. There are public restrooms and even showers, so the throngs of Southie natives and yuppies can rinse off after a dip in the ocean. The picnic area allows grilling, and the beloved local institution Sullivan's sells fried seafood, lobster rolls and hot dogs.
Getting there: Take the Red Line to Broadway, then walk or take bus 9 or 11 to City Point station.
Part of the Quincy Shore Reservation, Wollaston Beach dates back to 1908 and consists of three, separate of areas of sand— Wollaston, Atlantic, and Fenno—which were joined together to create the largest beach on Boston Harbor. Explore its more than two miles of shoreline, in addition to its continuous waterside walkway and the concession stands peppered throughout Quincy Shore Drive.

Getting there: Take the Red Line to North Quincy, then take the 211 bus.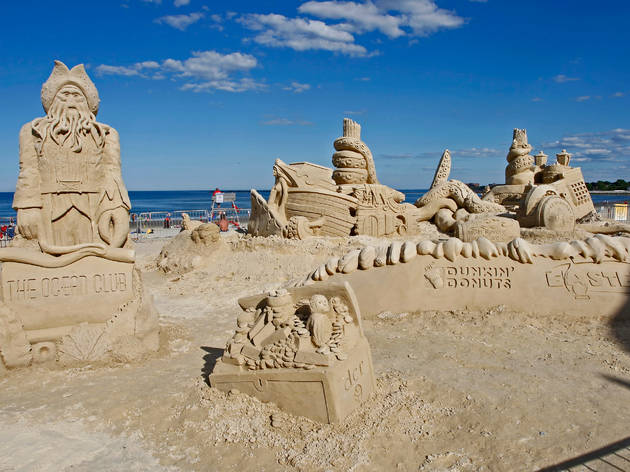 Photograph: Shutterstock
The three-mile, crescent-shaped Revere Beach is America's oldest public beach, dating back to 1896. It was designed by Charles Eliot, a Cambridge native and protégée of Frederick Law Olmsted. The boulevard abutting this seaside reservation was once a mecca for swanky restaurants, grand ballrooms and amusement rides. It still has plenty of attractions, including the original location of the famous Kelly's Roast Beef and the annual Revere Beach Sand Castle Sculpting Festival.
Getting there: Take the Blue Line to Wonderland.
9. Savin Hill and Malibu Beach
Though it doesn't have the same glamorous reputation as its Californian counterpart, Dorchester's Malibu Beach is just as much appreciated by the local community. This seaside Dot spot spills into Savin Hill Beach and its children's playground, making it a must for a day of family fun.

Getting there: Take the Red Line to Savin Hill; the beaches are a short walk from Savin Hill Avenue via Denny Street.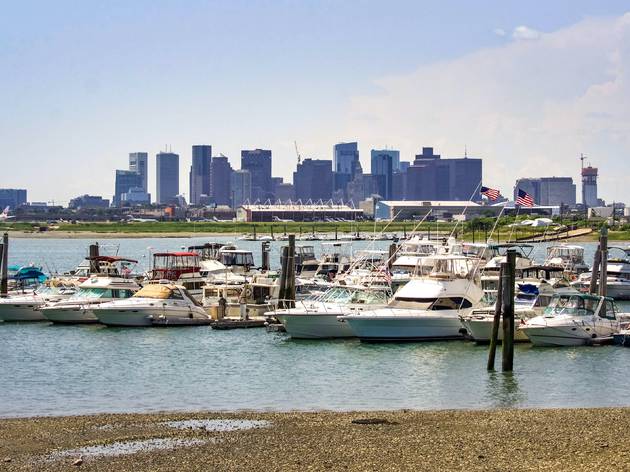 Photograph: Shutterstock
East Boston might seem like an odd place to create a beach, but Constitution Beach is indeed a man-made, sandy oasis tucked into an inlet just opposite Logan Airport. Because of its location, it's perfect for spotting planes, as well as the usual sunbathing and dipping your toes into the ocean. There's a recreation area with athletic fields and tennis courts, and fishing is permitted. There's a bathhouse with restrooms, as well as a concession stand and picnic area.

Getting there: Take the Blue Line to Orient Heights, then walk.