The best Boston beaches
Boston's coastal location means that city life here comes with a side of beach culture. Here's the best Boston beaches.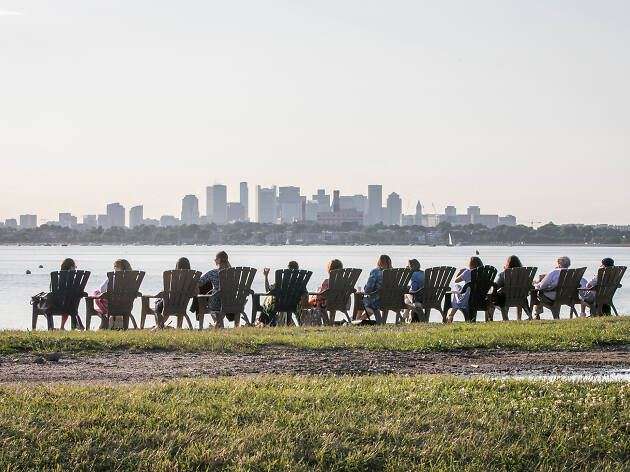 Boston and its coastal Massachusetts environs are not world-renowned when it comes to beach culture. When it comes to sand and seaside, thoughts turn to a day trip to Cape Cod and beyond. That said, Boston's North and South Shores have picturesque beaches, all less than an hour's drive from the city, summer traffic withstanding. Within Boston city limits, there are also sandy beaches perfect for relaxing or taking a refreshing dip in the ocean. While most public beaches are free, some may have a fee, particularly in the summer months. Generally, dogs aren't allowed on beaches from May through September; check all the regulations before you go. Looking for other warm weather activities? Check out our guide to the best summer activities in Boston, best waterfront restaurants in Boston, and best cruises in Boston.
RECOMMENDED: Full guide to the best things to do in Boston
Best Boston beaches
1
Photograph: Courtesy Yelp/Julie R.
Crane Beach was once part of the private Crane Estate in Ipswich. Today, this stunning public beach is more than a recreation area — it's a crucial nesting site for the near-extinct piping plover bird and has an important shorebird protection program. Visitors can explore more than five miles of trails through coastal dunes. Tour the now-separate estate, Castle Hill, which includes the house and gardens.
Getting there: Drive the scenic coastal road, or take the Newburyport/Rockport commuter rail from North Station to Ipswich
2
Photograph: Courtesy Yelp/B D.
The three-mile, crescent-shaped Revere Beach is America's oldest public beach. It was Frederick Law Olmsted's protégée Charles Eliot, a Cambridge native, who designed this seaside reservation, which opened in 1896. The boulevard abutting the beach was once a mecca for swanky restaurants, grand ballrooms, and amusement rides. An annual summertime highlight is the Revere Beach International Sand Sculpting Festival.
Getting there: Blue Line to Wonderland
3
Photograph: Courtesy Yelp/S K.
Located on a peninsula that reaches into Boston Harbor, the city of Hull is home to Nantasket Beach, once the South Shore's equivalent to the North Shore's Revere Beach. In the 1800s, Victorian Bostonians took a steamer across the harbor to soak up some sun, so to speak. In 1909, the Paragon Park amusement park opened adjacent to the beach, and eventually expanded to include a colorful carousel and a breathtaking (for the times) rollercoaster. Paragon closed in 1985, and only the Paragon Park carousel remains. Still, there are arcades, taffy shops, and seaside memorabilia joints.
Getting there: Take the Greenbush commuter rail from South Station to West Hingham
4
Photograph: Courtesy Yelp/Donna M.
It's hard to imagine that Southie's Pleasure Bay was once literally just that: an entertainment center with ballrooms, restaurants and a beach. Pleasure Bay, a slender sliver of lovely white sand caressing the curving bay, is adjacent to Castle Island, where Fort Independence, which dates to 1851, is linked to the beach by a waterside walking trail. There are restrooms and even showers for rinsing off after a dip in the ocean. The picnic area allows grilling. The popular Sullivan's, a Southie staple since 1951, sells fried seafood and hot dogs.
Getting there: Take the Red Line to Broadway, then walk or take bus 9 or 11 to City Point station
5
Photograph: Courtesy Yelp/Lonnie H.
Beaches? Gloucester has seven, to be precise. All are within a few minutes from the city center, which makes for the best of both worlds: a day on the beach and a night out on the town. Stage Fort Park and Good Harbor beaches flank the city to the north and south, and offer a day-long adventure with picnic areas and grill.
Getting there: Take the Newburyport/Rockport commuter rail from North Station to Gloucester
6
Photograph: Courtesy Yelp/Subodh P.
Carson Beach and the M and L Street Beaches form a three-mile stretch lining Dorchester Bay, just south of Pleasure Bay and Castle Island. The L Street Beach is the launch site for the annual New Year's Day L Street Brownies polar plunge. The beach widens at its southernmost part at Carson Beach, which is backed by the small Joe Moakley Park.
Getting there: Take the Red Line to the JFK/UMass station, approximately a half-mile away
7
Photograph: Courtesy Yelp/Rebecca V.
Part of the Quincy Shore Reservation, and dating to 1908, Wollaston Beach comprises three small beach areas — Wollaston, Atlantic, and Fenno — which were joined together to create the largest beach on Boston Harbor. There are more than two miles of shoreline and a continuous walkway on the waterside, plus concession stands across Quincy Shore Drive. Two miles away, the Adams National Historic Park is the original home of President John and First Lady Abigail Adams.
Getting there: Take the Red Line to North Quincy, then take the 211 bus
8
Photograph: Courtesy Yelp/Li-Li W.
Singing Beach might be small, but it certainly is pretty. This half-mile stretch of blond sand gently curves along the Manchester-by-the-Sea bay, flanked at each end by rocks. Its name is due to the sound that seems to emanate from the sand when the tide is out and the land is dry. In the 1920s, the bathhouse was built, but along with the snack bar, it is only open June through October.
Getting there: Take the Newburyport/Rockport commuter rail from North Station to Manchester, then walk
9
Photograph: Courtesy Yelp/Garik A.
Located about four miles from Salem, its larger and more notorious northern neighbor, the town of Marblehead is among the America's oldest settlements. Devereux Beach is about ten-minutes walk from Marblehead's quaint Colonial center. This slim, sandy stretch includes restrooms and a concession stand.
Getting there: Take the Newburyport/Rockport commuter rail from North Station to Lynn, then take bus 441/442/448/449
10
Photograph: Courtesy Yelp/David R.
It might seem an odd place to create a beach, but Constitution Beach is indeed a man-made beach in East Boston, tucked into an inlet opposite Logan Airport. It's perfect for plane spotting, sunbathing, or a cooling dip in the ocean. There's a recreation area with athletic fields and tennis courts, and fishing is permitted. (Just watch that you don't discard fishing line and add to the ocean's problems.) There's a bathhouse with restrooms, and a concession stand and picnic area.
Getting there: Take the Blue Line to Orient Heights, then walk
11
Photograph: Courtesy Yelp/Sean F.
Savin Hill and Malibu Beach
Though it doesn't have the same glamorous reputation as its Californian counterpart, South Boston's Malibu Beach is very much a community resource, one that joins with Savin Hill Beach and its children's playground.
Getting there: Take the Red Line to Savin Hill; the beaches are a short walk from Savin Hill Avenue via Denny Street