The 12 best Brisbane restaurants
From upmarket classics to budget favourites, the best Brisbane restaurants are both delicious and cheap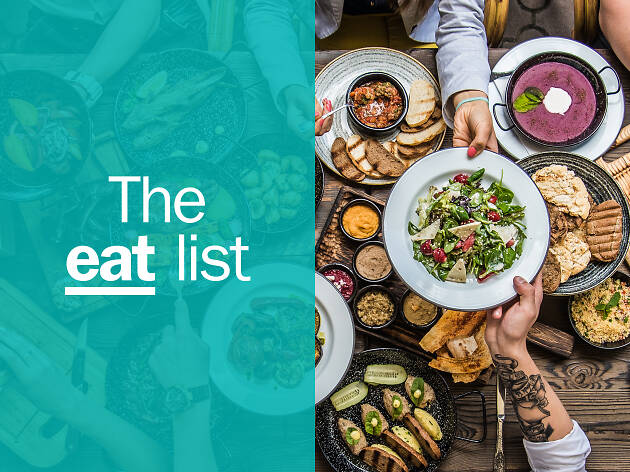 There are a ton of things to do in this Australian town, but one of the very best has to be dining at the best Brisbane restaurants. Whether you've got a taste for upmarket modern Australian, Queensland's famous seafood eateries or classic European with a twist, the local foodie scene will impress you.
Even better, there's no need to send your credit card into meltdown to enjoy all the offerings, even at fancy hotel restaurants. Excellent dining choices abound in the inner-city suburbs of Fortitude Valley and New Farm but those who venture further afield are rewarded with lesser-known local favourites.
Best Brisbane restaurants
1
Stokehouse Q
What is it? A spot with a spectacular view, this Brisbane restaurant has an elegant style that'll satisfy any sophisticate.
Why go? Specialising in ever-popular Brisbane steak and seafood, Stokehouse Q's menu is undoubtedly indulgent. There's a wash of premium dishes like fresh, locally sourced oysters, kangaroo carpaccio and spring lamb with rainbow chard. You'll also get to taste mouth-wateringly luxe desserts such as white chocolate parfait and a high-end take on Neopolitan ice cream. If you're more inclined to finish off your meal with a boozy offering, opt for one of the 'liquid desserts' and bathe in the sun that shines in from across the open-sided dining space.
Price: Blowout
2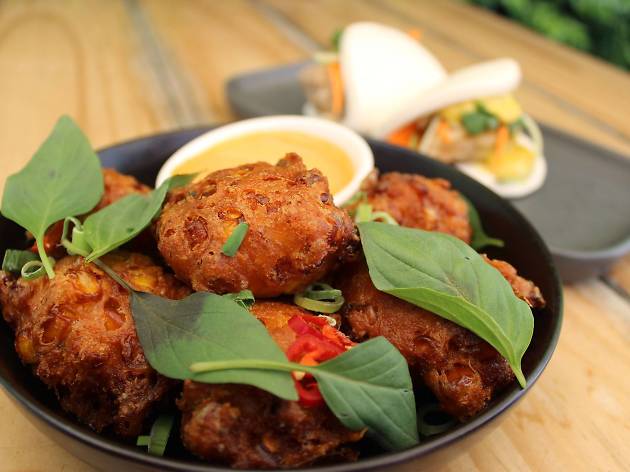 Hello Please
What is it? A contemporary outdoor Vietnamese eatery in Fish Lane.
Why go? The pumping soundtrack will get your night started right and shared bench tables ensure you meet the locals. It's hot and steamy in summer, but that's part of the fun. Order spring rolls or bao chicken with a beer (or two) or fill your plate with something more substantial, like lemongrass-infused chicken coconut curry or braised beef cheek, paired with a side of rice.
Price: Budget
3
Judit Losh
What is it? The closest thing you'll find in Brisbane to a traditional Parisian bistro.
Why go? If you are looking for a sexy 'date night' restaurant, this is one of Brisbane's finest. Candelabras top simple wooden tables, flowing red drapes line the room and a glamorous horseshoe-shaped bar takes centre stage. Madame Rouge features classic French dishes such as goat's cheese soufflé, steak frites, and slow cooked duck leg with du puy lentils. Just like.
Price: Mid-range
4
Kettle & Tin
What is it? A vibrant cafe housed in an original worker's cottage.
Why go? The compact modern Australian menu focuses on local produce and uses honey from the café's own beehive. All-day breakfast and lunch is served seven days a week. Crossover menu items such as jambalaya with quinoa, whiting, poached eggs, and cherry tomatoes make it easy to justify eating brekky at 2pm. Bar snacks are available from 3pm Wednesday to Sunday.
Price: Mid-range
5
The Catbird Seat
What is it? A tiny 40 seat European-inspired bistro, located just up the road from one of Brisbane's most famous sporting grounds.
Why go? Start with silky turkey liver parfait or something more adventurous like escargot spaghetti carbonara. Tasmanian beef porterhouse served with green pepper butter and smoked onion is marvellously meaty. The prix fixe lunch is a steal at $40 for two courses, or $55 for three (trust us, you won't need dinner).
Price: High-end
6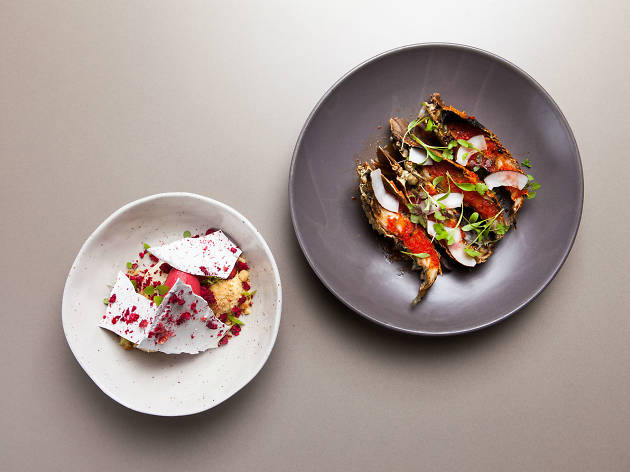 Judit Losh
What is it? Celebrity chef Philip Johnson's fine diner, which has been showcasing some of the country's best modern Australian cuisine for over two decades.
Why go? e'cco bistro has two distinct spaces: a contemporary and sophisticated bistro and a relaxed outdoor dining area. If you want to take advantage of the venue's versatility and Brisbane's enviable weather, then plant yourself on a seat and eat al fresco. Feeling hungry? Don't miss the chargrilled local bugs served with shaved coconut, lime and a sprinkling of chilli. If you're dining solo, you'll get dinner and a show from a seat at the bar.
Price: Blowout
7
Chur Burger Brisbane
What is it? An undeniably cool burger joint, complete with curved booths, graffiti art, a Space Invaders machine, giant Jenga and a funky Fortitude Valley location.
Why go? If the free games of Space Invaders isn't enough (just ask the staff for credits), then Chur Burger's fresh and substantial hot sandwiches won't disappoint. If you prefer something other than beef on your bun, the Shredded Swine, with pulled pork, red slaw and fennel mayo is the way to go.
Price: Budget
8
Julius Pizzeria
What is it? A modern Italian restaurant with confident friendly service and a bustling open kitchen.
Why go? Unless you're willing to eat before 6pm, which is the cut off time for bookings, you'll almost certainly have to wait for a table but it's worth it. Top picks include the house-made pastas, daily risotto special and wood-fired pizzas which rival those found in Naples. Too full for dessert? Italian-style trifle proves it's not over until the fat lady sings.
Price: Mid-range
9
Fat Noodle
What is it? Street food-inspired cuisine in sophisticated surrounds.
Why go? This lively CBD restaurant features dishes from China, Myanmar, Vietnam, Thailand, Laos and Cambodia. Created by celebrity chef Luke Nguyen, the open kitchen adds a sense of theatre and dishes have just the right amount of spice. Most cost less than $20 and service is speedy. Whether you're an adventurous diner or prefer chicken fried rice, you'll find something to suit.
Price: Mid-range
10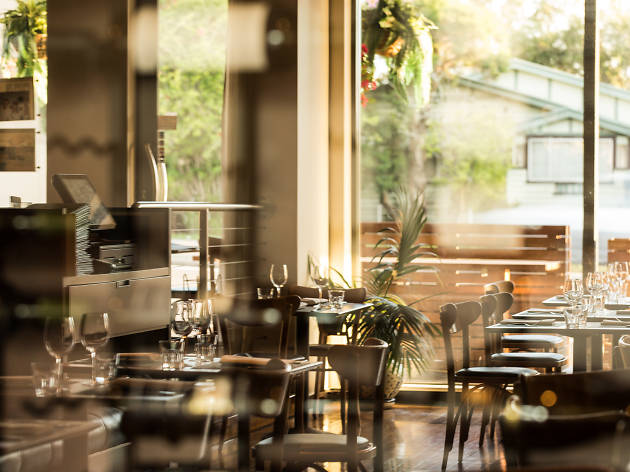 John Reyment
What is it? One of Brisbane's best-kept dining secrets, located in the inner-city suburb of Camp Hill.
Why go? Cinco Bistro keeps its loyal local clientele coming back with generous portions and an appealing array of familiar-sounding dishes plus a few surprises. Master stock pork belly with crispy apple slaw and chilli caramel sauce is sweet, crunchy and likely to defeat all but the hungriest of diners. It's been on the menu for years with good reason.
Price: High-end
11
Hiranuma Kaoru
What is it? A modest restaurant serving some of the best Peking duck you'll find outside Beijing.
Why go? It's not fancy, but the food is seriously good. No liquor license means you can BYO (bring your own) beer or wine and catch public transport back to your accommodation.
Price: Budget
12
Billykart Brisbane
What is it? A popular bistro that is trendy without being pretentious.
Why go? Breakfast includes crispy potato waffle topped with charred mustard greens, hot smoked salmon, poached eggs and horseradish hollandaise. Drinks at the bar often slide into dinner which features dishes such as free-range chicken supreme cooked on the churrasco spit grill and served with rustic sobrassada sausage, red pepper sauce, white beans and chilli. A well-priced wine list and boutique local beers on tap make it tempting to linger.
Price: Mid-range
Discover Time Out Market: the best of the city under one roof