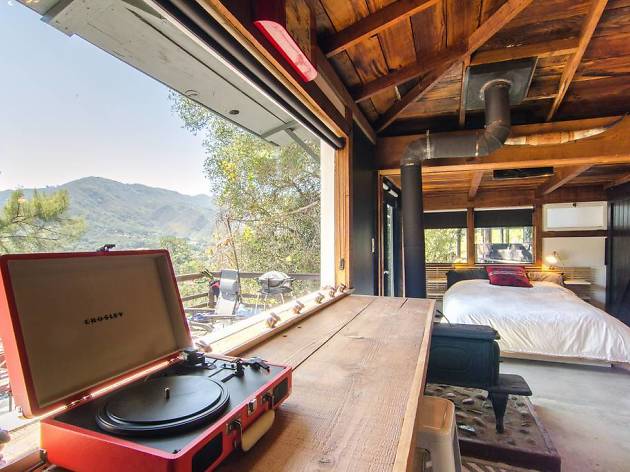 The best Airbnbs in Los Angeles
Discover sunny Santa Monica beach houses, luxe West Hollywood mansions and more of the best Airbnbs in Los Angeles
Why stay in a run of the mill hotel when you could rent a lovely Airbnb in Los Angeles? Unlike the typical beige hotel rooms you're no doubt used to, these apartments, homes and condos are soaked in character. From stylish homes near West Hollywood to cozy craftsmans in Los Feliz via architectural townhouses in Venice, there's something on this list for every vibe and budget. You'll even find a few sunny cottages near the best beaches in L.A. Whether it's your first time visiting the city or you're here all the time, these superb Airbnbs in Los Angeles might just convince you to become a full-time Angeleno.
Note: please check the latest travel guidance before booking your trip
RECOMMENDED: Full guide to the best hotels in Los Angeles
Best Airbnbs in Los Angeles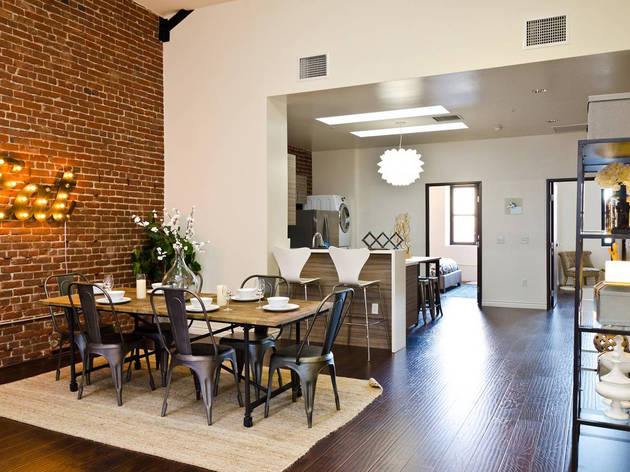 Photograph: Courtesy Airbnb
1. Historic Remodeled Two-Bedroom Penthouse in Downtown
This masterfully restored 1,800-square foot loft in the centre of Downtown Los Angeles is packed with both historic charm and contemporary amenities. The exposed brick wall acts as a burst of color in the living space, while a squeaky clean chef's kitchen has all the bits and bobs you could need to knock up a gourmet dinner. Cheeky design elements like mustache pillows and oversized mirrors give the loft a funky personality.
Photograph: Courtesy Airbnb
2. Luxury Four-Bedroom Beach House Steps from the Ocean in Santa Monica
For a weekend jam-packed with sand and sun, rent out this Santa Monica home, just metres away from the beach. With Carrara marble tile, vaulted ceilings and a formal dining room, it's much more opulent than your standard beach house. There's nothing better than firing up the grill on the backyard barbecue and roasting marshmallows over the fire pit after a day of kicking it at the beach.
Photograph: Courtesy Airbnb
3. Views and Views! Central Silver Lake Architecture
This 1940s-era building's location atop a hill makes it feel secluded, but you're actually not far from the bustling main streets of Echo Park and Silver Lake. Relax on the porch with a cocktail or curl up with a book in front of the broad windows, which provide a 180-degree view of the neighbouring hills (and some particularly awesome sunsets).
4. Estate with spa and pool in Malibu
Tucked away in Malibu, this home was formerly the home of a Gold-medal-winning Olympian. Which one, you ask? An American diver who won at the 1984 Olympics (we'll let you work it out). To mark the achievement, the bottom of the pool has been engraved with Olympic rings. A semi-remote location, this fashionable spot offers an abundance of peace and quiet, as well as a sauna, pool table, and dazzling views. Sleeping 12, this sunny getaway would make for a great base for a big family get-together or a group of holidaying friends.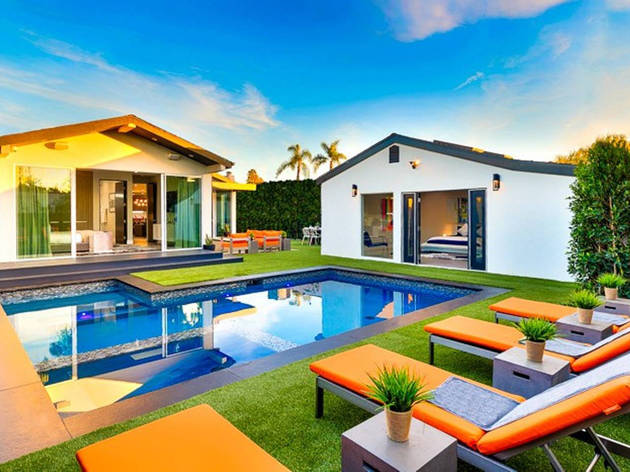 Photograph: Courtesy Airbnb
5. Modern Private Mansion With Heated Pool and Jacuzzi
This smart home sandwiched between Beverly Hills and West Hollywood looks like something out of MTV Cribs. Neon-hued art, shag rugs and Italian marble decorate the interior, while the backyard features a massive pool, jacuzzi and firepit. Though you're close to so many L.A. landmarks, it might be hard to tear your group away from all the mansion's amenities.
Photograph: Courtesy Airbnb
Tucked behind the owner's home on one of Culver City's tree-lined streets, this secluded A-frame cottage feels a bit like a treehouse hideout. To make the most of a small footprint, the owners capitalized on indoor-outdoors space: The porch serves as the living room, complete with a TV mounted on the exterior wall and couch cushions to laze around on. Inside, you'll find a tiny but serviceable kitchen, cushy queen-sized bed and itsy-bitsy bathroom.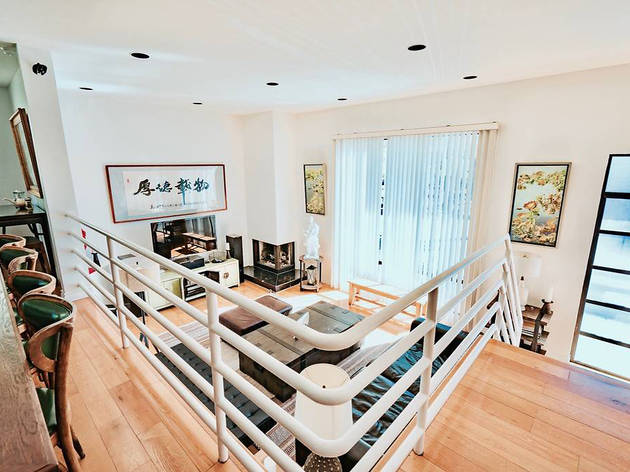 Photograph: Courtesy Airbnb
7. Architectural Venice Beach Dream House
Postmodern architecture and traditional Japanese art combine in this stunning home. All 10 of your friends can pull up a seat at the dining table for dinner or spread out on the sectional for a game of cards. The master suite—featuring a fireplace, floor-to-ceiling windows and a gorgeous four-poster bed—puts any standard hotel room to shame. You won't even have to settle for tap water: The kitchen includes a state-of-the-art reverse osmosis machine to purify the water.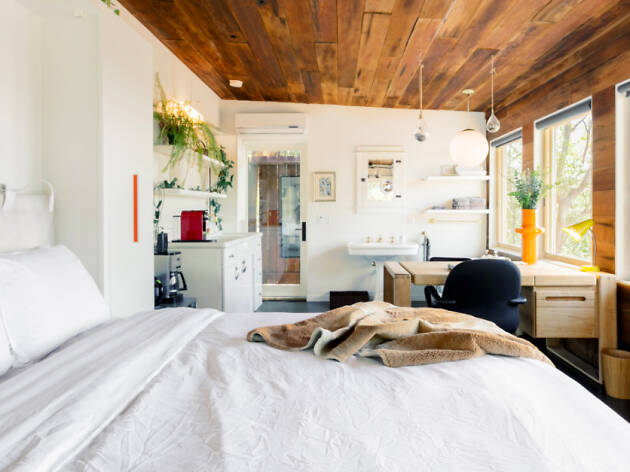 © Airbnb
8. Charming Bungalow in the Hollywood Hills
Hunker down into the Hollywood Hills in this cozy bungalow brimming with charm. The self-contained home comes with unparalleled panoramic views of LA, a queen-sized bed, two terraces – one of which has a swinging bed – and an outdoor shower, should the weather tempt you (there's one inside too, don't worry).
Ready to plan your next Southern California getaway?
Whether you're looking for an authentic log cabin experience or a desert getaway, Airbnb has plenty of gorgeous properties for rent