The 25 best Disneyland rides
We rank the happiest place on earth's best attractions, including classic Disneyland rides and thrills at California Adventure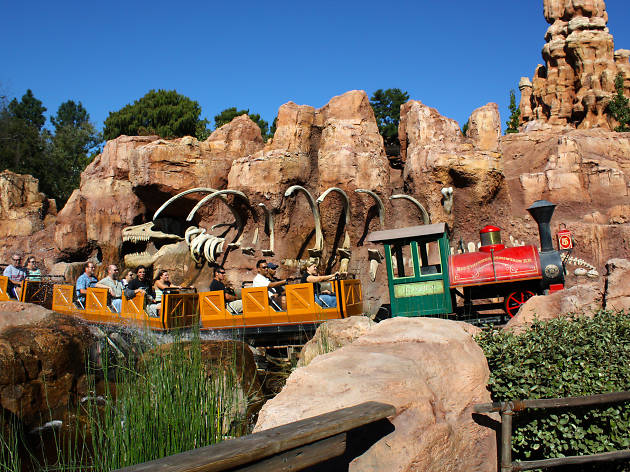 25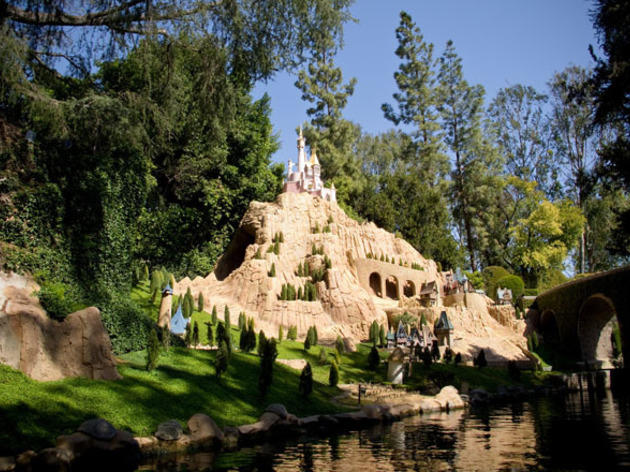 Photograph: HarshLight/Flickr
Storybook Land Canal Boats
You'll encounter castles, open countrysides and allusions to classic characters on this grand boat tour of Disney fantasy lore. Oh, did we mention it's all at diorama scale? It sounds a little lame on paper, but step aboard this leisurely, narrated cruise—an opening day original—and you'll discover an undeniable charm as you try to spot Lilliputian renditions of Geppetto's workshop and the seven dwarfs' cottage.
Location: Fantasyland (Disneyland)
Best boat name: Flower, as in the skunk from Bambi
Photograph: HarshLight/CC/Flickr
24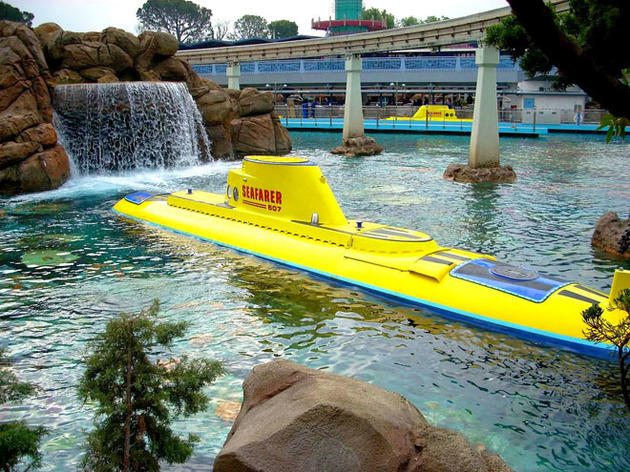 Photograph: bfurlong/Flickr
Finding Nemo Submarine Voyage
Plunge deep into the South Pacific for a submarine voyage full of talking fish and colorful coral. If you can wait out the slow boarding process and slightly overlong ride time, there's an adorable experience awaiting as Nemo, Dory, Squirt and a whole slew of recognizable movie characters—or rather, their impeccably integrated digital projections—briskly swim through jellyfish fields and bubbling volcanoes.
Location: Tomorrowland (Disneyland)
Best seagull one-liner: Mine!
Photograph: bfurlong/CC/Flickr
23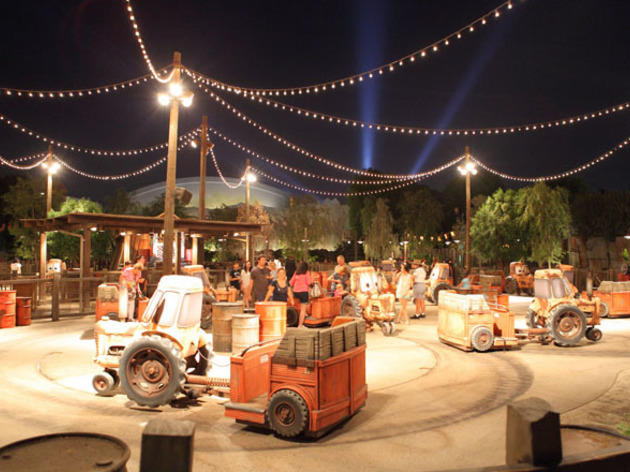 Photograph: Sam Howzit/Flickr
Mater's Junkyard Jamboree
Get whipped around by anthropomorphized tractors on this deceptively fun carnival ride. Set amongst Americana bric-a-brac, the simple but surprisingly lively attraction takes on the guise of a square dance. What can we say—we're suckers for Mater's (Larry the Cable Guy's) off-key country tunes.
Location: Cars Land (Disney California Adventure)
Best on-ride song: "Big Bull Dozer"
Photograph: Sam Howzit/CC/Flickr
22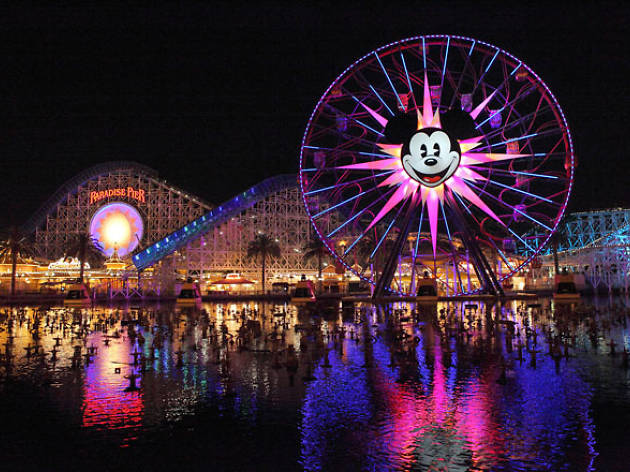 Photograph: Sam Howzit/Flickr
A Ferris wheel might not seem so out of the ordinary, but a 160-foot-tall wheel with sliding gondolas isn't exactly your average carnival attraction. Take your pick between two experiences: The stationary gondolas offer sweeping views of the park, but the swinging ones offer a one-of-a-kind experience as they weave through the wheel on a suspended roller coaster-like track. Plus, that pie-eyed Mickey plastered on the front is awfully charming.
Location: Pixar Pier (Disney California Adventure)
Most worrying ride feature: Barf bags
21
Photograph: Courtesy Paul Hiffmeyer/Disneyland Resort
The Little Mermaid - Ariel's Undersea Adventure
Life is de bubbles in this under-the-sea retelling of The Little Mermaid. A more modern version of the slow-moving dark rides in Disneyland, this conveyor belt of clam shells takes visitors through vibrantly recreated scenes from the movie, complete with nearly every selection from its uplifting earworm of a soundtrack.

Location: Paradise Gardens Park (Disney California Adventure)
Most impressive animatronic: Ursula
Photograph: Courtesy Paul Hiffmeyer/Disneyland Resort
10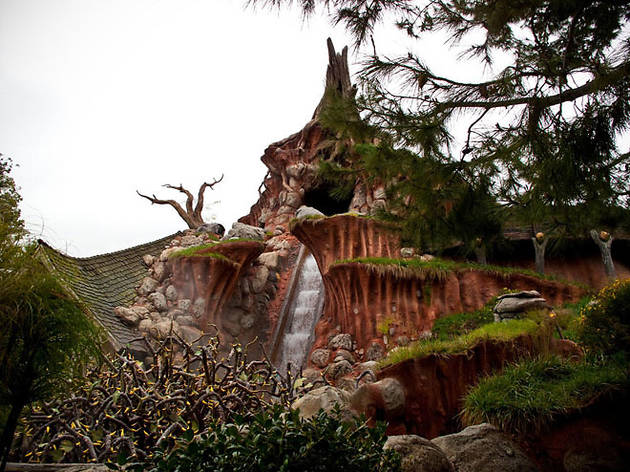 Photograph: HarshLight/Flickr
Follow the Song of the South-inspired story of Brer Rabbit on this wonderfully wet log flume. Its cheerful display of critter friends and bold colors is balanced with a steep plunge into the briar patch and some downright trippy stretches, namely the neon-filled Laughing Place, which feels like it mocks how soaked you just got. But you're sure to step off the ride with two things: wet socks and a Zip-a-Dee-Doo-Dah day.

Location: Critter Country (Disneyland)
Driest seat: As far back as possible
Photograph: HarshLight/CC/Flickr
9
Photograph: Courtesy Disneyland Resort
With a steady wind and the scent of roses wafting in your face, this hang glider-meets-IMAX dome experience is the type of technical feat that only Disney can pull off. The ride simulates flying over some of the world's (formerly California's) most beautiful assets, including the Matterhorn (the real one) and the Eiffel Tower, all set to a triumphant score that has us walking off the ride with a serious case of wanderlust.
Location: Grizzly Peak (Disney California Adventure)
Best seat in the house: Section B, Row 1
Photograph: Courtesy Disneyland Resort
8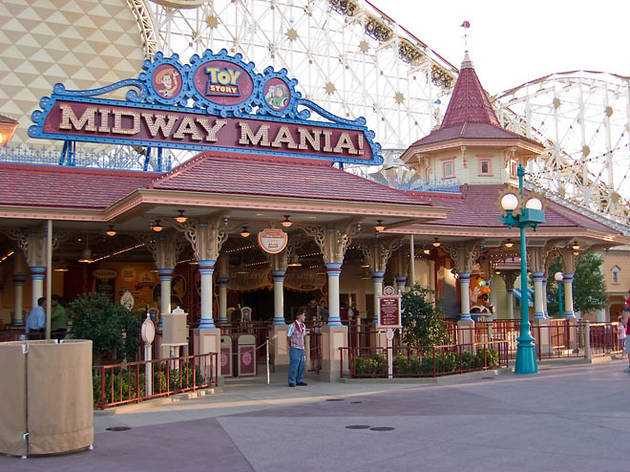 Photograph: Jason Pratt/Flickr
The concept for Midway Mania is simple: Pull a drawstring on a swiveling blaster to shoot targets in a 3-D projection. But this whirly, rollicking tour of boardwalk-style games brings the whole Toy Story crew into the mix to create an experience that's far more amusing than your average plate-breaking, balloon-popping sideshow. It's almost guaranteed that you'll be coming back to chase your high score over and over again.
Location: Pixar Pier (Disney California Adventure)
Best mini-game: Alien ring toss
Photograph: Jason Pratt/CC/Flickr
7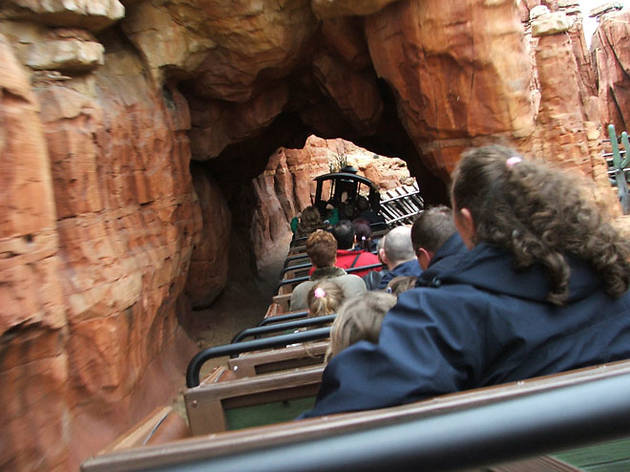 Photograph: jaqian/Flickr
Big Thunder Mountain Railroad
This runaway mine train coaster weaving through rainbow caverns and craggly canyons always manages to feel faster and more exhilarating at night; chalk that up to tight turns and sudden dips that seem to come startlingly close to rock faces. Though the coaster lost a little bit of its lovably rough ride after a 2014 refurb, it gained an explosive—literally—final lift hill that's made the attraction even more of a thrill.
Location: Frontierland (Disneyland)
Wildest seat in the wilderness: Last three rows
Photograph: jaqian/CC/Flickr
6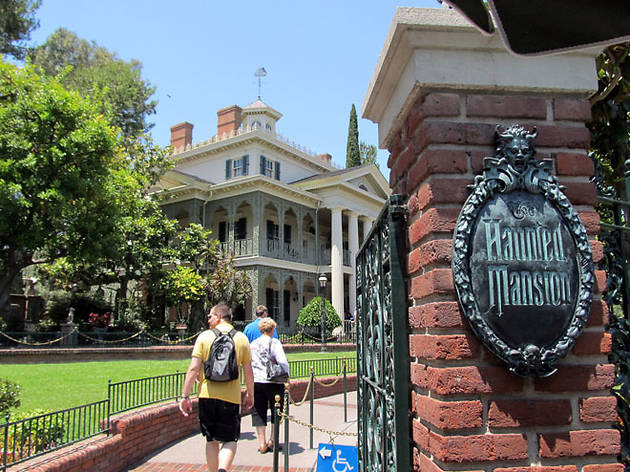 Photograph: daryl_mitchell/Flickr
"Haunted" is the key word here: From doorknobs to candelabras, seemingly every part of the ride is alive—or rather, undead. The Haunted Mansion trades scares and creeps for hints of dark humor and practical effects that are still mystifying a half-century later. Though its biggest draw comes around the holidays with a Nightmare Before Christmas makeover, nothing can beat the regular version. In fact, we'll take the slow creep of those classic organ blasts over a Danny Elfman-inspired score any day.
Location: New Orleans Square (Disneyland)
Best ghostly effect: The ballroom-dancing ghosts
Photograph: daryl_mitchell/CC/Flickr
5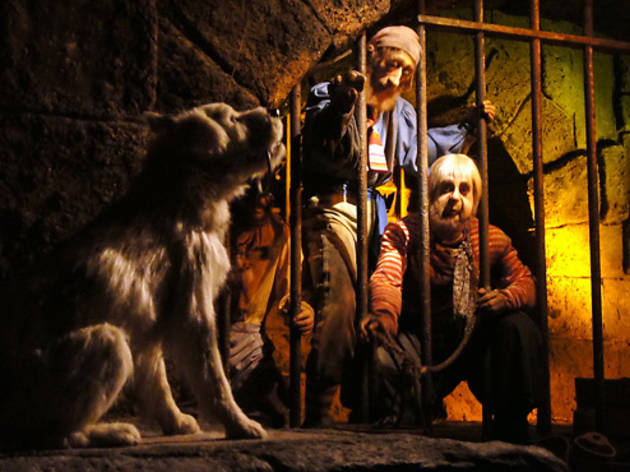 Photograph: oncetherewasagirl/Flickr
The storytelling on this boat ride is arguably more compelling than the swashbuckling film series it would inspire: the lull of the firefly-lit bayou and a gently plucked banjo gives way to the mystery and magic of a talking skull and crossbones and treasure-filled cave. It's a long ride, to be sure, but it's filled with spectacular sights that'll stick with you, from a plantation house (with a remarkably convincing night sky) to a ship battle—not to mention that fist-swinging "yo ho" chorus.
Location: New Orleans Square (Disneyland)
A pirate's life for: Me
Photograph: oncetherewasagirl/CC/Flickr
4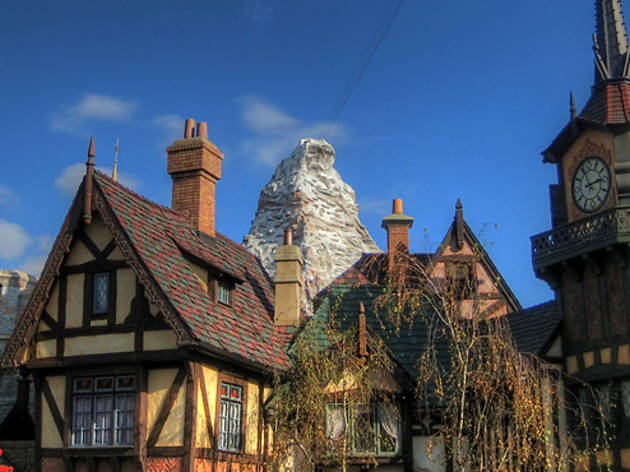 Photograph: Eccentric Scholar/Flickr
For over 60 years these flying pirate ships have ferried parkgoers from an English bedroom to Never Land. Though Fantasyland is full of slow-moving, slightly too-short rides, Peter Pan has always been the most charming thanks to its music ("You Can Fly") and ride system. With no track below you, the provincial rooftops give way to the London cityscape and, eventually, the star-filled floating island of Never Land. Sure, the line's long and the ride's short, but it's a small price to pay for this wholesome trip down memory lane.
Location: Fantasyland (Disneyland)
Best canine character: Nana the dog
Photograph: Eccentric Scholar/CC/Flickr
3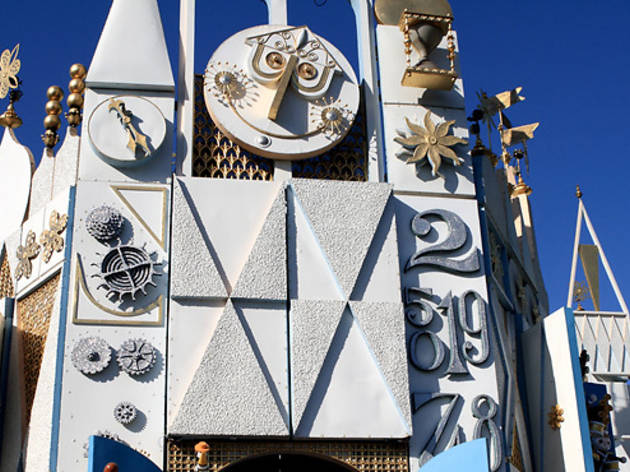 Photograph: Justin Ennis/Flickr
If you can't get past any disdain for that earworm of a tune—you know, only the happiest, most inspirational song in the world—then you're really missing out on one of the most delightful rides ever. A midcentury explosion from the imagination of Disney animator Mary Blair, the slow-moving boat ride has been singing its song of global harmony since its debut at the 1964 World's Fair. Today, you'll find Disney characters subtly mixed in with the multicultural dolls, but it's the playful color palette, whimsical set pieces and brassy-but-twinkly music that really makes this the happiest cruise that ever sailed.
Location: Fantasyland (Disneyland)
Best Disney character appearance: Surfing Stitch
Photograph: Justin Ennis/CC/Flickr
2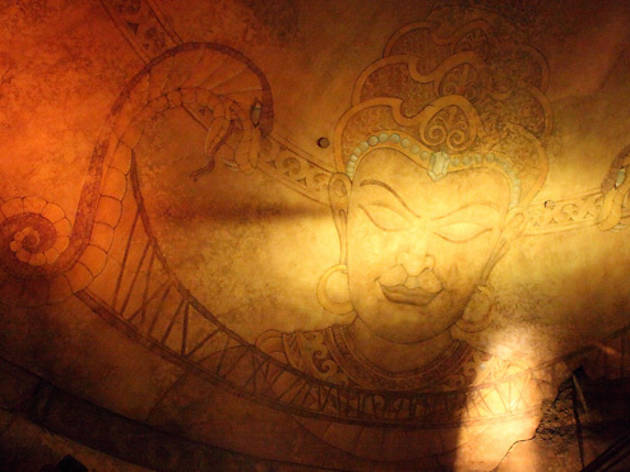 Photograph: Sam Howzit/Flickr
Disneyland isn't short on nostalgic movie tie-ins, but there's nothing in the park quite like Indiana Jones Adventure. The ride system itself is a bumpy thrill: a four-wheel-drive vehicle zips along a track as the seats jolt, rumble and careen around skeleton ambushes and fireballs. But the magic comes from an encyclopedic survey of Indiana Jones lore set to that familiar John Williams theme. We won't spoil all of the temple traps, but plan on this wild adventure becoming a regular fixture during your park visits.
Location: Adventureland (Disneyland)
Best piece of advice: Look not into the eyes of the idol—that would be dangerous.
Photograph: Sam Howzit/CC/Flickr
1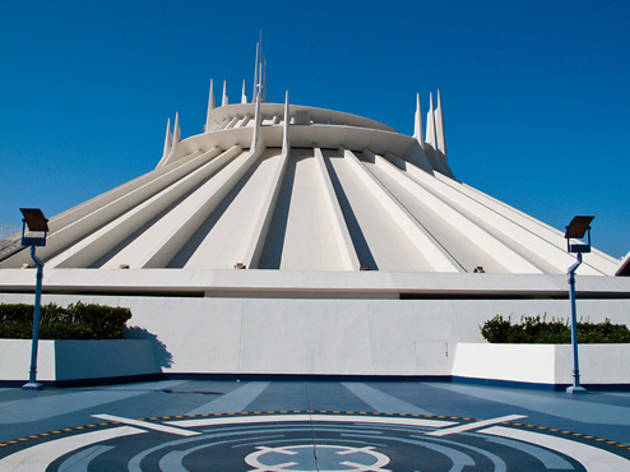 Photograph: HarshLight/Flickr
There's a reason that weary parkgoers will line up for hours to go on this indoor, nearly pitch black coaster, even at the stroke of midnight. Space Mountain ratchets up the tension as your rocket climbs through a sequence of light-up tunnels and launch preparations; the music builds until it hits a cosmic crescendo just as you catch your first glimpse of the star-spattered darkness. And with a swift countdown, you're launched downward into a series of sudden drops and tight turns—almost exclusively right hand, yet each still manages to feel unexpected. The coaster feels like it increasingly picks up speed—yet we've heard the ride barely breaks 30 mph—until you come clanking to a halt and want nothing more than to ride it another 16 times. Who needs to actually go into outer space when we're almost positive Space Mountain is more fun?
Location: Tomorrowland (Disneyland)
Best seat in the galaxy: Front seat of the front car
Photograph: HarshLight/CC/Flickr