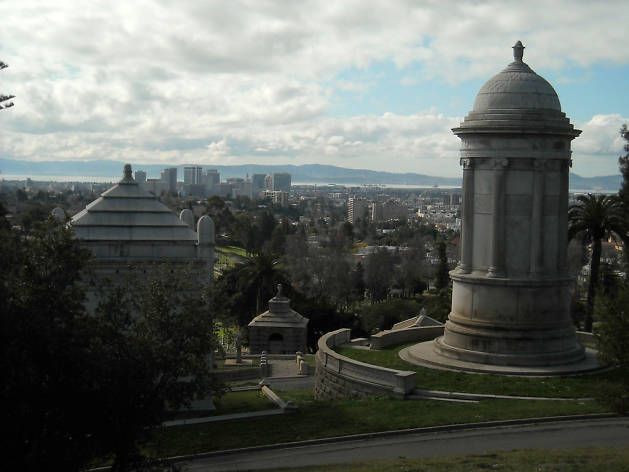 The 17 best things to do in the Bay Area
Explore beyond San Francisco with the best things to do in the Bay Area
While Southern California has traditionally received credit for influencing popular culture, today, it's the Bay Area that's shaping the future. Silicon Valley changed the way we live, Pixar made movies fun again, and chances are that last bottle of wine you polished off came from Napa Valley wineries. Plus, the region is world-renowned for its natural beauty and outdoor recreation, from hiking ancient redwood groves (check out more great Bay Area hikes) to biking the Golden Gate Bridge. Want to know the best restaurants, destinations, and activities that will show you a hella good time in the Bay Area? We've compiled the best things to do in the Bay Area just for you.
RECOMMENDED: The best things to do in San Francisco
Best things to do in the Bay Area
What is it? A lush, 1,017-acre greenbelt that teems with nature, recreation, and cutting-edge museums.
Why go? Celebrating its 150th anniversary in 2019, Golden Gate Park is San Francisco's satisfying answer to NYC's Central Park. Stretching more than 50 city blocks, the park encompasses picnic grounds, lakes, and cultural hubs such as the California Academy of Science and de Young art museum. Plus, every August, the park serves as a venue for mega music-and-food fest Outside Lands. Just note that the most common accessory isn't a picnic basket, but a fleece jacket as this section of the city is often chilly.
What is it? Just one of many shops that can get you geared up to bike across the Golden Gate Bridge, into the quaint coastal town of Sausalito, and return via a ferry ride across the San Francisco Bay.
Why go? The popular, paved bike route serves as a greatest hits of Bay Area landmarks. Along the way, you'll pass famed destinations such as The Palace of Fine Arts, Crissy Field, and of course, the region's celebrity bridge. Stop for a seaside lunch in Sausalito before enjoying a scenic ferry ride to San Francisco's Ferry Building, passing Alcatraz Island along the way.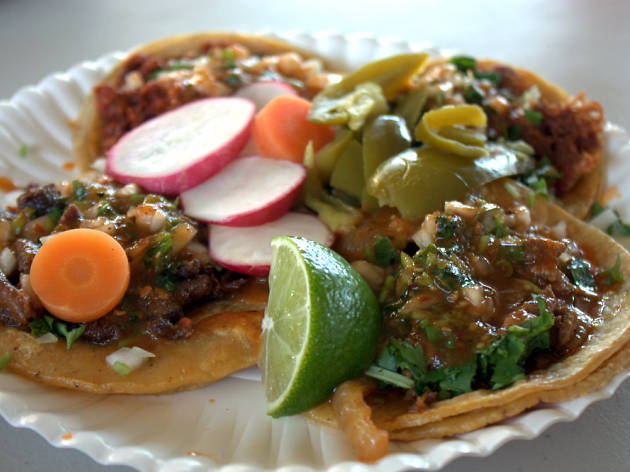 Photograph: Flickr/Krista
3. Go on a Fruitvale taco crawl
What is it? An epic, salsa-soaked taco crawl in Oakland's Fruitvale neighborhood.
Why go? Some of the Bay Area's best street food is found along this taco-lined stretch of East Oakland. Start with carne asada and carnitas tacos at Mi Grullense, before heading to Aguachiles El Tamarindo for avocado-topped ceviche tostadas. Next, try the lengua tacos at Tacos Sinaloa, and the deeply flavorful barbacoa tacos at the Pipirin food stand. Just save room for a crispy, sugar and cinnamon-dusted treat from Churros Mexicanos.
What is it? A 25,000-acre, nature-filled state park that offers exceptional trails, breathtaking vistas, and a few hidden surprises.
Why go? The 2,571-foot behemoth is the Bay Area's favorite outdoor playground. To sample its surprisingly diverse landscape, follow the Matt Davis trail down to Stinson Beach, and return via the forested, creekside Steep Ravine Trail. You can also marvel at a thundering waterfall along the namesake Cascade Falls trail, and survey the entire Bay Area from the East Peak Visitors Center. On the second Sunday of each month from May through October, in-the-know hikers are rewarded with a pancake breakfast and sweeping views of the region at the remote West Point Inn which is only accessible via trails.
What is it? Postcard-perfect, waterfront spot for oysters near the Point Reyes National Seashore.
Why go? You'll feel transported to New England at this charming seafood shack dishing up local crustaceans and mollusks on the banks of Tomales Bay. A line forms early for a simple menu of local oysters—don't miss the BBQ oysters with chorizo butter—with a side of buttery garlic bread. Grab a bottle of rosé from the cold case, and head to the communal tables lining the oyster shell-dotted shoreline.
What is it? A drivable series of small farms and producers where you can sample the bounty—and stunning beauty—of Sonoma County.
Why go? You'll swap staid winery tasting rooms for an inspiring countryside of picturesque properties dishing up epicurean delights. Highlights include goat cheese at Redwood Hill Farm, pasture-raised meats and eggs at Tara Firma Farms, and organic craft cider in the garden at Horse & Plow. Visit during spring when Sonoma's verdant hills rival Ireland, or in fall when apple picking and pumpkin patches abound.
What is it? Expert outfitters will set you up for a serene paddle along the bucolic Russian River.
Why go? While the area surrounding the Russian River has blossomed into renowned wine region, its namesake river shouldn't be overlooked. Pack a cooler and paddle the gentle current through lush surroundings, pausing to dip into swimming holes and picnic along its banks. The staff at River's Edge shuttles you to the put-in point, where you can lazily drift back to your starting point.
What is it? California's oldest state park is home to some of the tallest and oldest living things in the world.
Why go? Explore thick groves of California's towering coast redwoods (aka Sequoia sempervirens) dating back thousands of years. Follow the Berry Creek Falls trail to its namesake cascade, or load up the backpack for the multi-day Skyline to the Sea trek, a Bay Area rite of passage. Not up for hiking to your campsite? Roll into one of the park's 142 traditional, car-camping sites.
What is it? An achingly quaint farm with adorable goats and delicious cheeses.
Why go? The undeveloped coastal land south of Half Moon Bay features some of the most breathtaking scenery in the state. Harley Farms immerses visitors in this pastoral paradise, and offer samples of their just-made chèvre and assortment of other dairy products. Bring a picnic basket, and linger on the farm's scenic grounds.
What is it? Wine Country nirvana in one convenient, picturesque package.
Why go? You want to wine taste in Napa, but where to begin amidst nearly 500 properties? On one bucolic plot of land in St. Helena, Long Meadow Ranch offers a tasting room to sample the label's wine and olive oil, a seasonal farmers market, and a bustling, indoor-outdoor restaurant.
Photograph: Flickr/Sharon Hahn Darlin
11. Step back in time in Port Costa
What is it? An atmospheric, time warp village with modern and retro delights along the shores of the Carquinez Strait
Why go? Brunch at the Bull Valley Roadhouse, shop vintage-inspired paper artwork at the Theatre of Dreams, and drink with a (stuffed) polar bear at the cavernous, bric-a-brac-adorned Warehouse Cafe. Make it a weekend with the creepy-cool Burlington Hotel whose rooms are supposedly named after the former bordello's mistresses.
What is it? The Bay Area's visually striking destination brims with lantern-strung streets, colorful buildings, and delicious snacks.
Why go? This vibrant neighborhood is a joy to wander. Stray from touristy Grant Street to seek out side streets and narrow alleyways where you can poke your head into a joss paper shop to marvel at paper replicas of material goods burned at funerals. For snacks, choose from an assortment of take-away dim sum at Good Mong Kok Bakery, and pair it with a fresh fruit smoothie at Good Fruit. While daytime bustles with vivid colors, nighttime is aglow with vintage neon signs and lively nightlife. Experience it via a pub crawl that includes Cold Drinks, Moongate Lounge, Li Po, and Buddha Lounge.
Discover more things to do in Chinatown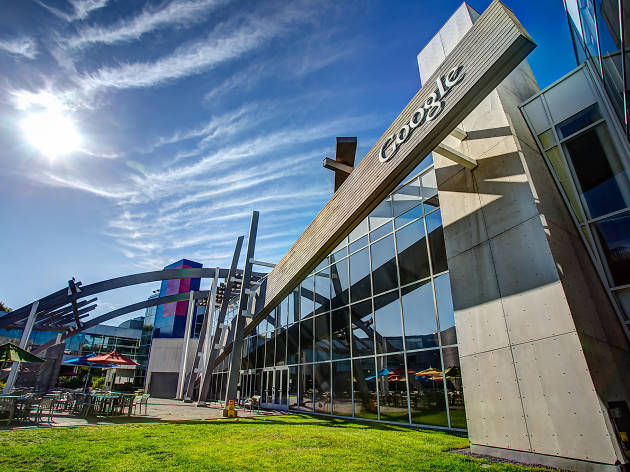 Photograph: Flickr/Robbie Shade
What is it? A chance for you to learn a little about the firm that already knows everything about you.
Why go? Unlike other big-name Silicon Valley firms, the Google campus is open to the public. Offices are restricted to employees and their guests, but you'll find plenty of photo-worthy spots throughout its sprawling complex. Seek out the company's unofficial mascot "Stan," a life-size T-Rex sculpture adorned with pink flamingos, and wander a sculpture garden filled with colorful, oversized Android figures and sweet treats. If you're feeling lucky, ask an employee to let you into the company's museum.
What is it? The best way to unplug in the Bay Area.
Why go? This modern, day spa offers exceptional body treatments in a stunning indoor-outdoor facility situated in an exceedingly peaceful setting within the Marin Headlands. Spend a day soaking in the outdoor mediation pool, sipping tea around the fireplace, and lounging amidst natural surroundings. After your treatment, double-down on the relaxation with a cocktail at the resort's bar overlooking the Golden Gate Bridge.
What is it? An ever-evolving museum that's still the best place to enjoy modern and contemporary art in the Bay Area.
Why go? Founded in 1935, SFMOMA nearly doubled its footprint in 2016 with a striking new addition designed by starchitect firm Snøhetta. Highlights amidst its seven floors include an Insta-worthy living wall, an exceptional video and new media collection, and an observation deck overlooking downtown SF. No need to flee the building come mealtime: the third floor provides a welcome latte break via Sightglass Coffee, and an outdoor
What is it? The sleek new home of the Golden State Warriors.
Why go? It's not just a chance to see the former world champs play ball, but also catch major touring acts such as Janet Jackson and Metallica. Plus, you'll eat and drink well with food from local faves such as Dumpling Time and Gott's Roadside, while drinks come courtesy of the cocktail superstars at Trick Dog.
What is it? Likely the only cemetery scenic enough to attract wedding ceremonies.
Why go? This historic, park-like property offers sweeping views of the region, and serves as the final resting spot for a litany of Bay Area luminaries. A brochure will lead you to the graves of famed architect Bernard Maybeck, civil war veterans, and even "Trader" Vic Bergeron, the inventor of the Mai Tai. Don't miss Millionaire's Row with apartment-sized mausoleums for former moguls such as Southern Pacific Railroad founder Charles Crocker. For bonus points, wander the exquisite, indoor-outdoor Chapel of the Chimes designed by Julia Morgan, the famed architect of Hearst Castle who is also interned at Mountain View.
Explore San Francisco
We've distilled the endless treasure-trove of the best things to do in San Francisco to a tidy list of essentials.
Best selling Time Out Offers