The full guide to Chinatown, San Francisco
The best dumplings, galleries, tea shops and karaoke joints are all located in the heart of Chinatown, San Francisco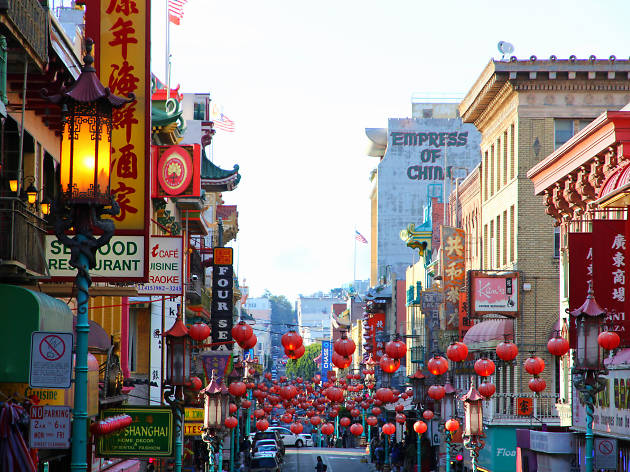 In a city known for endurance-testing hills, Chinatown has been designated as the most walkable neighborhood in San Francisco. It's also among the most culturally rich, from the food to the art to the history. Starting in late 2019, the neighborhood will be graced with the Central Subway line, a brand new Muni route that will run from the Caltrain station in SoMa to Chinatown's 4th and King streets. It's worth spending an afternoon wandering through the storied district's colorful alleyways, treasure-packed shops, and vibrant markets.
How do I get to Chinatown, SF?
Take the MUNI bus 3, 8, 30, or 45.
What are the most popular attractions in Chinatown, SF?
San Francisco's Chinatown contains the largest Chinese population outside of Asia. As a result, the culture is robust, from arts organizations like the Chinese Cultural Center to the annual Chinese New Year festival every February. China Live, a two-story marketplace, retail space, food demonstration hall, and high-end bar and restaurant, is a must-see, as are the neighborhood's quirkier, divier watering holes, like Buddha Lounge and Li Po Cocktail Lounge. Grant Avenue, the neighborhood's main thoroughfare, is dotted with shops, bakeries, and grocers.
Time Out tip
The tiny, 450-square-foot Et. Al Gallery (620 Kearny St) resides in the basement of a dry cleaners. No, really. You have to pass through Union Cleaners and head down a flight of stairs to find it. It opened in 2013, representing local artists and hosting monthly exhibitions, and though it's since expanded to a second location in the Mission, the original Chinatown space retains the same arty, edgy soul.
Things to do in Chinatown San Francisco