Just a few years ago, the long-vacant Stony Island Trust & Saving Bank Building was scheduled for demolition. But whereas the city of Chicago saw crumbling, neglected infrastructure, local artist and philanthropist Theaster Gates saw an opportunity. In 2012, Gates purchased the building from the city for $1 and spent the next three years working with his non-profit Rebuild Foundation to transform it into the Stony Island Arts Bank.
The hybrid art gallery, media library and community center opened in October 2015, welcoming visitors—free of charge—into a renovated building filled with echoes of its past. The bank's first floor is now the home to a gallery that hosts three major exhibitions each year, situated under fragmented sections of the building's original ceiling. A basement containing the bank's vault will eventually become a music venue and lounge, once decades worth of water damage is repaired.
Photograph: Tom Harris
More than a year after its opening, the Arts Bank is still evolving—the small but robust Bing book store now resides in a corner of the second floor, offering a selection of titles that encompass art-related topics such as photography, design and architecture. "Over the past year, each one of these spaces has changed two or three times," says Rebuild Foundation archival collections manager Kate Hadley Toftness.
Elsewhere on the second floor of the Arts Bank, guests can view and—after a half-hour library orientation—interact with the four collections housed there. The towering Johnson Publishing Archive contains books and periodicals acquired from the company that published seminal African American magazines Jet and Ebony. Nearby cases hold the University of Chicago's collection of glass lantern slides—the 19th century equivalent of an art history PowerPoint presentation.
Guests have more limited access to the record collection of Chicago house music legend Frankie Knuckles; visitors can view, but not play the vinyl, which is sometimes spun by specially-selected DJs at Arts Bank functions. Similarly, Edward J. Williams' assemblage of more than 4,000 pieces of "negrobilia," items depicting stereotypical portrayals of people of color, is stored at the Arts Bank but not displayed. "The idea is not to erase the history but to avoid exploiting [it] in any way," Toftness explains.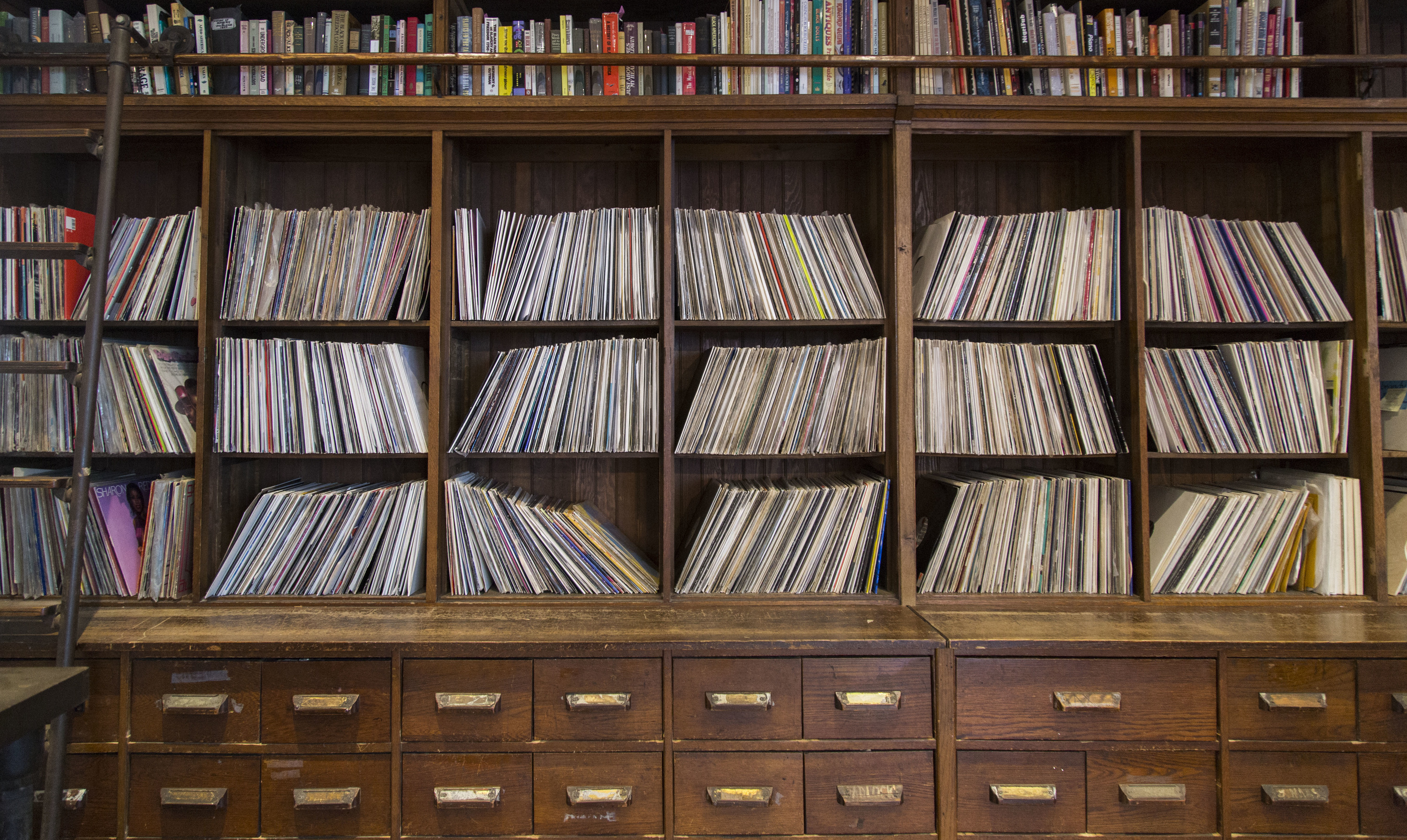 Photograph: Jaclyn Rivas
A repository of antiquated media and objectionable objects might seem unconventional, but the Arts Bank's collection is intended to be approachable and interactive. "Essentially, we're a platform," Toftness says "[It's] meant to be a resource for people who are already doing creative work to come in and make use of the space." The Arts Bank already hosts an artists in residence program and holds regular events in the space, including a monthly glass lantern slide night where individuals can give a performance or presentation backed by slides from the collection.
"We're trying to advocate for these collections, especially minority collections that may not have had such a welcoming at all types of institutions," Toftness explains, noting the difficulty in finding a home for items that are worth preserving but not commonly found in conventional museums. "Part of the goal is to have people think about what they have in their own home and recognize the value of it."
There's also significance to the Arts Bank's location in the historically black South Shore community, an area that has long lacked convenient access to arts institutions. For Toftness, the site is as important as the items it holds, "The most unique thing about these collections is that they're on the corner of 68th and Stony Island."