Heads up! We're working hard to be accurate – but these are unusual times, so please always check before heading out.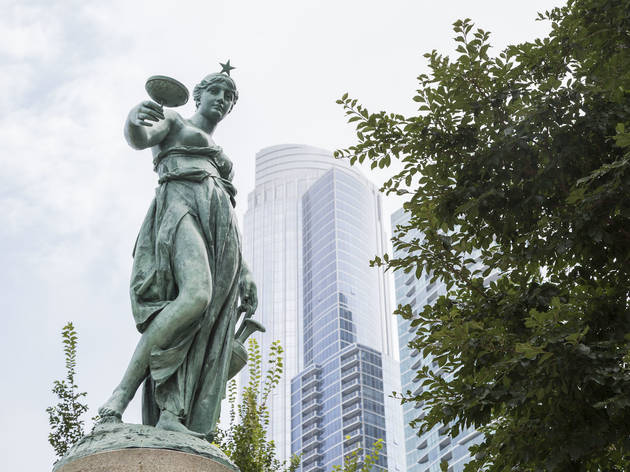 Statue Stories Chicago
More than 30 of Chicago's most iconic public artworks break their silence and boy, do they have a lot to say.
Our favorite friendly giants find their voices in "Statue Stories Chicago," a free citywide project by the Richard H. Driehaus Foundation through summer 2016. Stars like Jack McBrayer, Steve Carell, John C. Reilly and Shonda Rhimes give voice to these silent figures at some of Chicago's best sites and attractions. Chicago thespians lend vocal talents, playwrights pen monologues and Bob Newhart plays—who else?—Bob Newhart! While you should make a point to hear 'em all out, these are some of our favorite lines from these larger-than-life performances. Whip out your smartphone at your favorite to receive a call and an earful.
RECOMMENDED: Check out our guide to museums in Chicago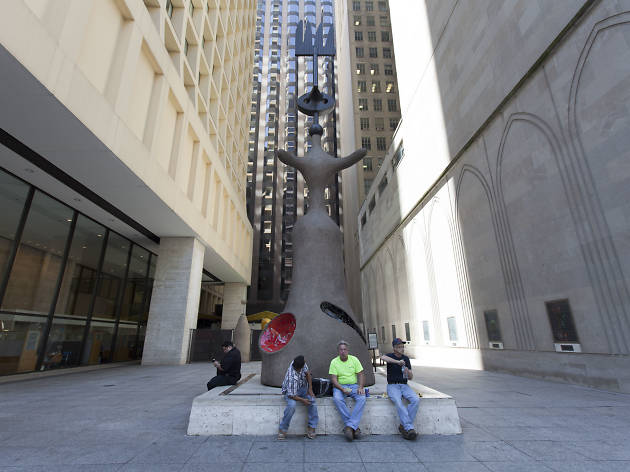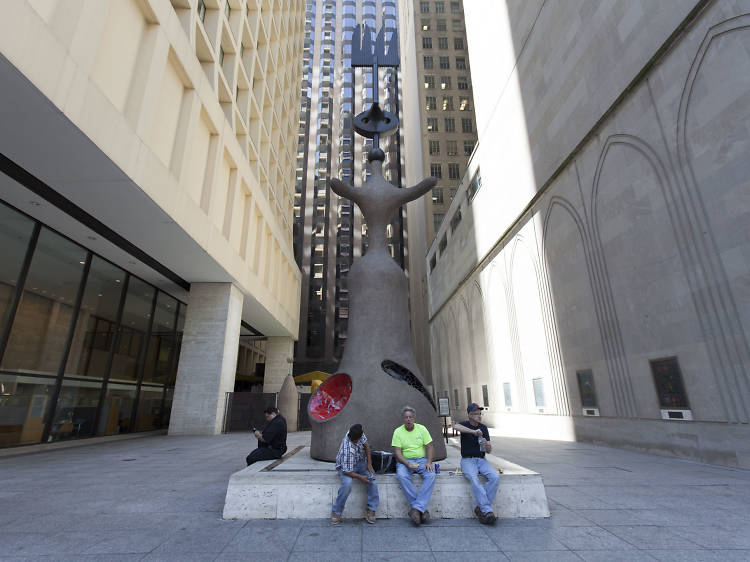 Photograph: Jaclyn Rivas
Miro's Chicago, voiced by Shonda Rhimes
"It's the same thing all women should realize about themselves. Other people's judgments are wrong."
TV empress Shonda Rhimes gives her writing talent and voice to Chicago's voluptuous Miró, who's taking a stand for herself and women everywhere. Initially met with criticism and protest in 1981, the awkward prong-topped figure advocates for her right to take up space, proudly flaunts her proportions and lets critics know she's not going anywhere. Originally named The Sun, The Moon and One Star, this Chicago shines extra bright in Rhimes's takedown of body shamers and championing of self-love. Preach!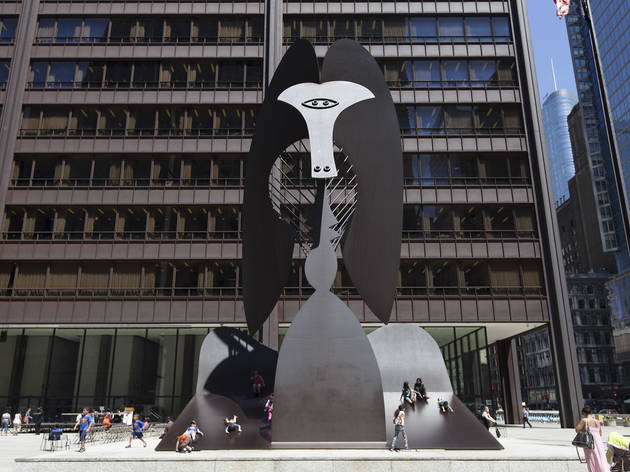 Photograph: Jaclyn Rivas
The Picasso, voiced by Deanna Dunagan
"Can I ask you a question? What am I? Because I don't know!"

Since 1967, we've been scratching our heads over Picasso's baffling beast. Turns out, so has she. Voiced by Tony Award–winning Deanna Dunagan, in a monologue by playwright Mickle Maher, the Chicago Picasso vents about loneliness, identity confusion and about how kids slide down her while she remains barren. We're thrilled to learn that Picasso's bizarre gift to this city is just as weird and wonderful as we'd always imagined.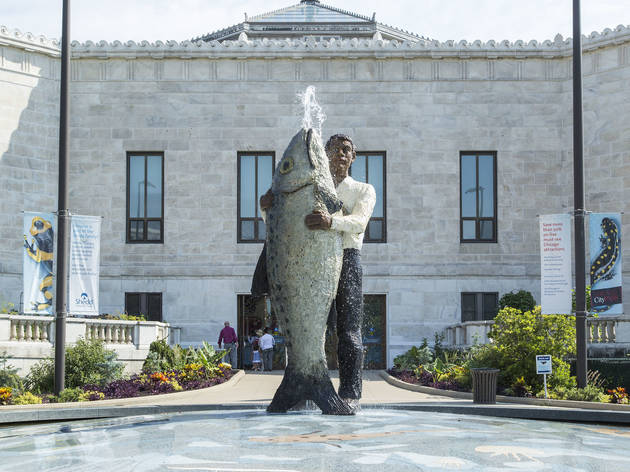 Photograph: Jaclyn Rivas
Man with Fish, voiced by Steve Carell
"I'm very fortunate to have pants."

Steve Carell can't help but take the bait to deliver a stream of jokes so bad, they're great. German artist Stephan Balkenhol created the giant fish-wielding figure that has called Shedd Aquarium home since 2001, and the rest is fish-tory. Hightail it to the Shedd yourself to bust a gut with punny-man Carell and his infectious laugh.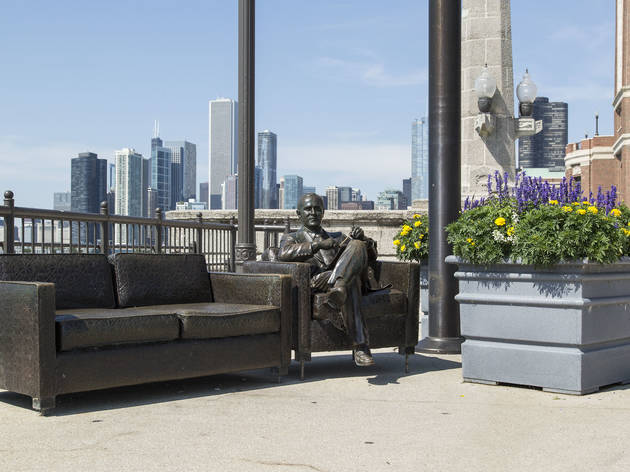 Photograph: Jaclyn Rivas
Bob Newhart, voiced by Bob Newhart
"A lot of people lie down on the couch.… Their friends take a picture, and when they get back home, they'll say, 'I was in Chicago. I got psychoanalyzed by Bob Newhart!'"
The statue of Bob Newhart in his role as Bob Hartley comes to life through his own words. Relax on Bob's couch while the comedy legend fawns all over our city and citizens. TV Land commissioned the homage and planted him on Michigan Ave in 2004, but these days you can come say "Hi, Bob!" at his retirement home on Navy Pier.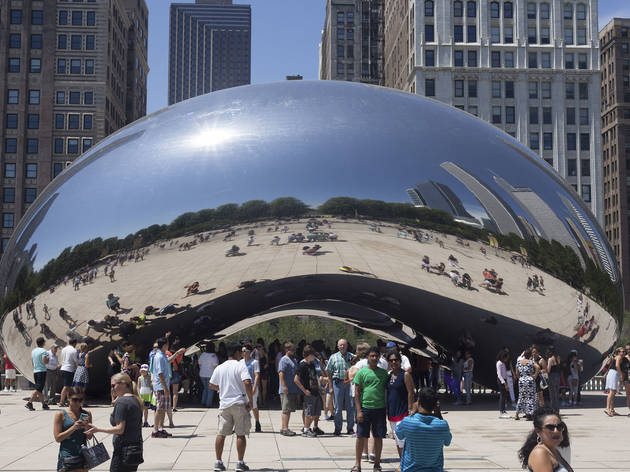 Photograph: Grace Allen
Cloud Gate, voiced by David Schwimmer
"Rumor has it my name is the Bean, which frankly I find a bit reductive."

Since its debut in 2006, both locals and clamoring tourists have referred to Anish Kapoor's legume-shaped mirror as the Bean. Well apparently someone's a little salty. Why Schwimmer's voice fits so perfectly with Cloud Gate we can't quite explain, but there's something so frickin' brilliant about getting accosted by our favorite friend as he invites us to reflect upon our own existence.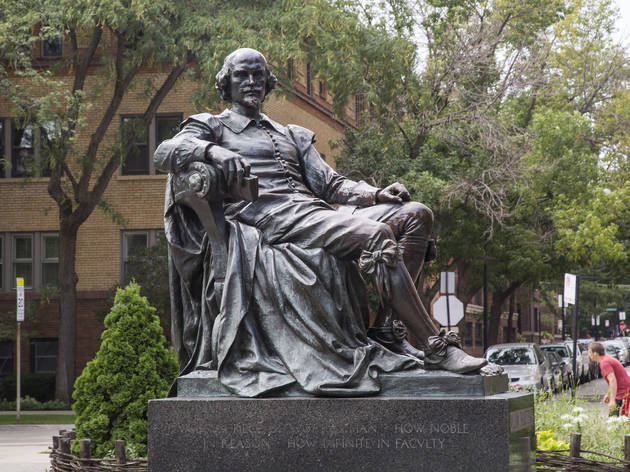 Photograph: Jaclyn Rivas
William Shakespeare, voiced by Jack McBrayer
"I had to wait nearly 300 years after my death before I was cast in anything again."
William Shakespeare is fancy and fun—he knows it, the people of Lincoln Park where he lives know it, and Jack McBrayer of
30 Rock
fame knows it (and backs it up with vocal flair). Shakespeare was first unveiled in Chicago in 1894 for the Chicago World's Fair, and today he watches as the people of Lincoln Park continue to play their parts—young lovers strolling hand-in-hand, children flying kites, and some of the city's most well-off citizens walking the streets with tiny dogs.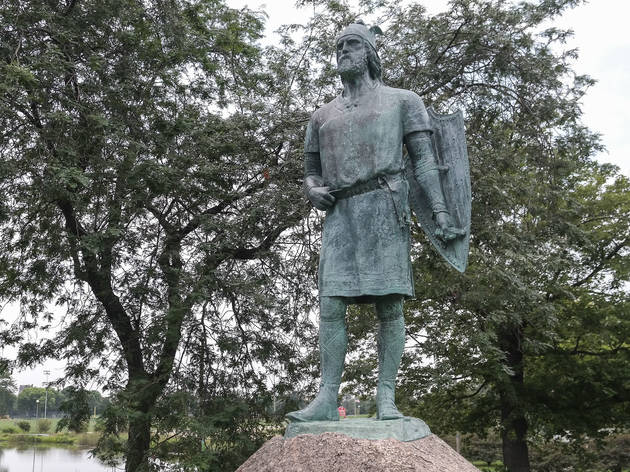 Photograph: Laura Rote
Leif Erikson, voiced by Fred Willard
"Did you know I discovered America almost 500 years before Columbus? Sure, at the time I called it Vinland, but he thought it was the West Indes. I mean, come on."
This ol' explorer hasn't lost his sense of humor, even if he did miss out on the credit for discovering the states (he would have named it Vinland, by the way, for the plentiful grapes and vines he saw upon arrival). In fact, his most pressing concern, charming comedian Fred Willard tells us, is why we are here looking at him in Humboldt Park in the first place. He's not used to visitors, even though his surroundings are beautiful, sprawling and green. In 1901, when the monument was dedicated to keep Erikson's memory alive just years after a ship of Norwegians arrived in Chicago for the World's Fair, more than 5,000 of his countrymen attended, flags waving.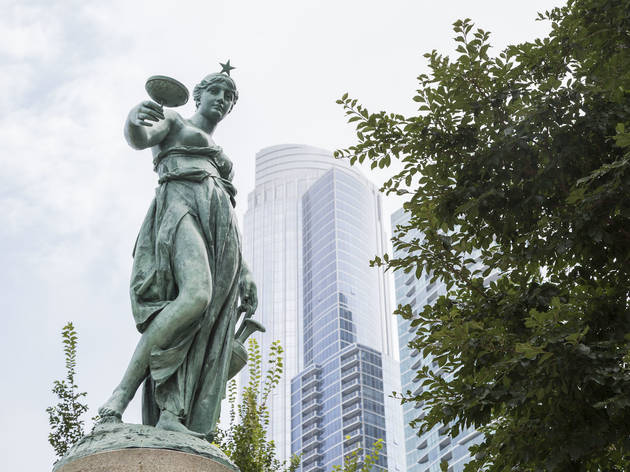 Photograph: Jaclyn Rivas
Hebe, voiced by Elizabeth McGovern
"We all need a little something to keep going."
Who better to tell us to be compassionate than Downtown Abbey's Elizabeth McGovern? The Evanston native gives voice to Hebe, daughter of Zeus and goddess of youth, and reminds us that, indeed, everyone deserves a drop to drink. Part of Rosenberg Fountain in Grant Park, she tells us of the noble mission of one young newsboy in the late 1800s who, even when delivering papers in the hot city sun, was denied water. When he became rich many years later, he commissioned the fountain near his childhood home to serve as a plea to the community—follow the golden rule. Yep. This one is serious.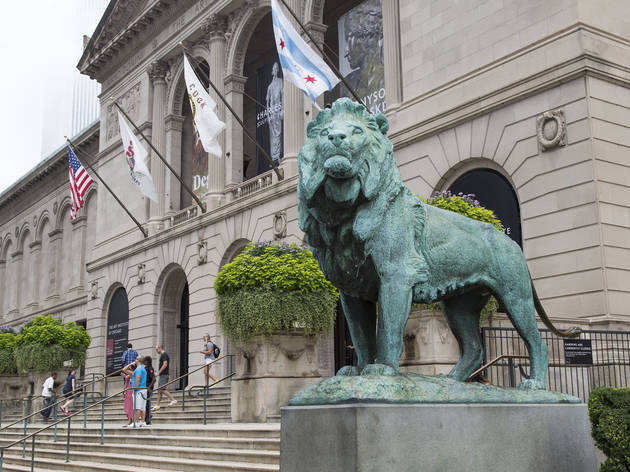 Photograph: Jaclyn Rivas
North and South Lions, voiced by Tracy Letts and Francis Guinan
"We used to be guards, but now we're celebrities."
Not one but two ferocious felines have been standing guard outside the Art Institute of Chicago for the last 100-plus years. Chicago's unofficial mascots, one stands ready to roar while the other, tight-lipped, is fixated on something in the distance. The pair, plus four others, were sculpted in plaster for the World's Fair until Mrs. Henry Field (yes, of
the
Field family) commissioned their creator to select two more to cast in bronze for the museum entrance. Oh, but they also know how to party. Listen as they argue over which lion is best, and look for them to get decked out in huge helmets after big sports wins (or don wreaths after Thanksgiving).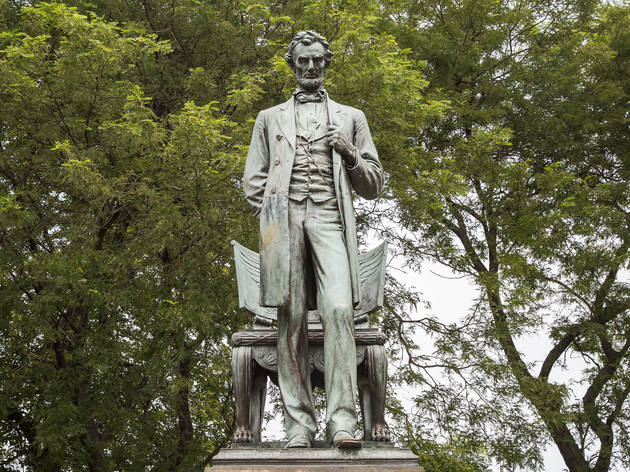 Photograph: Jaclyn Rivas
Abraham Lincoln, voiced by John C. Reilly
"I was a person of mean origins whose parents could not read."
Chicago native and comedian John C. Reilly goes grave with his reading of Honest Abe in Lincoln Park, stoically telling the story of his rise to wealth, fame and presidency from his short tenure with the Illinois Legislature and long career in law. More than 200 Lincoln statues exist in the U.S.—six outdoor statues in the city of Chicago itself—but this inspirational one by Augustus Saint-Gaudens 19 years after Lincoln's death is widely thought to be the best.