Street artist Pizza in the Rain makes the city his canvas
We tagged along with anonymous Chicago artist Pizza in the Rain to find out what it's like to hang up street art at 6am.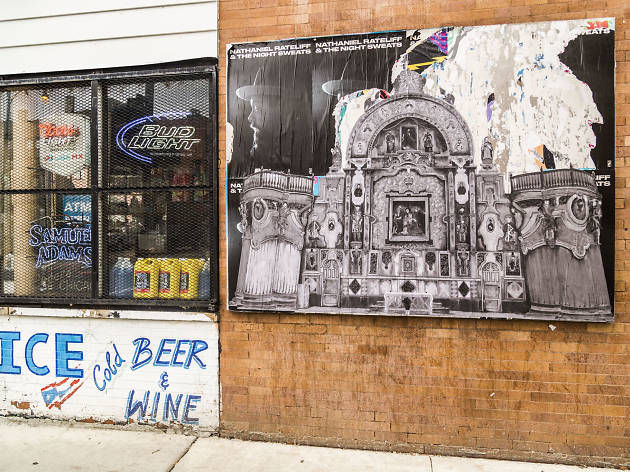 At 6am, Saturday, in Wicker Park, Milwaukee Avenue is mostly empty, aside from a few early-risers strolling the sidewalk clutching cups of coffee. That's when local street artist Pizza in the Rain goes to work, donning a reflective orange safety vest while toting around rolled-up posters of his paintings, a bucket of watered-down glue and a small broom to apply the art. Within an hour, he's plastered three copies of his church-altar illustration (inspired by a recent trip to Mexico) on walls throughout the neighborhood. "I never try to be malicious or destructive when I'm picking a wall," he says, explaining how he constantly auditions potential surfaces for his work as he travels through the city.

Though he dabbled in the arts as a kid, it wasn't until four years ago, after viewing a street-art exhibition at Vertical Gallery in Ukrainian Village, that Pizza in the Rain felt inspired to assume an alias (much like local artists Don't Fret and Left Handed Wave), pick up a paintbrush and hang his work around Chicago. His paste-ups have become a fixture of neighborhoods like Logan Square, Wicker Park and Bucktown, often depicting black-and-white portraiture and figures, inspired by images that his mother captured as a freelance photographer.
For Pizza in the Rain, the streets are more than just a venue to display his creations—they offer a place to take risks with his art. "I know it's not going to last—it's ephemeral by nature—so I'm allowed to experiment a little bit more," he says of his work, some of which is torn down just hours after it's posted. Using the neighborhood as a test lab, he refines the concepts that animate the pieces he's creating for his upcoming show "Counterparts," at Vertical Gallery, which displays his work alongside creations by fellow rising Chicago artists Joseph Renda Jr. and CROP.
The paintings that Pizza in the Rain has chosen for this group show deviate slightly from the style of his paste-up creations, incorporating earthy tones and renderings of urban landscapes. One of the works on display functions as a self-portrait of the artist, depicting a lone figure in a safety vest pasting letters on the side of a building on what's unmistakably a Chicago street.
Speaking with Pizza in the Rain, it's easy to detect that the artist's proclivity for Chicago extends beyond the inspiration (and public surfaces) it provides. While his art has graced buildings in Paris and Mexico City, Pizza in the Rain wholeheartedly embraces the candor of his hometown, saying, "Chicagoans don't really blow smoke up your ass if something sucks. I find that refreshing."
"Counterparts" is on display at Vertical Gallery from July 7–28.