6 bars in Chicago for a boilermaker, or a shot and beer
A shot and a beer, a.k.a. a boilermaker, is the favorite drink of many Chicago bartenders—here's where to drink like a pro the next time you're out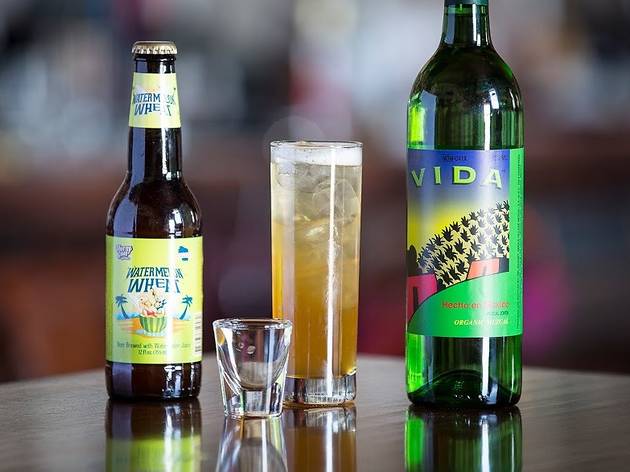 A shot and a beer is the easiest drink out there (both to make and drink), so it's no surprise that it's a go-to pick for bartenders once they're done working for the night. "When you're a bartender, people always ask, 'What's your favorite drink?'" says bartender Michael Rubel of Henry's Swing Club. "I always just preferred a shot and a beer, the same way a chef after a long night of making perfect little plates just wants a burger and grilled cheese. The simplicity of a boilermaker seems perfect for the end of the shift."

Also called a boilermaker, a shot and a beer is also cropping up on drink menus all over Chicago. But these aren't just cheap whiskey and PBR. Bartenders are creating new-school shots and beers by figuring out which local beers and spirits work best together. Some even throw in an extra shot, like pickle juice, for added flavor.

"I love classic cocktails, but you can only do so many riffs on an Old Fashioned," Fulton Market Kitchen's Brian Sturgulewksi says. "Taking something that's perceived as a blue collar drink and then elevating it with craft spirits and beer grew out of that." Of course, you can also get good deals on regular shots and beers: At the Violet Hour, the Last Call is a Miller High Life shorty and a shot of Rittenhouse Rye for $5. At Twisted Spoke, there's a grab bag of cheap beers and a shot of Jim Beam for $5. And at Ay Chiwowa, the boilermaker goes Mexican with a can of Tecate and a shot of tequila for $9 on Thursdays.

So should you slam the shot then drink the beer? Or drop the beer in the glass? Or neither?

"You can do whatever you want," Sturgulewski says. "I'm a big believer that rules are made to be broken. The classic way is to drop in the shot, but the idea here is meant to be a pairing. You can pour your shot into the beer to change the beer from just a beer to a cocktail. Or you can shoot it and drink the beer. Your choice." For those times you want something more inventive, you've got plenty of options, including two new bars with sections on their menu devoted to boilermakers. Here are six bars and restaurants to try a new boilermaker.