The best bars in Uptown
The best bars in Uptown range from an iconic jazz club to a honky-tonk dive. Here's where to find booze, beer and more in the neighborhood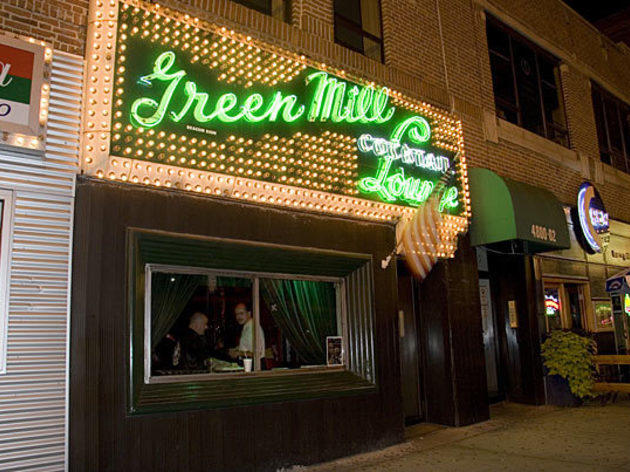 Uptown may not have the serious cocktail bars of other Chicago neighborhoods, but it makes up for it with bars that have a ton of personality. There's Carol's Pub, a rocking honky tonk bar; Hopleaf, a haven for beer drinkers; and the Green Mill, an old-school jazz club. Here are our picks for the best bars in Uptown.
RECOMMENDED: Our complete guide to Uptown and Argyle
To the delight of bar-starved Uptown residents, this cozy spot offers 23 beers on tap, 10 wines by the glass, comfortable couches, a large-screen TV that folds away when the game is over and garage door–style front windows. Cleetus Friedman handled the menu, so expect better-than-average bar food like tacos, burgers and grilled cheese.
Read more
Not a Boystown fan? Skip the stand-and-model parade and head to this laid-back Uptown saloon, where community matriarch Michelle Fire serves up tasty victuals to sunburned boys and girls at her famous Sunday buffets. She keeps the rest of the week happening with tons of food and drink specials (like buck burgers on Mondays) and all-out dance parties on weekends.
Read more
Whether you're hungry for baseball, football, rugby or just beer, this straight-friendly gay sports bar will work. Sixty-plus beers, tasty (and even healthy) pub grub, lots of TVs and a rah-rah decor make this a fun place to cheer for your team, whatever team you're on.
Read more
Al Capone and other gangsters used to hang here in the 1920s, but these days it's all about the music. Owner Dave Jemilo, who returned the club to its original luster in the 1980s, books smart bebop and modern jazz with a discriminating ear. Local favorite Patricia Barber both maintains a residency throughout the year on Mondays if she's not on tour. Come early, as it's usually understandably busy.
Read more
The shiny awning and glittery old-Hollywood sign outside may draw us into this Lakeview bar, but the photo booth keeps us staying much later than planned. The '50s diner ambiance is swanky, the food is decent and the bar boasts a friendly crowd—so friendly that you may pick up your photo strip and spot an unknown face.
Read more
Thought this was just a bar to belly up to with a Belgian brew in hand? One bite and you'll know there's much more. Our perfect night involves sampling the drafts at the bar while slurping down the famous ale-steamed mussels. Beer geeks know this is the place in town to school their palate on craft brews, and they do come in droves, but the addition of an adjacent space helps keep the place from feeling like a sardine tin.
Read more
Every neighborhood should have a bar like the Reservoir, a nice, clean space with good looks, personable bartenders and whatever you want to drink (a few wines, a lot of beer, a couple of specialty cocktails) or eat (fish tacos, burgers, truffle fries). But few neighborhoods appreciate a place like this as much as this still-ragged stretch of Uptown.
Read more