Know your bartender: Stephen Andrews at Milk Room
Bartender Stephen Andrews knows some things about vintage spirits, we talked to him to learn how to order at Milk Room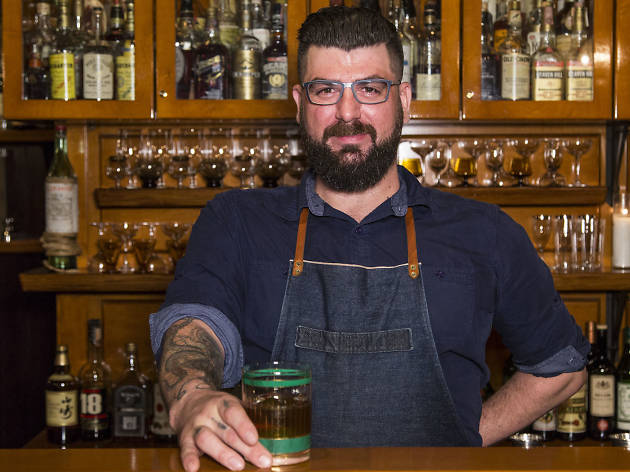 Most nights, you'll find bartender Stephen Andrews behind the bar at Milk Room—the Chicago Athletic Association's speakeasy-esque bar that's reservation only with a short cocktail menu and a pages-long vintage spirits list. We caught up with Stephen Andrews to see what his tips are for your reservation at the cozy spot.
How did you become involved with Milk Room? I caught wind that Paul McGee was putting together a unique bar concept that focused on vintage spirits and classic cocktails at the newly renovated Chicago Athletic Association Hotel. I really wanted to be a part of the project and was eager to work closely with Paul and the Land and Sea family.
What are some of your favorite cocktails to make? I enjoy making cocktails that have three to four ingredients like a Manhattan, an old-fashioned or a daiquiri. Sometimes simplicity is the hardest thing to perfect, and these are exemplary cocktails. Even though they're seemingly simple, you need to take into consideration the viscosity, proof of spirit, sweetness and ice dilution. The first sip should taste as just good as the last.
Milk Room focuses on vintage spirits—what advice would you give a first-timer or someone who doesn't have a lot of experience with vintage spirits? Our focus is vintage spirits and liqueurs, however we also carry and celebrate current special releases of a broad range of spirits—for instance, our special Milk Room Four Roses Private Cask. The whole Milk Room team went down to Kentucky in April to select it. Basically, my advice would be to ask questions, tell us what kind of cocktails you like, and let us be your guide.
And what advice would you have for someone who does know what spirits they like? Pick your poison and let's have a conversation.
What's your favorite drink to order from the bar? The coldest Miller High Life in the building and a pour of the bartender's favorite whiskey.
See where other Chicago bartenders head on their night off
Chicago's best bartenders know their way around a cocktail, whether it's crafting tiki drinks, mixing up margaritas or stirring the perfect old fashioned. When you're heading out to a cocktail bar, these are the people who will help you let loose.