The best speakeasies in Chicago
A Chicago speakeasy may be hard to find, but if you know what you're looking for these underground bars are everywhere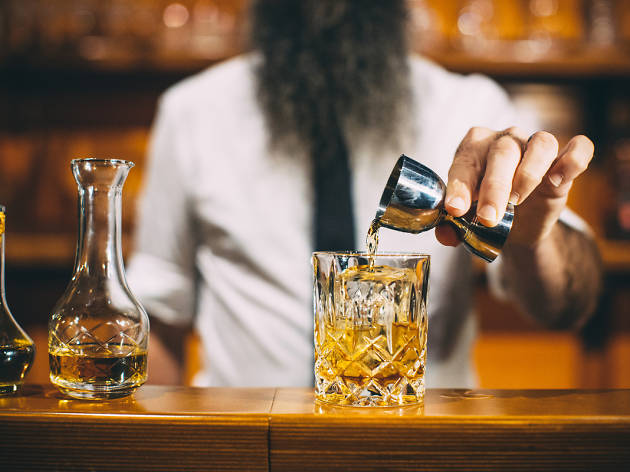 During the Prohibition era, speakeasies popped up all over Chicago to quench the thirst of locals and mobsters. Chicago never really sobered up in the 1920s and speakeasies didn't disappear either. There are lots of unusual bars where you can grab a drink as well as secret bars to discover in Chicago. We've rounded up the best modern-day, underground speakeasies—now all you have to do is figure out how to get in.
RECOMMENDED: Uncover more of the best bars in Chicago
Chicago's best speakeasies
This essentially invitation-only bar (you can get rather pricey reservations through Tock) is a cozy 14-seat basement room decorated with antiques, framed paintings and sporting $20 cocktails. If you're lucky, your server upstairs at the Aviary may invite you to step through the locked door.
Read more
The Milk Room is located in the hallway between the Drawing Room and Game Room in what was formerly a speakeasy in the Chicago Athletic Association. To drink at this eight-seat bar, you'll need to purchase $50 tickets which will be applied to your bill.
Check prices
Read more
The Green Door Tavern used to be patronized by Chicago gangsters, taking its name from the discreet entrance on the side of the building. If you walk down the metal staircase leading to the bathrooms—you'll notice a door to a room that housed a speakeasy in the '20s. That's the entrance to The Drifter, a craft cocktail bar with live entertainment and some stunning decor.
Read more
You won't see any signs for Violet Hour, only a long line of people waiting outside of an ever-changing, abstractly painted building. Enjoy pristine, thoughtfully crafted cocktails in towering modern-style thrones at this Wicker Park staple.



Read more
Find this '70s-themed bar hidden in the basement of Thalia Hall, which is decorated to look like place where your grandfather might have realxed. The drinks here are meant to be shared so grab a group of friends and order a colorful punch bowl.
Read more
Downstairs from the Gilt Bar you'll find a dimly lit room with red velvet booths and stacks of old books. The Library will make you feel like you've escaped to you're own secret club. Order top-notch classic cocktails or pick something off Gilt Bar's full menu.
Read more
Enter the Double Door and find the staircase downstairs to the neon-glowing Door No. 3. This underground music club features acts ranging from indie rappers to drag performers.
Read more
Turn down the alley and arrive at a door that's really more of a strange wormhole, leading to a tiki bar in the middle of River North. Island-themed cocktails like Mai-Tais and daiquiris are served in cococut and tiki-head glasses.
Book now
Read more
Hunker down in this underground space with live blues, eccentric art and craft cocktails. Enter this speakeasy music lounge through the nondescript alley.
Read more