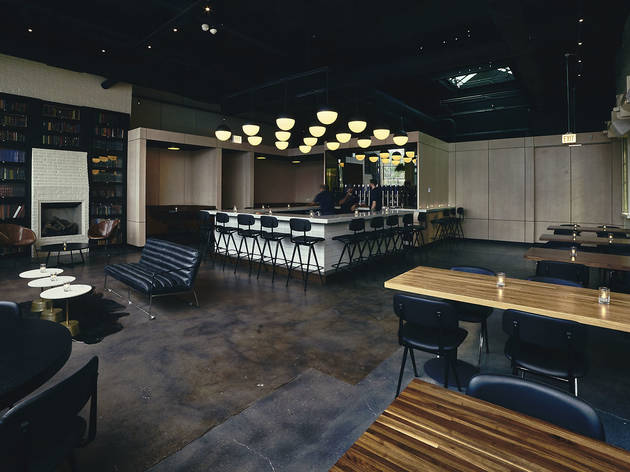 Time Out says
A new Pilsen taproom turns the conventional idea of a brewery on its head.
The theme of most breweries' tasting rooms is a rustic, minimalist aesthetic—picnic tables, wooden chairs and bars finished with a natural stain. Show up in a T-shirt, baseball hat and your worn-out jeans and you'll fit right in. After all, it's just beer, right? We love a good old-fashioned brewery, but feeling a little pampered isn't too bad, either. And Moody Tongue's taproom is just the place to feel spoiled and drink a beer—a novel idea we're totally behind.
With painted white brick, a huge white marble wraparound bar, a fireplace and blue leather stools and blue velvet armchairs, this spot feels plush. You can cozy up near the fireplace with one of the beer books the bar collects, or pull up a seat at the bar and strike up a friendly conversation with a bartender. Tall ceilings and gold touches make this spot feel classy—every design decision the bar makes goes one step further to solidify Moody Tongue's departure from a traditional brewery.
The food is indulgent too—the brewery only offers two menu items: chocolate cake and oysters. Brewer Jared Rouben maintains that these are the two best foods to pair with beers, and your server will help steer you in the right direction between the two. For example, the Steeped Emperor's Lemon Saison brings out the salty umami and clarity in the oysters while, in contrast, providing an acidic balance to the rich chocolate cake—either way, the pairing works. The oyster selections switch out regularly, but they're delightful and teeming with brine all the same. The chocolate cake is consistently delicious: a multi-layered German chocolate cake, bringing together layers of chocolate cake, buttercream frosting, chocolate cereal and espresso cheesecake, and makes for a decadent pairing with the Caramelized Chocolate Churro Baltic Porter. Conversely, pairing the porter with oysters creates a bright ocean taste.
Beers range from the brewery's flagships like the smoky, easy drinking Applewood Gold and the balanced lemon saison that has a lemony zip we can't get enough of to one-offs like the Shaved Black Truffle Pilsner and Bourbon Barrel Aged Chocolate Barleywine. One of the things we love about Moody Tongue is how consistent its beers are, with interesting flavors paired harmoniously to the chosen style of beer. If you left us to our own devices, we'd be drinking a glass of the lemon saison to start with our oysters, quickly followed by one of the bar's one-offs—and let's face it—that would be paired with a slice of the chocolate cake. But what makes us love Moody Tongue the most is the pure simplicity of the menu—two food choices and a navigable beer menu that's reliably delicious—and we can't wait to see what else Rouben comes up with next. Paired with the lavish décor, this taproom sets itself apart from the rest, making beer a thing to be savored and not just casually thrown back.
Vitals:
Atmosphere: The bar feels modern and airy with trendy touches like white brick. A white marble bar and comfortable leather bar stools make the whole thing feel like the ritziest and trendiest brewery you'll ever hang out in.
Where to sit: Spending time with a friend? Head to one of the lounge seats near the fireplace. Larger groups will find solace at the high tops with four to six seats available. Of course, we're always fans of hanging out at the bar.
What to drink: On our visit, we got our hands on a barrel-aged Steeped Emperor's Lemon Saison—giving a not-too-boozy but extra kick to the zippy beer, but the brewery-only menu cycles out regularly. If you're a first-timer, try the flagships; you can't go wrong. Seasoned Moody Tongue drinkers should try something new.
Details
Address:
2136 S Peoria St
Chicago


Transport:
El: Orange line to Halsted. Bus: 8, 21.
Contact:
Opening hours:
Thurs 5–11pm, Fri 5pm–12am, Sat 12pm–12am, Sun 12–11pm, Mon 5–11pm
Do you own this business?